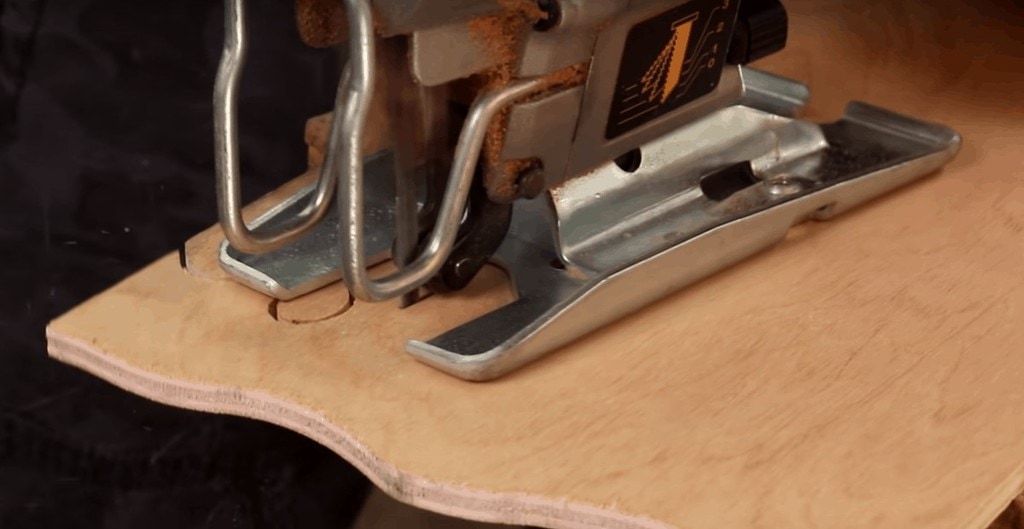 You may have not only wondered what the difference between a jigsaw and circular saw is, but also, as a DIY-er, which is the right one to purchase first?
These are two tools with very different uses.
It really all depends on what projects you will be using them for, and what types of cuts you will be doing most often. Keep reading Jigsaw vs Circular Saw to find everything you need to know!
Don't fret. The Saw Guy is here to lay out the features of both, so you can be sure you are purchasing the right tool for you and your specific needs.
When To Use A Jigsaw and not a Circular Saw
When it comes to looks, jigsaws and circular saws look pretty much nothing alike, so it would be pretty hard to confuse the two.
In fact, they are two very different tools in general. (To contrast, trim saws and circular saws look nearly identical but have slightly different functions)
Also known as a sabre saw, the jigsaw features a long, thin jig saw blade, similar looking to that of a serrated knife, that cuts in a rapid up and down motion. It is equipped with the ability to handle many different types of cuts, and depending on the blade used, was engineered to cut through a variety of different materials.
A jig saw is considered one of the most versatile tools out there because of the wide range of cuts it's capable of. These can range from a long, straight cut to a curved cut. In fact, the jig saw is usually the go-to tool for cutting curves. One of the best features of the jig saw is that it can even make cuts out of the center of many of the materials you may be working with.
The jigsaw can also cut a variety of different materials. These range widely and can include both soft and hardwoods, particleboard, plywood, plastic, metal, ceramic tile, plastic and countertops. Quality cuts in all of these materials will depend on picking the correct blade for what you are working with.
Some jigsaw blades include U-shank blades, progressive tooth blades, standard tpi blades and reverse tooth blades. When it comes to choosing the correct blade, the basic information you need to know is blades with larger but fewer teeth are good for fast cuts, but will produce a rough edge. Blades with smaller teeth are slower, but result in a smoother surface.
Replacing your blade when it wears out will also result in better quality cuts. It may be worth it to invest in bimetal blades, as they are much longer-lasting and less prone to breaking.
Because it is considered such a versatile and safe tool, many folks would recommend the jigsaw as the first saw to buy for a DIY-er. Despite this, the jigsaw is still not the best tool to use when it comes to making long, fast and clean cuts.
Check out the video below to see some of the features of a jigsaw.
When To Use A Circular Saw Instead of a Jigsaw
The circular saw is another great tool. It features a toothed cutting disc that rotates extremely quickly to make long, fast, straight cuts.
The circular saw can cut through several different materials including wood, sheet materials, roofing, metal, masonry, and most types of pipe. Once again, the quality of your cuts in these materials will depend on choosing the correct blade. Most circular saws come with blades with 24 teeth, but a 50-60 tooth blade produces much cleaner cuts.
The standard, 24 tooth blade works well for solid wood. A diamond blade should be used when cutting masonry materials. Use a fine tooth carbide blade for all types of piping except for cast iron. For cast iron piping and thin metal, a metal cutting blade is the best choice.
A common complaint of circular saws is that they often produce rough, splintery edges, also known as tear-out. There are, however, a few tips that may reduce this problem. An accurately drawn line is very important. Sometimes, drawing your line on a piece of masking tape can help you to see it better and also reduce splintering. Pushing the saw slower and scoring your cut line are other great methods to use for splinter reduction.
When it comes to curved cuts, the circular saw is definitely not the best choice. Many also claim that the circular saw is one of the most dangerous tools you can purchase. With the correct safety precautions, however, any tool can be safe to use.
Benefits of Buying Corded Electric Tools
Corded jigsaws and circular saws are often thought of as the "standard" of these types of tools. In my opinion,this is with good reason.
Corded tools give you the benefit of an unlimited and continuous power supply. Each time you go to use your corded jigsaw or circular saw, you will have the full range of power available to you. This means your tool will always work effectively.
Because you never have to worry with changing a battery in a corded tool, this means you can always work without interruption.
Another downfall to batteries many may not commonly think of is their weight. Batteries can make your jigsaw or circular saw a lot heavier. This means there is less of a chance of getting fatigued while working, not that any manly DIY-ers would ever have to worry about this.
Corded tools also tend to be longer-lasting. It is always beneficial to not have to worry about additional costs in the future when making a purchase. With a cordless jigsaw or circular saw, you will definitely have to eventually buy replacement batteries.
When purchasing a corded jigsaw or circular saw, you may want to look for ones with a longer cord, as a big complaint with corded tools is that you are limited by the length of the cord.
Many also complain that the cord can get tangled, or worse, get in your way and cause you to damage your tool. Corded tools are less portable as well, because they can only go where there is a power outlet. This could be remedied by purchasing a portable generator.
Bosch JS470E Jigsaw
The Bosch JS470E is a great choice for a corded jigsaw. The Bosch brand has been around for over 100 years, so it is quite evident they make great products.
The tool-less blade change system on this tool makes changing the blade incredibly simple. Its four settings make it possible to do a variety of cuts, ranging from smooth to rough and rugged.
Its dial and accelerator trigger make controlling the maximum and operating speeds easier than ever. An adjustable shoe helps to maintain cutting stability and an eight foot cord provides a longer reach.
Want more? Click here to see our full jigsaw buying guide.
DeWalt DWE575SB Circular Saw
You cannot go wrong with the DeWalt DWE575SB circular saw. The DeWalt brand is probably the most popular brand there is in the tool world.
This saw includes a blade wrench, a carbide blade and a contractor bag, making it more portable. It also includes a patented 15-Amp motor, electric brake, and an integrated dust blower for better visibility of your cut.
Want More? Click here for our full circular saw buying guide.
What about Cordless Saws?
Cordless jigsaws and circular saws can be a lot more flexible than their corded brethren.
They are typically most popular among contractors because they can easily be taken to, and used anywhere on their job sites. Folks using them for their trade can also usually justify the much higher cost of cordless tools.
Because of the increased cost, most DIY-ers typically go the corded route. Not only are cordless tools much more expensive to begin with, but there is also the additional cost of batteries in the future.
Some folks may already own a battery and charger that can be used when purchasing a new jigsaw or circular saw. For these people, it can make the upfront cost of a cordless tool less daunting.
Another downfall of cordless jigsaws and circular saws is that the battery drains quickly, especially when cutting heavy duty materials. This could mean that you may not always have all the power you need to get a job done quickly and correctly.
It was a common thought that most cordless tools had less power than their corded counterparts, in general. With continuing advances in technology and the invention of lithium-ion batteries, however, many believe cordless tools have the potential to be equally as powerful in this day and age.
DeWalt DCS331M1 20V MAX Lithium Ion Jigsaw Kit
The DeWalt DCS331M1 jigsaw kit is a great choice because it includes the jigsaw, blade, a fast charger, a battery, and a carrying case.
Its all metal lever action allows for keyless blade change. It also includes a keyless shoe bevel with four detents, which provides versatility for an easy bevel cut.
The adjustable dust blower keeps the cut line clear of chips and the fact that it accepts T-shank jigsaw blades makes it possible to achieve professional results.
DeWalt DCS391B 20V MAX Lithium Ion Circular Saw
DeWalt does it again with its DCS391B 20V MAX Lithium Ion Circular Saw. Its 5250 RPM motor allows it to handle some of the toughest and precise cuts with ease.
Its strong, yet lightweight magnesium shoe gives this tool great durability and long-term cut accuracy. A rubber comfort grip provides constant comfort for the operator while the tool is in use.
It includes a 6 ½ inch carbide tipped blade and has a zero degree to -50 degree bevel capacity, which allows for a variety of aggressive bevel cuts.
Wrap Up – Stay Safe!
Please watch the videos below for great tips on how to use a jigsaw and circular saw safely.
Did you enjoy this article? Check out some more things I have written: