If you live in an area where you lose power frequently then you've probably thought about the options when it comes to backup power.
The best generator is one that will help you get the power you need for your home (or whatever you want to run), but it won't have too much power for what you need. Since there are all different size options you should consider several different features, which we'll talk about later.
Looking specifically for inverter generators? Click here to see our top choices.
Best Generators of 2019 – Reviewed
1. Westinghouse WGen 7500 Portable Generator
The Westinghouse 7500 Portable Generator has a great deal of power, which means you shouldn't have a problem running everything you need to in your home. Even better, it has a peak of 9500 watts, which can get everything up and running fast. There are 2 Ground Fault Circuit Interrupters as well as 5 20R 120V household duplex receptacles and 1 L14-30R 120/240V twist-lock receptacles.
These outlets also have rubber covers, which means that they are safe around smaller children, even when you're not using the unit or specific plugs. All you need to do is plug it into what you need and press the button on the remote start key fob and you'll be ready to go because this unit is plug and play.
It comes with a 12V battery charger as well as oil and an oil funnel and even a tool kit so you can make sure you know what you're doing and how to make it work. It's powered by a 420 cc Westinghouse 4-stroke OHV engine and has a cast iron sleeve and automatic low oil shutdown, so it turns itself off if there's not enough oil.
Things We Like:
7500 running watts
6.6 gallon fuel tank with fuel gauge
10 hour run time at 50%
3 year warranty
Digital hour meter
EPA, CARB & CSA compliant
Things We Don't Like:
Does not use natural gas
Can be somewhat loud
Handles are not ideal for some movement
2. WEN 56180 1800 Watt Portable Power Generator
If you're looking for a generator that will power just a few things in your house but keeps the cost down at the same time then this is a great option for you. It's EPA III and CARB compliant, which means that it can be used in any of the 50 states. Rated for 12.5 amps and 1800 watts at surge, it can actually run at 1500 watts, which makes it great for running a moderate number of tools and other items.
It's lightweight and small in size, which means that it will fit wherever you need it and can be moved around easily as well. This generator can run at half load for approximately 7.5 hours and includes 2 AC120V 3-prong wall outlets as well as a 12V DC outlet.
It has a low oil shutdown to make sure it turns itself off if the power gets too low and there's a 4-stroke OHV engine and spark arrestor to make it useable even in parts and forests. It holds 1.1 gallons of unleaded gasoline and runs at 98 cc. All you have to do is pull to start and you'll be off and running in no time at all.
Things We Like:
1500 running watts
1.1 gallon fuel tank
7.5 hour run time at 50%
2 year warranty
EPA & CARB compliant
Things We Don't Like:
Can be loud
Exhaust hose is not ideal
Not many plugs for attachment
3. DuroStar DS4000S 3300 Watt Generator
If you're looking for the biggest and baddest options this is one of your top contenders because it offers a running wattage of 3300 with a 4000 watt startup. This gas powered generator uses an OHV engine that has a low oil shutoff in case you have low fuel. It also has a steel frame with four point motor mounts that are fully isolated to cut down on noise while it's running.
The full power panel has an oil warning light, a volt meter, a circuit breaker and all of the power outlets that you could possibly need. It has a 4 gallon gas tank that gets up to 8 hours of running time and an EZ pull recoil start.
EPA approved, this unit is large but it definitely can power a number of different appliances and tools if you experience a blackout or if you decide to head up camping but want more of the features you love most at home. It even has a forced air cooling system to keep it from overheating but still keep everything you need running as long as you need.
Things We Like:
3300 running watts
4 gallon fuel tank
8 hours running time at 50%
1 year warranty
EPA compliant
Quiet exhaust system
Things We Don't Like:
Requires frequent oil change
Oil drains along frame
No watt meter
4. WEN 56200i 2000 Watt Generator
The WEN 56200i provides you with quiet operation that is actually similar to that of a normal conversation according to the US Department of Health and Human Services. Compliant with the EPA and the CARB, it's a 79.7 cc 4-stroke OHV engine that produces 1600 running watts and 2000 surge watts. Entirely enclosed, this unit can power everything from smartphones and tablets to larger appliances and tools.
It has 2 3-prong 120V receptacles and 1 12V DC receptacle as well as 1 5V USB port. The unit itself is even simple to carry with a handle right at the top and all the plugs and gauges on one side. With this generator you get clean energy that doesn't have spikes or drops in the voltage, keeping your devices safer.
You also get an eco-mode, overload protection, low oil shutdown and more. The 2 year warranty means that it's going to last and the pull cord start is simple to get up and running. The device is even parallel connection capable, meaning you can attach two generators together to run even more of the gadgets and devices around your home.
Things We Like:
1600 running watts
1 gallon fuel tank
6 hours running time at 50%
2 year warranty
EPA & CARB compliant
Parallel connection capable
Things We Don't Like:
Can be somewhat large in physical size
Can be difficult to fuel up
Requires frequent oil changes
5. Champion 3500 Watt Portable Generator
The Champion Portable Generator offers 3500 running watts and is the most powerful of the options we have here. It also has a 4000 watt startup and can give you up to 12 hours of running time. Though it's a little larger and more expensive than our other options, it makes up for that by offering excellent variety to the plugs it can accommodate the volt guard that keeps it from overloading and the support system.
It has a 3 year limited warranty as well as lifetime tech support that's included at no cost. This unit has enough power to run just about anything including lights, air conditioner, refrigerator, sump pump and a whole lot more. It's quiet to run and uses a 196 cc single cylinder OHV engine that has a 3.8 gallon fuel tank.
It's EPA compliant and has an automatic shutoff if it senses that the oil is too low. Great for loading up in your RV and taking with you on your next trip it even has cold start so you don't need to worry about how to get it going during the winter season. The unit can be a bit heavy to move around frequently and takes up some space, but with the amount of power it's providing you're getting a good balance for that.
Things We Like:
3500 running watts
3.8 gallon fuel tank
12 hours running time at 50%
3 year warranty
EPA compliant
Cold start technology
Things We Don't Like:
Can be a little loud
Somewhat large to transport
Not ideal for inclement weather
Features to Consider When Buying a Generator
When it comes down to it you always want to make sure that you have the best possible generator and that means looking at a range of different features to see which one is going to work out the best for you. That's why we've come up with a list of several features that you're going to want to take a look at so you can get the best unit possible.
Size of Unit
The size of the unit that you're getting is going to be one of the most important features. Now, we're not talking about the physical size, but about the amount of watts that it's able to put out, because that's going to affect just how much the system is actually able to do.
The more watts the more things that it can run. You want something that's large enough to run at least the necessities in your home or RV (and maybe a few extras) but not so large that you're wasting a lot of power on nothing.
Power Source
What type of power does the system run off of? Many systems use a battery, which means that you need to keep that battery charged at all times in case you need it. This can be difficult if you tend to need the generator very sporadically but the need is important when it does happen.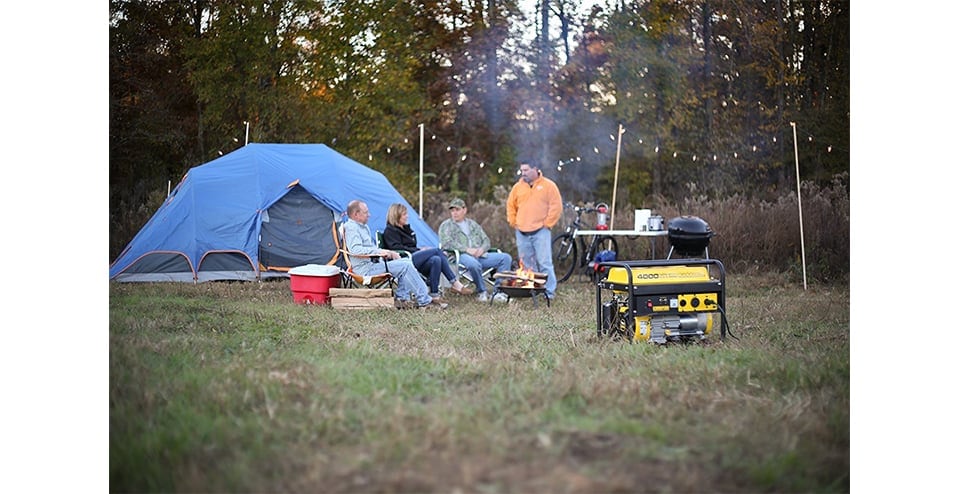 On the other hand, generators that run on gas or diesel can be messy and you have to be able to store the fuel when it's not being used. It's up to your personal preference which type of generator you prefer and how you're going to power it. It's also going to depend on what you may have available or even how frequently you may need the device.
Run Time
How long is the generator itself going to run without you needing to refill the tank? The longer the run time the more time you have to power your devices without having to worry about anything.
Small generators may only give you a few hours of running time while larger ones could give you upwards of 5 to 10 hours of run time. Most generators advertise run time based on using 50% of the entire power capacity of the unit, so make sure you're keeping that in mind when you compare all of your options.
Outlets
Finally, look at the different type of outlets that the system provides you with. Having a variety of different outlets is important because it means you can power different types of devices without a problem. You'll be able to power things like your furnace or water heater or even your appliances like a fridge or a stove as needed.
The number of outlets that are provided is important as well, especially if you're looking to power a larger number of devices rather than just something small to power one or two different devices. Consider the specific devices you'll want to power and then look for a unit that has the right type of outlets.
Wrap Up
When it comes down to it you want to make sure you're getting the best possible option and we believe that's the Champion 3500 Watt Portable Generator. It gives you the most power, the longest run time and the longest warranty as well as a large tank and cold start capability.
You want something that's going to power everything you need, and that's definitely the way you're going to get it done. Of course, if you're looking for something that's a little less expensive and maybe a little lower powered you can always opt for the WEN 56200i 2000 Watt Generator. It's a good unit that offers a good amount of power for smaller purposes, but still saves you some money in the long run.