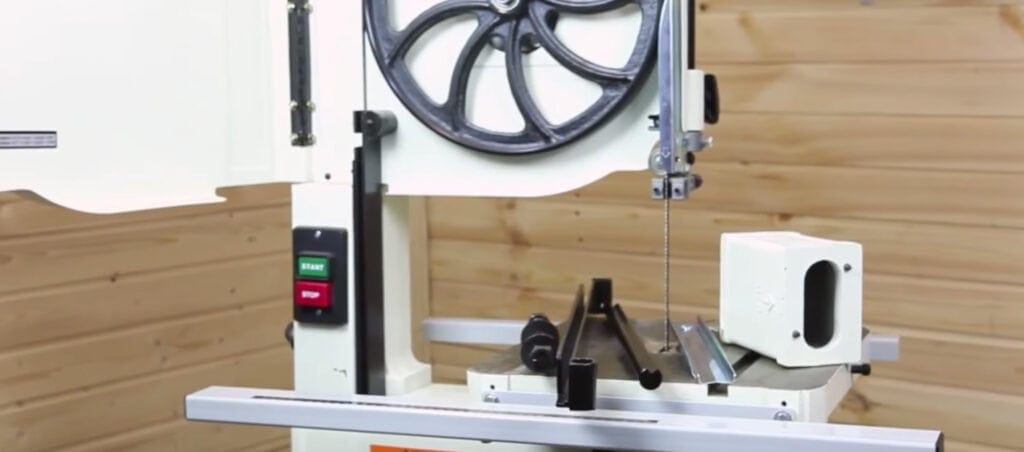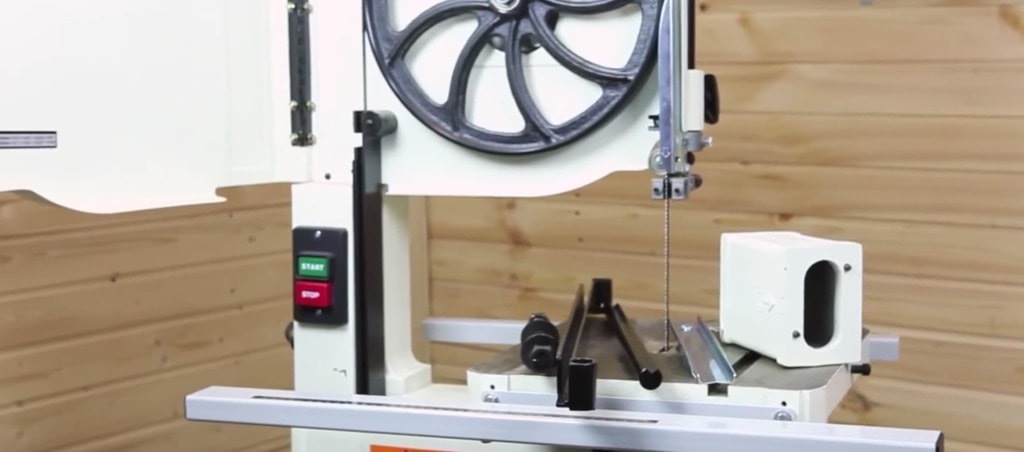 Any contractor, weekend DIY'er, or person that's taken a high school wood-working class will understand the value and versatility of the band saw. A standard in any wood shop, the band saw is an essential piece of machinery for anyone making non-standard cuts. A bandsaw is also good for resawing or ripping lumber into thinner slabs, cutting metal and even cutting extra tough pieces of meat.
Initially developed to rip lumber into more workable pieces, the band saw has grown into one of the most versatile tools in a woodworking shop. The capability of making a wide array of cuts, combined with the ease of use for beginners and professionals, makes it a top choice by many craftsmen across the country.
What is a Band Saw?
In simple terms, a band saw is a saw that involves a continuous band of metal with serrated saw teeth that is stretched around two or more wheels. The band can be better understood as a ribbon that constantly runs along the wheels, almost like the ribbon on a cassette tape. This band is exposed to the cutting surface in one area, where it runs perpendicular to the ground.
The band itself is generally fairly thin, allowing for intricate cuts that are impossible with other larger bladed saws. A band saw is comparable to a jigsaw in the types of cuts it can make, but provides far more stability than does a handheld jigsaw. This stability makes them the easiest type of saw to use for intricate cuts, regardless of skill level.
Thanks to this design, the band saw can be used for a wide variety of tasks you might encounter during a project. Their ample workspace allows for easy ripping of larger pieces, and their small blade size makes for a high level of precision when making more intricate cuts. The ease of use is also very high with a band saw, as beginners can quickly master them.
Type of Band Saws
Band saws don't come in a large variety of designs or concepts. Their differences largely come in the materials they are designed to cut, the plane on which the blade operates, and the size of the machine.
Metal
Band saws designed to be used on metal are essentially the same as any other band saw. The only difference is in the blade material and design. Made to withstand a hard material, these blades are feature different tooth designs and are built to cut as efficiently as possible through various metals.


Wood
This is the most common use for band saws, and likely the kind with which you might have experience. Most band saws are issued by default as wood saws, so you'll need to keep that in mind if you're looking for a metal cutting band saw.


Meat
You'll likely never encounter this type of band saw unless you're planning to do a high volume of butchering and meat processing, but band saws are commonplace in many meat processing and packaging plants. The band saw design allows for easy trimming down and breaking down of larger pieces of meat into smaller portions.
Metal Band Saws
Just like they sound, metal band saws are designed to solely cut metal. Metal band saws generally have additional features that are not in wood bandsaws. Some of those features include:
· Places to store coolant to keep the saw cool and lubricated
· Brush wheels to prevent the flying metal chips from being caught in the blade
WEN 3970 Metal-Cutting Band Saw with Stand, 4″ x 6″
What I Like About the WEN 3970 Metal-Cutting Band Saw
While it's not meant for the professional, this saw works perfectly for the light hobbyist. It cuts dead square right out of the box.
What I Don't Like About the WEN 3970 Metal-Cutting Band Saw
There aren't any exact markings for angle cuts and again, this isn't for the professional user.
Wood Band Saws
Wood band saws are popular for both professional and amateur woodworkers. The bandsaw comes a close second to a table saw as the most common and popular of the power saws.
WEN 3962 Two-Speed Band Saw with Stand and Worklight, 10″
What I Like About the WEN 3962 Two-Speed Band Saw
Takes about 30 mins to assemble out of the box and is simple to operate, especially for the novice user.
What I Don't Like About the WEN 3962 Two-Speed Band Saw
The motor is a bit underpowered and the measurement markings on the fence guide are difficult to read.
No matter the type, bandsaws as a group use the same general idea and operation, while there is a bit of variation among the different types of bandsaws and their capabilities and uses. Band saws are also known to make the smooth cuts and, when mounted with the right type of blade, can be used to cut material other than wood. Bandsaws are available in various types to suit different applications such as:
Band Saw Cutting Direction
Vertical
This is the most common design for a band saw and likely the type you have worked with or are looking to buy. The blade on these, as you might have guessed, move on a vertical plane, perpendicular to the work surface. These are generally easier to work with, as the work surface and blade plane are similar to how most other common saws operate.


Horizontal
These band saws are similar to the vertical variety except, you guessed it again, the band runs on a horizontal plane. The actual operation of a horizontal band saw looks fairly similar to a chop saw, only it's a larger machine and capable of finer cuts. These designs are common for metalwork and trimming down pipe and bar work. Here is our full review of the best horizontal band saws.
Machine Size
Floor Standing
Floor standing band saw are the most common type in shops and amongst most professionals. Though they take up a good bit of space, the increased size allows for added power, a larger cutting area, and extra stability when cutting. Though more expensive, the added workspace makes for easier access when making more intricate cuts.


Portable/Handheld
While still technically a band saw, these models offer far different capabilities than their floor standing or benchtop counterparts. While offering a greater range of cutting angles, they featured a much smaller cutting area than other band saw models. These models are frequently used at job sites for quickly trimming down piping to a proper fit. We did a full comparison on the top portable band saws and the must have features.


Benchtop
Benchtop band saws offer the craftsman the middle ground between a giant floor standing model and the much smaller portable variety. Built to utilize a table or workbench as its base, these models offer a fairly high level of performance for a much smaller machine than the floor standing version. These models are most common for the DIY'ers.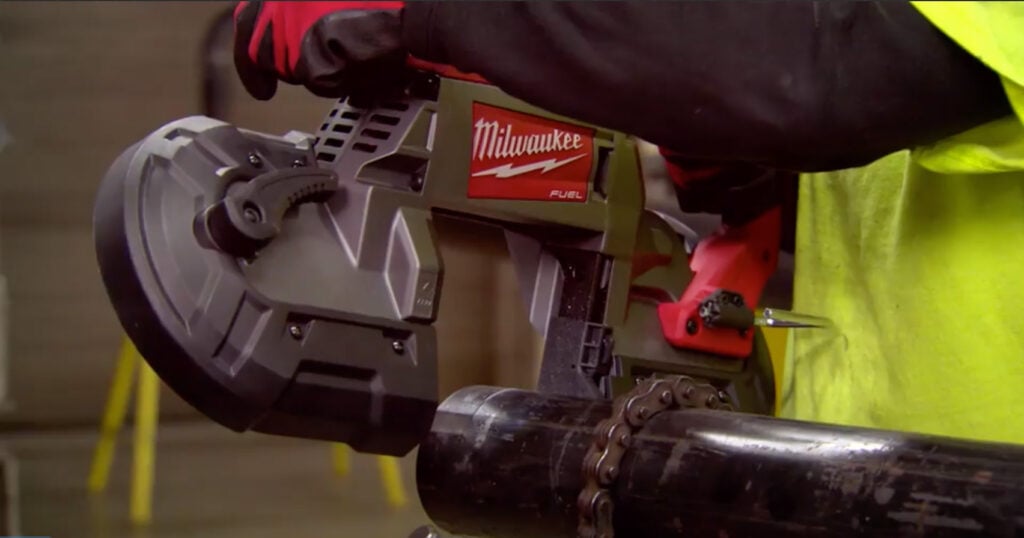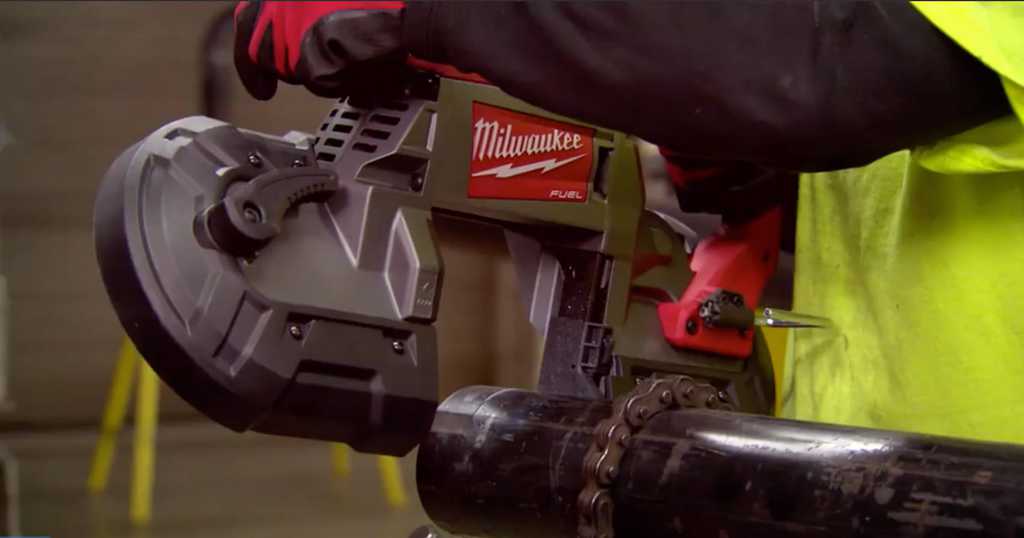 Popular Band Saw Posts:
Band Saws Are Versatile
Using a bandsaw is fun. Remember that even though a bandsaw is a fun tool to use, you must be aware that as with any power tool, proficiency of use comes with practice actually using the machine. While a band saw is a relatively safe tool, remember to follow all safety rules with your saw. A band saw is a relatively safe tool, but the blade is sharp and fast and can inflict serious injury in a fraction of a second, so have fun, but more importantly, be safe.
More from Band Saws
Craftsman 10 Band Saw
Milwaukee Band Saw M18
Milwaukee Cordless Band Saw
Porter Cable Band Saw
Skil Band Saw
Vertical Band Saw
Wood Band Saw
Dewalt Portable Band Saw
Ellis Band Saw
Milwaukee Band Saw
Makita Band Saw
Band Saw Parts
Band Saw Uses
Central Machinery Band Saw
Delta Shopmaster Band Saw
Dewalt Cordless Band Saw
Hand Held Band Saw
Metal Cutting Band Saw Blades
Milwaukee Band Saw Blades
Milwaukee Deep Cut Band Saw
Portable Band Saw Table
Harbor Freight Portable Band Saw
Vertical Metal Cutting Band Saw
10 Band Saw
Craftsman Band Saw Parts
Delta 9 Band Saw
Delta Band Saw Parts
---
Portable Band Saws
DEWALT DWM120K 10 Amp 5-Inch Deep Cut Portable Band Saw Kit
The the advancements of the modern day tools, being mobile has never been easier. I can show up to a job and not have to carry bench top and cabinet machines to get the power i need. Batteries these days can support heavy machinery and still deliver a lot of power. This Kit by DeWalt is amazing.
Common Uses for Band Saws
Because of their versatility, band saws can be used in some capacity on just about any project. Though you may require different kinds of blades, a band saw can be used on just about any material you might work within your shop. For a variety of project types, a band saw may well be your best option.
Woodworking
There's a reason that there's a band saw in pretty much every woodworking shop you've ever been in. That's because of the sheer versatility of the machine in terms of what it can do.

Depending on what kind of project you're working on, a band saw may be the only saw type you'll need from start to finish. The band saw can be used to cut larger pieces down to more workable sizes, and then again to cut those pieces down to exact sizes.

The precision and size of the blade mean you can use them to finely trim down a piece, and you can use it to make more intricate freehand cuts. In some models, you can even make precise miter cuts, as well as bevel cuts using an adjustable worktable.

Any serious woodworker, and even the less serious type, will get plenty of use out of a band saw and will likely find plenty of creative ways to use this machine.


Lumber Ripping
There's also a reason this machine was initially designed for lumber mills. The workspace provided by a band saw, in addition to the continuously running blade, allow for an easy method for ripping larger pieces of wood down to more manageable sizes.

With the use of a fence or miter guide, this process can be made even easier. With these guides in place, you can quickly work multiple pieces down to exact sizes in rapid succession, much like how a lumber mill works.


Metal Cutting
band saws are also an excellent option for those who frequently work with metal. When using the right type of blade, a band saw can be a great option for quickly cutting various metal materials down to size with precise cuts. Additionally, with a little know-how on changing blades, you can quickly go from woodworking to metal work in your shop.
Band Saws vs. Scroll Saws
For those with some experience in workshops, you might see a resemblance between a band saw, and a scroll saw. In terms of design and how these two machines look, you might not even be able to tell the difference between the two. The blade size, housing, and overall look are essentially identical.
Where the difference lies is in the blade type that each machine uses and the way those blades operate. A band saw, as previously mentioned, utilizes a continuous band that runs in one direction.
A scroll saw utilizes a blade similar in size to that of the band saw, but one that is a single piece rather than a continuous loop. This saw also moves in an up and down fashion, similar to how you would operate a simple handsaw. In many ways, a scroll saw is simply a stationary jigsaw.
There are some benefits to the scroll saw's design. The up and down action of the blade allows for a finer and more precise cut, often capable of making 90-degree cuts without stopping to change the angle of the cut.
The blade style also means you can start in the middle of a workpiece by drilling a hole in it and running the blade through it.
These advantages are rarely enough to push the needle for those looking to purchase a saw. The size and durability of the blade on a band saw means it is far more versatile in terms of what can be cut and the size of the jobs that it's capable of handling. The smaller size of the scroll saw blade also means it's more susceptible to breaking.
The far higher level of durability for only marginally more capability making intricate cuts makes the band saw a far more popular choice for most woodworkers and professionals. Those that feel a lack of capabilities will generally turn to a jigsaw for the finer capabilities they may need.
Band Saw Maintenance
Once you've made the move to get a band saw, you'll want to make sure you're taking care of it properly. This will help to ensure it is running at peak performance and help to extend its lifespan.
The biggest factor in maintaining your band saw is cleanliness. Keeping your band saw as clean as possible will help to prevent added wear and tear and help to keep the blade working like new for as long as possible.
This will include a basic cleaning after each use, including vacuuming away as much dust and debris as possible. Managing the dust level on your band saw will help prevent larger buildups that can cause bigger issues if left unchecked.
You also want to undergo a deeper cleaning on a somewhat regular basis, depending on how often you're using the saw. This will involve wiping down all materials to remove any build up.
You'll also want to remove the blade itself and give it a thorough cleaning to remove any gunk that might have accumulated. Be sure to consult the owner's manual for your machine to get an understanding of how to properly remove and reattach the blade. Do the same for the components that hold and guide the blade.
This process will help to make sure your band saw is running as well as possible. Allowing dust to build up, whether on the blade or in other locations, can cut into how well the saw operates and might affect how clean and precise of a cut you can achieve.
Another factor in band saw maintenance is using your saw for its intended purpose. Using a saw with a wood blade to cut metal is a great way to mess up your saw. In the best-case scenario, you come away with a cut piece of metal but a horribly dull and compromised blade. Worst-case scenario you break your saw's blade and risk injuring yourself or breaking other parts of your saw.
At some point, you might even want to look into replacing the blade on your band saw. Over time, the blade on your saw will dull – this is a natural occurrence for any kind of cutting implement. In this situation, it's often easier to simply replace the blade than it is to try and sharpen the teeth on your blade.
Top Band Saw Brands
Those in the market for a band saw will be happy to know that there are a number of high-quality brands that produce band saws commercially. These brands produce a wide variety of band saws, and finding one of good quality that meets your needs shouldn't be a problem.
DeWalt
One of the top brands in power tools, DeWalt also manufactures high quality band saws. Founded by Raymond DeWalt in 1923, the company has been producing top notch power tools for nearly a century. DeWalt makes a range of band saws, geared towards both the hobbyist and the professional, and are especially known for their portable band saws.
Delta
Delta has a rich history of innovation in the field of saws, and that extends to the band saw. The company was founded in Herbert Tautz garage in 1919 and has gone through a few acquisitions since. Today it is under the Black & Decker umbrella of companies but is still producing quality band saws, especially serving the needs of contractors.
Jet
Founded in 1968 in Tacoma, Washington, Jet got its start making machinery for aviation warehouses. Eventually, the company began to branch out, building out a woodworking division in the 1980s. Today Jet is considered one of the top brands for professionally geared band saws. Producing a full line of floor standing models, they're a top choice by workshops and professional alike.
Skil
Founded in 1924 in New Orleans, Skil has a rich history as a company the produces quality saws. Their line of band saws come in a variety of sizes and models, with saws that can meet just about any level of need or workload. They're especially valued as a brand that produces high-quality, affordable bandsaws, both benchtop, and portable.
History of the Band Saw
The band saw as it is understood by today's woodworkers can be traced back to an 1809 British patent issued to William Newberry. While Newberry designed a model that featured a continuous band to be run around two wheels, the technology of the time could not match the demands of the machine and blades simply couldn't withstand the flexing required to run for an extended length of time.
This remained the case for some years. Multiple other patents were issued on other band saw designs, notably to Adam Stewart in 1817 and Benjamin Barker in 1836, though once again the technology of the time could not produce durable enough blades to make these machines practical.
This changed in 1846, when Anne Paulin Crepin, a French carpenter, devised a welding method that could produce blades strong enough to withstand the demands of a band saw. This method caught on and spread. In 1866, thanks to the advances in technology, New York machinist Paul Pryibil was issued a patent for what would become the first commercially produced band saw in the US.
As mass production began, the popularity of the band saw also took off. Valued for its ease of use and stability, the band saw quickly caught on with industry, especially with lumber yards and builders.
Since Pryibil's design was mass produced, there have been few major changes to the overall design and concept of the band saw. Most developments and improvements since Pryibil's machine have come in the form of improved materials and more efficient methods for powering these machines.
Conclusion
In many ways, you can't go wrong with any of these brands. The choice will largely come down to which one makes a model most suited to your needs, both work-wise and budget-wise. Whether you need a professionally capable saw or just one to help you complete the occasional home improvement project, these brands can help you out.
Latest Posts