Band saws are important tools if you plan to make detailed and precise cuts. They can do the work of most jigsaws but with a little more control and stability. Ryobi is a Japanese manufacturer that produces tools and parts for many industries worldwide. They have a strong reputation as a consumer brand for quality and affordability.
Ryobi offers one band saw that we've broken down for you here. Choosing a saw that is functional and easy to use is of the highest importance for the everyday consumer. Here you'll find a quality saw and where to find all the needed accessories.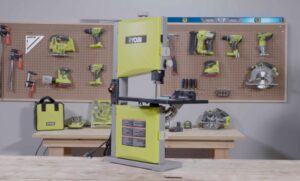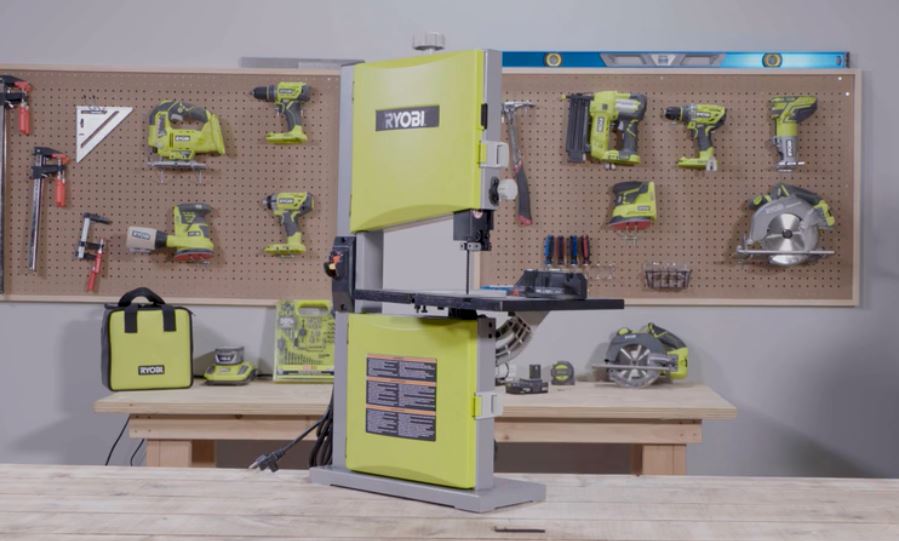 ---
Ryobi Band Saw Review
With only one band saw in the Ryobi line, we've laid out who this saw works best for and why we think it is a great addition for consumers' woodworking projects.
---
Ryobi Band Saw 2.5 AMP
Ryobi's one saw offering is best for DIY and smaller projects. For the saw's power and size, it works best cutting through softer pieces of wood. You should consider another saw if you are looking for more professional-level abilities.
If you only need a saw for small and simple projects and want clean and precise cuts, this 9-Inch band saw will suit your needs. This is a benchtop saw, so it takes up less room than larger floor standing units. With easy setup and simple to use features, any beginner or regular user will benefit from this band saw.
What We Like
Requires little practice to get the hang of the machine to make clean cuts
Incredibly affordable for capabilities
Lightweight (47 lbs.) for portability and does not take up significant room
Versatility in cuts and easy to use
Little vibration in operation for increased comfort and accuracy
Well-made with quality materials compared to saws at similar price point
What We Don't
Instruction manual is difficult to follow regarding set up and upkeep
Saw may need adjustments for accuracy upon opening box
Not suited for larger projects or re-sawing

What is a Band Saw?

Woodworking saws come in all varieties, each with their own benefits and uses. A band saw is used to make precise, irregular-shaped cuts. It is called a "band saw" because it uses a band of metal between two wheels to make detailed cuts. The small blade caters toward intricate cutting work and is often used by woodworkers for consistent uniform cuts. It can be difficult to figure out what tool you need for certain projects. If you have any questions check out these to guides,
Band Saw vs. Table Saw – Which One Do Woodworkers Need First? and Scroll Saw vs Band Saw – The Showdown.

Band saws come in different varieties based on your need for them:

Floor standing: Powerful saws used by professionals for larger cuts

Portable: Much smaller and best for detailed job site work

Benchtop: Attach to a bench as a base, are similar in function to floor standing saws

Meat: Butchers use band saws to trim and cut larger pieces of meat for further cutting (specific for meat, should not be used for any other materials)

Using a band saw is fairly easy once you have set it up. The blade moves up and down and you must move your material into the cut line. Keeping tension on the blade is important for clean cutting. Larger tables are also easier for guiding materials through the blade. With the proper blade for your materials and careful maneuvering along your desired cut line, a band saw is a very useful tool for homeowners and professionals.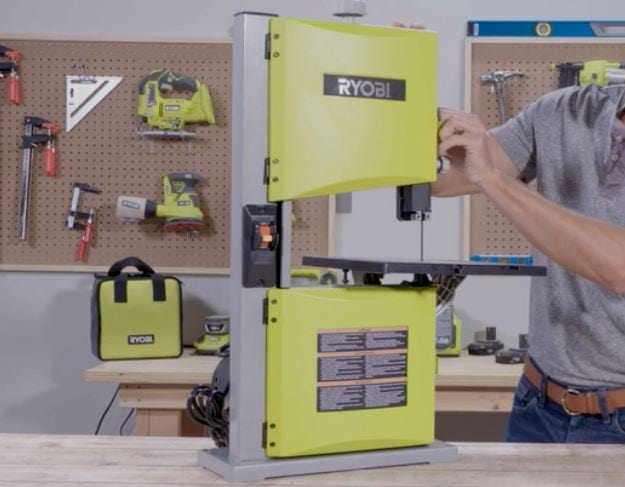 What Kind of Projects Use Band Saws?

Band saws can be used for a variety of precision-oriented jobs. These range from small DIY projects to much larger undertakings on professional jobs sites. The saws will vary in capabilities based on their desired uses.

Band saw uses:

Re-sawing: Cutting a piece of wood along its width

Resetting angles: Clean edges or the face of a board

Cutting veneers: Thin slices of wood often used as paneling

Bent laminations: Aids in bending wood and creating clean edges

Odd-shaped cuts: Easily maneuver unique shapes with control

Cutting tight curves: Smaller blades will allow for really precise angles and cuts

For band saws with the power and capabilities of the Ryobi, many DIY projects can be completed with a band saw. Projects can range from furniture, signage, frames, art, shelving to storage containers. This tool allows for simple and accurate cutting, allowing you to easily manipulate wood pieces with control and precision. Are you looking for a metal band saw? Check out our take on which one is the best,
Metal Band Saw – Who Makes the Best?

Where Can You Find Ryobi Band Saw Blades and Parts?

Choosing the proper blade size and strength for a band saw is important depending on the materials you plan to cut. Narrower blades will be able to make tighter curved cuts. The Ryobi band saw uses a 62" blade, which can come in a variety of types.

Different blade teeth can accomplish different tasks. As long as the blade fits your saw, you can change the teeth patterns:

Skip tooth: Widely spaced for softer metals and best for general woodworking

No teeth: For fragile work such as ceramics, plastics, and smooth cuts

Wavy tooth: Used for cutting tougher and stronger pieces of metal

Hook tooth: Wide teeth spaced closely together for hardwoods

This Ryobi band saw comes with a 1/4 In. X 6T blade with smaller teeth catered toward a variety of projects.

Ryobi band saw parts are not incredibly difficult to find as there is only one model you need replacements more. The most common replacement is for the blade when it becomes dull or you want to use one for a different type of project.

Ryobi band saw blades and parts can be found through their online replacement parts store or through many online marketplaces. Blades do not have to be Ryobi specific in order to fit a Ryobi band saw.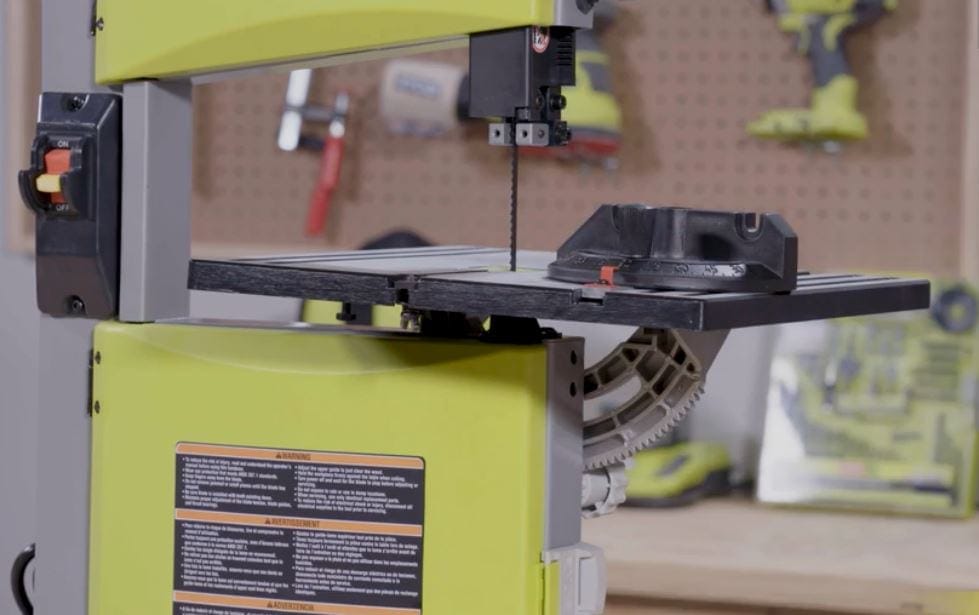 Conclusion
With only one product offering in the Ryobi line, we recommend the 9" band saw for your DIY and home project needs. With quality performance given its price point, you'll find it difficult to find another saw with these features. Band saws can tackle a variety of jobs, cutting through many types of material. If you are looking for a tool that can make intricate and tight cuts, a band saw will be a good investment. Are you looking for mor einformation on band saws? Check out the Band Saw Ultimate Guide.