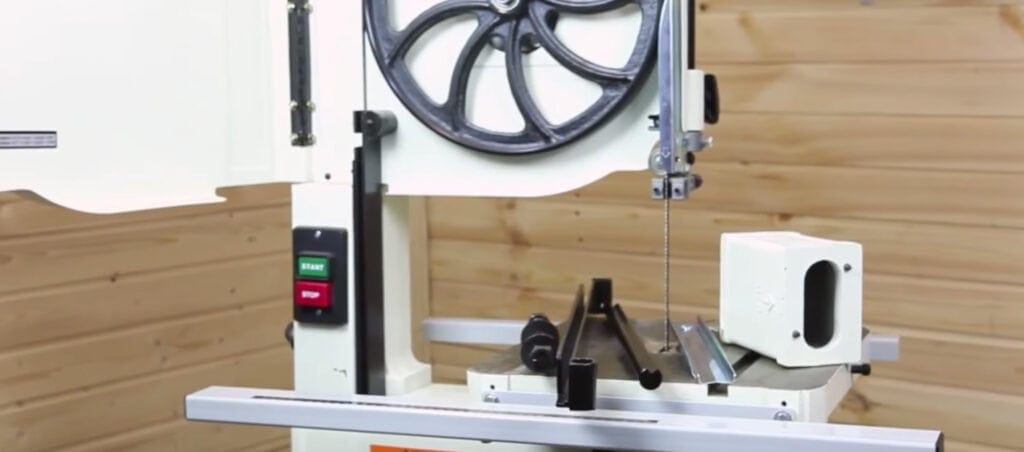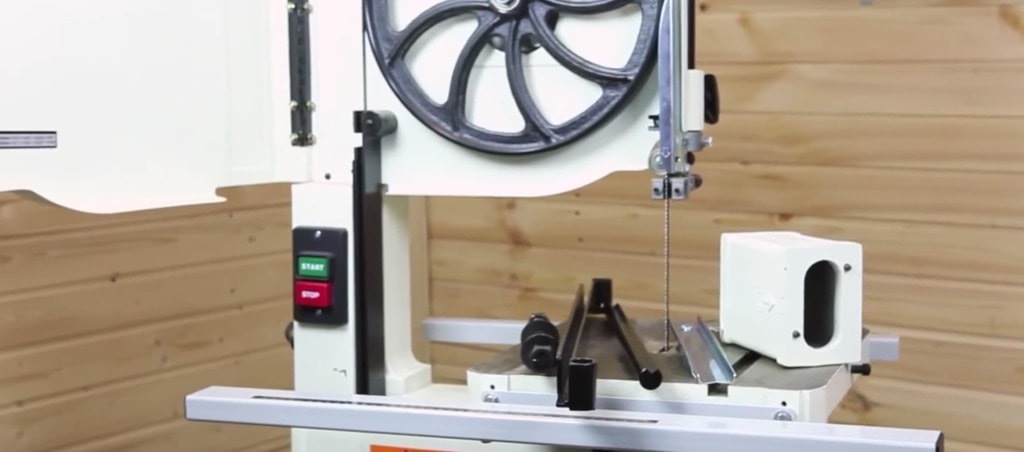 Jet Metal Band Saw
The JET J-8201K 14-Inch /vertical metal band saw has everything any operator needs to tackle even the toughest job. This is a great machine that cuts well and has all the bells and whistles you need for production and small projects
This is a very versatile saw that can be used for cutting just about anything you can get on the table. I've used it for metal, wood, plastics as well as a few other materials that aren't usually cut in a band saw. The Jet bandsaw is built fairly durable. You will have to manually move the belt and shift the gearbox to adjust the blade rate of speeds, however, for a home shop, something like that shouldn't be an issue. Check out our full review of the 5 best band saws.
Here is Chad with CK Knife and Tool with a great review of how he uses the Jet Band Saw. As a matter of fact, he loves it so much, that he no longer uses his table saw with the same frequency.
What's the Difference Between a Wood and Metal Band Saw?
The main difference between a wood and metal band saw is the construction of the saw. For example, a metal band saw is stronger than a wooden saw, allowing for a tighter tension of blades, and for the types of blades being used being broader in comparison to wood. However, one downside of the metal band saw in comparison to the wooden one is the running speed. The metal band saw typically runs slower than wood. We spent 40 plus hours taking a look at the top horizontal band saws, you will be surprised at our top pick.
The main thing that you should look for when buying a band saw is what you are planning to use it for. If you want a metal one, take note that they usually operate horizontally instead of vertically, and they are usually designed for a straight cut. Wood band saws, in comparison, are typically designed for very precise cutting. One example of this is how wood band saws are good at making curves, instead of straight cuts.
What type of Blade Do You Need for a Metal Band Saw?
Because metal bandsaws are stronger than wood ones, they have a wider assortment of blades. There are three different blade tooth patterns in metal bandsaws, all of which have bent teeth to create a wider cut. These three patterns are raker, wave, and straight.
A raker pattern is the most common pattern that is utilized for cutting metal. If you are not doing the typical metal cutting and are cutting in thin work sections, (tubing, angles, and channels) use the wave pattern.
What type of blade do you need for a wood band saw?
There are many things you need to consider when buying a blade for your bandsaw. You would first have to identify what size blade your bandsaw requires. Then, narrow the selection of blades down by what you are planning on cutting, and what type of cut you want to make. For example. If you want to cut a curve, your blade width should be less than the radius of the cut you want to make. Make sure you remember this when choosing a blade: the more teeth per inch, the more precise your cut will be. In contrast, fewer teeth per inch, the rougher your cut will be.
Along with metal band saws, there are different types of teeth when it comes to band saws in general. These come in the form of regular teeth, hook teeth, and skip teeth.
Regular teeth blades are the most common type of blade you will find. They contain straight-faced teeth that are spaced very evenly. These bandsaw blades are used for general cutting. They are used for cutting general metal and wood.
Hook toothed blades have larger teeth than regular blades and are more widely spaced. They are specifically used to make a faster cut in primarily plastic, metal, thick wood, and hardwood. Hook tooth blades are also used to make longer cuts.
Skip tooth blades also contain wider-spaced teeth than regular blades. However, to differentiate them from hook tooth blades, skip tooth blades have a shallow gullet. Skip tooth blades are usually the best choice for doing woodworking since the shape of the teeth allows for a reduction in clogging. For the most comprehensive information check out our guide all about band saws.