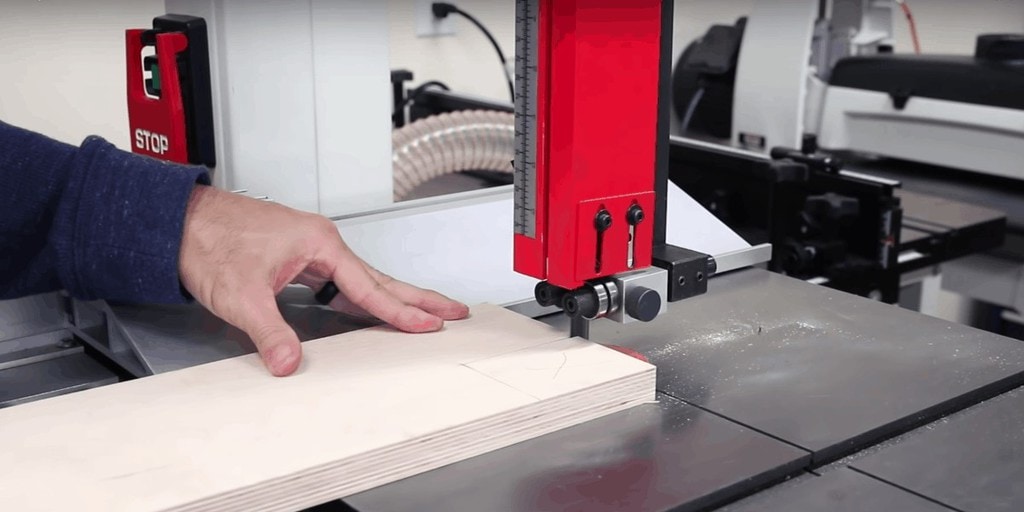 What is the purpose for us to come up with our yearly buying guide? We want our fellow "Saw Guys and Gals" to know what are the best products out in the marketplace right now. One item that you've been asking for in particular is the best band saw. That's why we've created the Best Band Saw Complete Buyers Guide. We have reviewed hundreds of the best band saws and tools to help you find the perfect setup. Our top pick is the Grizzly G0555LX Deluxe Bandsaw, 14″, great value, and a beast of a machine for a floor-standing band saw.
While owning the best router for woodworking could be seen as making the right foundational decision to a wood working shop, the router is also arguably the most versatile tool in a woodworkers arsenal , the band saw isn't far behind – making the owning the best band saws one of the tools you need if you are at least a semi-serious woodworker.
Our guide to the best band saw will cover exactly what you use band saws for, and then recommend some of our "top band saw picks" if you are looking to make a purchase.
A Quick Look at Our Top Picks for the Best Band Saw:
We want your help
Do you have experience with a certain band saw you love or hate? Tell us about it and help your fellow tool lover.
Keep scrolling to see what others think.
What Are The Top 5 Band Saw Uses?
Bandsaws or band saws as they are commonly referred, are primarily used to make an angled cut, straight cut, precise cut, accurate cut, curved cut, and generally any odd or irregular shapes, like cabriole legs. Below is a picture from John Fry on LumberJocks showing cabriole legs that he cut using a band saw:
In addition to curvaceous cuts, the best band saws are also commonly used to rip lumber into thinner pieces, and for doing accurate cross cuts. In fact, a good band saw is one of the smoothest cutting tools you'll find. You can buy a vertical band saw, wood band saw, horizontal band saw, benchtop band saw, and more!
The system seems a little archaic, but on the inside of a band saw is a wheel and pulley setup similar to what you see below on the 14 inch Grizzly Band Saw.
The downward action of the wheels sets the blade in motion and provides for the steady cut. Also, in comparison to using a table saw, band saws are generally safer because of the downward cutting action. This virtually eliminates "kickback" which is a factor when using a table saw.
Band saws actually come in quite a few sizes – including smaller tabletop band saw models. Also called benchtop bandsaw, Benchtop bandsaw models tend to be more affordable, and obviously take up less room if you are a little tight on space.
Band Saw Sizes Explained
As for the different sizes of band saws, Monte of Popular Woodworking puts it this way:
Band saw size determines the stock size it will handle and the size is based on two dimensions. First is the distance between the inner edge of the blade and the throat of the saw. A 14″ band saw has a 14″ measurement between the two. This measurement may range from 10″ up to 24″.
Some manufacturers may go by the wheel size, which will make the measurement smaller. The second dimension is the depth of cut — the distance between the table and the underside of the blade guide/guard.
On a saw with a 6″ depth of cut, you can actually cut about 5-7/8″ due to the clearance needed for the guide to assure easy movement of the work."
Monte Berch Popular Woodworking
What are the Best Bandsaws?
RIKON 10-305 10-inch, 1/3 HP Band Saw
The RIKON 10-305 is a really solid band saw that can be had for modest price. Although it's not the cheapest benchtop band saw, it's not the most expensive either and is really capable and there is a lot to like about it.
The frame on the 10-305 is solid steel with a cast iron table and cast aluminum wheels. The quality on this feels good and there are very few plastic parts to be found on this saw.
The motor is 1/3 HP which isn't the most powerful but it still gets the job done and moves the bandsaw blade at a respectable 2780 feet-per-minute (FPM). The table won't bevel to the left but will bevel up to 45° to the right and all the adjustments on the saw are pretty easy to make.
It's nice that the saw includes a 2-inch tall aluminum rip fence but there is no miter gauge included. So, if you need one of those, you'll be purchasing it separately. One impressive feature is that this band saw is backed with a 5-year warranty. That's pretty hard to beat.
Facts and Features
1/3 HP, 3.5-amp motor
Solid steel frame
Aluminum cast wheels
Blade speed of 2780 FPM
Throat capacity of 9-5/8 inches
Cutting height of 4-5/8 inches
Uses a 70-1/2-inch blade with widths ranging from 1/8-inch to ½-inch
Bevels 0° to the left and 45° to the right
Includes a 2-inch tall aluminum rip fence
Incredible 5-year warranty
WEN 3962 10-inch, 3.5-amp, Two-Speed Band Saw with Stand
The WEN 3962 band saw is a great little bandsaw with a lot of nice features that you don't see on many other at this price range. It has a stout 3.5-amp motor that can operate at either 1520 or 2620 FPM. One nice feature is the 3-in-1 dust port that will accept hoses of 1-3/4, 2-3/4, or 4 inches.
The throat capacity comes in at 9-3/4 inches but the cutting height is a respectable 6 inches. That's pretty decent for a 10-inch band saw. This saw also includes a tall rip fence and a miter gauge.
There is also a really bright LED work light which can be controlled with an independent switch. Meaning the saw itself does not need to be on for the light to be on and vice versa. The WEN 3962 also comes with a stand right out of the box and it's actually very sturdy. So, that's one less thing to buy if you think you might need a stand.
All in all, the 3962 is a really good bench top band saw with handy features for a very good price.
Facts and Features
3.5-amp motor
Variable speed of 1520 or 2620 FPM
Throat capacity of 9-3/4 inches
Cutting height of 6 inches
Uses a 72-inch blade with widths ranging from 1/8-inch to ½-inch
Bevels 0° to the left and 45° to the right
Includes rip fence and miter gauge
LED work light with independent switch
3-in-1 dust port
Includes stand
2-year warranty
SKIL 3386-01 9-inch, 2.5-Amp Band Saw
This band saw from SKIL bridges the gap between a scroll saw and a band saw. It's not large by any means but it is still surprisingly capable so long as you understand what it can and can't do. And really there isn't much it can't do.
The 2.5-amp motor is surprisingly good, even with the original blade, at cutting even hard woods without bogging down. This saw can handle some non-ferrous metal cutting with the proper blade, but if cutting metal is high on your list you might consider another saw.
The throat capacity is 9 inches and the cutting height is pretty low at just 3-1/2 inches. Don't plan on doing serious resawing with this saw. While the 3386-01 does contain a fair number of plastic parts (which many people loathe) it's metal in the places that count such as the frame, table, and blade cover.
While it does have an LED work light, the light only turns on when the saw is on. SKIL has also included a fence and miter gauge. Not bad for a saw that's half the price of the next least expensive.
Facts and Features
2.5-amp motor
Blade speed of 2800 FPM
Throat capacity of 9 inches
Cutting height of 3-1/2 inches
Uses a 59-1/2-inch blade with widths ranging from 1/8-inch to 3/8-inch
Bevels 0° to the left and 45° to the right
Includes fence and miter gauge
LED work light
3-year warranty
Grizzly G0555LX 14-inch, 1 HP, Two-speed Deluxe Band Saw
This video is from Grizzly, but I really think it helps illustrate all the features and what you can expect when you're looking to purchase Grizzly band saws.
The Grizzly G0555LX is a powerful band saw for its price range and size. Not only is it powerful, but the G0555LX is hefty and sturdy, as well. It weighs nearly 250lbs. So, spring for the home delivery and call a buddy to help you get it where you want.
Its heft is due to its almost entirely cast-iron construction. The frame is cast iron, the wheels are cast iron, and the table is cast iron. This saw is sturdy with little vibration or wiggle. With all that weight in the wheels and a 1 HP motor capable of either 1800 or 3100 FPM, the Grizzly G0555LX packs a lot of punch. More than plenty for your typical homeowner.
The throat capacity is a very large 13-1/2 inches but the 6-inch cutting height is somewhat underwhelming. Luckily, you can add a riser to allow this saw to grow with your needs. And it should also be noted that since this saw is so heavy, it's a little disappointing that the included stand doesn't have any wheels. But overall the G0555LX from Grizzly is a top-notch band saw.
Facts and Features
1 HP motor, 11-amp (5.5 @ 220V) motor
Cast-iron frame, table, and wheels
Two blade speeds of 1800 or 3100 FPM
Throat capacity of 13-1/2 inches
Cutting height of 6 inches
Uses a 93-1/2-inch blade with widths ranging from 1/8-inch to 3/4-inch
Bevels 10° to the left and 45° to the right
Includes aluminum fence and miter gauge
Includes stand
1-year warranty
Laguna Tools MBAND1412-175 14-inch, 1-3/4 HP Band Saw
The MBAND1412-175 has some serious specs which allow it to compete with nearly any of the best band saws on the market. To begin with there is the powerful 1-3/4 horsepower motor. That will give you plenty of power to cut through pretty much anything and even to resaw dense hardwoods.
Speaking of resawing, this saw has a massive 12-inch cutting height which will allow you to do some serious resawing. The throat capacity is also large at 13-5/8 inches. There is also an aluminum Hi/Low fence to help you handle that wider material when resawing.
There is good quality throughout this saw. The frame is solid steel and the wheels and table are cast iron. Everything runs smoothly and is easy to use. Laguna appears to stand behind this quality as they provide owners with a 2-year warranty. It's the most expensive on the list, but it's worth every cent.
If your an avid woodworker I'm sure your familiar with Jory Brigham, take a look at his video review.
The Laguna 14|12 Bandsaw Review with Jory Brigham
Facts and Features
1-3/4 HP motor, 14-amp (7 @ 220V) motor
Steel frame with pyramid spine
Cast iron table and wheels
Throat capacity of 13-5/8 inches
Cutting height of 12 inches
Uses a 115-inch blade with widths ranging from 1/8-inch to 3/4-inch
Bevels 7° to the left and 45° to the right
Blade tracking window
Includes aluminum Hi/Low fence
Safety key
Stand included
2-year warranty
Bench Top Band Saw vs Floor Standing Band Saw
When you're making a decision on what sort of band saw to purchase, size is going to matter a lot. Each band saw will have limits as to the size of material you'll be able to have it cut and in almost every instance the floor standing models will be able to handle more.
The two things to consider here are the throat capacity and height capacity. The throat capacity is a measurement from the left of the blade to the inside of the frame and will be slightly less than the size of the wheels. So, a 17-inch band saw might have a throat capacity of 16 ½ inches for example. This is probably the more important measurement for you to consider as this one cannot be changed.
The height capacity is a measurement from the top of the table to the bottom of the top blade guides. In general, you're probably not going to have to worry about this height unless you plan to do a lot of resawing.
But if you plan to do resawing a lot it's a very important number to consider. Luckily, this number can be changed by installing a riser block kit on to your band saw and voila, you can handle more material for a resaw.
Another significant difference in a bench top or floor standing band saw is the power. The larger band saws have larger motors and are just plain more powerful which means they are capable of more. They will cut harder, denser, and thicker materials much more easily. This isn't to say that the bench top saws aren't capable of a wide range of work, they are, but the larger floor standing ones are more versatile.
Floor standing band saw models are also significantly heavier (on the order of hundreds of pounds) than bench top models. This is both good and bad depending on what you're looking for. Because they are heavier the floor standing band saws are much more stable but they are also a bearcat to move any significant distance.
Bench top band saws are lighter and smaller. So, they are easier to move and take up less space but you'll sacrifice power, throat capacity, and height capacity.
Band Saw Blades
Band saw blades are a unique piece of equipment. They are a large loop welded together at one point with teeth on just one side. The cut quality and finish of a band saw blade is measured by the number of teeth per inch (TPI). The higher the TPI the better the quality but the slower the saw will cut. Fewer TPI cuts faster but leaves a rougher finish.
You'll also need to consider the blade length and width. The length is pretty well set based upon your specific saw. There is a length your band saw will need and that is static. Blade width however will vary depending on what you're doing. There are still maximum and minimum widths each saw will accept though.
Generally, you want to use the widest blade you can. When resawing you'll just want to use the widest blade possible but when you're cutting curves you'll want to use the widest blade that will still manage the radius of the smallest curve you'll be cutting.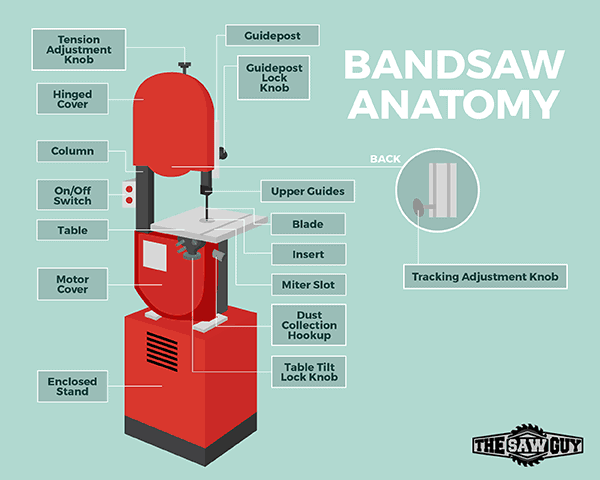 Features that Matter
Motor
There are two main components of your band saw which will determine what type of material you can ask it to cut: the blade and the motor. While they are electric, band saw motors are typically rated in terms of horsepower.
Anything less than 1.0 HP is going to be one of the smaller band saws. These are still pretty capable saws depending on your needs and skill level. They are great for less demanding jobs and maybe even some metal cutting depth and occasional resawing.
If you know you'll be cutting metal regularly or if you plan to cut large hardwood stock or perform lots of resawing of wide material, you'll want a 1.0 HP or an even more powerful 1.5 HP to 2.0 HP band saw.
Band Saw Frame
The frame on a bandsaw is what everything else is built off of. It may not seem like much of a 'feature' but there is enough variation between different styles that it will affect the saw in ways which will alter the way the band saw behaves.
There are three different style of frames that are most common: die-cast, welded steel, and cast iron. I prefer cast iron when available because it's both strong and heavy which makes your band saw very sturdy feeling.
The purpose of the frame, besides holding everything else up, is to provide rigidity and weight to the band saw. The forces of two wheels spinning at a high rate can create a lot of vibration and wiggle to a saw that will get transferred into the blade. Obviously, a saw that is unstable won't produce the quality of cut or provide the user with the level of control that a more stable saw will.
Band Saw Wheels
Yet another thing that might not seem like a significant feature at first, but one which will affect the way your saw cuts and behaves. Wheel weight matters. Internal wheels are typically cast aluminum or cast iron – with the aluminum being considerably lighter than the cast iron.
The heavier the wheels are the more inertia they provide. This inertia gets transferred to the blade and allows the saw to cut better by maintaining a steady speed and a consistent cutting experience.
Band Saw Blade Tension Indicator
This is a device on some, but not all, band saws to help you set the tension on the blade to the required PSI tension for that particular blade. Setting the tension can be a bit of a challenge especially if you don't have any experience setting it before.
If the tension is too high the band saw blade will wear out sooner and may even break. If the tension is set too low the blade may deflect off track and not cut straight.
So, as you can see, getting the tension right is very important. However, as nice as these tension indicators appear on the surface, they can be difficult to trust. Historically, the blade tension indicators included on the saws are inaccurate, either measuring too high or too low by a fair amount. The problem is, you probably won't know whether your saw is too high or too low until you're using it.
A blade tension indicator can be helpful for getting you in the ballpark, but I wouldn't rely on them as your sole means of getting the tension right.
Bevel Capacity
This is a pretty straightforward feature in that it allows the table of the band saw to tilt in order to make beveled cuts. Due to the nature of their design, band saws only allow the table to tilt appreciably to the right, usually up to 45°. Some will make a nominal tilt (less than 10°) to the left.
The main thing is for this feature to make an accurate beveled cut and return to square when adjusted back. Also, the easier it is to make these adjustments the more confident you'll feel in using it.
Work Light
I gotta confess, when I first heard about little LED lights being put on tools I thought it was a gimmick and a massive waste. After having used some tools with built in work lights I've done a 180 and a built-in work light has become one of my favorite 'simple' additions to a tool.
It's hard to overstate the usefulness of having light in jut the right place when you need it, especially when making complex cuts. Complex cuts are the band saw's bread and butter.
A band saw is big enough for you to mount a light on it without needing it to be built in but that's another cord you'll have to run and it's one more thing to manage and be aware of. Having a work light right there on the machine all the time is a great bonus. But as much as I love them I'd also prioritize other features before a work light.
Band Saw Blade Guides
These are pretty straight forward and do what their name suggests. There are usually two sets of blade guides, one upper set and one lower set below the table. They sit right next to the blade, even touching in some instances, and ensure that the blade remains square, vertical, and does not track or turn when cutting.
Each set of band saw blade guides consists of three parts: two side supports and one thrust support behind the blade. The side guides prevent side to side movement and twisting while the thrust support prevents the blade being pushed backwards in tougher cuts.
There are two main kinds which are bearing guides made from sealed bearings and ceramic guides. These are the two most popular styles but they are definitely not the only two styles around.
A good set of guides will help keep the quality of your cut and the control of your blade at a high level.
Dust Collection
Big dust ports are ideal. It's a good idea to hook up your Shop Vac or dust collection system to the integrated dust port on your band saw. A 4-inch dust port will tend to expel more dust than a smaller 2-¼-inch port, so a little bigger is better – but you can get by with either. Just make sure you connect a vacuum or the dust port is useless and you'll end up with dust everywhere.
Band Saw Safety
The best band saws are largely safer than most other saws due to an almost non-existent risk of kickback. Kickback is usually a danger with a rotating blade where there is some element of lift involved in the moving blade such as on a table saw. A band saw blade moves continuously in a single direction.
So, the biggest danger with a band saw is getting cut. However, in the event of a cut on a band saw the injury is usually pretty severe because band saws are fast and effective cutters. Luckily, any band saw worth its salt includes a blade guard.
Lower the guard to where there is somewhere around 1/8 to 1/4 of an inch of clearance above your material. This is great for two reasons. Not only will it minimize the amount of blade available to cut you, but since the top guides are on the bottom of the guard, lowering the guard brings the two sets of guides closer together. This allows the blade guides to do their job of controlling the blade that much better.
There are other measures you can practice to avoid injury, as well. For one, read the manual so you know your specific band saw and how to use it safely. Try to move your material along by pushing it with your fingers on top of the material rather than your thumbs braced behind it. And use a push stick or block if your cut requires you to bring your hands within 2 inches of the blade.
Speaking of the blade, use the proper blade for the cut you are going to be making. Use a thinner blade for tight curves and a wider one for things such as resawing. Make sure the blade is sharp, too. When your blade is dull you have to push harder. Having to exert a lot of pressure is not only harder on the machine, but it also means any lunging forward in a cut will be that much more significant.
Finally, know that a band saw blade does not come to a complete stop right away and can continue coasting for some time after you've shut the machine down. Be sure the blade has stopped before putting your hand near the blade. Also, wear your dust mask and use safety glasses. You only get one pair of eyes.
Best Band Saw Brands
SKIL
SKIL made its name with their Model E, the first handheld, portable circular saw, and has been renown for innovation since. Their product line has expanded to an array of power tools including table saws, drills, routers, and many others, in addition to accessories for these tools.
Grizzly Industrial
Established in 1983, Grizzly Industrial is a relative newcomer to the world of tool and machinery making. But in that time, they've cultivated a reputation for making top quality equipment and many of their products have won awards. Whether it's wood or metalworking, Grizzly makes great products used in both large and small-scale operations.
RIKON Power Tools
RIKON makes a wide range of machinery specifically for woodworkers and with the woodworking experience in mind. They consistently have quality products which they back with a 5-year warranty.
WEN
WEN has been around since 1951 with a focus on bringing electricity and tools together. They make a wide range of various power tools and machinery. WEN focuses on keeping tools affordable but still of a high quality. Buying a WEN band saw is a purchase that any woodworker should make when assembling their wood working shop. Anything from drill presses and sanders to generators and hydraulic cylinders falls into their wheelhouse.
Laguna Tools
Laguna Tools, based out of Irvine, California, was founded in 1984 with the plan to bring the European style of tools to the United States. With a focus on manufacturing top of the line woodworking tools and CNC machines, Laguna Tools continues to impress with their strong products.
Jet
Though we didn't specifically review any, Jet also makes a high quality bandsaw. They started in 1958, but didn't bring on the woodworking sector of their business until the 1980's. Jet also offers an industry-leading warranty on virtually all of their products.
Frequently Asked Questions
Q: Can I use my band saw to cut metal?
A: Cutting metal is something most band saws should be able to handle if you have the proper blade installed and know the limits of your saw. Some saws will only be powerful enough to handle non-ferrous metals while others can do it all.
Q: Can I use my band saw to cut meat?
A: This might seem like an odd question but it's one that comes up frequently. Yes, absolutely a band saw will cut meat. That's why it's important you don't get your digits too close to the blade. But it's going to make an awful mess and if this is a saw used for cutting wood, metals, and other things, I'd keep the food off of it. In fact, it's probably best to look for a band saw specifically intended for butchering.
Q: Will I need a specific saw blade for certain cuts?
A: Yes. When cutting different kinds of materials, you'll want to be sure to use the proper blade for that material such as metal. When cutting curves, you'll want to use the widest blade that will cut those curves and when resawing you'll want the widest blade your band saw will allow.
Q: Can I sharpen my band saw blade?
A: Band saw blades can range from pretty inexpensive to very expensive, though cheap band saw blades can be hard to come by, so it may not always be feasible to just replace them if they go dull. You can sharpen the blades with a little bit of patience and know how. This can be done either with a Dremel or with a grinder.
Q: What size extension cord should I use for a tabletop band saw?
A: Not all extension cords are equal, they vary significantly on the amperage they are rated for. So, you'll need to ensure you also have an extension cord that can meet the power needs of your saw. Failing to get enough power to the saw not only prevents the saw from performing at its maximum, but will also shorten the life of your saw.
Final Thoughts
There is an old saying that if you buy on price, you will usually buy twice. Meaning that the price of the saw shouldn't be the only (or even the most important) factor when deciding which saw to choose. So, if you are really into woodworking and think you'll make good use of it and all its capabilities, the Laguna MBAND1412-175 is probably a good choice. It can do nearly everything you might imagine and is made with high quality materials.
If, however, you are looking for a more light-duty model for a small woodworking project, the SKIL 3386-01 is still made very well with a consistent performance and a bargain of a price. What's important is for you to evaluate what your needs are and how you intend to use the band saw. That doesn't mean budget isn't a factor, but if the saw doesn't do what you want it to you'll either be replacing it shortly or you won't use it at all and miss out.
I would like to advise you to look for quality materials above all. The frame, the table, the wheels, etc. should be made with high quality materials (not plastic or cheap metal). Always make sure you check into what these items are made of and read some Grizzly band saw reviews, and SKIL band saw reviews as a start. Those are just two of the best band saw manufacturers on the market. Also, make sure to be aware of the cut quality of the band saw before making a purchase. A band saw is something you don't want to skimp on – buy quality and it will last and make great cuts for you.
Are you looking for more? Check out some other articles I have written: