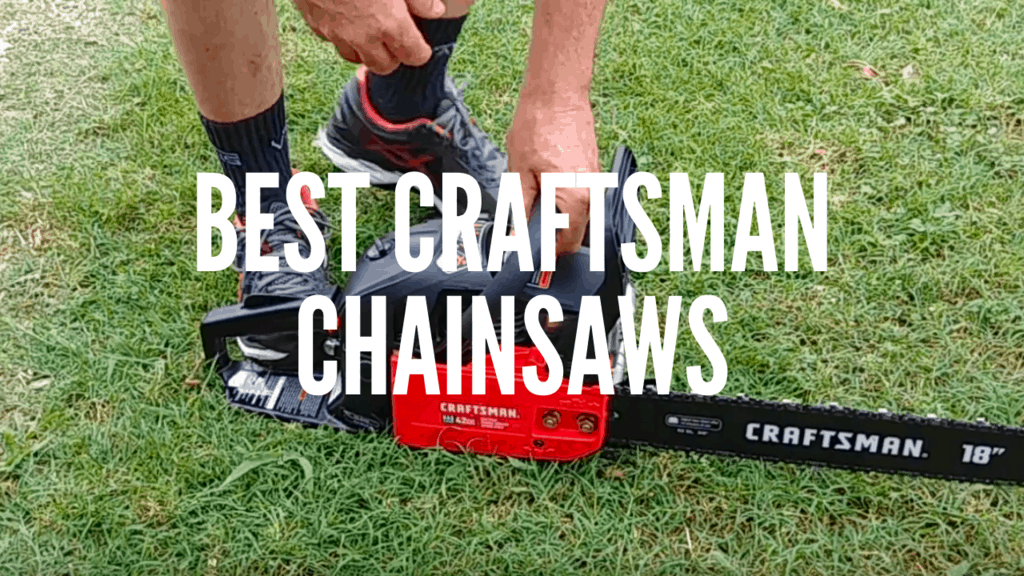 Does your chainsaw keep stopping and breaking down? Craftsman offers you many different selections of chainsaws that can fit your exact situation and make short work of brush and even some trees. Keep reading to find the best Craftsman chainsaws in 2020.
Are you trying to find some general information on different tools? Check out our complete resource guides on Miter Saws, Table Saws, Chainsaws, Band Saws and Circular Saws. These guides have all the information you need. You will be able to find history, the different types of the tool, top brand sold, and more! 
Our Top Picks
Craftsman CMXGSAMY426S 46cc 2-Cycle 20-inch Gas Powered with Carrying Case (Best gas option)
A versatile chainsaw model that has a high output engine capable of delivering steady power and can limb, cut, trim, and prune trees with ease. This chainsaw is designed to go through the toughest wood, easily and quickly.
It is best used out on a ranch or commercial site where it will deal with larger workloads and tough situations that lighter-duty chainsaws wouldn't be able to solve.
What we like:
Comfortable design with a cushioned handle that makes handling easier
Comes with heavy-duty carrying case
Has an automatic oiler that keeps the bar and chain in proper condition
Secure handling: a 20-inch low kickback bar and chain, inertia-activated chain and bucking spike helps provide you with greater control.
Very durable to prolonged cutting tasks because of the pro-grade chassis
What we don't like:
A little more expensive than others
Some trouble with the fuel getting to the cylinder
May have some problem starting
The Bottom Line
If you want a chainsaw that has a comfortable feel with lots of power and doesn't require you to oil it, then this is the perfect chainsaw for you. You may have to dig deeper into your wallet because of the price, but it will last you a long time, which makes it an excellent investment.
---
Craftsman V60 Cordless Chainsaw, 16-inch (CMCCS660E1) (Best electric option)
This chainsaw uses a high-efficiency brushless motor and is equipped with a 2.5 Ah battery that gives you extended work time. The included V60* battery platform allows you to use the product across all V60 Craftsman tools.
It is best used at your home where it can reach tall branches easily and quickly take care of any yard work you need to be done. It is easy to carry, and you don't have to worry about gas and oil because it's electric.
What we like:
Auto oiling, combined with tool-free tensioning, allows for easy maintenance.
Bubble level lets you cut with more precision.
Relatively low kickback with a 16-inch low kickback chain and bar.
Lots of power to cut through the toughest wood
What we don't like:
May be some issues with the battery dying preemptively
The battery can overheat on a hotter day
The chain is of a lower grade
The Bottom Line
For those that want a chainsaw without the annoying cord that comes with precision cutting and minimal maintenance, this would be a great selection. Be careful of hotter days, as this will cause some problems with the battery.
---
Craftsman V20 Pole Saw, 14-Foot (CMCCSP20M1) (Best Pole/Long-Reaching Option)
The pole saw is designed to take out those troubling branches high up in the trees. It comes with a 4.0 Ah battery that helps prolong its running time.
The specialty of this pole saw is obviously to get branches that are high up. It can also cut through thick limbs on the ground that are far away and hard to reach. It includes features such as the branch hook, which removes cut branches that are still caught in the tree.
What we like:
Has an angled head and blade that lets you cut with more precision
Has a branch hook to help remove some cut branches that are stuck
Includes a battery and charger
Makes smooth cuts through some fairly thick limbs
What we don't like
A little more expensive than others
Not a lot of power behind it
Doesn't have an oiler
The Bottom Line
This chainsaw's primary goal is getting those hard to reach branches and plucking them out when they get stuck. While it is a little expensive and lacks in power, it will get stuck branches out of your way with a unique hook.
---
Additional Questions
Do You Really Need a Traditional Chainsaw?
Traditional chainsaws are best for those that need to do heavier work, such as cutting down entire trees and very thick limbs.
How Can I Cut down High Tree Branches?
If you're using a traditional chainsaw, you would need a ladder. You could also use a pole saw to get those tricky branches.
What's Better a Gas or Electric Chainsaw? Chainsaw?
| | |
| --- | --- |
| Electric Pros | Gas Pros |
| Great for yard work | Ideal for ranch or commercial sawing |
| Can reach tall branches with ease | Can cut large trees & branches |
| No mixing of oil and gas | Runs longer but must refuel |
| Compact, light & easy to carry | Comes in a large range of bar lengths |
| Easy push-button start | |
| Doesn't require much maintenance | |
| | |
| --- | --- |
| Electric Cons | Gas Cons |
| Not great for larger jobs | Louder |
| Max range of 100 ft for power (corded) | Emits fumes |
| Cordless saws last for around an hour | Higher initial cost |
| Struggles to cut large branches and trees | Heavier and harder to handle |
| | Must mix oil and gas. |
Can a Chainsaw Overheat?:
The engine of a chainsaw can quickly overheat, especially if dust or wood chips are blocking the system. You must keep not only the engine clean, but the muffler also to keep the engine from overheating.
How Do You Maintain a Chainsaw?:
Check the bar and chain levels often and make sure the chain is always sharp so that the cutting is done as efficiently as possible. Make sure that all the debris if cleaned off after you use it.
Sharpening Your Chainsaw Chain:
Use a file to regularly sharpen the blades. This is not hard to do, and it is an essential part of maintaining your saw. This also makes every job you perform with your saw much easier.
Put your chainsaw in a vise and keep it secured so that it won't move as you work on it.
Activate the chain brake
Sharpen the cutting teeth first, use the file depth gauge on the chain so that the arrows are pointing at the chainsaw bar nose.
Always file at a right angle to the chainsaw rollers
File the other cutting tooth with a smooth and even pushing stroke
Turn the saw around so that the saw is facing the opposite direction
Finish filing the other cutting teeth by using the same motion.
About Craftsman
Craftsman Chainsaws was founded in 1927. The company manufacturers all sorts of tools such as garden equipment, lawn equipment, and of course, power tools.
Craftsman is still manufacturing tools, and they're making them in the USA with some global materials. You can find a lot of these tools available at Lowe's
The Takeaway
To conclude, our top picks are:
Craftsman CMXGSAMY426S 46cc 2-Cycle 20-inch Gas Powered with Carrying Case (Gas option)
Craftsman V60 Cordless Chainsaw, 16-inch (CMCCS660E1) (Electric Option)
Craftsman V20 Pole Saw, 14-Foot (CMCCSP20M1) (Long reaching option)
These chainsaws have the most power, lifetime, and they contain many top-notch features that will get the job done quickly and easily.
If any of these models are out of your price range, then try looking at the Oregon 570995 CS1500 Chainsaw. It is one of the least expensive chainsaws out there today, and it can sharpen itself.
If you're tired of chainsaws that don't have enough power and keep breaking down on you, then buy one of these Craftsman Chainsaws.
Are you looking for more guides on chainsaws? Check out some of our most popular guides, Best Chainsaw Chaps 2019 – Reviews and Buyer's Guide, Review: Black + Decker LCS1240 12" Lithium Ion Chainsaw, Lowes Chainsaws | Browse Gas, Cordless & Electric, and Stihl Chainsaw Prices: Tips and Reviews.