Big box stores offer variety, a big appeal to consumers who are looking for many options at varying price points. Lowes offers a wide range of chainsaws, making them a great destination for your landscaping and tree cutting needs. Finding the perfect chainsaw at Lowes may seem overwhelming with the variety, but that's why we've broken it down for you! Need more? See our ultimate chainsaw resource with buyers guides, how to's and tips and tricks.
Here you'll find our favorite chainsaws found at Lowes. Lowes not only offers a variety of chainsaws, so we'll dive deeper into the accessories, parts, and all chainsaw offerings available in the store.
Best Lowes Chainsaws
Lowes carries dozens of chainsaw brands, making it difficult to parse through all the selections. With filters on their website to determine "Best Sellers" and "Highest Rated," we've selected a few of the top performers that match up with other reviewers and sellers.
Greenworks 16-Inch Electric Chainsaw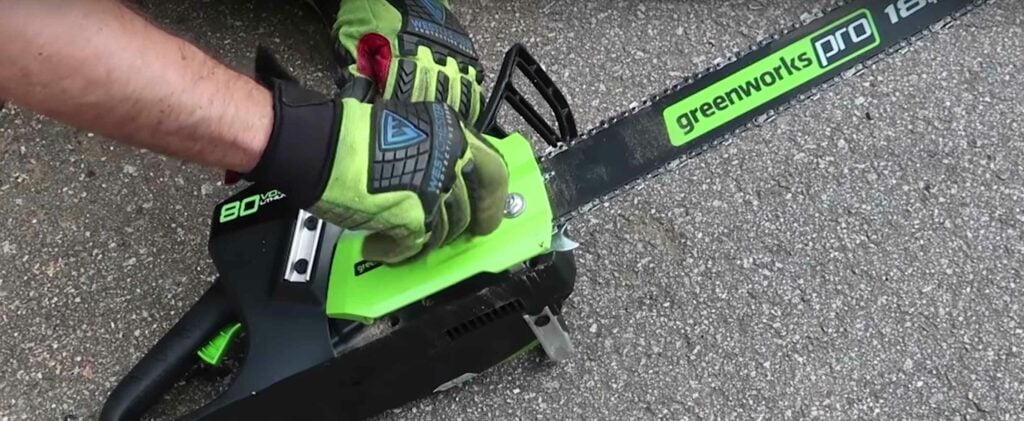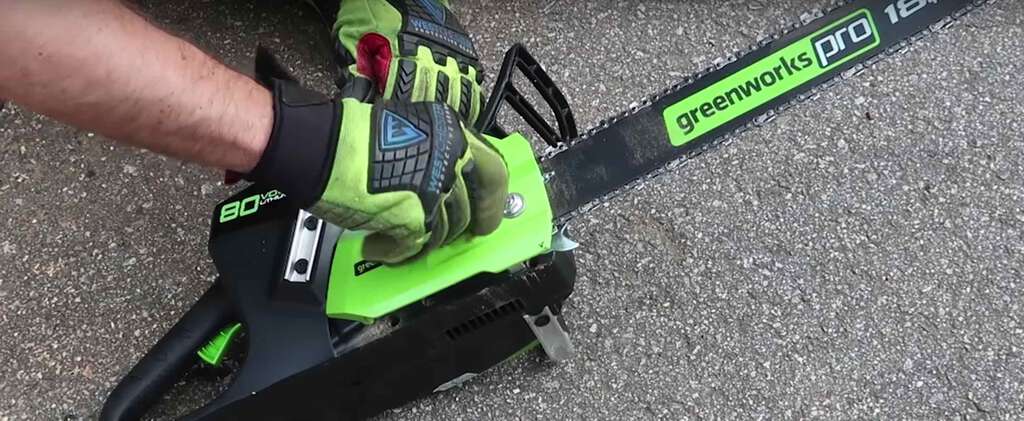 A bestseller and rated highly among Lowes customers, this battery-operated chainsaw is our favorite for its long life and power. It can make about 90 cuts on 4×4 wood on a full charge. With a padded bar for comfort, this chainsaw also had little vibration while working. Designed for medium level work, it will serve a large variety of wood cutting needs, but should not be used to handle big trees. We also reviewed the GreenWorks 20322 Chainsaw be sure to check this out too.
What We Like
No fume emission for environmentally conscious users
The battery can charge over 20 other tools, making it a versatile item
Push start prevents frustration experienced with most gas-powered chainsaws
Power is comparable to gas chainsaws
What We Don't
Battery time lasts around 30 minutes before needing to recharge
Overheating in the battery has been common and takes time to cool before recharging
Husqvarna 455 Gas Chainsaw
This model of chainsaw is well-suited for landowners as well as people to use their chainsaw on a frequent basis. While it is not typically used by professionals, it is able to accomplish almost all chainsaw tasks, including firewood cutting, pruning, and yard cleanup. It is able to cut down larger sized trees, but this may put more wear on the chainsaw and require more frequent maintenance. This is one of the highest rated and best sellers at Lowes as well as other retailers. Want more? See our full review of the Best Husqvarna chainsaws.
What We Like
Automatic oil lubrication allows for minimum maintenance and longer use
Anti-vibration technology is of great importance to Husqvarna, making it more comfortable for users
Lower gas emissions than comparable saws are better for the environment
What We Don't
One of the most expensive chainsaws across all brands
DEWALT 40-volt Brushless Cordless Electric Chainsaw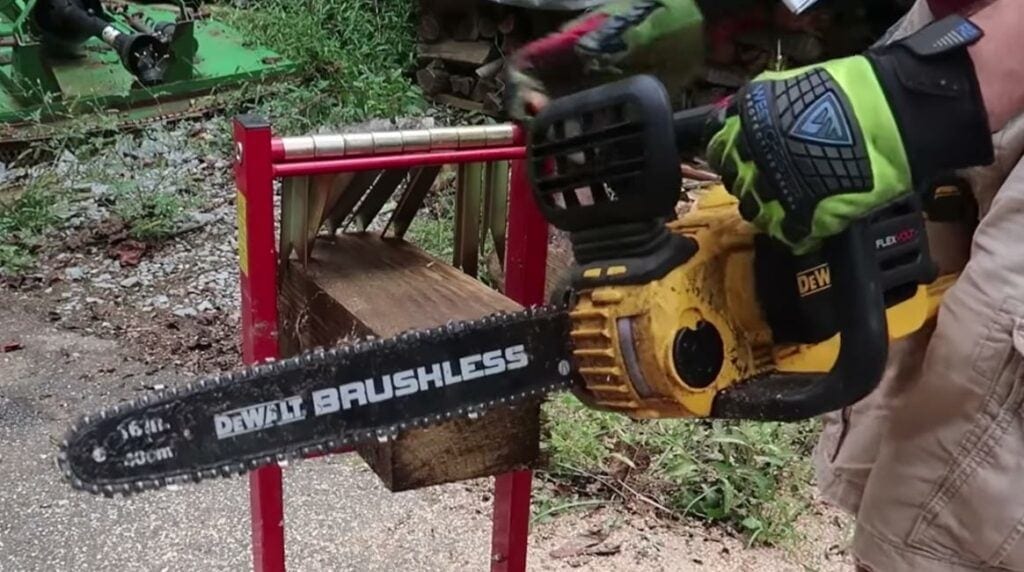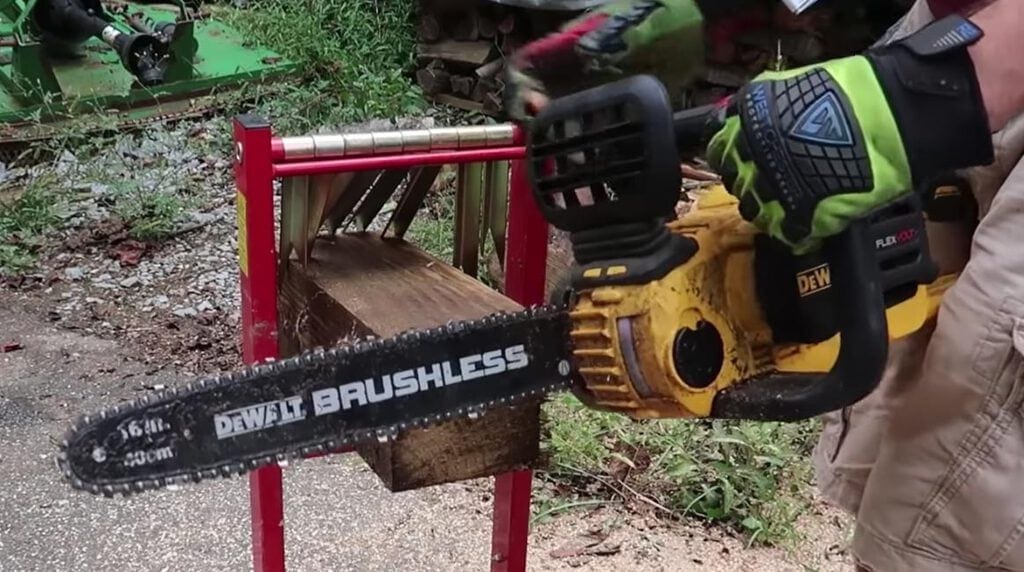 This Dewalt chainsaw is designed for somewhat regular work but on a lighter scale. This saw should be used for yard work, trimming, and pruning trees. This saw has a 14-inch maximum for tree diameter in cutting abilities. It is one of the highest rated chainsaws at Lowes for its performance metrics in power and reliability. Battery power is a highlighted feature for its long life and strength. If you are consistently working the yard, this chainsaw will be a good fit! Are you looking for a compact saw? See our 5 top small chainsaw picks.
What We Like
Designated adjustable speed is helpful for catering to specific jobs
When the saw encounters a jagged movement, it will immediately stop for safety
Lightweight (8.8 lbs.) design making it easy to use and prevent fatigue
What We Don't
It was difficult to find aspects we don't like about this product. The battery has a strong life, and its performance is good. The only downside would be an inability for heavier projects, but that is not what this saw is designed for.
Does Lowes Offer Rentals?
If you just need a chainsaw for one project every once in a while, owning a chainsaw may not make the most financial sense. Choosing to rent or buy depends on a variety of factors, particularly related to how you intend to use a chainsaw and your ability to store and maintain it.
Tool rental is available in Lowes stores, depending on the location. Many stores do not offer the service, so it is best to call your local store for more information. If you do decide to rent over purchase and the store does not provide this service, other big box stores, and smaller landscaping rental companies will offer chainsaw rentals.
Lowes Chainsaw Chains
Extra chains for your chainsaw may be necessary with regular wear and tear after extended us or if your chain breaks. After a while, sharpening won't be able to keep your chain running at its best.
You should replace a chain if:
Blades are increasingly dull
If the chain is missing teeth or they are damaged
You can find plenty of replacement chains at Lowes or any hardware store. Some chainsaws come with an extra chain, but you'll have to check the specifications of the specific product.
Try using a chainsaw that is manufactured by your chainsaw company to ensure proper fit. If you opt for another brand, make sure the measurements are perfectly suited. An improper fit could cause damage to the chainsaw or injury.
A sharpener should be your first step in attending to the condition of your chain before replacement.
Finding a Lowes Chainsaw Sharpener
Sharpening a chainsaw is crucial for accurate and careful cutting. Dull chains will decrease performance and present dangers. Lowes provides a variety of sharpeners made by almost all major chainsaw brands.
Chainsaw sharpeners come in three major types:
Round File: Commonly used hand file slid through the tip of the chain
Bar Mounted Guide: Mounted to chainsaw bar, the file is stable and slid across the chain
Electric: Fastest and the most popular, also the most expensive
See all our favorite Chainsaw sharpeners, this guide will help you pick the best for your model.
Lowes offers many kits for chainsaw sharpening. Sharpening should be completed when you notice a slower movement of the saw when it is in contact with wood or debris collects as dust.
Final Recommendations
Going to a big box retailer for a chainsaw is great for the many options but also makes it difficult to choose! For smaller to medium projects as a homeowner, we believe the Greenworks and Dewalt chainsaws are your best option. For heavy duty work and more frequent use, we recommend trying the Husqvarna. Depending on preference and needs, these chainsaws should accomplish most if not all tasks you need. Happy sawing!