Trimming the shrubs in your garden might prove as a very demanding task. You probably feel numb, exhausted and short of time when trying to trim or cut some trees or shrubs. You might also be using tools that are unsafe, which is why a chainsaw is such a good option. We're going to be looking at one of the best cordless chainsaws available the GreenWorks 20322 chainsaw.
Quick Summary
Value
Power
Reliability
Great choice if you don't like fooling with pull-start gas chainsaws. Excellent vibration reduction and a surprising amount of power for as light as it feels.
Some tips to consider
I have encountered a lot of people who believe there is only one type of chainsaw worth having is a pull cord style gas unit. I am not surprised since not so long ago I also felt the same.
There are different types of chainsaws, but the focus here is on the electric chainsaw. You can use a chainsaw in limbing, pruning, and chopping tree trunks into smaller bits to use as firewood.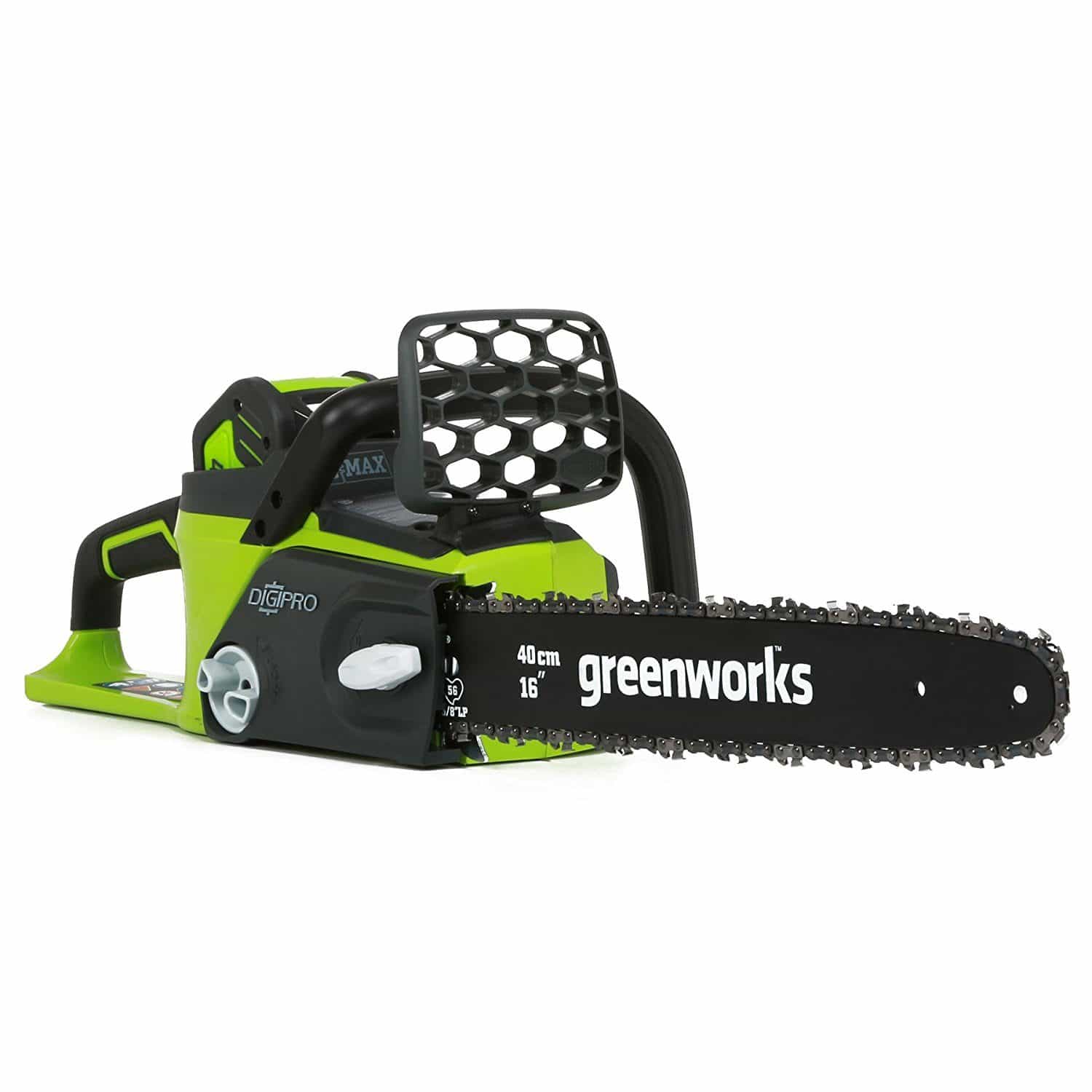 Should you desire efficiency, maneuverability, and pace when cutting or pruning, a battery powered chainsaw might be a good choice. However, before you contemplate getting a chainsaw, you should be aware of the safety implications of using a chainsaw. The maintenance culture associated with a chainsaw requires consistency on your part.
Also, the maneuverability of a chainsaw might be a challenge, so if any of these factors tick attributes of your 'do not buy tools' then perhaps you might want to consider alternative cutting tools.
The GreenWorks 20322 G-MAX 40V 16-Inch Cordless Chainsaw
The GreenWorks 20322 G-MAX 40V 16-Inch Cordless Chainsaw is a battery powered chainsaw manufactured by Greenworks. It is one of latest battery powered chainsaws from the company. They claim you would accomplish more within a shorter time using these electric chainsaws.
Your use of this tool is limited to cutting dry wood, small trees, and other smaller cutting tasks. So, if you are looking to cut down some trees with small trunks, then the GreenWorks 20322 G-MAX 40V 16-Inch Cordless Chainsaw might be a worthy choice.
Pros
Compact and simple design – This is strange in a chainsaw but yet quite helpful. It is simple, lightweight and convenient.
Automatic oiling system – This chainsaw has a traditional primer which reduces your maintenance obligations since your only task is to fill up the oil compartment.
Tool-less chain tensioning – With this feature you wouldn't require any tools to adjust the tension in the chain.
Affordable – Compared to chainsaws in the same category the 20322 G-MAX is quite affordable
Cons
Limited use – This chainsaw cannot be used to cut down big trees or any other task which demand enormous power.
Battery durability – The battery runs down after some time, so you have to stop work to recharge it.
Flawed oiling system – The automated oiling system has been shown to possess faulty oil pumps.
Features and benefits
The 20322 G-MAX offers you a cordless chainsaw which is versatile for all your light cutting and trimming tasks. It has an assortment of features such as the instant electric start, able to run up to two hours with a 4AH battery, and lighter than most chainsaws.
Adjustable Tensioning System
This chainsaw has an easily adjustable tensioning system which is commendable since you wouldn't need to engage in the use of tools to improve the tension of the chain. To adjust the tension, you turn the tension adjustment screw either in a clockwise direction or anticlockwise direction for an increase or decrease in chain tension. However, you will need to guide against an excess tension in the chains, since this decreases the efficiency of the chainsaw.
Automated Oil Primer
Lubricating the chains and bar is very important since the lifespan of the chainsaw depends on how diligently this is carried out. When a chainsaw comes with an automated oil primer, you are only required to fill the oil compartment while the chainsaw handles the oiling.
Lock off Switch
Accidents happen so eliminating the possibility of such happening would be great. This chainsaw has a switch which enables you to lock the ignition switch, so the possibility of turning on the switch in error is history. This minimizes the possibility of you getting injured.
16 Inches Bar and Chain
The bar and chain determine to a great extent its versatility and efficiency, so it's great that this chainsaw makes use of a high-quality bar and chain, renowned for its quality and performance.
By measuring about 16 inches in length, you can use this chainsaw for multiple ranges of cuts swiftly and with precision. Everyone knows one of the biggest causes of injuries with the use of a chainsaw is the kickback effect. This occurs when there is unexpected contact between the area around the chain and the wood which is being cut. The bar and chain used in this chainsaw have been designed to reduce kickbacks. However, you still need to take caution when using the chainsaw.
Battery Powered
This chainsaw runs on a 40V battery with a capacity of 2.0AH; this is a great feature since all you need to do is get the chainsaw charged and you are good to go without the need to carry a cord around. Another great feature is that the battery can be easily detached. This allows you get a spare if there is a need for more power than what a single battery can provide.
Alternatives
GreenWorks 20322 G-MAX isn't the only cordless chainsaw available. Here are some alternative chainsaws similar to the LCS1020 but with variations.
Green Works 20312 G-MAX Cordless Chainsaw
This chainsaw is produced by the Green Works group and like the LCS1020 it is battery powered. However, it has an 18-inch bar which makes for a wider range of cuts. With a 40V and 4AH battery calibration, you can use the chainsaw longer than the LCS1020. The price of this chainsaw is rather costly about $200 more compared to the LCS1020. It is suitable for any individual who desires more power, a better battery and is willing to spend a little more.
Green Works Pro GCS80420 Cordless Chainsaw
Also produced by Green Works, this chainsaw runs on an 80V, 2Ah Battery which is bigger than that of the LCS1020. It has an 18-inch Bar and chain which allows you make cuts not feasible with the LCS1020. With a brushless motor, you get more power and less vibration a feature that a lot of models lack. So if you want more power, a battery which last longer then perhaps this chainsaw might be worthy of consideration.
Looking For More Options? Click here to read our full chainsaw buying guide.
Conclusion
Chores like pruning, limbing and cutting down small trees can be quite challenging, but with the right tools, it becomes easier. When the tool is convenient, efficient and cost-effective the chore which at some point used to be troubling becomes a chore you look forward to. The GreenWorks 20322 G-MAX a battery powered chainsaw might be worthy of note since it is affordable, simple with minimal hassles and apparently effective.