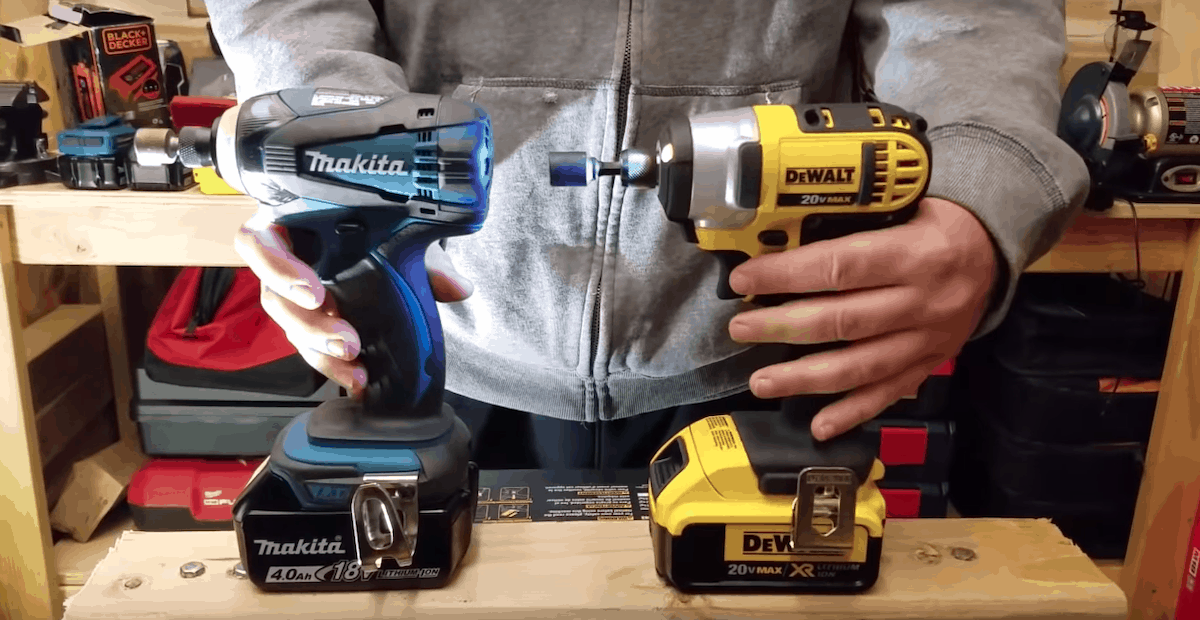 It used to be when you needed a new tool, you'd simply head down to the local hardware store and have a look around – probably chat with the clerk a bit about this or that, ask some questions, and then pick out what you wanted; what they had in stock was what was available to you.
Nowadays, in the world of online shopping where everything imaginable is available at the click of a button, the shopping/buying process can be a tad more overwhelming.
Top Combo Kits From Makita and DeWalt
You've got dozens of companies spending millions on big-time marketing, and thousands of customer reviews to consider – each with varying opinions.
We know how it goes, and that's why we built this website – to use our experience and expert knowledge to help make the overwhelming buying experience a bit more manageable.
In this article, we'll try and answer some burning questions you might have about Makita vs. DeWalt tools:
Which brand is better?
Which one should you choose?
We'll consider everything from company history/background, to tool performance, to durability, to warranty, and everything in between.
Overview: Which is better, Makita or DeWalt?
Consider the Makita vs. DeWalt rivalry a bit like Toyota vs. Chevy – on the one hand you've got fine quality, highly innovative Japanese-engineered products (Makita), and on the other (DeWalt), youve got that classic American-bred brand that continues to churn out industry-leading tools year after year after year.
Since they've become such a huge global corporation, though, it's kind of tough to even say that DeWalt is the more 'American' of the two companies, however true that may be (if you go all the way back to their roots).
DeWalt was founded in Pennsylvania in 1924 by Raymond DeWalt – the famed inventor of the radial arm saw, while the Makita Corporation began in Japan about a decade earlier, in 1915. Makita started out as an electric repair company, and didn't begin exporting their proprietary line of electric motors until the mid-1930's.
Although we're huge DeWalt fans (as you're surely aware if you're a frequent reader), we've got to say that Makita has continuously been the more innovative of the two brands throughout the decades; they were manufacturing and marketing retail cordless power tools as early as the 1970's, while DeWalt didn't really get into the cordless scene until the early 1990's. (Although once they did get into the cordless market, the DeWalt line pretty much blew every other competitor out of the water).
Nowadays, both Makita and DeWalt are massive, multi-billion dollar corporations with manufacturing plants across the globe. Makita currently operates 10 plants in eight different countries, including their North American headquarters in Buford, Georgia, where a decent percentage of their USA-retailed tools are assembled.
Similarly, in recent years DeWalt has really made an effort to bring a lot of their manufacturing back home to the U.S. – several years ago they opened seven new plants across the midwest, creating thousands of new jobs for Americans.
Warranty
For their Lithium-Ion cordless tools, both Makita and DeWalt offer a 3-year limited warranty; if a tool fails due to faulty materials or craftsmanship (i.e. not from you dropping it off a 12' ladder), you'll get a repair or a replacement (usually a replacement), free of charge.
Personally, we've never dealt with the Makita warranty program, but from experience we will say that it must be tough to beat DeWalt's customer service – we've dealt with them several times throughout the years, and have never been anything other than impressed.
Makita vs. DeWalt Tools: Performance, Value, and Durability
Alright, let's get down to the nitty-gritty. After all, you're probably here because you've come to a crossroads asking yourself the question – should I buy Makita or DeWalt?
What we'll do is a kind of head-to-head comparison of each brand's most popular cordless tool combo kit; we'll have a look at the Makita 18-volt XLT 6-tool kit, as well as the DeWalt 20-volt MAX 5-tool kit. We'll go over each tool in each kit, battery life, charge times, performance, and finally, a breakdown on which brand – in our opinion – provides the best overall value.
Makita XT601 18-volt XLT 6-tool cordless combo kit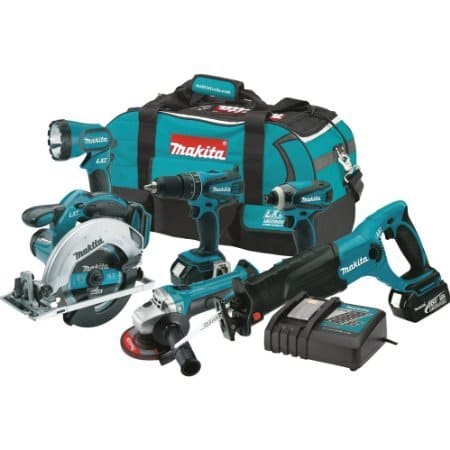 This 6-tool kit comes with a 2-speed ½" hammer drill, a 6 ½" circular saw, a reciprocating saw, a variable speed impact driver, a 4 ½" angle grinder/cut off, a work light, 2 LXT 18-volt batteries, a charger, and a heavy-duty Makita carrying bag.
DeWalt DCK590L2 20-volt MAX 5-tool cordless combo kit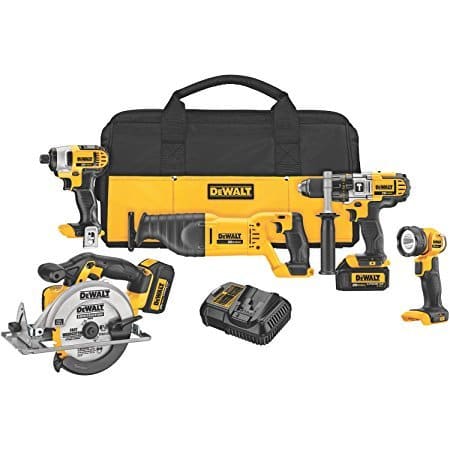 Comes with a 3-speed ½" hammer drill, reciprocating saw, 6 ½" circular saw, ¼" impact driver, work light, two 20-volt MAX batteries, a charger, a belt hook, and a DeWalt contractor bag.
So, you see that tool-wise the kits are pretty much equal, except of course for the angle grinder which accounts for the slightly higher price tag of the Makita kit. So what are we dealing with tool-to-tool wise?
From experience, DeWalt's 20-volt drill has a bit more torque than the Makita, although the difference is rather negligible. The DeWalt is also a fair bit heavier/bulkier – with its 3-speed transmission and big 20-volt battery – than the leaner/slimmer 2-speed Makita. It's also worth noting that Makita uses nylon bearings as opposed to DeWalt's all-metal; the result is a decrease in weight/bulk, but some people don't like the idea of having plastic replace metal. We will say that if DeWalt was confident that their all-metal construction was of better quality/durability than the competition's, they'd be able to offer a better warranty (which they don't).
The variable speed impact drivers are nearly identical – the Makita has a slightly higher max rpm, but torque-wise we honestly couldn't really distinguish a difference. Again, though, the Makita was just a bit leaner, lighter, and sleeker to work with.
As far as the circular saw, we'll say for sure that we like the carbide blade on the DeWalt more than the factory one that comes with the Makita – it definitely produced a more professional quality cut. Power wise, again the DeWalt also seemed to pack a bit more punch, but at the sacrifice of slightly more bulk, weight, and hand/arm fatigue.
As far as the reciprocating saw, we like Makita's better. Reciprocating saws can be awkward tools to work with, as you're dealing with a combination of power and finesse. Overall, we just found that the sleeker and lighter design of the Makita was more comfortable and easier to manipulate than the DeWalt.
As far as battery life and charge times, we must say that the Makita takes the cake; they charge incredibly quickly (less than an hour), and held out for longer than DeWalt's 20-volt MAX. It seems that what DeWalt provides in terms of strength and power, they pay for just a tad in battery drainage. Both, however, will provide hours of use before needing a recharge.
Bottom Line
Alright, the jury's in – what's the verdict? Are DeWalt or Makita tools better?
Wow, this is honestly a tough one. We will say that as far as these two combo kits go, we really, really like the sleek and lean design of the Makita's, and the impressive battery life and charge times that they have. It seems DeWalt will always have the upper hand when it comes to overall power, torque, and durability, but if you're looking for some of the lightest, leanest, most comfortable tools out there to work with, we highly recommend you take a look at the Makita package.