When I was a contractor, the sawzall was one of the must-have tools on every job site. The best sawzalls double as a chainsaw, a circular saw, a jigsaw, a handsaw, and many more, in the sense that it has many of the capabilities of each of these saws.
While in most cases it is preferred to utilize the proper saw for each application, the sawzall is always a great alternative, and often the right tool for the job.
(Images provided by: dewalt.com and wallboardsupplyco.com)
WHAT IS A SAWZALL?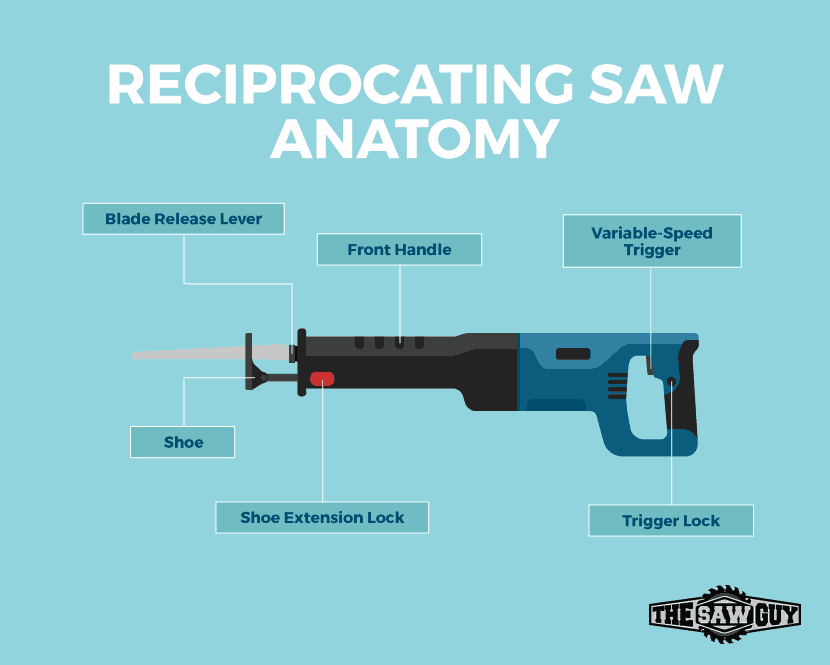 What is a sawzall? It's not a word that's for sure. A sawzall is essentially the slang term or nickname (trademarked by the Milwaukee Tool Company) for a reciprocating saw. It's basically one of the largest handheld power tools you'll ever use (and it has many uses).
A sawzall is a type of saw in which the cutting action is accomplished through a push and pull reciprocating motion of the blade. A cordless reciprocating saw is commonly used in construction and demolition work.
The sawzall is so versatile because there are several types of blades for metal, wood, or even both, and they come in all types and sizes.
Types of Reciprocating Saws
All reciprocating saws are used in the same way, the user grasps the handle and neck of the reciprocating saw firmly with both hands, if you're using a two-handed model, and the protruding blade cuts through construction materials like plywood. When it comes to the different types of reciprocating saws, the most notable differences are their sizes, weights, and the type of power that is used to run them.
Corded
Corded reciprocating saws offer the most power out of all the different types of reciprocating saw. This is because they're plugged into an electrical outlet and can be used for hours at a time with no breaks. However, there is a downside to corded tools. The user has to attach a heavy-duty extension cord if they have to use the saw far away from the outlet. This is something most will have to do because job sites usually don't have a lot of outlets. On top of the annoyance of having to deal with a cord, this also causes a tripping hazard.
Cordless
Cordless reciprocating saws have enough power to cut through metal and wood, however, they can't sustain the power over long periods of time. When choosing between a corded sawzall and a cordless sawzall, you'll need to consider the environment you'll be working in. A corded model will offer you the most power but a cordless model provides the ability to use the saw in areas where there are no electrical outlets available.
One-Handed/Compact
Compact also known as one-handed reciprocating saws operate in a very similar way to their larger, two-handed cousins. However, lighter in weight and smaller in size. A regular reciprocating saw can weigh as much as 10 pounds and measure up to 2 feet in length. This is not including the blade. A compact saw usually weighs about 4 pounds and 12 inches in length. Compact reciprocating saws are best for when you need to cut in tighter areas or when you need to cut over your head because their lighter weight will reduce hand and arm fatigue. I would like to note that they're not quite as powerful as the full-sized models. Many compact recip saws are battery-operated but there are corded models as well.
COMMON RECIPROCATING SAW USES
Some of the best sawzall uses are: cutting nails and screws, cutting interior holes or cutouts in plywood and drywall, demolition work (removing old pipe and wood that has nails), tree pruning, and the list goes on and on and on and…that's right…on
The sawzall is also great because it allows you to make cuts that you normally wouldn't be able to make because of access or how the material is positioned. Great examples of this are cutting PVC pipe flush to the ground, or wedging the blade in tight spaces to cut material you can't even see.
Recently, I purchased a new sawzall because I found it to be very useful for taking apart pallets. On many pallets, the wood is weathered and the nails are rusty from years of being exposed to the weather. This makes the wood hard, but prone to cracking and breaking while you try to free each piece from its rusty nails.
Because the reciprocating saw blade can fit into tight places, the sawzall is perfect for cutting old nails between the slats and base of the pallet, which ideally frees you from having to pry and break the wood.
Always remember, sawzalls can be dangerous because there is an exposed blade jutting out of the end of a very powerful recip saw machine. Use caution and take your time.
Click here to watch a quick safety video from Expert Village.
THE SAWZALL BLADE
There are a wide variety of sawzall blades covering just about any type of job you might have. Even just the standard options can be overwhelming. Whether you need to cut wood, metal, or even a combination of materials, you can find the best sawzall blade to get the job done.
Not to mention there are a ton of length options. Why? Well, the shorter blades will give the user more control while cutting through hard materials. Longer blades are very flexible and have a tendency to vibrate and "flail" all over the place when making simple cuts.
However, the longer blades offer a ton of versatility allowing the user to fit into tight spaces to make awkward cuts. Let's say you want to cut something flush with the ground, or cut the nails underneath a piece of 2×4 attached directly to the surface, the best power tool to accomplish this effectively is the sawzall using a longer blade.
Aside from the standard blade options, you can also find an array of alternate attachments designed to carry out very specific tasks.
The Spyder Reciprocating Saw Remodeling Kit is a great example of accessories. Comprised of everything from specialized cutting blades and wire brushes to sanding attachments.
Or even cutting fence posts with the ReciProMate attachment.
Manufacturers have recognized how versatile the sawzall is and they just keep coming up with new accessories that will make every job easier.
Best Budget Sawzall
The PORTER-CABLE PC75TRS 7.5 Amp Reciprocating Saw is a durable sawzall and extremely affordable. I recently purchased this sawzall because I needed something low-cost to help take apart pallets. This Porter-Cable sawzall works beautifully, and I still have money leftover for dinner.
KEY FEATURES
Heavy-duty 7.5 Amp motor for effective cutting in a variety of applications
Twist Lock Tool free blade change for quick and easy blade changes
Variable-speed trigger maintains speed for multiple cutting tasks
Pivoting shoe easily maneuvers around objects while cutting
Soft grips rear handle and boot minimizes vibration for prolonged cutting
One experienced reviewer bought this sawzall with certain expectations based on the price point. After using the sawzall a while he had a few things to say about a few of the features.
"I bought this to do some demo work in my house. As I'm just a weekend warrior I was looking for something inexpensive but sturdy. This fit the bill just right. It had plenty of power to cut up everything in it's path."
– James, Lowes.com Review​
VITAL STATS
| | |
| --- | --- |
| Part Number | PC75TRS |
| Item Weight | 8 pounds |
| Product Dimensions | 22.8 x 4.1 x 7.6 inches |
| Item model number | PC75TRS |
| Color | black |
| Power Source | corded-electric |
| Voltage | 120 volts |
| Item Package Quantity | 1 |
| Included Components | bare-tool |
| Batteries Required? | No |
| Warranty Description | 3 Year Limited |
Other Thoughts
Although this sawzall isn't the best sawzall on the market, it is perfectly adequate when used in the proper applications.
Another reviewer makes a great distinction between this sawzall and the higher priced versions:
"For the price, this is the perfect light-use reciprocating saw for using around the house. I've used a Milwaukee 12-amp Sawzall before, and there is no comparison which is better. Of course, the Milwaukee runs about 4-5x more than this Porter Cable! If you are using this bad boy 5 days a week, definitely invest in something with at least 11 amps. But for sporadic jobs around the house, it works great."
Texas Matt – Lowes.com Review​
This may not be the best sawzall available, but it just might be the best sawzall you can afford, and trust me, there is no shame in that.
Best Cordless Sawzall
The DEWALT DCS380L1 20-Volt MAX Li-Ion 3.0 Ah Reciprocating Saw Kit provides you with a great cordless saw and the latest technology with its Lithium Ion (Li-ion) battery, charger, and even a case.
Keep in mind, if you already own some of Dewalt's amazing line of cordless 20-Volt MAX Li-ion cordless power tools, you can get this workhorse sawzall for less than half the price. Assuming you don't want to pay for another Li-ion battery and charger…
KEY FEATURES
4-position blade clamp allows for flush cutting and increased positional versatility
1-1/8-inch stroke length delivers a fast cutting speed
Variable speed trigger with 0-3000 rpm provides increased blade control and faster cut speeds
Pivoting adjustable shoe extends blade life and allows depth of cut control
Rubber over molded comfort grip delivers optimal comfort and control
To get a little more hands-on, check out this video showing the power tool in action:
My wife got me this tool as a gift and I really like it. I've given it quite a workout since receiving it and it hasn't let me down yet. The easy change blade system is miles better than the old allen- wrench style blade changing system. I also really like the ability to place the blade in whatever position is most advantageous for the job at hand (up, down, or to either side). The 20v batteries last plenty long enough for most jobs I've encountered.
NorthernTool.com Customer
​
VITAL STATS
| | |
| --- | --- |
| Part Number | DCS380L1 |
| Item Weight | 13 pounds |
| Product Dimensions | 10.8 x 24.9 x 4.9 inches |
| Item model number | DCS380L1 |
| Power Source | cordless-electric |
| Voltage | 20 volts |
| Item Package Quantity | 1 |
| Certification | Energy Star |
| Included Components | case |
| Batteries Included? | Yes |
| Batteries Required? | Yes |
| Warranty Description | 3 Year Limited |
CUSTOMER REVIEWS
The downside to all cordless power tools is the battery operating life. The life of the battery will vary greatly depending on the amount of use and strain being put on the motor.
The bad part about this is that the batteries seem to be the expensive part of the saw. But, depending on the type of work you're doing, purchasing 500 feet of extension cord isn't cheap either.
If you own a lot of land, and want to use a sawzall to prune your trees, the best sawzall for you is the cordless tool.
We are big fans of the versatility of cordless over corded reciprocating saw (or for power tools in general). If time is valuable to you (which I suspect it is), being forced to find an acceptable outlet, run the extension cord from the outlet to your actual project, and cleaning all of that up when finished, will add a considerable amount of time onto your project.
How does the Dewalt DCS380L1 Cordless Sawzall stack up in unique applications?
Try cutting out windshields like this guy who left a comment on cpopowertools.com​
"Awesome reciprocating saw! It has a smooth powerful stroke that makes this power saw a beast! I take out windshields with it, so it has the perfect balance of power to extract the windshield but it encompasses the smoothness to not brake the windshields that are still good!
BEST SAWZALL – OVERALL
Finally, the DEWALT DW310K 12 Amp Heavy-Duty Reciprocating Saw Kit emerges as the best sawzall overall. Dewalt is always a hard brand to beat, and they continue the tradition with the Dewalt DW310K.
KEY FEATURES
12 Amp motor delivers increased power for heavy-duty applications
0-2,700 SPM and 1-1/8-inch stroke length for fast and efficient cutting
Keyless stainless steel blade clamp for quick and easy blade changes and increased reliability
Keyless adjustable shoe easily adjusts depth of cut and extends blade life
Variable speed trigger allows user to instantly control speed
VITAL STATS
| | |
| --- | --- |
| Part Number | 2581-1498 |
| Item Weight | 12.2 pounds |
| Product Dimensions | 19.8 x 10.9 x 4.6 inches |
| Origin | Mexico |
| Item model number | DW310K |
| Color | Yellow |
| Finish | Yellow |
| Power Source | corded-electric |
| Voltage | 120 volts |
| Wattage | 1200 watts |
| Item Package Quantity | 1 |
| Included Components | bare-tool |
| Batteries Required? | No |
| Warranty Description | 90 Day Money Back Guarantee, 1 Year Service Contract, 3 Year Limited Warranty |
What Can You Cut?
One of the best things about a reciprocating saw is just how versatile it is.
Swap out the blades and you can cut wood, metal, and just about anything in between. Stan, a reviewer on HomeDepot.com talked about how the DeWalt DW310K held up when he took out his hot tub:​
"This is my first and hopefully last reciprocating saw. I purchased this saw specifically for dismantling a hot tub. It worked as I expected…great! It cut through all of the materials easily, including fiberglass, wood with staples and nails, steel supports. It was a little slow cutting tile but with the right blade it would probably do fine."
How does the Dewalt DW310K Heavy-Duty Sawzall differ from a "non-heavy-duty" saw? From what we've seen (and many others agree) this version holds up so much better and gives you a stronger cut than knock-off and cheaper saws.
While it's not outrageously expensive, it's important to remember the old adage that if you buy on price, you buy twice. This power tool has staying power, which is a big deal. ​
SAWZALL SUMMARY
Like I always say with all power tools I review, the best sawzall available may not always be the best sawzall for you. It all depends on what you need. You really have to be honest with yourself and make an educated determination.
Here are a 2 quick tips for making a smart decision:
Corded Saw or Cordless Saw – This is the crux of your decision. Do you anticipate having accessibility to power wherever you might use your sawzall? Does the cost of the amount of extension cords you'll need outweigh the cost of a cordless sawzall kit? Can you afford cordless?
Heavy-Duty or Affordable – The truth is, the powerful heavy-duty saws are also the expensive ones. Your sawzall won't last very long if you are doing heavy-duty work with a light-duty sawzall. Likewise, doing light-duty work with a heavy-duty sawzall is a waste of the tools power, and likely, you've grossly overpaid.