There are times when we need a really powerful chainsaw, but the nasty fumes, all the vibration, the noise… it's a lot to handle. That's why I was stoked to discover that there are heavy-duty electric chainsaws that combine the power of their gas-powered counterparts, with the perks and benefits of an electric chainsaw.
Quick Summary
Plenty of power for homeowners with land to care for. Very easy to start for a gas chainsaw, and won't vibrate like crazy – so it is usable for people of all ages. It's a bit pricey, but the general consensus is that it's worth it.
Things to consider when buying a heavy-duty electric chainsaw
There are a lot of different options when it comes to electric chainsaws. Especially, if you want a more heavy-duty option. One of the first decisions you need to make is whether or not you want a corded or cordless electric chainsaw.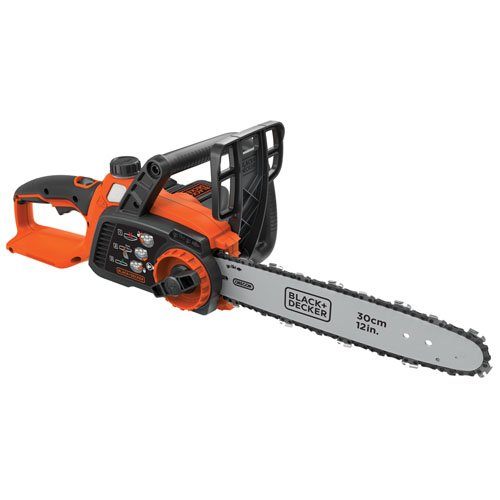 Corded electric chainsaws have the benefit of never running out of power. However, they lack utility and convenience. You can only take them so far from their power source, and dealing with all that extension cord often ends up being more trouble than it is worth.
You will want to get a chainsaw with a lithium ion battery. These batteries offer the longest battery life when compared to other types of batteries.
Finally, you will need to determine how wide of a cut radius you need for the projects at hand.
Black + Decker LCS1240
This is a powerful, cordless electric chainsaw. It is from the well-known and trusted brand, Black + Decker. This is a great saw for precision projects and those that need a bit more power than your traditional trimming or pruning may need.
This saw is quiet, with no nasty emissions, and light enough to wield with ease and confidence. It has a powerful 40 volt engine. That gives it the power it needs to tackle thick, heavy limbs, and cuts that require a stronger blade.
Pros
Easy to take apart to clean and maintain
Auto oiling to ensure proper lubrication
40V battery able to hold a charge for up to 18 months
Cons
Uses a lot of motor oil
Weak charger included
Not effective for large jobs
Benefits and features
The LCS1240 is the perfection combination of utility, performance, and ease of use. It is powerful enough to handle most of the toughest jobs. Fortunately, it still offers the low vibration and quiet running that electric saws are often praised for. It has a whole host of features that are designed to enhance the safety, functionality, and reduce the amount of maintenance and knowhow that are required to properly operate said saw.
Lightweight
Since it has a streamlined designed and no need for a fuel reservoir, electric chainsaws are significantly lighter than their gas-powered counterparts. This makes them a lot easier to handle for longer periods of time, with ease and comfort.
Oregon low kickback bar and chain
Oregon is one of the top brands. Especially when it comes to making bars and chains for chainsaws and other power tools. Their products are known to allow for faster cut speeds. They are also known for reducing the amount of vibration that the user actually feels during operation. This makes it easier to get precise, clean cuts. It also doesn't wear out the user nearly as much as a shaky, gas-powered chainsaw.
12″ bar
This is a great size for most small to large projects. This gives you just enough of a cut radius to handle most basic pruning and trimming jobs.
Powerful 40-volt battery
This is a very powerful battery that will provide the performance that you need, even if it has been awhile since you've used it. Lithium ion batteries are a favorite of power tools manufacturers and for good reason. They are efficient and can hold a charge for a long time. The battery in this chainsaw can hold a charge for up to 18 months.
Tool free adjustments
Different projects necessitate different levels of chain tension. Many chainsaws require tools to adjust the chain tension which can be time consuming and frustrating. The LCS1240 has a tool-free chain tension system that makes it easy to adjust the tension of the chain to the desired amount without the need for a bunch of tools.
Automatic oiling system
In order for the saw to operate at its optimum performance, the blade, chain, and all moving parts need adequate lubrication. Proper lubrication ensures that the parts easily glide over each other, rather than grinding against each other. This reduces vibration and also helps to extend the life of the blade.
With the LCS1240, all you have to do is keep the reservoir filled and the saw automatically oils itself when necessary. There is a clear window which makes it easy to gauge the level of oil in reserve, so you know when you need to top it off.
Alternatives
The LCS1240 is a great option when it comes to all purpose, high-quality, heavy-duty electric chainsaws. It has to be noted that there are alternatives to this model out there that offer many of the same features as this model, or even ones this model does not have, that are worth a second look.
GreenWorks 20322 40V 16-inch Cordless Chainsaw
This is a popular brand of EPA-approved power tools and lawn and garden products. This model has the same voltage engine as the Black + Decker model offers, but has a wider cutting radius than the above described saw. This means that if you have bigger projects you want to tackle, but you still want to have a cordless option, this might be a good model to look into. It is priced similarly to the Black + Decker, but this is before you factor in the cost of the battery, which is not included.
WORX16-inch 14.5 Amp Electric Chainsaw
This is a corded model of electric chainsaw that is priced at slightly less than the Black + Decker. While it is not as powerful as the other models described, and is not cordless, it boasts many of the other features that are popular on the above described models with a smaller price tag. It has a tool-free auto tension system for easy adjustments in chain tension. It has a low kickback bar and chain for low vibration and enhanced stability. It also has a chain brake for added personal safety.
Conclusion
For the best of both worlds when it comes to chainsaws, one of my very favorite models is the Black + Decker LCS1240. It has a powerful engine that you usually only find in gas-powered models, but with low emissions, and it is a quiet electric engine. The lithium ion battery is efficient and holds a charge for over a year. It is durable and can tackle a variety of projects large and small.