Electric chainsaws are a great alternative to smelly, heavy, gas-powered models. I have found that for ease of mobility, reduced vibration, and more, an electric chainsaw works better than their gas-powered counterparts. These are an economical alternative to gas-powered saws and can tackle a wide variety of tasks. Here is an overview of the Black + Decker CS1216.
Quick Summary
Plenty of power for homeowners with land to care for. Very easy to start for a gas chainsaw, and won't vibrate like crazy – so can be used by people of all ages. It's a bit pricey, but the general consensus is that it's worth it.
Things to consider before buying an electric chainsaw
One of the first things you will have to decide is whether or not you want a corded or cordless electric saw. There are advantages and disadvantages to both types.
With a cordless chainsaw, you can go farther from a power source and it may make the saw easier to maneuver. However, they have a limited charge and don't always have the same power capabilities as a corded option.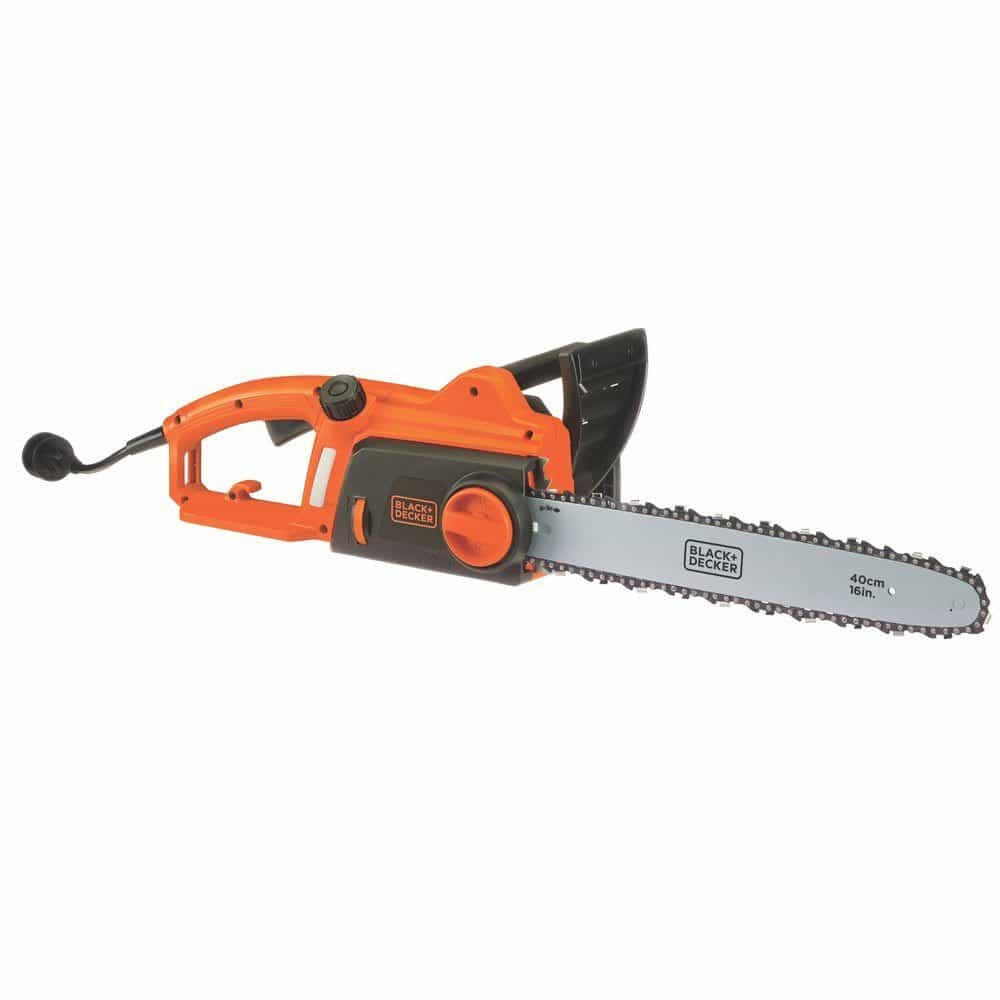 The other important consideration with be the blade width and cutting radius of the saw. The types of projects you are using this tool for will determine whether you need a more narrow or wide cutting radius. The narrower the cutting radius, the cleaner, but smaller cuts you'll be able to make. Vice versa for wider blades.
Black + Decker CS1216 16-inch Corded Chainsaw
Black + Decker is a trusted, quality, and time-honored brand of power tool purveyor. They offer a wide range of high-quality projects that meet the needs of projects large and small.
One of the things I like most about the CS1216 electric chainsaw is that it is a powerful tool for a reasonable price. I was looking for something that could readily handle small- to medium-sized projects, and the CS1216 is a quality system that is easy to handle.
It has a decent width of blade cutting radius, giving a nice combination between versatility and the ability to make precise, clean cuts.
Pros
Storage is easy – just remove the chain bar
Less noise than a lot of other models
Assembly is quick and effortless
Lots of power for large projects
Cons
Quite heavy
Chain may come off the bar – easy to put back though
Features and benefits
The CS1216 offers a wonderful blend of versatility and ease of use. It has a variety of features that make it easier to start, maintain, and actually use than many other comparable models. You get the quality you have come to know and expect from a Black + Decker product, but you don't have to break the bank in the process.
Value
For me, the affordability of the saw was a great selling point. Here, I was able to get a chainsaw that was easy to wield, that could handle most of the jobs I needed it for at a price that I could afford. What's not to love about that?
Powerful motor
It has a powerful 12-amp motor that allows it to tackle even thick limbs with ease.
Low kickback bar and chain
It has a low kickback bar and chain; not only does this make the saw more stable and efficient in its cuts, it also helps to reduce vibration significantly. Vibration can result in more jagged cuts, and it also fatigues the operator of the tool far faster than does a lower vibration model like this one.
Wide, 16" kickback bar
The 16″ bar allows for a nice bridging of precision and utility. With a saw of this width, you can still do more precise work that necessitates smaller cuts, but also tackle bigger things like a large tree limb or something of similar size and strength.
Automatic oiling
One of my favorite features is the automatic oiling system. This means less maintenance work for me, while still ensuring that the saw and all moving parts are properly lubricated at all times. All I have to do is fill up the reservoir and the saw automatically oils itself. There is a clear viewing window which makes it easy to gauge the fluid level so you know when you need to refill.
Tool-free tensioning system
The CS1216 also has a tool-free chain tensioning system which simplifies the adjustment process. Sometimes, depending on the project at hand, you will need different levels of tension to get the right cut you need. In many cases, this involves tools and knowhow, but with the CS1216, you can make easy adjustments with no tools necessary.
Ease of use
It boasts 120 volts of power and weighs about 10 pounds, making it far less of a burden to actually wield than gas powered counterparts. Like all Black + Decker products, the CS1216 comes with a 2-year limited warranty for protection in the event of some sort of malfunction or issue.
Alternatives
While the Black + Decker CS1216 is a great value, it is not the only high-quality corded electric chainsaw on the market. What follows are brief reviews of a two comparable alternatives that are worth a look.
WORX 16-inch 14.5 Amp Electric Chainsaw
This is another great option for a powerful, versatile electric chainsaw. This is a bit more expensive than the Black + Decker, but it is still under $100. The WORX electric saw has a more powerful motor than the model we reviewed earlier, so it may be a better choice for people who tend to have more heavy-duty projects to undertake. Like the CS1216, it has low vibration output, automatic oiling feature, and auto tensioner chain system, which allows you to adjust the tension without the need for tools.
Remington RM1425 Limb 'N Trim 8 Amp 14-in Electric Saw
For those who need a saw that is going to be predominantly used to trim small limbs, bushes, and other shrubs, you might not need something quite as powerful as the other models we have reviewed here. The RM1425 is a lightweight electric chainsaw that is perfect for small limb trimming and pruning jobs.
Conclusion
When I'm in the market for a good, all-purpose saw, I'm naturally going to look towards brands that are long known for making top-quality power tools at reasonable prices. For small to moderately sized cutting jobs, the CS1216 is one of my very favorite electric chainsaws. It is powerful, yet lightweight and easy to use. It has far less vibration and noise than its gas-powered counterparts and doesn't pump out noxious emissions. I also really like the features that make maintenance and adjustments as simple as possible.