The chainsaw is a great cutting tool, especially for large lumber and remote areas away from electric power. Unfortunately, the same factors that make chainsaws useful tools for cutting logs make them dangerous tools for cutting legs. To protect your legs, you should always wear chainsaw chaps when cutting. Lets take a look at the best chainsaw chaps 2020 so you can find the right chainsaw chaps for you.
Are you looking for some general information on chainsaws or other tools? Check out our complete resource guides on Miter Saws, Table Saws, Chainsaws, Band Saws and Circular Saws. These guides have all the information you need. You will be able to find history, the differnt types of the tool, top brand sold, and more!

Best Chainsaw Chaps
Chainsaw chaps are safety equipment. The most important factor in choosing safety equipment is compliance with safety testing standards. While comfort, durability, and fit are helpful attributes, you must select chainsaw chaps that are in compliance with safety standards. There are four standards that you may see listed for chainsaw chaps.
ASTM (formerly the American Society for Testing and Materials) specification 1897-08 outlines requirements for design, performance, testing, and certification of protective equipment for chainsaw users.
UL (formerly Underwriters Laboratories) is an independent lab that tests and certifies safety equipment for compliance with ATSM 1897-08.
American National Standards Institute (ANSI) standard Z133 lists safety requirements for arborists and tree work. This standard requires chaps or pants compliant with ASTM 1897-08.
Occupational Safety and Health Administration (OSHA) standard 1910.266 outlines safety requirements for logging. It also requires chaps compliant with ASTM 1897-08.
Any chainsaw chaps that are compliant with one of these standards is acceptable for use when working with a chainsaw. Chaps that aren't compliant should not be worn because they won't keep you safe.
Other Factors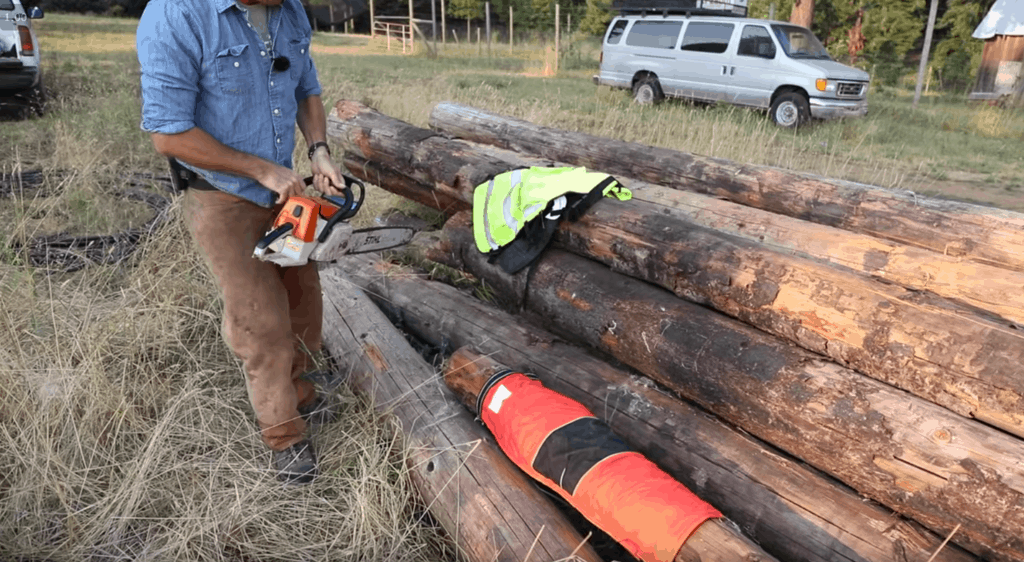 Other factors to consider when choosing chainsaw chaps are fit, durability, and comfort. The chaps should be long enough to cover at least the top two inches of your boot. Don't rely on your pants size to get the right fit – chainsaw chaps are measured from the waist or hip to the cuff, rather than the inseam as pants are.
Chainsaw chaps with lightweight plastic buckles are cheaper, but some wearers report problems with durability or hold with light hardware. If you can afford it, opt for heaver buckles and straps rather than lighter.
Finally, look for chaps that are light enough to wear regularly. Try some on if you can to determine the comfort level. Chaps won't protect you if you don't put them on because they are uncomfortable.
Read on to see which chaps work and which don't make the cut. All chaps reviewed here comply with the ASTM, UL, ANSI, and OSHA standards.
Redneck Convent Safety Chainsaw Chaps
The affordable Redneck Convent chain saw chaps are a front-only style. They cover the fronts of your legs, but not the inside or back. These chaps are affordably priced and easy to put on and take off. They come in two lengths: 35 and 37 inches.
Some users report problems getting straps and buckles to hold properly. The durability of the hardware may be an issue. Since they are fronts only, they may not be great for working in brush or other areas where cutting angles can be unpredictable.
Best for:
These chaps are affordable and quick to come on and off. They are best for homeowners who occasionally use a chainsaw but don't need to wear safety chaps every day.
Forester Chainsaw Safety Chaps – Full Wrap Zipper
The full wrap zipper safety chaps from Forester are another bargain-priced safety chap. These chaps come in lengths of 35, 37, and 40 inches. They zip around the leg rather than buckling. Users don't report any problems with the zippers. The Forester full-wrap chaps encase the entire leg, keeping you safe from all directions.
Best for:
These chaps are great for working in brush, or other areas were cut angles can be unpredictable. The 40- inch version is recommended for users between six feet even and six feet, four inches tall.
Husqvarna 587160704 Technical Apron Wrap Chap
Husquvarna is known for making good chainsaws, and their reputation extends to safety gear as well. The technical apron wrap chap from Husqvarna is a wraparound chap that comes in either 36-38 or 40-42 inch lengths. This chap wraps all the way around your lower legs and is held on with heavy-duty plastic buckles around the waist and lower leg. Users report excellent durability, and these chaps are machine-washable.
Best for:
These chaps are more expensive than some others reviewed, but they are built for loggers. This is a pair of chaps that will stand up to being worn every day on a felling site.
Stihl Protective Chainsaw Chaps
Stihl is another company that makes excellent chainsaws and top-notch safety gear. Their protective chainsaw chaps are the most expensive that we reviewed. These 36-inch chaps are durable and comfortable. Users report a long life and high-quality hardware.
Best for:
Like the Husqvarna chaps, these are made for pro use. They are expensive, but they are worth it if you need to wear them every day.
Trimmer Chaps and Protective Leggings
Be careful if you shop online for chainsaw chaps. There are other models of wraparound leg protectors that will come up if you search for chainsaw chaps at Amazon or other web retailers. If they are not UL certified to conform to ASTM 1897-08, you aren't looking at chainsaw chaps. Some of the listings explicitly say that the chaps aren't for chainsaw safety, but others don't.
Buying the wrong chaps for safety gear can have serious consequences. These chaps won't stop the saw blade before it gets through to your skin. Even if you wear these, you can wind up needing stitches (or worse). Make sure to certified chainsaw chaps.
Our Pick
If you need serious leg protection, check out the Husqvarna technical apron wrap chaps. These are sturdy enough to last for years, and comfortable enough to wear every day.
If you are on a budget, or you just occasionally need chainsaw chaps, the Forester full-wrap zipper chaps offer the same level of wraparound protection at a lower price. They might not stand up to being worn every day cutting timber, but they are great for keeping your legs safe around the home place.
How Chainsaw Chaps Work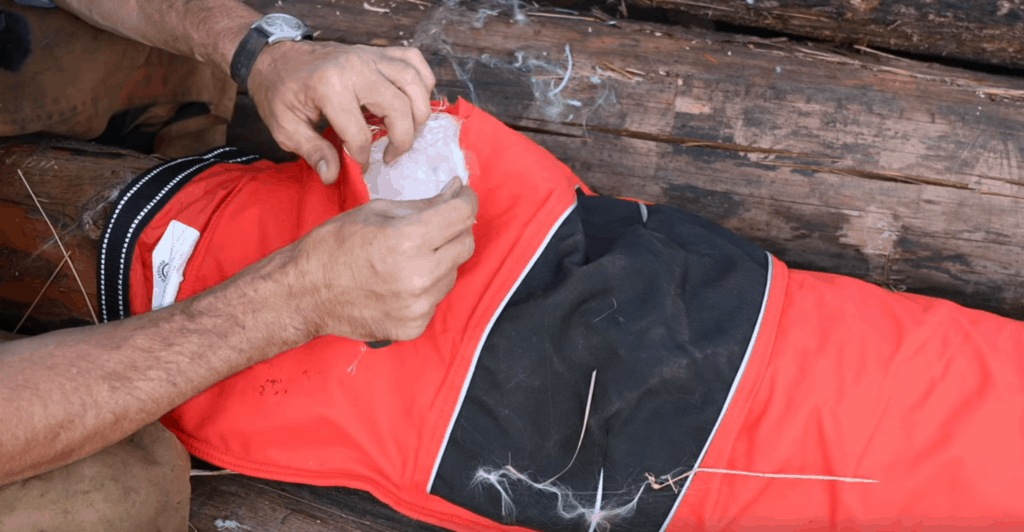 You might think the chaps will repel the blade like a suit of armor, but they don't. Chainsaw chaps actually work by clogging the blade sprocket with thread and stopping the blade from moving. You need enough layers of cloth to get the blade fully clogged and stopped before it hits skin.
Cut Safely
Chainsaws are designed to tear right through thick wood; muscle and even bone don't present an obstacle for them. Always wear certified chainsaw chaps when cutting, along with this other protective gear:
Choosing the right safety gear can minimize the effect of injuries, but the best safety tool is prevention. Wear your safety gear, use your head, and be careful. That way, you can keep on cutting for a long, long time.
Are you looking for more guides on chainsaws? Check out some of our most popular guides, Review: Black + Decker CS1216 16-inch Corded Chainsaw, How to Cut Branches from a Tall Tree, The 5 Best Small Chainsaws, Black + Decker LCS1020 Lithium Ion 10" Chainsaw Review, and Review: Black + Decker LCS1240 12" Lithium Ion Chainsaw.