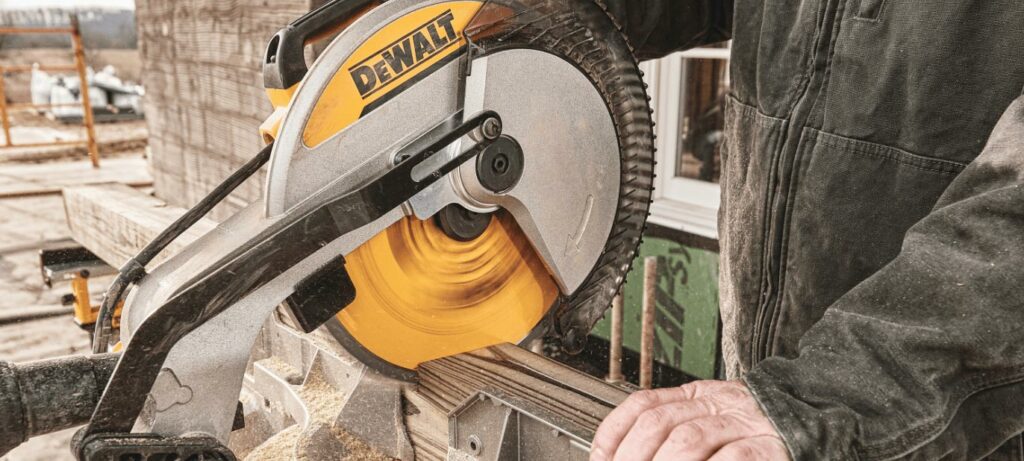 When it comes to toolsets for both contractors and the avid
do-it-yourselfers, a healthy assortment of tools and capabilities is a must.
For many, the miter saw is part of these essentials based on its ease of use
and versatility. Operating as a sort of chop saw, the miter saw can help
carpenters quickly and accurately make cuts on a longer workpiece or make
precise angle cuts on a project.
Questions and Answers
Anatomy of a Miter Saw
A miter saw is essentially a mounted circular saw that is
used to make crosscuts and miter cuts in a workpiece. These saws are designed
to cut in a stationary position, instead of moving along the workpiece the saw
comes down on the material that can be moved along the work table.
These saws are used most often for cutting larger pieces
down to size and making precise angle cuts in a workpiece.
All miter saws will consist of the same main components. The most prominent of these is the blade, you
know, the part that does the cutting. The blades on miter saws come in a range
of sizes, but there are four main sizes on today's models: 7.5 inches, 8.5
inches, 10 inches, and 12 inches.
Your ideal blade size will depend on the kind of work you're expecting to do. Larger blades are a better bet for larger jobs and those who expect to get a lot of use out of their saw.
Another main component of a miter saw is the work table. This component is one of the features that differentiate a miter saw from most other types of saws. In addition to serving as the surface where your workpiece will sit while being cut, the work table on a miter saw is also the base of the saw itself.
Because the miter saw works in a fixed position, it needs a
base to attach to. The work table provides this, as it features a groove for
the blade when it comes down when making cuts.
Miter saws also
feature a fence on their work table. The fence can either be fixed to the
work table or adjustable, but essentially acts as a guardrail for your
workpiece. By using the fence on a miter saw, you can ensure you're making a
precise cut on your workpiece, and gain more stability when using the saw.
Another feature
exclusive to the miter saw is the miter scale. This scale is what allows you
to make the precise angle cuts that are identified with the miter saw.
The way the miter scale operates is by rotating the saw in a radial fashion. The scale provides the operator with the ability to precisely measure the angle at which they want to cut and lock the blade in at that angle. This ability allows individuals to make consistent angle cuts, a valuable asset when tackling a variety of different projects.
When it comes to the
actual operation of a miter saw, most models feature a handle with some form of
a power trigger built into them. The
handle will be built into the arm that the blade is attached to and will extend
out past the blade. The power trigger will give the operator greater control
over the operation of the saw with the ability to stop the blade quicker.
Almost all new models of miter saws will also feature a guard for the blade. This is designed to reduce the risk of accidents. Most guards are spring-loaded and designed to automatically cover the blade when upright and to open up when the blade is pulled down to make a cut.
Many of the newer model miter saws also feature a number of extras and add-ons. Some will come with a built-in vacuum and bag to help reduce the mess, while others will include a laser projector for more precise measurements and cuts.
Saw Selector tool

insert_comment
Types of Miter Saws
There are several different kinds of miter saws currently
available on the market, largely differentiated by the versatility of the saw's
head in making cuts at different angles.
Power/Standard
Miter Saw
The original miter saw; these models feature a circular saw fixed to a
retractable arm. They feature a miter scale that has various angles marked out
for making a range of mitered cuts.
Compound
Miter Saw
A compound miter saw has the ability to rotate both the blade and head to
make ramp angle cuts. This is frequently used when fitting trim work in homes.
This style is also known as a single compound miter saw, as the blade can only
be rotated in one direction.
Dual
Compound Miter Saw
As the name suggests, a dual compound miter saw is simply a compound miter
saw that has the ability to rotate the blade in both directions. This model of
miter saw is common for those taking on more decorative projects.
Sliding
Compound Miter Saw
A sliding compound miter saw is similar to a regular compound miter saw,
only the head and retractable arm are attached to sliding rails. This allows
the saw the extend the reach of its cut, allowing it to cut across large
pieces.
What model of miter saw is best for you will depend on the
work you're doing and what capabilities you need to complete a job. The
capabilities will also affect the price of the machine, so your budget should
also factor into the decision.
Miter Saw Features "Live Poll"
Live
More from Miter Saws:
Miter Saw Table
Delta Miter Saw
Milwaukee Miter Saw
Ridgid Miter Saw Stand
Ryobi Miter Saw Stand
12 Inch Miter Saw
12 Miter Saw
Miter Box Saw
Ryobi 10 Miter Saw
Table Saw Miter Gauge
10 Miter Saw
10 Sliding Compound Miter Saw
Dewalt Miter Saw Parts
How To Use A Miter Saw
---
Sale
Bestseller No. 1
Sale
Bestseller No. 2
Sale
Bestseller No. 3
Last update on 2020-04-04 / Affiliate links / Images from Amazon Product Advertising API
History of the Miter Saw
As for how the miter saw came about, it can be helpful to
look at the history of the circular saw, as the miter saw is essentially a
circular saw mounted onto a retractable arm.
The miter saw you see today was invented by Ed Niehaus, a
tool designer for Rockwell, in 1964. Niehaus designed the saw with a number of
features that can still be seen in today's models, including radial arc spring
action, blade braking, and dust collection.
From here the miter saw was added to and tinkered with to reach
the models you see today. Niehaus didn't patent his design, which allowed
anyone to pick it up and begin production on it. This also led to an array of
companies working on and developing their own unique features and additions to
the miter saw.
These included compound heads that allowed for bevel cuts and increased sliding capacity to extend the length of cut that was possible. While new features have been added, such as compound heads and sliding rails, the main design of miter saws today is still the same design introduced by Niehaus in 1964.
Pros of Using a Miter Saw
Miter saws have a number of pros associated with them and
are considered to be a necessary part of any toolset by many craftsmen.
Ease of Use
A miter saw provides the workman with an incredibly easy machine to use. Operating on a stable surface with a fixed saw gives the workman the ability to work precisely and accurately. The precision of the miter saw helps to ensure that the workman is getting the proper angle on their cut on a consistent basis.

The ease of use also allows craftsmen to quickly and precisely cut down large pieces into more workable sizes. The ability to quickly cut down a larger piece helps craftsmen to cut down on their job time. Because the miter saw is so stable and precise in its cutting, it doesn't take much effort to get consistently accurate cuts.

Portability
The miter saw is also a fairly portable machine for how heavy duty it is. Many contractors will make the miter saw a permanent part of their toolkit because of its ability to be packed up and moved from job site to job site. Because the miter saw is attached to its own base, it can be set up on just about any flat surface.

The miter saw is able to do this without losing any of its precision or accuracy. For many larger pieces of equipment, the accuracy can be a delicate thing that can easily be thrown off when moved or transported. Because the miter saw is fully self-contained, it is able to avoid this problem.

Reliability for the Main Cuts
While a miter saw may not be able to tackle some of the bigger and more intricate cuts, its generally the best option available for almost all of the major cuts. Miter saws are often the first choice of contractors for any type of crosscut.

The miter saw is also the best option for its namesake cuts, miter cuts. Designed for this purpose, there's no better option on the market for quickly and easily getting a precise miter cut than with a miter saw. Compound miter saws are also a great option for achieving a bevel cut.

As a great option for these three cuts, a miter saw is a great option for most of the cuts you'll encounter as an at-home DIY'er. This includes crown molding, frames, gates, and rails.
Top Miter Saw Models
When looking to buy a miter saw, you'll want to fully
consider both your needs and what you're willing to spend on a machine. Some
models come fully stocked with capabilities, but these options will also cost
more. Unless you're a contractor consistently doing big jobs, you likely won't
need one of these models.
If you find yourself needing less than the top tier model but aren't sure
specifically what you want, use this list as a helpful guide.
DeWalt DWS780
Compound Miter Saw
The DeWalt DWS780 Compound
Miter Saw is probably the best overall miter saw on the market today. Operating
at 15 amp and 3,800rpm, the saw has the power and durability to get through
just about any job and last you years.

The miter plate on this saw includes 10 positive stops to help improve
efficiency and accuracy, while also featuring a high-powered vacuum attachment
to collect dust and debris.

While this saw is one of the pricier models on this list, for those looking for
the best product available they can find it in the DeWalt DWS780 Compound Miter
Saw.

Makita LS1016
Compound Miter Saw
The Makita LS1016
Compound Miter Saw is a close runner up to the DeWalt but represents a better
value as this model comes in well below the DeWalt in price. Trusted as a brand
by many contractors and craftsman, Makita has been making quality products
since 1915.

The Makita features a compact design and a 4-rail slide system that helps to
ensure both durability and consistently accurate cuts. The Makita also features
an exclusive 6 linear ball bearings to help ensure accurate cuts.

The Makita is likely the best value for the money on this list. People looking
for a good miter saw at a reasonable price could do far worse than the Makita.

DeWalt DW715
Compound Miter Saw
For those operating on
a budget, the DeWalt DW715 offers a great saw at an affordable price. While you
lose the sliding arm and the double bevel capacity of the DWS780, the DW715
still has a lot to offer for the craftsman.

That starts with a 15amp motor and a 12-inch blade, both of which will allow
you to cover the majority of the demands you'll face. It also includes 11
positive stops on the miter scale to help improve workflow and cut down on job
time.

Anyone looking for an affordable entry-level miter saw can find one in the
DeWalt DW715. Backed by the DeWalt name, this model is built to meet the basic
demands on a miter saw while holding up for years.

Bosch CM10GD
Dual-Bevel Glide Miter Saw
Another great option
for carpenters is the Bosch CM10GD. The CM10GD features an Axial-Glide system,
as opposed to rails, that help to differentiate this from the other models
listed here.

The Axial-Glide system is designed to allow the head of the saw to extend
without the need for the hardware of a rail system. With this, the saw can make
extended cuts of up to 12 inches without taking up any added space. This helps
to reduce the space needed behind the saw, allowing it to be mounted almost
flush with a wall.

This isn't without cost, however, and the Bosch is a bit pricier than some of
the other models listed. It also seems to experience some issues with the
Axial-Glide system that don't seem to have been addressed in newer releases.

Ryobi TSS102L
Sliding Miter Saw
Ryobi is widely known
for making quality consumer products, and this remains true with the TSS102L.
The Ryobi offers a great budget option for those looking to tackle weekend
projects without breaking the bank.

Built on a 15amp motor with a speed of 5,500rpm, the Ryobi offers all the power
of the more expensive models. With a range of positive stops on the miter scale
for improved accuracy and workflow.

While the Ryobi is one of the cheaper models on the list, it is more than
capable of meeting the needs of the hobbyist or weekend warrior.

Craftsman
21237 Single-Bevel Sliding Compound Miter Saw
Living up to the
Craftsman name, the 21237 is another excellent option for those operating on a
budget. Running on a 15amp motor at 4,800fps, the 21237 is built to provide power
and durability.

With a wider crosscut capacity and a greater miter range than the Ryobi, the
Craftsman may be worth the slightly higher cost. The Craftsman also features a
better factory issued blade than the Ryobi. Similar to the Ryobi, the Craftsman
21237 is an excellent option for the hobbyist looking to tackle weekend
projects.

C10FCG Hitachi
Miter Saw
The Hitachi C10FCG is the most affordable saw on this list while also providing
enough capacity to cover most of your miter saw needs. At 15amp and 5,000rpm,
the motor is more than capable of providing the necessary power for your
projects.

The Hitachi also features a lightweight design, coming in a just over 24
pounds. While there are few frills with this model and no sliding feature,
Hitachi backs it with a 5-year warranty. For those looking to add a solid miter
saw to their toolkit without breaking the bank, the Hitachi C10FCG is a great
option.

DeltaS26-262L
ShopMaster Miter Saw
Another entry to the
budget miter saw category is the Delta ShopMaster. It provides DIY'ers with a
lesser known brand that can still provide more than enough capabilities for
your weekend projects.

Equipped with a 10-inch blade and a laser guide for the blade, the Delta comes
with a number of great features not often seen in an entry level miter saw. The
Delta also features several positive stops built into the miter scale to ease
adjustment between various cutting angles and also features the ability to make
bevel cuts.

While lacking some of the more top tier features and capabilities, the
DeltaS26-262L is still a great option for those weekend DIY'ers looking to add
a miter saw to their tool shed.
Latest Posts