Chicago Electric Miter Saw
Harbor Freight's Chicago Electric miter saw line is easy to use at a competitive price point in the value power tool category. We've pulled together miter saws from Chicago Electric to help you pick the best chicago Electric miter saw.
Are you looking for some general information on miter saws or other tools? Check out our complete resource guides on Miter Saws, Table Saws, Chainsaws, Band Saws and Circular Saws. These guides have all the information you need. You will be able to find history, the differnt types of the tool, top brand sold, and more!

Chicago Electric Miter Saw Review
A Quick Glance:
There are three Chicago Electric miter saws we want to draw your attention to in your shopping quest for miter saws. These saws vary in capabilities, features and price point. The best miter saw for you will be a miter saw that fits the type of projects you'll be working on. We'll start with the smallest and most simple and work our way up.
10-In. Compound Miter Saw
On the smaller side of miter saws, the Chicago Electric 10-In. Compound is a great choice for your smaller projects around the home. We recommend this saw for DIYers and those looking to work on simpler home maintenance. The saw will be able to tackle crown molding work, PVC cutting, 2×4's, and other wood materials with ease.
If you are a professional, we recommend checking out larger saws with more features and greater durability.
What We Like
Laser guiding technology makes it simple to follow a cutting line for clean cuts
Provides bevel and miter preset guides for easy set up and repetitive cutting
For its accuracy and ease of use, the price point is incredibly attractive
Lightweight and portable for easy movement closer to workspace
What We Don't
Can't use for thick wood working with the standard blade
Laser is difficult to see in outdoor settings and can be slightly off-centered
The blade does not come with the saw
10-In. Sliding Compound Miter Saw
With all the features of the 10-In compound saw, the Chicago Electric 10-In. Sliding Compound saw brings a bit more nuance and allows for longer cuts and greater width capabilities with its sliding features than a standard compound saw. The saw performs incredibly well given its low price point compared to other sliding miter saws.
This product is again recommended for homeowners and not the most popular choice for commercial projects. For homeowners who want to tackle larger pieces of wood and use the tool more frequently, it is a step up from the standard compound and will help you accomplish diverse tasks.
What We Like
Lightweight yet powerful for easy carrying to the job and for storage
Swivels at a wide variety of angles easily for optimal cutting and ease of use
Cutting, ease of use, and power in the saw are great for the price
What We Don't
Does not provide laser guiding technology for those who would benefit from a line guide
Dust bag needs improvement in dust collection abilities for a cleaner workspace
The blade does not come with the saw.
12-In. Dual-Bevel Sliding Compound Miter Saw
Their largest and most advanced saw in the line, the 12-In. Sliding Compound saw is designed to work with larger pieces of wood to make clean and precise cuts. If you are looking for a larger saw that can handle almost any piece of wood at many angles, we recommend this saw for homeowners and professionals. While it is not a professional-grade saw, it will suit most jobs.
The larger blade allows for larger cuts of wood along with the sliding features. A double bevel is also very convenient so you can cut wood in two directions, eliminating the need to flip the piece of wood to work on the other angled side.
What We Like
Laser guiding technology allows users to make cleaner and straighter wood cuts
Precise bevel and miter gauges allow users to set up repetitive cutting angles quickly
What We Don't
The blade safety shield could be more durable for greater protection and security
The blade is sold separately
Chicago Electric Miter Saw Parts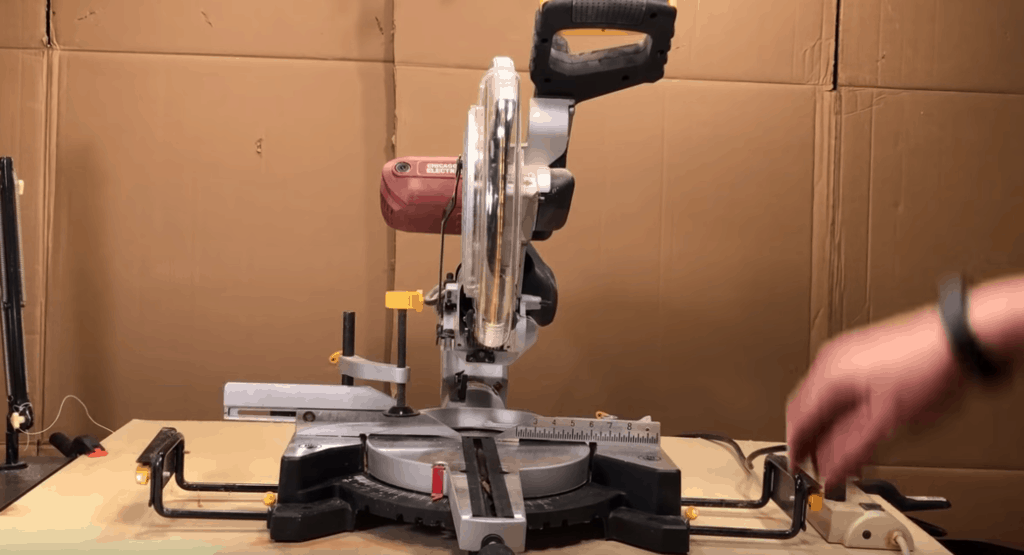 In the event that you need replacements for your Chicago Electric miter saws, you can look online for the parts. If your saw falls under warranty, consider having the saw replaced for fixed by Harbor Freight. If it is a small fix, we recommend Chicago Electric parts or generic ones that will provide an exact fit.
Reports have shown that a significant amount of money can be saved over time by using generic rather than name brand items. It is safe to price shop for your replacement parts with generic or non-Chicago Electric brand. You should just ensure it stands up in quality and dimensions.
Chicago Electric Miter Saw Blade Guard
Blade guards are an important safety feature on a miter saw because they protect you from the sharp blade both in use and in storage. Their swinging ability makes them easy to manipulate with the movement of the blade. It should be made of transparent material so that you can see the blade while working.
The blade guard covers the entire area of the blade that is facing you for protection, and only the wood is exposed to the open blade. This allows for very safe use of the tool. Some blade guards will crack with extended use, requiring replacement. The exact fit will be crucial to ensure it fits your specific saw and blade size.
Chicago Electric Miter Saw Stand
Miter saw stands are particularly helpful when you need a portable workspace. They not only provide a stable space to work in any location, but they also serve as an easy way to transport the saw itself. The Chicago Electric Miter Saw Stand includes wheels and is large and sturdy enough to hold the biggest jobs.
Miter saw stands do not have to be name brand to be effective. You just want to make sure you are looking for specific features that will accommodate your Chicago Electric saw for safety and quality work.
Some of these features include:
Increased durability for heavier miter saws
Lightweight to be easily transported from jobsite to jobsite
Wheels to transport saw and stand easily
Harbor Freight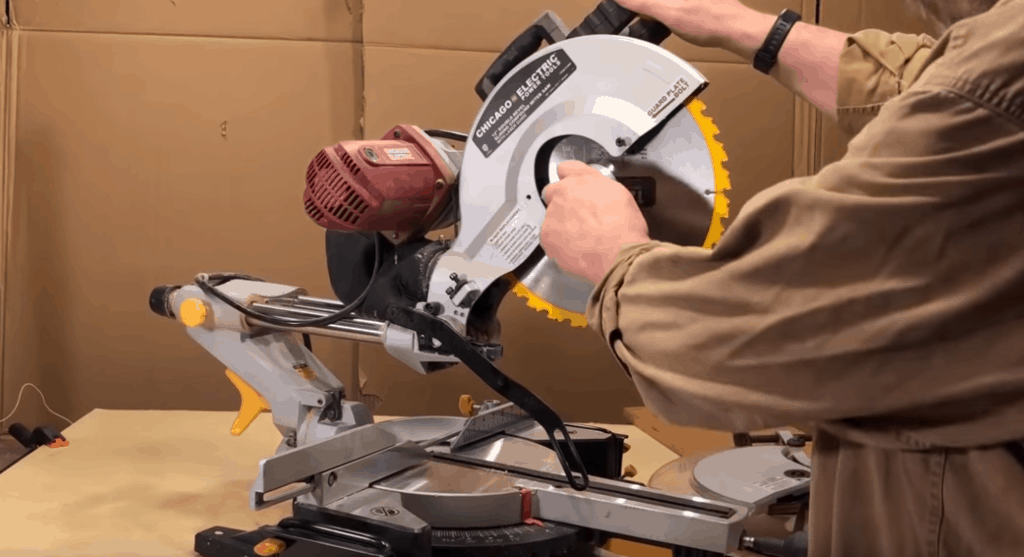 Chicago Electric miter saws and tools are manufactured by the value brand Harbor Freight. Based in the United States, its mission is to provide quality discount tools and equipment to its customers. This brand is known for its wide variety of tools for working on many jobs at a competitive price point.
Wrap Up
If you are looking at Chicago Electric miter saws, you are looking for a saw that will provide you with clean cuts while also coming in at a low price point. For the quality they provide without spending a lot of money, Chicago Electric is a great choice for those who do not plan to use their saws consistently.
Of their product offerings, we recommend the 10-In. Sliding Compound Miter Saw because it will give you enough versatility in cutting jobs without being too large or heavy. It will be easy to pull out for jobs around the home and doesn't take up too much space for storage. This is a great saw when you do not want to make a large investment, but want a job well done!
Are you looking for more guides on table saws? Check out some of our most popular guides, The Best Dewalt Miter Saw, Makita vs. Festool – Which Tool Brand Makes A Better Miter Saw?, Best Makita Miter Saw: Our Top Picks, DeWalt Miter Saw Stand DWX726, and Double Bevel Miter Saw vs. Single Bevel: The Run Down.