Their lime green color makes Ryobi tools difficult to overlook, especially when you are walking through Home Depot. Only available through the home improvement giant or on-line, Ryobi tools are often one of the most affordable models, whether it's a tool or a lawn mower. There's a dizzying array of Ryobi tools available, including the Ryobi Circular Saw with Laser and the cordless 18-volt Ryobi Circular Saw. For general information on circular saws, check out Circular Saws.
---
A Quick Look at Our Top Picks for Ryobi Circular Saw:
---
7 1/4 IN. Ryobi Circular Saw Model #CSB125
This is the lowest priced Ryobi model. At 13 amps, it doesn't provide much power, so dealing with heavier or thicker wood will likely cause frustration.
What We Like
The weight—3 pounds is feather-light for a 7 ¼ circular saw
What We Didn't Like
The wobbling blade—don't depend on it to deliver perfectly-straight cuts
The deck angle isn't 0 degrees. If you need an accurate 180 degree cut you will need to have a square handy.
Switching out blades is far too awkward and aggravating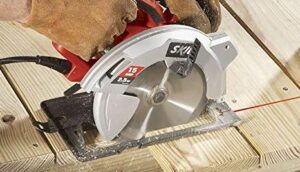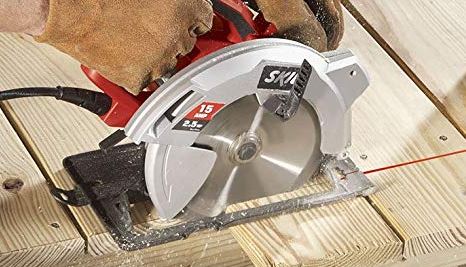 Bottom Line
If you need an inexpensive circular saw, the 15-amp Ryobi costs only a few additional dollars and will give you a bit more power.
One way that Ryobi could improve their circular saws is making the process for changing the blade less cumbersome. If you want to see how it's done, check out this video here. If you want to see how much easier it can be as a comparison, check out this video here.
---
14 Amp 7 1/4 IN. Ryobi Circular Saw Model #CSB135L
This model is an upgrade from the 13-amp model. The 14 amps provide 5,200 rpm. It weighs 7.35 pounds, but the additional weight provides additional stability for more accurate cuts. Ryobi has added two additional features to provide more accuracy—a laser and an air diverter that blows the dust to the side so that it doesn't cover up the cut line.
What We Like
The stronger motor—15 amps provides enough power to make the cuts you will need for basic carpentry work
The additional features—laser light and air diverter—to improve accuracy
How easy it is to change the depth of cut
What We Don't Like
The deck angle is still not accurate. Although you can use a square to line the deck and blade to be accurate, once you need to cut a 45-degree angle, you have to go through the process again to have a 90-degree angle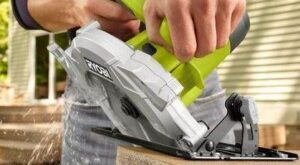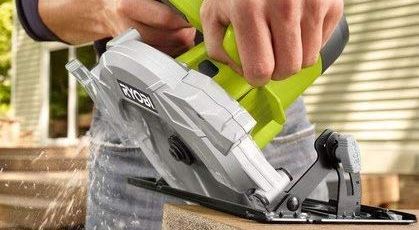 Bottom Line
This is a solid Ryobi circular saw. If you see yourself doing DIY projects or tinkering around with wood, we recommend you spend a little more and buy this Ryobi.
Or, you could cut the cord and get the cordless version.
---
18V ONE+™ Brushless 7-1/4 inch Ryobi Circular Saw
Due to advances in battery technology, cordless tools often provide the same amount as their corded counterparts. The Ryobi brushless circular saw is no exception. It gives you the same amount (5,200) rpm as the 14-amp corded model. 
Indeed, most of its features are identical to its 14-amp corded cousin.
What We Like
It has most of the same features as corded Ryobi saws
The power of this cordless saw is equal to its corded cousin
The lower guard handle, which makes plunge cutting easier
What We Don't Like
The disadvantages of corded models haven't gone away—the saw is still not as accurate as we would like
We still hate having to change blades
The price seems high for a saw—if you buy the saw with a battery you will be surprised at the additional expense.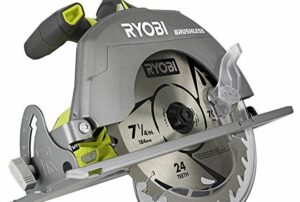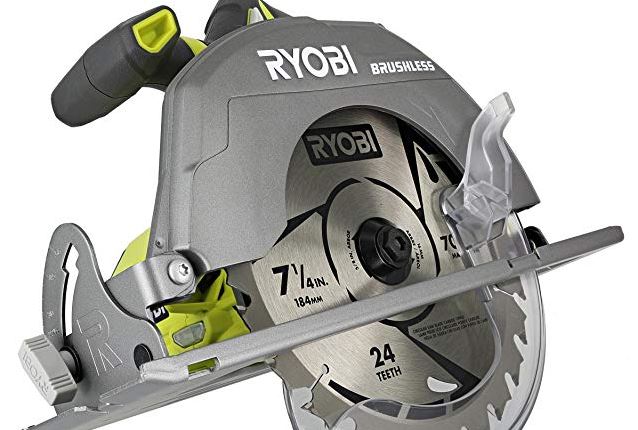 Bottom Line
We think this is a solid cordless saw that provides enough power and features for a homeowner, DIYer, or handyman. Although we expected the price to be similar to its corded counterpart, we would consider this saw as an investment in the Ryobi selection of cordless tools.
---
Why You Should Consider Cutting the Cord
Ryobi has developed over 100 tools that run on their ONE+ battery system. Drills, saws, hammers, leaf blowers, trimmers, and even lawn mowers all use the same batteries. Think of buying a cordless Ryobi circular saw as an investment in your transition toward cutting the cord.
Once you discover the freedom that comes from not having to plug in a cord, it's hard to go back. I have spent too many hours winding and unwinding extension cords, and I would much rather grab a battery, attach it to a tool, and get to work. Are you looking for a cordless DeWalt circular saw? Check out, Best DeWalt Cordless Circular Saw: Our Top Picks.
Why a Brushless Motor is a Better Choice
Even though brushless motors have been around since the 1960s, it has only been in the past decade or so that manufacturers have begun using them in smaller, non-industrial tools.
The advantages of brushless motors are two-fold. First, a motor with brushes provides less power through the friction of the brushes. Second, a brushless motor depends on a small circuit board to communicate to the battery whether more or less power is needed.
In practical terms, the brushless motor will use less power to cut plywood than a two by four. This means the battery will last longer. Also, a brushless motor provides more power. If you want a further explanation, go here for a video from Ryobi.
Ryobi Circular Saw Blades
Ryobi does not make a lot of saw blades. If you look online, you will see that folks often buy a Ryobi saw and a blade from a separate manufacturer. This isn't really much of issue. As long as you buy the right size circular saw blade, it should work with your Ryobi with no problems.
What Is the Story Behind Ryobi?
You can buy over 100 different Ryobi products that use the Ryobi 18V ONE+ battery system. This helps explain why Ryobi tools are popular. Once you purchase a trimmer, you might as well get the blower. When it's time for a new drill—you already have a battery for it.
It is not an accident that Ryobi tools became associated with cordless tools. Ryobi is one of several tool lines that are owned by Techtronic Industries (TTI), which was founded in 1985 by a former engineer at Volkswagen, Horst Pudwill, and his business partner, Roy Chi-Ping Chung. From the beginning, their focus was on rechargeable battery packs for use in hand-held tools. In 2000, TTI acquired Ryobi, a Japanese manufacturer that started producing power tools in 1968. This provided them with a line of tools that could be converted into battery-powered ones. If you want to read more about TTI, you can do so here.
Ryobi claims on its website that
"RYOBI is the choice of millions of DIY homeowners, woodworkers, hobbyists, craftspeople and garden enthusiasts"
Perhaps that is less true for woodworkers and hobbyists, but many homeowners purchase Ryobi tools because of their price and dependability. Are you looking for a compact circular saw? Check out, the Best Compact Circular Saw 2019.