German technology and engineering company, Bosch, has built a strong reputation in the power tool market for its innovative technology and a wide range of offerings. Their miter saws are high quality and have been catered to the professional market. They may not be the most popular name brand available, but upon further research, their high-performance offerings prove you should definitely consider them for your next saw purchase.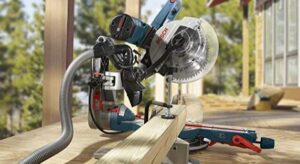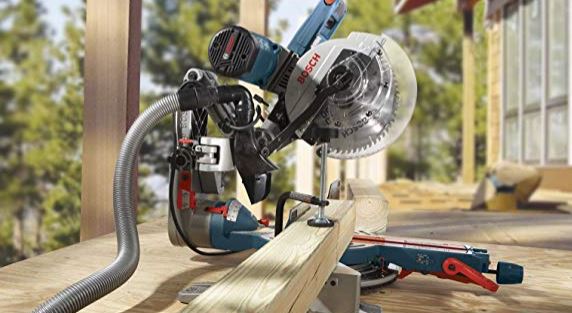 We've selected our favorite Bosch miter saws and where you can get everything you need for your Bosch saw needs! Are you questioning if you need a miter saw and a circular saw? Check out Miter Saw vs Circular Saw: Do you Really Need Both? for more information.
---
Bosch Miter Saw Reviews
Bosch Miter Saw CM8S 8-1/2 Inch Single Bevel Sliding Compound 
With limited space being taken up by this saw, it's a great addition for those needing a small and high-performance miter saw. Also, if you are looking something to tackle smaller projects without too much complexity, this saw should be considered. This is not a professional, heavy-duty saw, and is best for DIY projects, remodelers, residential carpentry, furniture, and those who are on the move with their tools. We recommend this saw for your weekend projects and smaller saw needs.
What We Like
Lightweight (37 lbs.) and small with a carrying handle makes it easy to transport between jobs

Efficient design with conveniently placed bevel levers and trigger handle

Very stable compared to similar sized saws with adjustable foot
What We Don't
Poor dust collection makes debris difficult to contain

Cut quality can suffer on larger jobs with bigger cuts

Two cuts are needed for wider cuts due to a smaller blade
---
Bosch Miter Saw 10 Inch: Dual-Bevel Sliding Glide (CM10GD)
Unlike traditional sliding compound miter saws, Bosch has created "glide" technology that continues to build upon miter saw innovations. Using an axle rather than rear slide rails, this saw creates for even smoother cuts with greater control. This is a technologically advanced saw with a 60-tooth blade, making it an ideal option if you are a contractor, professional woodworker, regular with carpentry, or a finishing carpenter. We recommend this saw for professionals or very frequent users at its price point and advanced capabilities.
What We Like
Glide technology saves 10 inches of space, allowing for placement against a wall
Large trigger handle with a soft grip for comfort and all-day use
Tall sliding fences for easy crown molding set up
Easy to read miter scales for quicker and more convenient use
What We Don't
Heavyweight (64 lbs.), making it best for stationary workshop use
More pressure required than most saws to engage the trigger
---
Bosch Miter Saw GCM12SD 12 in. Dual-Bevel Sliding Glide 
The 12-inch model uses the same smooth glide technology as the 10-inch model. The larger saw comes with similar capabilities but can handle larger projects. This saw is best if you are a professional woodworker. This a top of the line product across their offerings and the competition.
While it has a high price point, the forward-thinking technology and high-performance make up for it. If you are a professional looking for a versatile investment who doesn't need to transport their saw, check this one out.
What We Like
Innovative glide technology lasts longer as dust doesn't accumulate in bearings and rollers
Excellent control over cuts and movement for difficult angles
Glide features make it compact to save room compared to most 12-inch saws
What We Don't
Difficult to transport (65 lbs.) without a wheeled stand
Height limitations on the right side can make crown molding more difficult
Standard blade does not work for very heavy-duty projects, may need replacement
---
Why Should You Choose a Sliding Saw?

Advanced miter saws are typically divided into compound and sliding compound miter saws. A compound saw is usually quite powerful and can provide clean cuts on simpler small to medium-sized jobs with ease. We recommend these for homeowners, those who don't use their saw all the time, and professionals who are willing to use a more standard saw.

Sliding saws are typically used by more advanced, frequent users and professionals. This is because they can handle larger jobs and are more expensive, gaining greater utility with frequent use. A sliding compound saw does everything a compound saw does but with the ability to slide back and forward across materials thanks to the rails.

You should choose a sliding saw if you want to work with larger pieces of material and have more versatility in projects. Our recommendations for Bosch products are all sliding compound saws with varying capabilities. Do you need more information on sliding and non-sliding miter saws? Check out Sliding vs. Non-Sliding Miter Saw: Which Makes The Cuts You Need? Do you need to cut some crown molding? If so, check out How to Cut Crown Molding With a Miter Saw.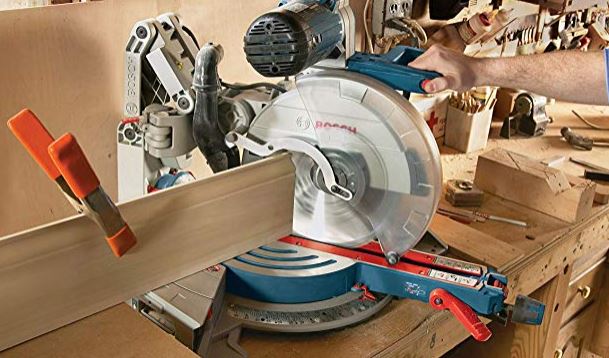 Do You Need a Miter Saw Stand?

Miter saws are often used on job sites, around your yard, and in inconvenient locations. For a miter saw that is usually placed on a workbench, you'll have to walk back and forth to the desired location.

To avoid this, you can work with a miter saw stand. These stands are great for their convenience in location and portability.

Miter saw stands should be able to:

Hold significant amounts of weight
Be stable on all surfaces
Provide heavy-duty brackets to secure the saw

Bosch miter saw stands accomplish these prerequisites for safe and efficient cutting. Their stand with is portable and can move across different terrains and stairs. The stand is just as durable but is more difficult to move on a job. Both are universal allowing for multiple types of saws to be compatible.

Consider using a miter saw stand for increased convenience and support in all your sawing jobs.
---
Recommendation
Using a miter saw can make all of your cutting needs much easier. The key is to find one that makes clean cuts, is easy to use, and can work on a variety of products. All the Bosch offerings we suggested do just that.
Because of the unique technology Bosch has come up with, we believe the Bosch CM10GD 10 in. Dual-Bevel Sliding Glide Miter Saw is the most advanced and best for use by professionals and frequent users of miter saws. It is slightly smaller and more economical than the bigger version, making it more accessible for more users. Are you looking for the best Ryobi or DeWalt miter saw? Check out Best Ryobi Miter Saw 2019: Which One Should You Buy? and DWS709 vs DWS779: Head to Head with Two of DeWalt's Best Miter Saws.