When it comes to the best chainsaw, I want something that I know will be able to tackle the job at hand with as much ease as possible. What's more frustrating than getting started on a project, only to realize that the hardware you have isn't up to the task? I don't know about you, but I have found myself in this situation and have kicked myself for not doing more research to ensure that I picked the best option possible. I know that, when tackling a new project, safety and efficiency depend on quality tools, which led me to look into the different options for chainsaws.
Quick Summary
Plenty of power for homeowners with land to care for. Very easy to start for a gas chainsaw, and won't vibrate like crazy – so it is usable for people of all ages. It's a bit pricey, but the general consensus is that it's worth it.
A Few Things to Consider
It might not seem like there is much to consider when it comes to selecting a chainsaw outside of how heavy the saw is, and how easy it fits in the hand. While these are two very important considerations, there are other things to consider as well.
First and foremost will be the type of chainsaw power you want to utilize. There are gas, electric-corded, and battery-powered chainsaws. Each has their own ups and downs.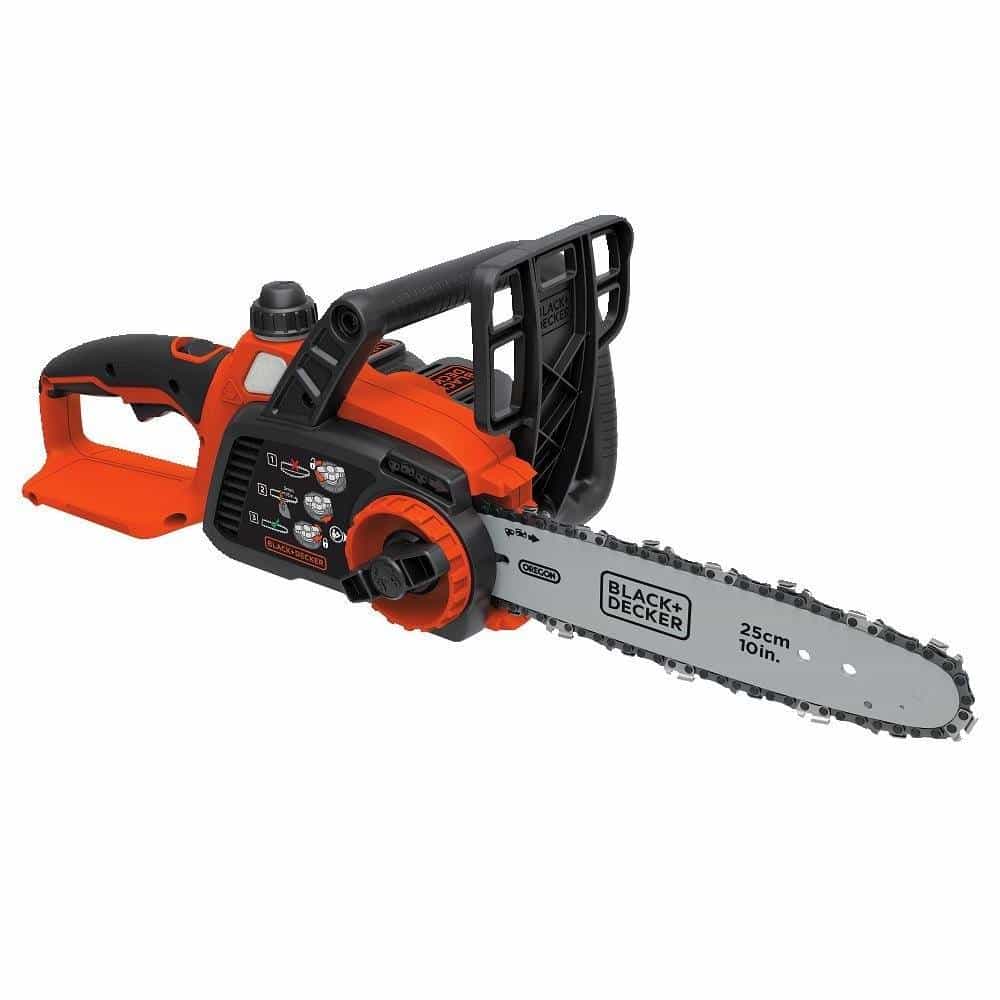 Gas-powered chainsaws tend to be more portable as they are always cordless. They are very powerful and come in models made for light work, all the way up to industrial work such as felling huge trees. These are most often what are called "two-stroke" engines that require a mixture of oil and gas to operate; you can mix it yourself or buy fuel that is already mixed to the right ratio.
Electric chainsaws require much less power than gas-powered saws. They are great for smaller jobs like pruning and light trimming, and are easier to operate than gas-powered saws. Many like that less maintenance is often required with an electric chainsaw. You can find options that are either corded or cordless. Obviously, the cordless gives you more mobility, but there is a limit to the battery charge.
Black + Decker LCS1020
Black + Decker is a time-honored brand of light to heavy power tools that has quality and value. Their LCS1020 cordless electric chainsaw works great for small to medium projects. It has the ease of starting and maintenance that people want electric chainsaws for.
Battery life is often a common complaint when it comes to cordless electric chainsaws. This saw includes a 20V lithium-ion battery that maintains a charge many times longer than competing types of batteries.
The design of this saw is for people who need a powerful tool that offers enhanced mobility combined with ease of use and operation.
Pros
Tool-free blade tension system
Auto-oiling system for hassle free lubrication
10″ cut capacity
Lithium ion battery can maintain a charge for up to a year
Cons
Doesn't have the ability to tack heavy duty projects
Limited by battery life
Not as much versatility of use as gas powered chainsaws
Features and benefits
20V MAX lithium power
When it comes to powerful battery technology, there still isn't much that can compete with a lithium ion battery. Lithium batteries are reliable and can hold a charge for a long period of time.
When you are working on a project, the last thing you want is to run out of power in the middle of a project. With the 20V lithium battery, you can get as much as 150 cuts per charge and the battery can maintain a charge for up to a year. This gives you the ability to take advantage of the mobility of the cordless electric saw, without the downside of short battery life. Unlike the corded electric options, you do not have to try to manage unwieldy power or extension cords to get your power source to the project at hand.
Another advantage to the lithium power system is that it makes the chainsaw much easier to start than a comparable gas-powered model. This model starts by simply hitting a switch, whereas the gas-powered saw must be pull started, which can be a bit tricky. I also appreciate not having to work in a fog of fuel fumes as well.
Another thing I love about the electric chainsaw is that it is not nearly as noisy as its gas-powered counterpart. I think neighbors will also appreciate this feature as I can keep up with various yard projects without the excessive noise pollution of a gas powered heavy duty chainsaw.
Oregon low-kickback bar and chain
Oregon is a well-known brand that makes high-quality bars and chains. These things help to improve the speed and cleanness of cuts made with the saw. The low kickback feature also reduces the amount of vibration felt in the saw, making it easier to operate and manage than comparable models. The less vibration in the system, the easier it is to get clean and smooth cuts.
Auto-oiling
With most chainsaws, you have to regularly oil them to keep the blade and moving parts properly lubricated. The Black + Decker LS1020 has an auto oiling system that keeps the blade well lubricated and optimally functioning. The chainsaw automatically oils the bar and chain though the use of a primer.
Tool-free blade tension system
This is one of my favorite features. It makes it easy to adjust the saw, without the need for tools and a lot of expert knowhow. This makes the chainsaw a lot easier to use and more versatile as well. This allows for easy adjustment on the fly so that you can tackle anything that may come your way.
Lightweight and portable
Another key perk of this model is that it is light; it weighs less than 8 pounds, which makes it easy to carry and wield, even if you are not super strong. This means that you can wield and maneuver with a lot more ease than other models that tend to be much heavier.
Alternatives
The Black + Decker LCS1020 is an excellent value and choice, but it is not the only quality cordless electric chainsaw on the market. I will now briefly discuss two possible alternatives that have the same type of versatility and ease of use as the Black + Decker, but have other features or perks that may make you choose one of these over the above described model.
GreenWorks 20362 Cordless Chainsaw
GreenWorks is a trusted brand that strives to produce heavy-duty tools that are efficient and easy to use. The 20362 model is comparable to the Black + Decker we just reviewed. They are roughly the same price, but the GreenWorks model boasts 24V as opposed to the 20V of the Black + Decker. Another advantage to this model is that it comes with a battery and charger included. You pay a bit extra if you want a battery included with most models.
DeWalt Chainsaw DCCS69OM1
DeWalt is one of the most trusted brands of heavy-duty power tools and for those who have bigger projects to tackle, the DCCS69OM1 is a very powerful cordless chainsaw. It comes at a much heftier price tag than the other models we have featured, but this is because it offers double the power and can handle much wider cuts than the models we have described. If you want the versatility of a cordless model without sacrificing power, an option like this might be best suited to the task at hand.
Conclusion
When choosing a chainsaw, you have to take a lot into consideration. What type of power option you want to choose, how much cutting power you need out of the tool, the features included, and so on. Cordless chainsaws offer a great blend of function and convenience, making this an excellent option for light-to-moderate projects. You want a chainsaw that is easy to operate, keeps a charge, and can tackle what you need it to.
The Black + Decker LCS1020 is a great compromise between ease of use and functionality. It boasts excellent battery life, ensuring that you have the power you need to complete the project at hand. It comes at an affordable price, making it a great value for the money. The auto-oiling features and ease of startup also make this an attractive model.