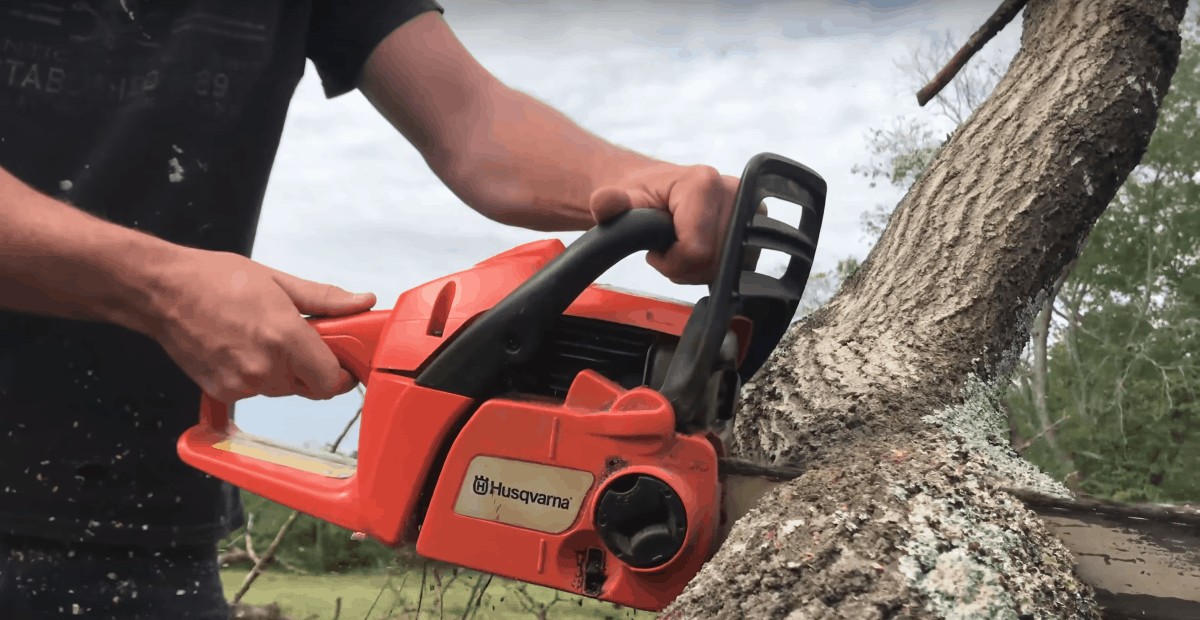 Best Chainsaw
Are you looking to embrace your inner lumberjack?
Well, pull on your flannel and toss out your razor because our best chainsaw guide is ready to assist you with fulfilling those red-blooded fantasies.
Yet, we'd like to keep you around.
So we'll not only discuss the best chainsaw, but how to use it safely (to keep all your limbs intact) and how to identify the features that meet your needs.
The top four chainsaw manufacturers have a wide array of variations and styles making up over 80 models combined. "Am I serious?" Yes, yes I am…
Let's face it, sifting through thousands of reviews on dozens of products in an attempt to find the best chainsaw for you can be an overwhelming task. If you're anything like me, you don't have the time or the patience and you might rush to a decision or get paralyzed by information before you even get to make a decision. Well, it's a good thing The Saw Guy is here.
To make this easier, I will assume you aren't an arborist, or even know what an arborist is for that matter, and I'll break down the best chainsaws for typical household functions.
The Best Gas Chainsaws
Husqvarna 450 18-inch 50.2 cc
Husqvarna is a well-known and well-respected brand with a history of excellent products and the 450 ranks right up there. As a homeowner's chainsaw it's easy to start and has all the power you'd ever need from the 50.2 cc engine. Yet, despite being the largest in displacement, it still manages a svelte 11.3 lbs.
Overall, the 450 is hard to beat. It has tons of power and features and is backed by a reputable brand. It's a great performing chainsaw all around and gets you professional quality at a reasonable price.
Key Features
18-inch bar
Just 11.3 lbs
3.2 hp 50.2 cc engine built to last
Patented X-Torq technology improves fuel efficiency and reduces emissions
LowVib vibration reduction system
Smart Start gets the engine running with little effort
Chain brake and inertia chain brake
Available 4-year warranty (with purchase of Husqvarna pre-mixed fuel and product registration)
Stihl MS 251 C-BE 18-inch bar 45.6 cc
Stihl, like Husqvarna, has an amazing reputation among chainsaw manufacturers and the MS 251 C-BE is a gem. It is absolutely rife with features and those features function quite well. The Stihl saw was the heaviest of all the gas chainsaw at 11.9 lbs but that is a very manageable size, especially considering the features Stihl has managed to cram into that weight.
All those features come at a price though and the Stihl Gas Powered Chainsaw MS 251 C-BE was one of the most expensive chainsaws of the entire list. However, it's hard to match the cutting performance and long list of features for that price.
Key Features
Accepts 14, 16, or 18-inch bars
Stout 45.6 cc engine produces 2.95 hp
Light at 11.9 lbs
ErgoStart helps the MS 251 C-BE start easily
Top notch vibration reduction system
Quick Chain Tensioning
Master control lever
Carburetor heating
Ematic oiler
ECHO CS-450P 20-inch bar 45 cc
The ECHO CS-450P comes in at the top for price but does a solid job of justifying the extra money spent on it. To begin with, it can accept bar lengths from 16 to 20 inches which makes it plenty of saw for even large jobs. The powerful 45 cc engine will give enough grunt to the chain to get those jobs done, too.
ECHO seems to have also given priority to a longevity when designing this saw. They've included digital ignition to ensure it runs well and have earned the highest EPA durability certification. Then they went and backed the whole thing with a ridiculous 5-year warranty. The extra money spent is going a long way with this saw.
Key Features
Accepts 16, 18, or 20-inch guide bars
Only 11.2 lbs
Side-access tensioner
Chain-brake and inertia chain brake
Automatic oiler
Vibration reduction
Automotive style air filter and engine pre-cleaner
Digital ignition automatically adjusts engine timing for maximum performance
Highest EPA certification for durability available
5-year warranty
The Best Electric Chainsaws
Makita UC4051A 16-inch 14.5-amp
This saw is a workhorse and Makita is a name well-known for fantastic power tools. The UC4051A runs on a powerful 14.5-amp motor capable of reaching an incredible chain speed of 2900 FPM. Short of large tree felling and bucking, there isn't much it won't handle.
The UC4051A is a professional grade saw. That means it's top of the line and brings a premium price with it. Once you add the necessary 10 to 12-gauge extension cord, this saw begins to creep into the gas chainsaw cost neighborhood. But Makita is known for excellence in both durability and performance and the UC4051A makes the cut.
Key Features
Powerful 14.5-amp motor produces chain speed of 2900 FPM
Light at 12.3 lbs
Built-in limiter to avoid burning out the motor
Chain brake
Automatic oiler with viewing window
Soft start and rubberized grips
Tool-less chain tensioner
16-inch
Remington Limb N' Trim RM1425 14-inch 8-amp
The Remington Limb N' Trim RM1425 stands somewhere between a hedge trimmer and a chainsaw. With a 14-inch low-kickback bar and only weighing 6.25 lbs it's easy to use and is meant for smaller jobs around your yard. Even then, it still does a respectable job cutting decent sized branches or logs for firewood, felling small trees, as well as pruning and trimming.
The RM1425 is very affordable which means it also lacks some features. Overall, the RM1425 is a very low-cost yet capable chainsaw most homeowners will find more than sufficient for their needs. You'll just need to be aware of its limits and have a little patience and you'll be surprised how much you can accomplish with it.
Key Features
Extremely light 6.25 lbs
14-inch low-kickback bar and chain
Easy to access chain tensioner
Push-button oiler
Oregon CS1500 18-inch 15-amp
When it comes to chainsaws, Oregon is better known for their bars and chains than for producing chainsaws. While they don't make many of them the few they have are clearly made by those who have an understanding of what features an operator would want. This saw has an impressive array of features and comes at a shockingly low price.
The Oregon CS1500 is the only available electric chainsaw that is self-sharpening. If you need a chainsaw sharpener, you can run the chainsaw and pull the sharpening lever for 3 seconds and the chain is ready to go. This simplifies a task that is often neglected or avoided and allows the CS1500 to always cut with a sharp chain which vastly improves the capability of, and your experience with, this chainsaw.
Key Features
Self-sharpening! You read that right.
Powerful 15-amp motor
18-inch low-kickback bar and chain
Just 12.6 lbs
Chain brake
Low-vibration grips help prevent hand and arm fatigue
Tool-less chain tensioner
Automatic oiler
The Best Battery-Operated Chainsaws
DEWALT DCCS690M1 16-inch 40-volt
The DeWALT 40v 16-inch chainsaw strikes a nice balance between the benefits of a traditional saw all while being a battery powered chainsaw. When looking through battery-operated chainsaws you won't find many that are 16-inches or longer. Batteries just aren't quite up to the level of having enough power to go much larger yet. Yet…
If you've spent any time around tools, you'll probably already be familiar with DeWALT's pedigree. And that pedigree comes with a significant price. But a 16-inch saw with this much power is capable of a wide range of work (including felling medium trees) while still remaining light and maneuverable. If you're looking to get the most out of a battery-operated chainsaw, this is your best bet.
Key Features
Variable speed
Low-kickback 16-inch bar and chain
Tool-less chain tensioner and bar tightening knob
Chain brake
Auto oiler
12.3 lbs
Compatible with other DeWALT 40V MAX products
Black & Decker LCS1240 12-inch 40-volt
The Black & Decker LCS1240 is a surprisingly capable and determined machine and is a nice surprise for a battery-operated chainsaw. You certainly won't be felling any redwoods but it can handle most any task a typical homeowner will run into.
In addition to handling any trimming and brush clearing, the LCS1240 can process logs for firewood and even fell small to medium sized trees with a little patience. Overall, if you stay within the limits of what the LCS1240 is capable of doing (and that should be plenty for most homeowners) this tool shouldn't disappoint.
Key Features
12-inch low-kickback bar and chain
Very light at just 8.3 lbs
40-volt 2.0Ah MAX Lithium Ion battery compatible with other Black and Decker 40V MAX products
60 cuts or 50 minutes of runtime
Tool-less chain tensioner
Automatic oiler
Makita XCU02Z 12-inch 36-volt
The best way to describe the Makita XCU02Z is "battery-powered beast mode" as it is capable of handling much more than its 36-volts (two 18-volt LXT Lithium-Ion batteries) and 12-inch bar would leave you to believe. Makita has a reputation for producing excellent tools and this chainsaw is no exception.
The base price is pretty high and does not include the batteries or a charger which can cost as much or more than the chainsaw itself. However, if you already own battery-operated Makita tools on the 18-volt LXT Lithium-Ion platform this is less of a hurdle.
Key Features
Runs on the 18-volt LXT Lithium-Ion platform and so is compatible with other Makita tools of the same family
Tool-less chain tensioner
Powerful 1650 FPM
Automatic oiler
Chain brake
Just 10.1 lbs
Introduction to Chainsaw Anatomy
Chain
This is the most obvious part and the one which gives the chainsaw its name. The chain can be constructed of various materials such as carbide but is usually some form of steel. The chain is made up of dozens of drive links on one side with cutters on the opposite side. Keeping a sharp chain will insure quick cutting and safe operating. See our complete sharpening guide here.
The pitch is a measurement of the distance between two rivets and is most commonly 3/8 of an inch. It's important if you replace a saw chain you get one that matches the gauge and length of the guide bar as well as the pitch of the sprockets.
Important considerations on a chain are one which reduces kickback or is made of carbide to drastically increase how long the chain remains sharp.
Guide Bar
This is the flat bar that extends from the front of the chainsaw body and is what the chain rotates around. The biggest thing to note on a guide bar is its length. The length of the guide bar determines the thickness of material a chainsaw can cut through but also affects how easily you can maneuver the saw around.
Generally, the size guide bar you purchase a saw with will be the only size guide bar it can accept so be sure you choose one that will meet your needs. In some cases, chainsaws have the flexibility to swap out for slightly larger or slightly smaller bars.
Like saw chains, guide bars can also come in a low-kickback version which make the tip of the bar smaller and reduces the size of the "danger zone."
Chain Brake/Hand Guard
The chain brake is something we will discuss more in the safety features section as its sole purpose is to save you in the event of a kickback. For now, I just want you to know where the chain brake is found when I'm referring to it.
I'd also like to mention not all chainsaws have a chain brake. In some saws, this particular attachment is nothing more than a hand guard to protect your forward hand. So just because you see this guard on a saw, doesn't mean it has a chain brake.
Front Handle
Pretty straight forward. This is where you grip the chainsaw with your forward hand (usually left). The front handle should be comfortable to hold and can even include anti-vibration or low-vibration to help keep your hands comfortable over long periods of use.
An important thing to note is the position of the front handle in relation to the chain brake. Generally, in order to engage the chain brake properly, you would need to have your forward hand gripping the top of the front handle. If your hand were to the side, the chain brake may not get engaged at all.
A quick note for any left-handed folks out there. Lefties might be a commodity in baseball, but not in the chainsaw industry. Unfortunately, if a lefty wants to use a chainsaw, they have to learn to do it as a righty. There are no left handed manufactured chainsaws.
Rear Handle
This is the handle your rear hand (right hand) holds onto. Like the front handle, this should be comfortable and give easy access to the controls of the saw such as the throttle, safety switch, and the on/off switch.
For the most part, this rear handle will be located at the actual rear of the chainsaw as in the picture above. However, there are some saws that have a top mounted handle. Chainsaws with a top mounted handle are intended for use in trees and should not be used on the ground. In short, for a typical homeowner these types of saws will require a specific set of needs.
Gas vs. Electric vs. Battery
Chainsaws fall under one of three different power platforms: gas, electric (with a cord), and battery-operated. Each platform has its strengths and weaknesses which will require you to really think about how you want to or intend to use your chainsaw.
» COMPARE: Gas VS Electric Chainsaws Ultimate Buyers Guide
Gas is classic. It rumbles, it's noisy, and it's the most powerful of the three which makes cutting much easier. Because these are a more powerful breed, gas chainsaws are capable of handling heavier work and require more maintenance. Gas is also the most mobile, which means if you plan to use your chainsaw at any distance away from a power source, gas will be your best bet.
Gas is also the loudest and requires the most work to get it started. This can be tedious at best and exhausting at worst. For this reason, some may see the way gas starts as a deal breaker. Gas chainsaws are typically heavier and there is the ongoing cost of fuel and maintenance to be considered.
Electric is very clean, quieter than gas, and requires little maintenance. Generally, electric chainsaws tend to be lighter than gas and starting them is as simple as pulling a trigger. They are also capable of handling jobs ranging from light to medium-duty, with some models capable of even some heavy-duty work.
But you are very limited in your mobility. You can only go as far as your extension cord will let you and you'll also have an extension cord dangling around. That's something else you'll have to manage and be extra aware you don't cut into it. Using a chainsaw already requires your full attention.
To get the best performance out of your electric chainsaw you'll need a quality extension cord of the proper gauge and probably a minimum of 50-foot of it. If you don't have a cord laying around, you'll have to buy one and, depending on what your saw needs, it can get pretty expensive.
A battery-operated chainsaw is best suited for light to medium work on a limited basis. These saws don't have the power of either a gas or electric but can still be as expensive or more expensive than both gas and electric equivalents due to the cost of the batteries and chargers.
However, they are still very clean, easy to run, low maintenance, and you can take them all the places you could a gas chainsaw so long as you understand the limitations on the battery runtime. But once you run out of juice you'll be taking a long break unless you have additional batteries on backup.
Key Features to Consider
Tool-Less Chain Tensioning
This feature is nice because tensioning the chain is something you will be doing quite a bit. It can be annoying to have to stop everything in the middle of working, go find a wrench and a screwdriver (or you could carry a scrench), and then have to tension the chain correctly.
If the chain is not tensioned properly it can damage the saw, the chain, or the bar.
With the tool-less tensioning system you are simply turning a wheel of some sort built into the clutch cover. It really isn't much more complicated than that. It may take a few times to figure out how much tension to apply to make your saw run best, but you'll get a feel for it.
As convenient as tool-less tensioning is, it's not perfect. Often the parts for the tensioner are plastic and can snap off which cripples a critical part of the saw. A similar feature, but not quite as simple, is easy-access chain tensioning. This is a good alternative to tool-less chain tensioning but will still require a wrench and screwdriver or a scrench to make the adjustments.
If you like the idea of a simplified way of doing your chain tensioning then you can probably justify spending a few extra dollars for a tool-less chain tensioning system.
Easy-Start System
How many times have you tried to start your weed eater or lawn mower and just about threw your shoulder out, or even threw the weed eater across the yard? I'll admit, I have done both. Sometimes at the same time.
Related: Stihl HT 56 Pole Saw
Related: WORX 18-inch 15.0 Amp Electric Chainsaw Review
Fortunately, many of the best chainsaws have some type of system that makes it easier to pull-start. The general rule is the bigger the engine, the harder the pull. However, one chainsaw manufacturer stands out among the rest with their ErgoStart pull system.
Stihl stands out for a lot of reasons, but this one in particular, is meant to make our lives easier.
Essentially, Stihl changed the spring in the recoil mechanism (the part that rewinds the pull cord) to make it easier to pull. Husqvarna has a similar system called Smart Start.
Other saws have what is known as a decompression valve. This valve opens in the cylinder and reduces compression, which makes it easier to pull-start. This feature is normally only found on larger saws.
However, it doesn't get any easier to start than an electric or battery-operated chainsaw.
Automatic Oiler
The automatic oiler is kinda the unsung hero of the whole cutting operation. In order for a chain to cut efficiently it must be lubricated at a pretty regular rate to minimize the amount of friction between the chain and the wood.
If the chain is not properly lubricated it can damage the motor, the chain, and it increases the chances of kickback. An automatic oiler releases a steady trickle of oil to ensure the chain has sufficient oil to run smoothly. Automatic oilers are a fairly common feature but some do it better than others. Some are more efficient with the oil and some are messier, what's important is you know what this feature is and how it will make your life easier.
Body Width
This is pretty simple really. If you look from the top of the saw, does it have a wide profile or a narrow profile? It might be hard to tell unless you have the two versions side by side.
However, the general rule is, if the saw is on the low-end of the price range it will have a wider body. If it is a high-end saw like a Stihl, Jonsered, or Husqvarna it is probably a narrow-bodied saw.
You are probably wondering what the difference is between a wide body and a narrow body and why it matters. The fact is, it all depends on you and how you will be using the saw. If you are going to start a tree trimming business or have a farm, you want the narrow body because it is easier to work with and maneuver.
If you just have a few trees and will use the saw to trim a few times a year, the wider body would work just fine. I wouldn't let this be a deciding factor for myself but it all depends on functionality and the price range you set for yourself.
Carbide-Tooth Chain
There is a lot of debate about whether to stick with the standard steel chain or upgrade to the carbide-tooth chain. I'll be honest, I really don't have a clear answer for this. But, I will present all the facts so you can make an informed decision.
As always, what constitutes the best chainsaw chain is highly dependent on how the saw will be used.
The standard steel chain is exactly what it says it is, it is standard. Most of the chainsaws you buy will come with a steel chain. steel chains dull easily when coming in contact with dirt or metal (like nails in barn wood).
Literally, you only have to touch the dirt for a few seconds to dull the chain. And if you have to cut rotted and dirty lumber, you might want to keep your sharpener handy…
The carbide-tooth chain will cut through almost everything you would use a chainsaw for, and with ease. Dirt and nails won't dull the chain like the steel version. It is the perfect solution if you are working in an urban environment where the likelihood of running into nails is much higher.
My "spidey" senses are tingling…you are thinking "well duh, I will obviously go with the carbide-tooth chain". Not so fast. The carbide-tooth chain is about $50 more than the standard steel chain. Not only that, but once you finally dull it, you cannot easily sharpen it yourself.
You'll either have to take the chain somewhere to sharpen it (if you can even find anyone), or buy another chain altogether. Both of the previous options will probably cost you about the same.
Those are the facts. It's your call.
Safety Features and Considerations
Chainsaws are amazing but make no mistake, they are also dangerous. Especially so, if you don't know what you're doing or get cocky with one. Chainsaws are responsible for thousands of injuries every year. They command and deserve a healthy amount of respect.
After working in landscaping for years and as an arborist in my younger days, I have seen my fair share of chainsaw related injuries.
I can safely say, the number one cause of chainsaw injuries is just plain old not paying attention and getting too comfortable.
Even some of the best chainsaw operators can lose focus. In the beginning, when you're scared of the wood-chewing monster, you tread lightly. Yet, after a while it's no longer as intimidating and you can start getting careless.
So, my number one rule for best chainsaw safety practices is to never get comfortable. Always be aware of what the machine can do. Now, let's talk about safety.
Kickback Reduction
Probably the most common occurrence that causes potential for risk is kickback. Kickback primarily occurs when the user is cutting in the upper quarter of the bar tip, or what is commonly referred to as "the kickback danger zone".
Let's talk physics.
When cutting with a chainsaw it produces a reaction force. If the user is cutting on the lower half of the saw, the reaction force is pulled into the body of the saw, or the bumper spikes (where it should be). When the user is cutting on the upper half of the bar, the reaction force tends to act upwards toward the user.
The most effective way to prevent kickback is for the operator to be properly trained. I understand not everyone is going to take a chainsaw training course. However, there are plenty of videos that show how to use a chainsaw properly.
Generally, if you follow a few simple guidelines you will decrease the potential for most injuries. For now, understand kickback can occur in two ways. The first is if the chain gets pinched between the material it's cutting and causes the saw to drive backward into the operator.
The second way is if the tip of the bar comes into contact with something solid (the ground, a log, a branch). This is the more dangerous form of kickback. When the tip of the bar hits that solid something at high speed, all the torque from the chain suddenly stopping gets transferred to the body of the chainsaw and the chainsaw wants to flip back at the saw handler, presumably with the throttle still held down. You begin to see where this is going, literally.
All this happens in the blink of an eye and you'd be hard pressed to stop the saw under the best conditions. But if your grip has been loosened from constant vibration, your arms are tired from maneuvering the weight of the saw, or you've just let your mind wander from the task at hand, the situation becomes even worse.
If you prevent the bar tip from coming in contact with solid objects, kickback can be avoided. Keep your head and body out of the path or plane of the bar. If you can't read the logo on the side of the bar, you're probably too close to the cutting plane. Just pay attention at all times.
WATCH THE FOLLOWING VIDEO FOR CHAINSAW SAFETY TIPS.
Safety Switch
Many chainsaws will have a safety switch. Most of the time the safety is located in a natural position on the handle to make pressing down both the safety, and the throttle convenient. Like most tools who have this feature, the throttle will not depress until the safety in engaged. The safety switch will prevent the trigger from being accidentally pushed by an obstruction or branch.
Chain Brake
The chain brake is quickly becoming a standard feature for most chainsaw manufacturers. The chain brake is a sort of pressure trigger positioned forward of the front handle. If kickback happens and the saw attempts to flip, the chain brake is activated by the back of the hand or wrist of the operator which stops the chain almost instantly. As you can imagine, being struck by a running chain will almost assuredly cause serious injury.
The chain brake can also secure the chain when changing positions from one cut to another.
Not all chainsaws have this feature though. On some chainsaws it is just a guard. Which is why it is important to read up on the specific chainsaw you plan to purchase.
Other Safety Considerations
To save your hands you may want to take regular breaks. Some chainsaws come with an anti-vibration system but it's also a good idea to invest in a pair of vibration reducing gloves. Chaps that cover your legs, a helmet, and eye/ear protection are also a good investment. As with most things in life, the safest way to avoid getting yourself hurt is to minimize your risk to begin with.
Best Chainsaw Brands
Husqvarna
Husqvarna is a top producer of lawn and garden power equipment such as trimmers, mowers, chainsaws, and blowers, just to name a few. They've earned a reputation for the performance and quality of their products that comes from over 325 years of experience in the business.
Read our Review: Husqvarna vs. ECHO Chainsaws
Stihl
The Stihl brand is almost synonymous with chainsaws as this is the brands bread and butter. But they've also grown their outdoor power equipment line to include augers, trimmers, blowers, and even oils, lubricants, and fuel. Stihl has been creating pro quality and innovative products since its founding in 1926.
ECHO
ECHO is a relatively new entry into the world of power equipment. It was originally founded in Illinois in 1972 under a different name and took up the name of ECHO in 1978. It now has a great reputation for producing well-built straight shaft grass trimmers, blowers, chainsaws, and brush cutters.
Makita
Makita got its start more than 100 years ago in 1915 as an electric motor sales and repair business. In that time, Makita has grown into a well-known global giant in power tools. Whether it runs on gas, electricity, or battery, there isn't much Makita doesn't make of professional quality.
Remington
Remington has been in the business of making gas and electric powered drills and saws since 1921. They have a reputation for building reliable tools first and foremost. Their product line now includes pole saws, chainsaws, cultivators, trimmers, and more.
Oregon
Oregon began in 1947 after the founder discovered a better way to make a chainsaw chain. One that was more efficient and required less maintenance. His design for the saw chain is still the basis for chains today and the Oregon business has grown to include forestry harvesters, outdoor power equipment, lawn and garden tools, in addition to their wide selection of replacement parts.
DeWALT
DeWALT was founded in 1924 with the creation of a universal woodworking machine. Since then, DeWALT has become a household name known for professional grade and durable products. And their product line is vast, ranging from radios and work lights to axes and nail sets.
Black & Decker
Black & Decker has a unique history in that it's start in 1910 had nothing to do with tools but with machines that made milk bottle caps. But in 1916 they changed the power tool world when they patented the first electric drill with a pistol-grip and trigger-switch. Now, they make consumer grade everything under the sun. Power tools, lawn and garden equipment, appliances, and even home cleaning products.
Frequently Asked Questions
Q: What type of oil should I use for bar lubrication?
A: Clean, unused bar and chain oil. Do not put used oil or motor oil into your chainsaw.
Q: Does a chainsaw come with oil?
A: I would assume it doesn't and if you intend to use the saw after you receive it, you may as well purchase the oil with it.
Q: Why does my chainsaw leak oil?
A: If your chainsaw has an automatic oiler this is a side effect of that feature. The bar and chain will generally always have some oil on them and the oil will drip down for a while after the saw has been shut off.
Q: Will chainsaws accept a longer bar?
A: Unless your owner's manual specifically says it will, do not assume you will later be able to increase or decrease the size of your bar. Some chainsaws are specifically designed to operate only with a specific bar length in mind.
Q: How can I tell if my chain needs sharpening?
A: A sharp saw does not produce sawdust but large chips. If you begin to see your saw creating sawdust or if you have to "push" the saw into the material because it no longer "pulls" itself, it's time to give your chain a little TLC.
Final Thoughts
There is a whole lot to consider when you're looking at making the purchase of a chainsaw. It can seem overwhelming; especially given the power these tools operate with. I would caution you not to allow price to be the only deciding factor. There are really good chainsaws in all price ranges and this is not likely a purchase you will make often.
A good plan is to take a careful accounting of what you want to do with your saw and what you may need it to do in the future. I'd love having a beefy, roaring gas-powered monster chainsaw but the reality is my property won't justify me owning it. I'd be all dressed up, with no place to go. So, for me and my property one of the electric saws is a good bet.
Features are nice, so long as you will make use of them. There are many factors that make the best chainsaw for you. Don't get caught up in the features. Buy a good, solid chainsaw that can handle the jobs you need it to.
Did you like this guide? Check out some more things I have written: