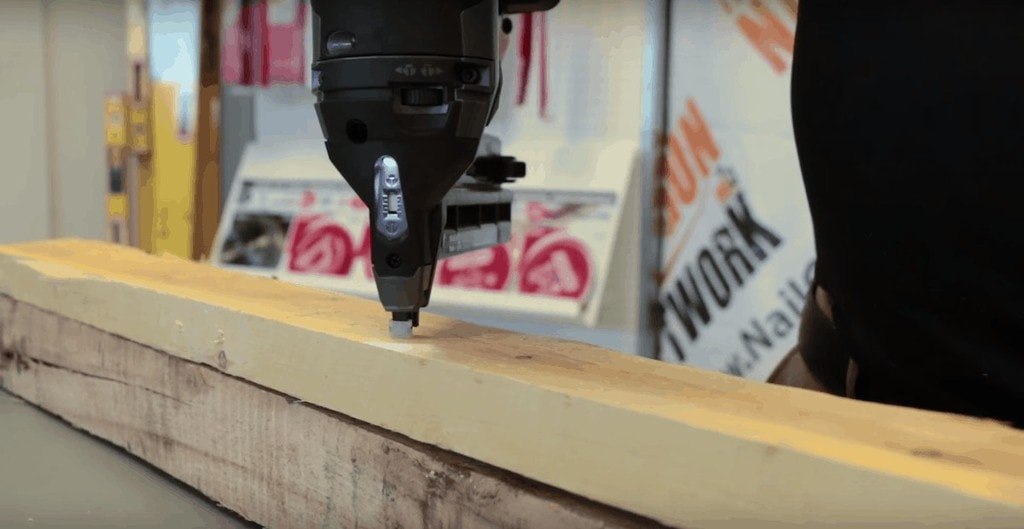 You've probably wondered, "What's the difference between a brad nailer vs finish nailer?". They basically look the same. They are about the same size. They both use similar nails. So, what's the difference?
The answer to that question can easily get muddied with various explanations and opinions. However, there are a few easy examples that can help clear things up, and ultimately, assist you with making the right decision for your next project.
The Saw Guy is here to make things simple.
When To Use A Brad Nailer vs Finish Nailer
A brad nailer is generally slightly smaller than a finish nailer. So, it's easy to determine the difference between the two nail guns if you think of it in terms of size. The smaller brad nailer does not have the same holding power as a finish nailer because it technically doesn't use nails.
Brad nailers use what are called brads (hence the name). Brads are essentially a thinner gauge of brad nail used to attach lightweight trim. ​The great advantage of using a brad nailer vs finish nailer is that because a brad nail is thin gauged and the head is much smaller, you won't have to use wood putty to cover the hole.
You might be saying to yourself, "​I don't mind using wood putty", which brings up the next point of why you would use a brad nailer vs finish nailer.
Because the finish nailer will use larger gauged nails, there is a greater risk of splitting or breaking thin pieces of trim you are trying to install.
One last point for using a brad nailer vs finish nailer is when you are attaching wood trim to a wood piece. The structure of wood allows for a secure attachment without the larger head found on finish nails.​
​Watch the video below for a quick walkthrough of some of the features of a brad nailer.
When To Use A Finish Nailer vs Brad Nailer
A finish nailer, in my opinion, is much more versatile than a brad nail gun. However, a finish nail gun will not perform well with delicate wood or thin trim pieces. So, you really have to make an educated decision based on your specific project.
Another great feature of a finish nailer vs brad nailer is the much stronger holding power. If you are attaching large or heavy pieces of trim such as baseboards, wide crown molding, or even cabinetry, an electric brad nailer and a brad nail will not possess the holding power you need. Essentially, if you do not use a finish nailer, the wood will eventually pull away from the wall.
Generally, when you are installing baseboards or crown molding, you are attaching it directly to drywall. This is another great example of using a finishing nailer instead of a brad nailer.​ Because drywall isn't the most structurally sound material to anchor to, a brad nail which is a thin nail, as opposed to a finish nail, will easily detach.
A finishing nail is a thicker nail that will give a stronger attachment, due to the nail size or nail gauge, especially if you hit the studs a few times for good measure.
Finish nails have a larger nail head than brads. Although the brads will give you a well-disguised nail hole, they're a thinner nail so they will not hold well with substantially heavy pieces of wood. Therefore, if you want the piece of wood to stay in place, a finish nail gun is your tool.
Watch the video below for a quick walkthrough of some of the features of a finish nailer.​
Top Picks – Brad & Finish Nailers
Pneumatic Brad Nailer vs Finish Nailer
Pneumatic nailers are nail guns that use compressed air through an air compressor. I'd venture to say that the majority of nail gun owners are using pneumatic nailers.
​The advantage a pneumatic nailer has over a battery or fuel cell-operated nailer is that as long as your compressor is plugged in, you will never lose the force at which the nails are driven into the wood.
Another great thing about pneumatic nailers is that, contrary to what many believe, they are a very mobile tool. Although not as mobile as a cordless nail gun, if your compressor is completely charged, you can take the compressor and nail gun even where there isn't power.
​Lastly, pneumatic nailers are much cheaper than say a cordless nail gun. Not just a little cheaper, much cheaper. Now some might say, "but you have to buy a compressor to use it". This is true.
However, compressors are used for many purposes, and although you need one to operate a pneumatic nailer, you will also use it for a myriad of other functions as well (filling tires, blowing down your work area, etc…).
BOSTITCH BTFP12233 Smart Point 18 Gauge Brad Nailer Kit
The Bostitch Smart Point Brad Nailer is a great all-around brad nailer.  Bostitch is a brand that has been around for a long time and has a wonderful reputation for durable and innovative tools.
As an 18GA brad nailer, the Bostitch Smart Point Brad nailer is perfect for decorative or lightweight trim. The new Smart Point technology is a really nice feature you will only find on a Bostitch nailer.
The Smart Point feature is essentially a micro nose that allows for greater access into intricate trim pieces. It also has a Bostitch yellow head that allows for improved visibility.
Hitachi NT65MA4 1-1/4 Inch to 2-1/2 Inch 15-Gauge Angled Finish Nailer with Air Duster
Hitachi is another brand with a great reputation for nailers. The Hitachi 15GA Angled Finish Nailer is a great example of high functionality, versatility, and innovation.
The Hitachi 15GA Angled Finish Nailer is an all-around nailer that will perform the majority of your finish carpentry functions.
One key feature of this Hitachi pneumatic nailer is the built-in Air Duster. The Air Duster is essentially a nozzle on top of the nailer that allows the user to blow away debris like sawdust from their work area.
The Air Duster feature is extremely creative, useful, and only found on the Hitachi 15GA Finish Nailer. ​
Cordless Brad Nailer vs Finish Nailer
Cordless nailers are an incredibly convenient option vs a corded nailer if you can justify the significantly increased expense from the standard pneumatic nailers. The truth is, many contractors find the benefits outweigh the expense beyond all doubt.
A cordless nailer will allow you to go anywhere without lugging around a compressor and air hose to complete the project. Although, I doubt a DIY'er would find the benefits worth the money.
When deciding on which type of nailer you need, it's important to understand exactly what it takes to make each type function. For instance, a pneumatic nailer will need an air compressor, a decently long hose, and electricity to charge the compressor.
And while a cordless nailer doesn't require the additional expense of a compressor, it will require fuel cells and batteries​, which over time, can be just as expensive as a compressor.   
Paslode 901000 18 Gauge Finish Nailer
Paslode has been the standard for cordless nailers for a long time. I remember when I was a contractor, the Paslode nail gun was the only cordless nailer I ever saw used on a job site.
Paslode nailers are durable and perform very well. The Paslode 90100 18GA Finish Nailer comes with a depth-of-drive adjustment, a high visibility load magazine, and a long, narrow nose.
The sure-grip handle and soft trigger make those long hours ​more manageable by providing comfort in an all but comfortless industry.
DEWALT DC608K 18-Volt 18-Gauge 2-Inch Brad Nailer Kit
The DeWalt brand is one of the most popular tool brands in the world and for good reason. DeWalt may not have been making nailers for as long as some of the other brands, but they are one of the first to offer a battery-powered version.
The DeWalt DC608K 18-Volt Brad Nailer is a robust nailer with plenty of driving power. The great thing about this nail gun is that it is an obvious choice if you already own a set of 18-volt ​DeWalt power tools.
As you all probably know, the battery is generally, a sizable portion of the cost for most battery-powered tools.
Brad Nailer vs Finish Nailer Safety Focus
Check out the video below from the Source for tips on how to safely use a nail gun.
Brad Nailer vs Finish Nailer Summary
Clearly identify your project needs
Understand the distinctions between a brad nailer vs finish nailer
​If you own a compressor, purchase a pneumatic nailer
If you're a contractor, consider a fuel or battery-powered nailer
Be safe
Are you looking for more? Check out some of the other articles I have written: