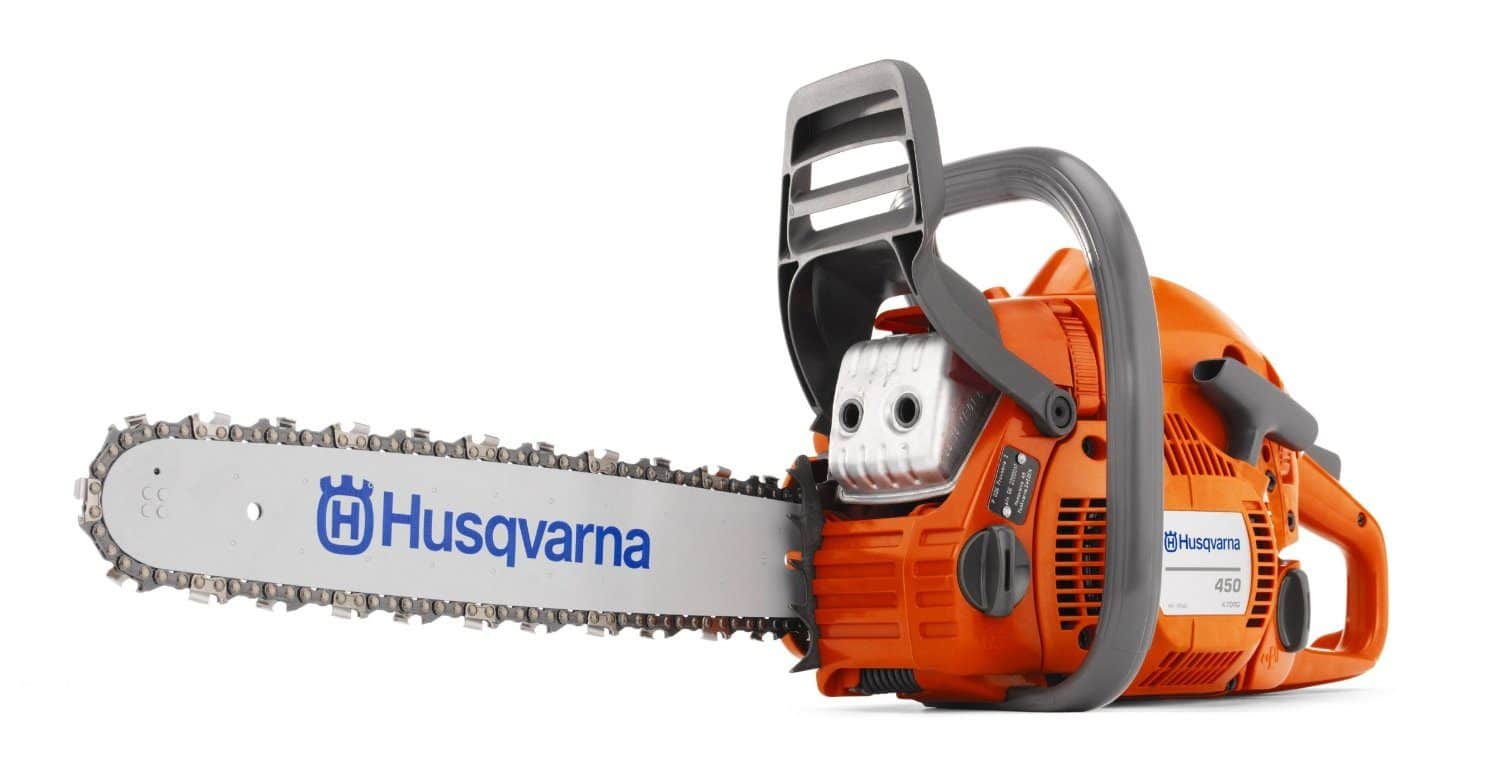 You never think that you need a chainsaw until you need it. And when you are ready to buy a chainsaw, there are a number of items to consider. Factors such as size, torque, gas or electric, buying a chainsaw can be a difficult choice. That's why we're telling you about the Husqvarna chainsaw brand. Husqvarna is a brand that is known for the quality chainsaw that they produce. With all of that in mind, here are a few Husqvarna chainsaw models that I recommend without hesitation. Let me tell you why.
Husqvarna Chainsaw Models
When buying a chainsaw, you want a chainsaw that is reliable, dependable, and most of all affordable. Husqvarna chainsaw models hit the mark each and every time. Out of the many different ways to make a chainsaw, Husqvarna proves again and again, there's really only one. Even though there may be some chainsaws that are lower priced, Husqvarna makes up for in overall best value for the money. Husqvarna chainsaws are known with the ease that they're able to start, maintain, and overall easy to use.
Husqvarna 455 Rancher
The 455 Rancher is the perfect chainsaw for part-time users who need a chainsaw that is high powered, heavy-duty and responsive. It's an easy to use chainsaw that doesn't burn through tons of fuel when you need to use it the most. This chainsaw is easy to start, and frankly is a great chainsaw to have available when that thunderstorm comes and your neighbor needs a hand with some general yard cleanup. This chainsaw sips fuel, so you're not going to spend time refilling the gas. The Husqvarna 455 Rancher is definitely a great chainsaw for those on a budget but need a quality and reliable chainsaw.
Husqvarna 450 Rancher
Now if you need an all-round reliable chainsaw for anybody who need a chainsaw that is professional-grade in both power and performance. According to Husqvarna, the X-Torq engine reduces fuel consumption and emission levels. There is also an auto-return stop switch which ensure smooth start-ups each and every time. This is another workhorse of a chainsaw that's comforting to know that you have in the shed. With the Husqvarna 450 Rancher, you can easily tackle yard cleanups, firewood cutting, and a number of other tasks that require a chainsaw with dependability, and power. Like the Husqvarna 455, this chainsaw sips fuel.
Husqvarna 445 Chain Saw
The Husqvarna 445 chainsaw is known as a workhorse of a saw that is known as an all‑round saw for people who are looking for a professional grade saw, that is both powerful and reliable. This chainsaw, like the others in the Husqvarna chainsaw line, sips fuel. This chainsaw is a little on the heavy side which is expected with a larger engine. It cuts through hardwood with the ease, and is the type of chainsaw that works well for yard cleanup, and is a great saw for homeowners to have sitting in the shed. The Husqvarna 445 is a great chainsaw for the money.
When You're Ready to Buy a Husqvarna Chainsaw
When you're ready to buy a chainsaw, and you've made the decision to go with the Husqvarna line of chainsaws, we recommend the Husqvarna 455 Rancher chainsaw. It's the chainsaw that the homeowner needs when it comes time to cut through that downed tree in your backyard after a big storm. Or when it comes time to cut some firewood when you need stack firewood in the winter to keep your house toasty and warm. When you buy the Husqvarna 455 Rancher chainsaw, know that you definitely made a great decision indeed.
Recommend: