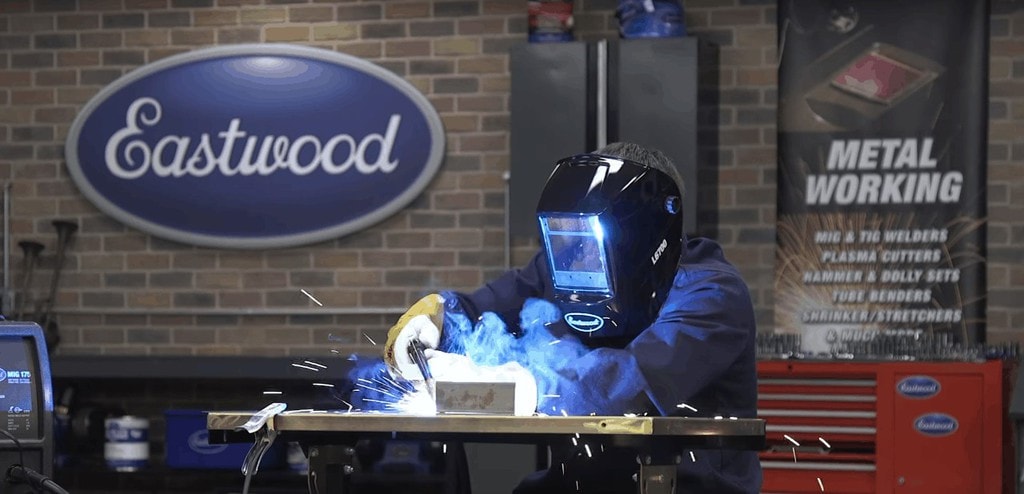 DIY welding can be a gratifying skill to master, allowing you to take on projects many others can't. There are many things to consider when building your welding shop, but your vision, and how you are going to protect it should top the list. You want the best auto darkening welding helmet.
Auto-darkening helmets are incredibly advantageous devices that increase protection as well as usability.
To help you locate the best auto darkening welding helmet, we've gone ahead and reviewed a few of the most popular auto darkening welding helmets on the market.
Our Top Five Picks for Best Auto Darkening Welding Helmet
Speedglas Auto Darkening Welding Helmet Welding Helmet
The 3M Speedglas Welding Helmet will be at the top of any list. This is because it is a very high-quality helmet that begins to protect your eye just 0.1 milliseconds after it automatically detects a welding arc.
The M3 is designed to mimic the shape of the head. It uses padded straps with multiple adjustments to increase comfort and stability. It also features slightly oversized knobs so you can make adjustments while wearing gloves.
The main viewing window is 73 x 107mm. It provides a great view of your work while protecting your eyes from welding shards, infrared radiation, and ultraviolet radiation.
The M3 has side windows that tint in various ways to help increase your peripheral view while still protecting your vision. It is equipped with an exhaust vent to reduce heat build-up and fogging.
The helmet is suitable for MIG and TIG welding. Two replaceable Cr2030 3V lithium batteries power it and can last up to 2500 hours. It can also be locked in constant light or dark state.
The only negative thing we can say about this well-constructed helmet is that it is a bit pricey. It may be a little over budget for many hobby-welders.
What We Like
Switching time: 0.1 milliseconds (at 23°C)
Ergonomically designed head suspension
Large knobs for simple adjustment
What We Don't Like
Miller Electric Digital Elite
The Miller Electric Digital Elite auto darkening helmet is one of the lightest available to welders. Its lightweight will help you keep working for an extended period without getting tired.
It features a nine-inch by nine-inch viewing screen. This gives you a great view of your work area. It features a new Clearlight lens technology. This means tt automatically detects a welding arc and will darken to protect your eyes.
The Digital Elite features four operating modes. These help the helmet perform better in different welding situations. The modes that you can select are Weld, Cut, Grind, and X.
Weld, Cut, and Grind will adjust the amount of tint applied to the lens, from a light tinting of 3 for grinding, to an incredibly dark 13 for welding. The X mode is for eliminating sunlight interference, low-amperage lens opening from obstructed sensors, and hidden/cavity welds.
The Digital Elite is operated using new easy to read digital controls. It comes with an additional five lenses for the outside of the helmet, and two for the inside.
An included Lithium battery will power the helmet for many hours. It also comes with a magnifying lens holder and a protective storage bag.
What We Like
Light Weight
Wide Viewscreen
Multiple Modes
What We Don't Like
According to some users, headgear needs constant adjustment
Auto Darkening Welding Helmet from Jackson Safety
The Jackson Safety BH3 Auto Darkening Welding Helmet is made from lightweight high-density plastic and is designed to protect the wearer's face, forehead, neck, and ears from weld sparks and spatters. This helmet is also compatible with a hard hat.
The BH3 auto darkening safety lens gets the highest EN379 rating possible for Accuracy of Vision, Diffusion of Light, Consistent Shade, and Angular Dependence allowing the welder the most transparent view possible even at an angle.
The Jackson safety features a variable shade range from 9 to 13 and has sensitivity and delay settings to change the speed at which the helmet darkens and adapt to different environments and tasks.
The viewing area is a little over seven inches square and is large enough to see the complete area in front of you, and the dark filter makes this model great for MIG, TIG, and stick welding.
Three knobs inside the helmet make it easier to adjust the shade, sensitivity and delay precisely. The front cover plate is slightly curved to help reduce heat and fog.
This helmet is solar powered and eliminates the need for batteries. It weighs under a pound and a half and fits with a comfortable head strap adjusted via a knob on the side of the helmet.
What We Like
1/1/1/1 Optical Clarity
Suitable for different welding jobs.
Solar Powered
What We Don't Like
Hobart Impact Variable Auto Darkening Welding Helmet
The Hobart 770756 is a great helmet that can react to a welding arc in just 1/25,000th of a second and features the latest LCD lens technology for top-quality eye protection. It also features an adjustable delay to adjust how fast the helmet reacts.
A long-lasting impact resistant polyamide shell covers the helmet and protects the user from splatter and other debris. It also features adjustable straps for a comfortable fit and a knob on the outside to lift the helmet off your face.
The viewing area is a little over seven inches square and ensures a wide viewing area. It comes equipped with a Number 3 light shade and also features a variable light shade that you can adjust from 8 through 11. There is also a sensitivity control with infinite adjustment for varying ambient light.
Three arc sensors tell the helmet when a welding arc is present and its time to darken. It features two modes of operation, a grind mode and a weld mode.
A lithium battery powers the Hobart Auto-Darkening Helmet and will work for many hours out of the box before replacement is necessary.
A sophisticated ratcheting headgear allows for plenty of adjustments to get the best fit.
What We Like
3 Arc Sensors
Fast response time
Multiple modes
What We Don't Like
Ratcheting headgear can be complicated
Instapark Solar Powered Auto Darkening Helmet
The Instapark ADF Series GX990T Solar Powered Auto Darkening Welding Helmet is the final entry on our list, but that does not mean it's not a great helmet.
The GX990T features four separate sensors to help detect a welding arc faster and respond accordingly. The switching time from light to dark is one of the fastest of any helmet at a rate of 1/30,000th of a second.
This helmet features a resting shade of #4, and you can manually adjust the filter from a #5 to a #13 which is dark enough to look at the sun.
This lightweight helmet only weighs one and a half pounds and operates on three volts of solar power and one replaceable CR2450 battery. There is also a low voltage indicator to let you know if the battery needs replacing.
Made from an extremely durable and lightweight composite material this ergonomically designed helmet also features a ratcheting headband and padded interior for a perfect fit that is comfortable to wear for extended periods.
The GX990T is suitable for most Stick, MIG (Metal Inert Gas) and TIG (Tungsten Inert Gas) applications and it features one of several colorful designs including an American Flag, and a skull with flames, which will help make this helmet stand out.
What We Like
Extremely Fast Switching Response
Range of Filtering
Helmet graphics
What We Don't Like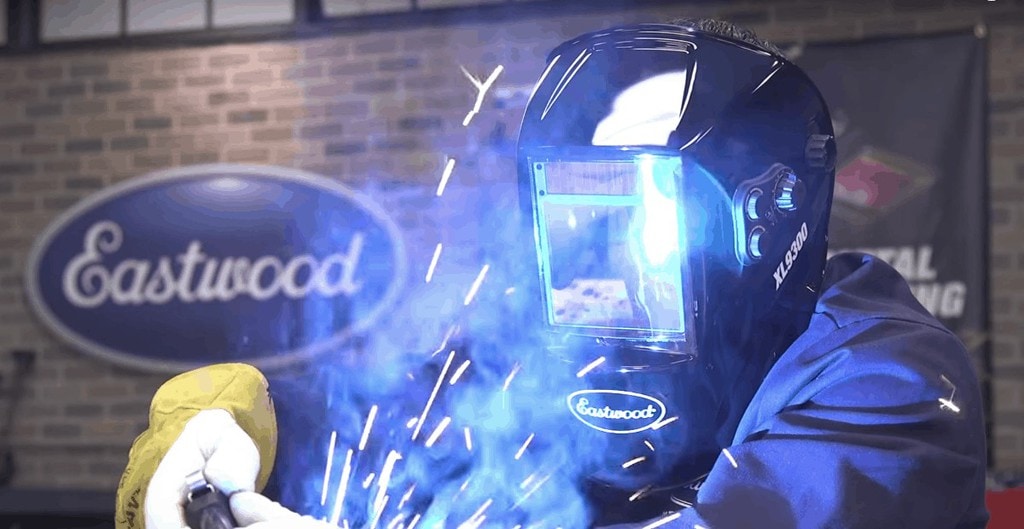 Tips to Help You Choose Your Welding Helmet
Whether you're a veteran or a beginner welder looking to buy a new welding helmet, you might be surprised to learn that it has become one of the more high tech pieces of equipment in your shop. There are several things you will want to consider before purchasing.
Safety
The main concern is safety. You want a sturdy helmet without any cracks or spaces that will allow light to pass directly to your eyes.
The ultraviolet light from arc welding can very quickly burn your skin in a way very similar to a sunburn and with all of the same cancer-causing side effects. It's much worse for the eyes and just a small amount of light getting past the filter can cause a symptom called welders flash or arc eye.
It's crucial that you use the recommended filtering for the type of welding that you are doing. Using a filter that is too weak will allow the radiation to pass through the lens and damage your eyes.
Size of Viewscreen
The viewscreen is the window to our work, and a bigger viewscreen will help us see more naturally and with more detail. Helmets that cover the entire head tend to have larger viewports than just masks.
Auto-darkening helmets use LCD screens to filter out the light, and the larger the screen is, the more technically complex and costly it will be.
We have several models on our list with large viewports, some reaching more than seven inches square.
Light Sensitivity
One of the most significant advantages to using an auto-darkening welding helmet is that it gives you the ability to work without needing to pull it down only to lift it back up again over and over again while you work.
Light sensitivity is how fast the filter reacts to an arc light and gets dark once you strike an arc and also how quickly it lightens up again once you stop.
The filter must get dark exceptionally quickly once you start welding before the light has a chance to harm your eyes. One of the filters on our list only takes 1/30,000th of a second to react to an arc with the others filters on our list not falling far behind and generally staying in the ballpark of 1/20,000th of a second.
Arc Sensors
As the name implies, an arc sensor is how the helmet knows when an arc is struck. More sensors on your helmet will help eliminate possible blind spots at different angles and will help the helmet react faster to changes in light.
Try to find a helmet with at least three sensors. A few on our list have four, and those will provide the fastest and most reliable response possible.
Delay Controls
The delay control allows us to adjust how fast the filter reacts once we stop welding and need our lens to lighten so that we can inspect our work.
The range of delay is usually .1second to 1 second. You may want to add a delay if the material is still initially very bright when the filter has reverted to a lighter color.
Optical Clarity
Optical Clarity is referring to the EN379 standard that tells us how transparent a filter is. It is a four-number system that looks like this (1,1,1,1), and this is what the numbers mean going left to right.
Accuracy of Vision
Accuracy of Vision tells us how much the filter distorts the image coming through the lens. If the image bends, especially around the edges, it is due to poor accuracy of vision.
Diffusion of Light
Diffusion of Light tells us about impurities in the glass that could diffuse the light coming through the lens. Ap poor rating in this category could cause the filter to be foggy or even blurry
Consistent Shade
Consistent Shade describes the consistency of shading across the lens. A poorly made lens will be lighter around the edges.
Angular Dependence
Angular Dependence refers to consistency in view regardless of the angle with which you are looking through the lens. The image should not telescope or distort.
Each lens is rated and given a score from one to three, with one being the best. The better the score, the better the lens.
Power Source
The power source for these helmets is most commonly rechargeable or replaceable lithium batteries, but a growing number of manufacturers are changing over to solar power.
Solar powered helmets have the advantage of charging by the sun or while we work from the UV radiation coming from the arc.
FAQ
Why Do You Need a Welding Helmet?

The main reason you need to wear a welding helmet is to prevent a condition known as "arc eye". Arc eye occurs when the retina of your eye gets burned from the UV and IR radiation that emanates from an arc welder. The welding helmet also protects against hot splatter and other flying objects that can burn your skin.
What Do Welding Shade Numbers Mean?

The shade number of a fixed-shade lense tells a user how dark it is. The numbers typically run from a number three, which is similar in darkness to a good pair of sunglasses, to a number fourteen, which is dark enough to look at the sun.

What Is A Passive Welding Helmet?

A passive welding helmet is the traditional style of helmet. It uses a fixed-shade lens and does not require any power. Usually, the fixed-shade lens is a #10 filter, but many times the lens can be swapped with other fixed-shade lenses of different darkness tints.

Are Auto Darkening Welding Helmets Safe?

Yes, the auto-darkening helmets use an LCD screen that darkens extremely quickly and filters out the harmful light.
Auto-darkening helmets improve safety by removing the need to swing your head to lower the mask.

What Are Auto Darkening Welding Helmets?

Auto-darkening welding helmets are a new style of high-tech helmet that offers many advantages over the old passive style models.
These devices use computerization, batteries, multiple sensors, and an LCD screen to filter harmful radiation and they can self-adjust to give you the perfect amount of filtering in real time.
Wrapping Up
Our choice for the best auto darkening welding helmet is the 3M Speedglas Welding Helmet. This is because it combines super-fast response time with a comfortable ergonomic design that will feel comfortable on your head for hours at a time.
The M3 has one of the largest view screens available. It adds #5 tinted side screens that expand your peripheral view. The batteries can last 2,800 before needing to be replaced. Lastly, it has large knobs on the side of the helmet for easy adjusting.
If the M3 is out of your price range, the Instapark ADF Series GX990T Solar Powered Auto Darkening Welding Helmet makes an excellent second choice. It rivals the M3 in many ways and will not let you down.
Fresh graphics, four arc sensors, and super fast response time make the GX990T our runner up. It also includes solar power and variable filtering, that runs from #4 to #13 and can be adjusted while the helmet is on. It weighs only a pound and a half and is only a fraction of the price of the M3. What will you choose? Sound off in the comments.