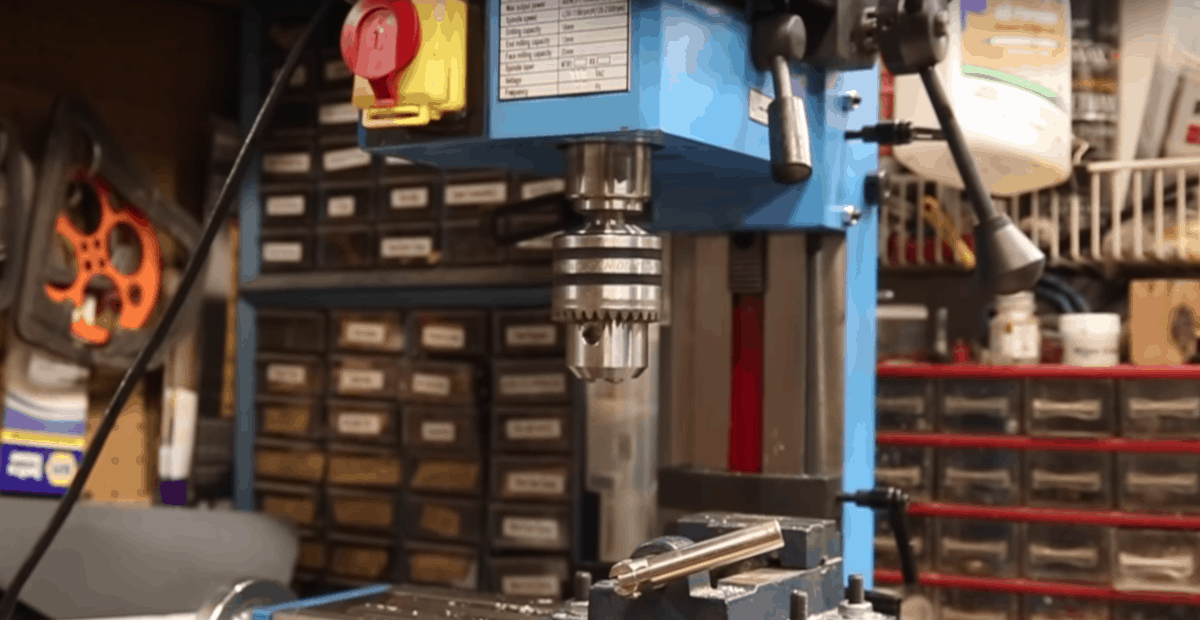 If you're looking to take your metal work to the next level, one of the tools you're going to want to consider purchasing is a mini milling machine. Mini mills allow you to turn a piece of scrap metal into a usable piece of metal in a matter of minutes. Mini milling machines provide significantly more capabilities than your average hammer and saw, while also saving you considerable time in the process.
However, if you are shopping for your first mini milling machine, you may be confused about which products are best and the features that you should look for.
Fortunately, we're here to help. Our mini milling machine buying guide will provide you with everything you need to know to help complete your purchase. After reading this buying guide, you should be much more comfortable investing in one of these machines.
We conducted a series of tests and scoured through thousands of online reviews to come up with this list of the top five mini milling machines available today.
JET JMD-18 Volt 1 Phase Milling/Drilling Machine
This milling machine comes with a hinged belt cover that allows you to change speeds faster than ever. You can access a wide array of speeds thanks to the two horsepower, 230-volt motor. JET says that this motor provides users with access to 12 spindle speeds, which allows you to work efficiently while minimizing project delays.
We also liked this mini mill because JET still managed to include a large worktable that was suitable for larger jobs. The machine has a 9.5" x 31.75" worktable, which allows you to tackle the biggest of projects. Lastly, we appreciated the fact that this mini mill came with a 360-degree swiveling head, allowing pinpoint precision.
What We Like
12 speeds and a powerful motor provides a full range of results
Large worktable
Two-year warranty
What Could Be Better
Price – this product is expensive
You need to rewire the machine if you wish to work at 230 volts
Klutch Mini Milling Machine
Another excellent option for a mini milling machine is this product from Klutch. This milling machine features a 3 5/8" x 15 3/8" work table. It also provides users with a ½" drilling capacity. When using this product, metal workers will find that they receiver anywhere from 100 to 2,500 RPMs. The speed is variable, allowing you to find the one that best fits your needs.
Unfortunately, the head swivel on this piece does not come with 360-degree rotation. It also does not come with a light or a stand. The motor operates at 110V and provides ¾ horsepower.
What We Like
One of the more affordable mini mills available
Variable speeds
What Could Be Better
The motor is not as strong as some of the others on our list
The head does not swivel 360-degrees, which could limit some projects
Proxxon 37110 Micro Mill MF 70
If you're looking for a compact milling machine, you'll want to consider this option from Proxxon. It comes with a table size that is 7-7/8" x 2-3/4", making it small enough to store until future use.
This machine provides users with variable speeds ranging from 5,000 to 20,000 RPM. It's safe to safe that this milling machine packs a punch. We also liked that the headstock on this product, which is made of die-cast aluminum, provided stability even when we were using the product at high speeds.
What We Like
Incredibly lightweight, weighing less than 19 pounds
Very affordable
Two-year warranty
What Could Be Better
Many found it challenging to cut metal at lower RPMs
Many customers complained about the lack of precision with this device
Erie Tools Variable Speed Mini Milling Machine
If you're searching for a tool that allows you to drill and deep mill, you'll want to consider this product from Erie Tools. Erie Tools designed this machine for drilling, deep milling, and face milling, providing users with variable speed control. We liked that the drilling capacity and end mill capacity were both 3/8".
This machine operates on a max motor output of 150W. There is a safety shut off switch that you can use in case of emergency. Erie Tools also provides various wrench sets, allowing you to change from one device to the other with ease.
What We Like
A great multipurpose tool that allows users to accomplish numerous tasks
Simple to use and an excellent choice for beginners
What Could Be Better
Not suited for non-hobbyists
We found this to be a bit top-heavy
Grizzly G0704 Drill Mill
The last product for you to consider is the Grizzly GO704 Drill Mill. This product jumps out because it comes with a stand if you have the space in your shop to use it. It also comes with the same types of features that you'd find on larger milling machines, such as a dovetail column variable speed one horsepower motor.
The table on this machine measures 7-1/16" x 26-5/8". It provides enough space for you to work on average projects without taking up much space in your shop. The product operates on 110V.
What We Like
Comes with a stand
Prevents backlash on the Y and X axis
What Could Be Better
Does not operate as a drill
Comes with plastic gears that may break down quickly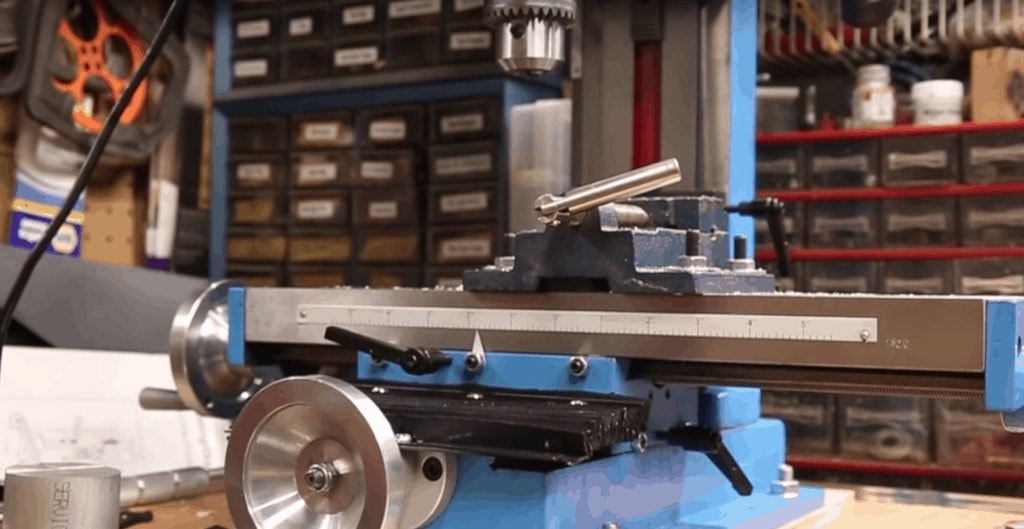 Factors to Consider When Buying a Mini Mill
If you have never purchased a mini mill before, you may be overwhelmed trying to compare the various features. Which ones are most vital? We recommend that you start by considering the features that we've listed below.
Power of the Device
One of the first things you're going to want to consider when buying a mini mill is how much power the machine offers. If your budget affords you the ability to do so, you should look for a model with a high-powered motor. That's because a high-powered engine can save you when it comes to time, heat, and stress.
By having a strong motor, you can complete tasks faster. Even if you're only saving a couple of minutes on each product, this will add up quickly over time. A strong motor also produces more heat, which is critical to milling.
Many mini millers come with automatic thermal-emergency stops. If your machine begins to overheat, the device will cut the motor automatically. If you are planning to use the machine to make a lot of cuts in a row, you could end up overheating your motor quickly. You'll have to wait around for the motor to cool, costing you valuable time. However, if you but a strong motor, you won't have to worry about it overheating under the strain of tasks.
Additionally, heat can degrade the components of your motor. Subjecting your motor to high heat is an excellent way to cause it to break down more quickly. You may feel as though you're saving in the short-term by purchasing a mini mill with less power.
But you'll end up paying for this in the long run, since you'll need to buy replacement parts for your motor. So, the more power that your motor has, the less stress it will be under.
Weight
Another thing you'll want to look into when comparing mini mills is the weight of the device. Even though they are "mini," these machines could still weigh a couple of hundred pounds. Others can weigh less than a hundred pounds.
You should think about how you're going to use the product. Will you use it once in a blue moon? If so, will you keep it in your workshop? Or do you need to store it? If this is the case, you're going to want to opt for a more lightweight model.
Similarly, you should consider whether the mini mill comes with a stand. A stand is useful because it can help reduce vibrations and gives you a dedicated space to put your equipment. However, stands can also take up more space in your workshop. Before shopping for a mini mill, you should think about how portable you want your device to be.
Vibration
One of the most significant problems with mills is that they can vibrate frequently. The lighter the mill that you choose, the more prone it is to vibrations. Dealing with vibrations could cause you to make inconsistent cuts. Your cuts may be curved. They could also lack uniform deepness. It could also cause safety concerns, especially if you are not familiar with how to handle a milling machine.
If you're using a mini milling machine for the average household project, dealing with vibrations may not be a primary concern. But if you're using the tools frequently or for high-quality pieces, you'll be better off investing in a high-quality machine.
Mini Mill FAQs
What is the purpose of a mill?

Milling machines are a versatile tool. Workers can use them to machine both flat and irregular surfaces. A mill performs an array of tasks, including drilling, boring, cutting, producing slots, and cutting gears.
How important is cutting speed when using a mill?

The speed of the mill is a critical element to consider when using a mill. The rate at which you set the mill will depend on what you're doing with the machine and the material that you're using. You're better off having a mill with variable speeds so that you can change quickly. This will allow your investment to go further, providing you with more flexibility when using your machine.
What is the difference between three-axis mills and eight direction mills?

When shopping for a mill, you'll likely see both three-axis mills and eight direction mills. A majority of milling machines are three-axis devices. This means that their handwheels move on the X-axis (left to right), Y-axis (in and out), and Z-axis (up and down). The best mills also allow you to angle the headstock, providing you with extreme precision when making your cuts.

Some mills feature headstocks that can move in and out, swing back and forth, rotate side to side, and pivot side to side. Manufacturers may classify these movements as additional "directions." Thus, these types of mills are known as eight-direction mills.
What safety precautions do I need to take when using a mill?

If you bring a mill into your shop, you should first be sure that you read the entire owner's manual before use. When reading the owner's manual, begin to familiarize yourself with the various parts of your machine. Make you sure know where the emergency stop button is.
You'll want to wear eye protection when operating a milling machine. You'll want to avoid using gloves since the milling machine could catch them. You'll also want to make sure that you are not wearing watches, rings, or loose clothing when operating a milling machine.
Final Thoughts
If you're looking for a mini milling machine, we feel as though you can't go wrong with any of the five options on our list. After comparing criteria such as the cost, the weight, and some of the other features we discussed, you should have no problem finding one that meets your needs.
However, if we had to pick just one product from the list to recommend, we would go with Klutch Mini Milling Machine. We liked the fact that it provides users with variable speeds, allowing them to work with different materials. We also liked that this product was affordable as well. It's still an investment, but it's more reasonable than some of the other products on our list that cost a couple of thousand dollars.
No matter which option you go with, a mini mill could be a piece of equipment well worth the investment. You'll find that a mini mill can save you considerable time. Fortunately, manufacturers design mini mills for commercial use. You shouldn't have an issue finding a mill to bring into your shop. Will you be purchasing a mini mill? Let us know in the comments.