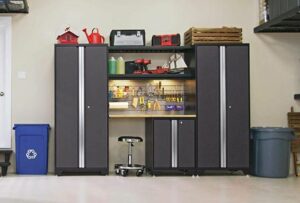 Whether your garage is big or small, a garage storage system is the best way you can maximize your spac. It will give your garage a clean and attractive look. Garage storage systems make it easier to store and organize your valuable tools and equipment. Today, there are more options than ever before
But, how do you select the best garage storage system for your home? Today, we'll cover five of the top options on the market, and cover some important considerations for selecting the best garage storage system.
Highlights:Top Five Garage Storage Systems
These five storage systems are among the highest rated systems on the market. They're built to handle all of your tools, equipment, and anything else you can dish out.
Ulti-Mate Garage PRO 11-Piece Super Storage System
Ulti-Mate is one of the most popular storage companies on the market. Their 11-piece Super Storage System is one of the industry standards when it comes to garage storage solutions.
This storage system is constructed from ¾" thick medium density fiberboard. Each piece is coated in a heavy protective polyurethane finish. Each cabinet is fully radiused to bring style to your garage while eliminating sharp edges.
The shelves inside are 1" thick and are fully wrapped and edge banded. Each shelf is adjustable, and they can hold up to 200 pounds each. Each of the tool drawers is full-extension and features smooth ball bearing drawer glides. Every drawer is rated to hold 100 pounds of weight.
Each cabinet features adjustable recessed European hinges and deluxe brushed chrome handles. Each piece has 6" aluminum feet with are adjustable, so you'll have no problem leveling your cabinet on uneven surfaces.
Finally, a beautiful bamboo workbench top adds a luxurious touch while providing you with a strong and durable work surface. All Ulti-Mate storage solutions carry a five-year warranty from the manufacturer should anything ever go wrong.
What We Like
Plenty of storage
Radiused edges reduce the risk of damaging corners
Smooth operation from drawers and cabinets
Adjustable legs
What Could Be Better
American Heritage Welded Steel Storage System
This storage system from American Heritage offers heavy-duty build quality and a popular selection of components, making it one of the most popular options available.
The entire system is made from welded steel, so you can rest assured that this is one of the strongest and most durable options on the market. It includes a 6' vertical floor storage cabinet with three adjustable shelves, two wall cabinets, and a base cabinet that secures the large 5' sealed shop top.
Each shelf offers adjustment pegs every 2", so you can move the shelving inside of the cabinets as needed to accommodate your tools and equipment. While the workbench isn't made from solid wood, it's still the next best thing. The shop top features a ⅜" thick solid top and bottom piece with ¾" of MDF sandwiched in the middle, for a 1 ½" thick worksurface altogether.
Since everything is modular, you can arrange the items in the set to your needs, and you can also add additional pieces as your storage needs grow. There's also grommets in the back wall of each piece for you to easily run cables out to power to charge any battery powered tools you're storing in the cabinets.
What We Like
Steel construction
Adjustable shelving
High-end looks
What Could Be Better
Goplus 24 Gauge 9-Piece Cabinet Set
If you're hoping to strike a bold look with your garage, this 9-piece organization set from Goplus is worth taking a closer look at.
This attention-grabbing storage system is made of 24 gauge cold rolled steel and finished in an attractive black and grey matte. The set includes two massive 6 ½" tall storage lockers, three floor cabinets, three floating cabinets, and a deluxe rubberwood worktop.
Except for the floating cabinet, each cabinet has adjustable feet for leveling the system on an uneven floor. Each cabinet is lockable, which will allow you to secure all of your valuable tools and equipment inside without worry.
The floating wall cabinets have a weight capacity of 100 pounds, while the storage lockers handle 820 pounds, and the cabinets below are rated between 520 and 620 pounds, depending on the cabinet. You should have no problem securing all of your gear in there, without capacity concerns.
Each cabinet shelf is adjustable, so you'll be able to adjust the shelving to your needs. Each component can be bolted to the component next to it for added stability, as well.
Despite coming in at a middle of the pack price point, this kit from Goplus delivers many high-end features and plenty of storage space.
What We Like
Solid steel construction
Looks great
Lockable cabinets
Adjustable feet
What Could Be Better
Frontier 8-Piece Garage Storage Set
If you're looking to add some attitude to your garage, this 8-piece set with diamond plate doors from Frontier may be a solid choice for you.
This set includes two 5" tall storage lockers, two bottom cabinets (one with a drawer) and three floating shelves. A 1" thick rubberwood worktop spans across the two bottom shelves. The doors are black and feature an attractive diamond plate finish while the back and sides of each cabinet are grey.
Every piece is constructed of 24 gauge steel, and the lockers and two lower cabinets feature adjustable feet for leveling on an uneven floor. Each cabinet is also lockable, so you'll be able to feel confident securing your valuable tools inside.
Each shelf is adjustable, so you'll be able to tailor the shelving within depending on your needs.
What We Like
Solid steel construction
Diamond plate finish
Lockable cabinets
Adjustable feet
What Could Be Better
Storage lockers only 5' tall
NewAge Products Bold 3.0 14-Piece Garage Storage System
Got garage? If you need a ton of storage for a big garage, the Bold 3.0 System from NewAge Products is a viable option for you.
This massive storage system includes four 6 ½" tall storage lockers, two rolling tool chests, two storage cabinets, four floating shelves, a worktop and a slat wall for storing tools and supplies at the workbench.
Every component is made from 24 gauge steel and features adjustable shelves, ball bearing drawers for smooth operation. Each piece features full-length aluminum handles that make opening everything easier, while also adding some style points.
Each storage locker and cabinet has adjustable feet for leveling on uneven ground, and the rolling tool chests feature large 4" casters so you can easily relocate them wherever you need. Every door is lockable, so you can easily secure everything inside.
This kit comes in at around $2,000, but considering how much larger it is than most of the competition, it delivers impressive value.
What We Like
Solid steel construction
Movable tool chests
Lockable cabinets
Adjustable feet
Available in multiple colors
What Could Be Better
Storage System Buying Guide
When it comes to selecting a garage storage system, the sheer volume of pieces can be overwhelming. But, if you stick to the important stuff, finding the best system for you can be fairly easy.
Storage System Materials
Most garage storage systems are made from either metal, wood, engineered wood, or plastic. Here's what you need to know about those materials.
Metal
Metal is perhaps the most popular material for storage systems. It's extremely strong. It's capable of holding a great deal of weight without bending or bowing. Metal also stands up to moisture fairly well. It's generally accepted as the longest lasting material with regards to garage storage.
On the downside, metal storage systems can be expensive. They're also heavy which makes them difficult to move without casters.
Wood
Another alternative is wood. Hardwoods are far less popular for garage storage systems. This is because their cost and weight are prohibitive. Plus, the finish is likely to become damaged when it's exposed to the hazards of your garage.
You may find some solid wood options on the market, or you may elect to build your own if cabinetry is your bag. However, for the most part, hardwood is basically out of the question when it comes to garage storage.
Engineered Wood (Particleboard, MDF, Plywood, etc.)
Storage systems made from engineered wood are a popular option, as they offer the luxurious look of genuine wood in a product that's lighter and much more cost efficient.
Engineered wood storage systems are typically covered with a veneer of melamine, plastic, or even genuine hardwood. While they're strong and durable, the edges are prone to crushing, so it's less durable than metal storage solutions.
Engineered wood products also don't do well when exposed to moisture, so if you have a leaky or humid garage, it may be best to avoid this material.
Plastic and Resin
Plastic or resin is the cheapest materials you'll find for garage storage. Depending on your needs, they may also be the best choice for you.
These solutions are available in a myriad of different colors and sizes. They're considerably less expensive than metal or wood options. They're also practically waterproof, so they're ideal for wet or humid garages.
Unfortunately, plastic and resin are the least durable materials out there for garage storage. The weight limits for these pieces are sometimes prohibitive. Assuming most of the things you're hoping to store in your garage are heavy, plastic may not be a viable option for you.
Features to Look For
Once you have a better idea of the material you'd like your storage system to be, you can start taking a look at the key features you'd like your storage solution to have.
Adjustability
Adjustability is a primary concern when it comes to storage systems. Many storage systems feature adjustable shelving that allows you to alter the height of shelves and other components depending on your storage needs.
Many manufacturers tend to adopt a "one size fits all" approach to their storage solutions, and while there are always opportunities to add new pieces to your storage system, the ability to adjust shelving and other components is a key feature that allows you to customize your system without having to invest additional money.
Casters
Casters are another major feature to look for if you ever plan on relocating your storage system to another place in the garage. These are wheels that can be locked in place when the storage system is in its place. But, if you ever need to move the storage system, you can unlock the casters and wheel your storage to its new location.
Locking Cabinets
A locking system may be important, especially if you have children you need to keep your expensive tools away from. Many storage systems feature one or more locking cabinets, and some allow you to add a combination lock to the handles, allowing you to further lock down your valuables.
Add-On Storage
While most garage storage systems come with more than enough space to organize and secure your tools and equipment, there's a good chance you'll find yourself needing additional storage in the future.
If you're going to need to expand your storage system in the future, look for a company that offers multiple pieces ala-carte, so you'll be able to purchase matching add-ons whenever you need extra storage. Some companies even make cool add-ons like garage and storage lighting.
Ease of Assembly
With many storage systems, the bulk of the work is already taken care of for you when your new storage arrives, and all that's left to do is complete any assembly work that's left. You can usually breeze through it in under an hour.
Meanwhile, some storage systems require almost complete assembly, and depending on the level of detail in the instructions. In that case, installing your new storage could turn into an all-weekend project.
If you're looking to save time and avoid frustration, look for storage systems that arrive at least partially assembled.
Durability & Warranty
The last consideration to make is how durable the storage system is, and what kind of a warranty the manufacturer offers. Most storage systems are built to stand up to anything you can dish out, especially if they're made of metal.
Beyond durability, you'll also want to consider the warranty of your chosen storage solution. While you'll probably never need to take advantage of it, a strong warranty lets you know that the manufacturer stands behind the products they make, and you'll be covered should something go wrong with your new storage system.
FAQ
Q: How much do garage storage systems cost?
Garage storage systems are available at a broad range of prices. The typical 5-6 cabinet storage system that's popular in many homes usually runs somewhere from $1,000-2,500, depending on the quality, material, and features it has.
Meanwhile, add-on pieces or additional shelving and storage solutions usually fall into the $30-500 range.
Q: Do I need to buy an entire system? Can I buy pieces separately?
Of course, you can. While a full storage solution makes sense for many people, some find that they'd rather buy individual pieces separately, instead of shelling out well upwards of $1,000 for a matching set of storage pieces.
There are no rules when it comes to purchasing garage storage, and the goal is to get your tools and equipment organized and looking good. However, you accomplish that goal is up to you!
Q: Where do I buy a garage storage system?
Online home improvement retailers and Amazon are both great sources to shop around and find the storage system of your dreams. You also should find a few models for sale in home improvement stores, if you'd prefer to check the merchandise out in person before buying it.
Final Word
When it comes to garage storage, there's plenty of different options and configurations on the market, and narrowing down the field can be difficult. The storage solutions we covered above represent five of the best choices on the market.
But, we're interested in the best garage storage system, and there can only be one. Our choice for best overall is the Bold 3.0 System from NewAge Products. Many competitors offer similar features, like lockable cabinets, adjustable feet, and adjustable shelving. Plenty of other brands deliver durable 24 gauge steel construction.
But, the Bold 3.0 system is the most adaptable, and it's the easiest system to own if you plan on adding to your collection down the line. The lockable rolling tool chests with ultra-smooth ball bearing drawers certainly doesn't hurt their case, either.
If the Bold 3.0 system seems a bit like overkill to you, and you're looking for a smaller and less expensive alternative, the 5-piece American Heritage system we covered provides about half the storage capacity for about half the price.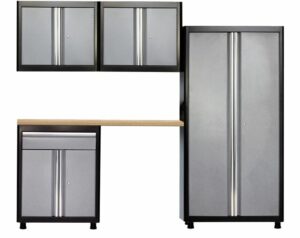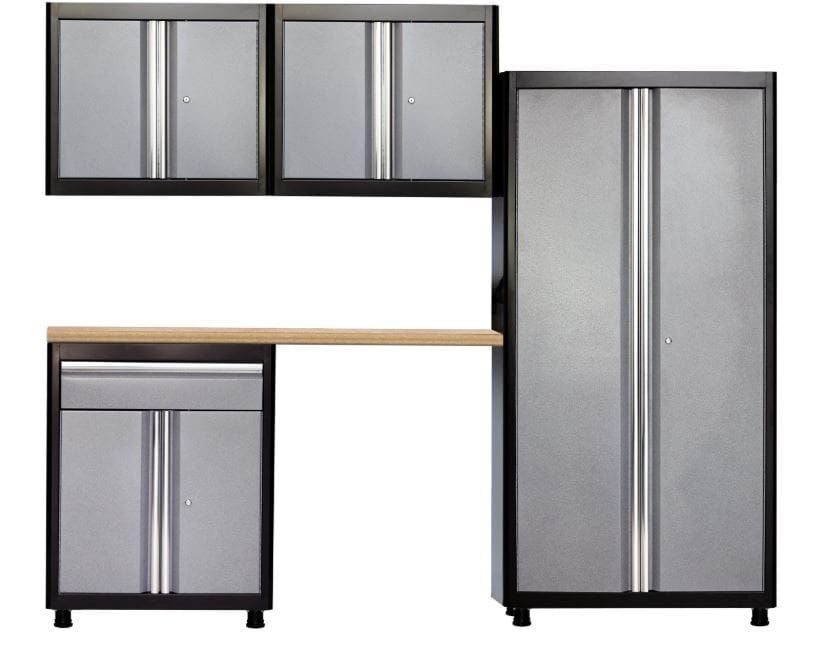 What garage storage system is your top pick? Let us know in the comments.
Are you looking for other guides and information? Check out our main page for more!