Maybe the reviews of Stihl chainsaws persuaded you. Or a friend with a Stihl chainsaw convinced you. It could have been the salesman at your local Ace. However it happened, you are convinced you need a Stihl. Stihl chainsaw prices vary, keep reading for an overview on Stihl Chainsaws. Are you looking for the best chainsaw overall? Check out, The Best Chainsaw – Complete Buying Guide & Reviews.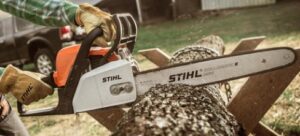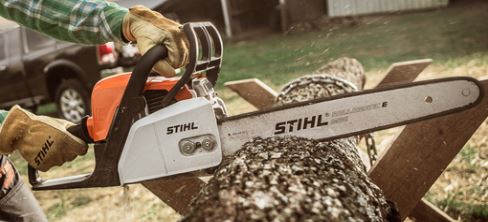 If you want to find out what size of Stihl is right for you and how much it might cost, you've come to the right place. Let's get started.
What are the Sizes of Stihl Chainsaws?
First, you need to decide how you plan to use it. Stihl chainsaws come in five categories
Homeowner—for small jobs around the house. Not designed for daily use
Farm/ranch—these are more durable chainsaws that are designed for daily use. You can use these to fell trees and cut firewood
Professional—the most powerful saws—these are designed for logging, tree services, and cutting large firewood. Stihl also sells in-tree saws that are shorter, lightweight, and have a top handle
Battery—Most of these are designed for homeowner use—light cutting, storm cleanup, and firewood cutting. However, Stihl has just introduced the MSA 161, a battery-operated chainsaw designed for professionals
Electric—since these require a source of electricity, the electric models are also intended to be used for small jobs around the house, although the MS 211 and MS 250 can handle larger jobs
Check out, Chainsaws – Everything You Need to Know for more general information on chainsaws.
Since Stihl makes a dizzying array of models, this table is designed to give you a general idea of what numbers you want to look for when shopping around.
| | | |
| --- | --- | --- |
| Homeowner | Farm/Ranch | Professional |
| Look for 120s, 140s, 170s and 180s for lighter jobs. Stihl also considers the MS 250 to be in this category | Most of these models are in the lower 200s although the MS 150 and MS 193 are considered powerful enough for heavy-duty work | The 240s and up, 300s, 400s, 600s, and 800s are recommended for professionals, as well as those with a T after the model number |
| The MS 250, our favorite in this category, can be found from $350 | Our pick, the MS 271 Farm Boss will set you back somewhere between $425 to $450 | If you find one of these new under $500, consider yourself lucky |
The Best Stihl Saw in Each Category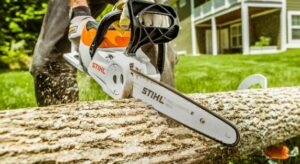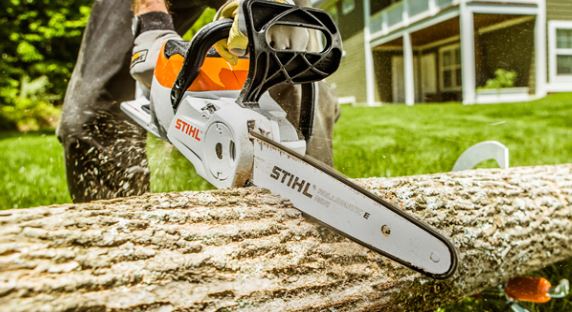 Based on customer feedback and features, here are our picks
Homeowner
The winner is the MS 251. One feature we really like is the 20% reduction in fuel use which means more cutting time per tank of fuel. Additionally, it reduces fuel emissions by 50%. 2.2 horsepower, it weighs 11.9 pounds, holds 13.2 ounces of fluid, and uses 16 to 18 inch guide bars.
It also features the Stihl Easy2Start option, the Quick Chain Adjuster, and a Master Control lever, which allows the user to operate the choke, starting throttle lock and on-off switch with a single lever.
What We Like
Easy start. Usually one or two easy pulls
Lightweight. A chainsaw under 12 pounds means you can work longer
Effective vibration damper. The less a saw vibrates, the better
Farm/Ranch
Here we picked the MS 271 Farm Boss. Along the same fuel reductions as the MS 251, this chainsaw has an innovative air filtration system that allows the air filters to last five times as long.
This saw is rated as having 2.6 horsepower, weighs 12.3 pounds, and can handle guide bars between 16 and 20 inches. At 16.9 ounces, the fuel capacity is also much higher. Along with the pre-Separation filtration system, the MS 271 also has a side-access chain tensioner and anti-vibration system.
What We Like
Reliability. A saw that cuts 6 cords of firewood year after year is dependable
Performance. There aren't too many chainsaws that can cut 100 cords of wood without needing repairs.
Professional
MS 261 C-M. Along with increased fuel system, lower emissions, and emission reduction, this saw has an onboard microprocessor. Changes in work conditions, such as temperature, elevation, octane levels, dirty air filters, even elevation, are monitored by the Stihl M-Tronic system. The redesigned MS 261 C-M also features a slimmer housing to provide a better power to weight ratio.
Because of this, the MS 261 C-M weights 10.8 pounds, a pound and a half less than the MS 271. Fuel capacity is 16.9 ounces, and it also has the strongest engine. This model also features a decompression valve or deco valve. By reducing the pressure during cranking, it helps reduce how much is needed to start the chainsaw.
What We Like
We love the microprocessor. A chainsaw that adjusts to work conditions means a professional can be more efficient going from job site to job site
Weight. Having a lighter saw makes difficult work easier
What We Don't Like About Stihl Chainsaws
There are so few negatives about Stihl chainsaws. Here are the two things we didn't like overall:
The price. Stihl chainsaws are pricey. The big box stores like Home Depot or Lowes will sell you models for $150, less if they are on sale. The smallest Stihl will set you back around $200.
Locating them. You can't order them online, nor can you drop by Home Depot and pick one up.
What are the Prices of these New Chainsaws?
Good question. A website is a go-to for finding prices. But when you go to the Stihl website, you'll see a map that claims to show you the location of different dealers. Don't waste your time. The map won't show them.
As we've said elsewhere, Stihl does not sell equipment online, nor does it provide prices for chainsaws, or anything other tools. Any link that reads "Find dealer price" will send you to the pointless map.
To locate new Stihl chainsaw prices, you have three choices:
Go to the Ace hardware website. This is the easiest choice because it requires no additional searching. Once you know what model you want, you should be able to locate it. If not, give your local store a call.
Find a dealer. This will require a few additional steps, and you might not get an answer. First, finding an authorized dealer requires that you type "authorized Stihl dealer" into your web browser. You might find one that gives prices. Don't be surprised, though, if you see a picture of the model and the words "call for the price." Once again, you'll have to find your phone.
Drive to the store. Might as well because they're not going to ship it to you. Make sure the store is open and head out. You won't need your phone unless you're the type that relies on Google Maps to get you anywhere.
When Do Stihl Chainsaws Go on Sale?
There is no set time for this. Stihl products are sold directly to their authorized dealers, and it is up to the dealers to decide how to price them so they make a profit.
Bottom Line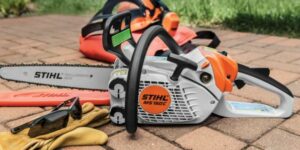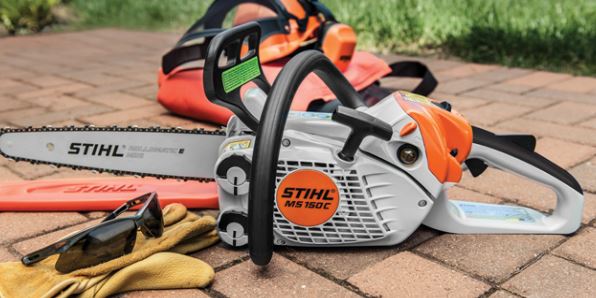 Stihl still believes that face-to-face interaction is the best way to buy and sell a product. That's why they don't sell their products online. Even if you use the Ace website to find a chainsaw's price, you won't be able to buy one without going to talk to the helpful hardware folks. Are you looking for the best Stihl chainsaw? Check out, Best Stihl Chainsaws: Tops Picks & Reviews.