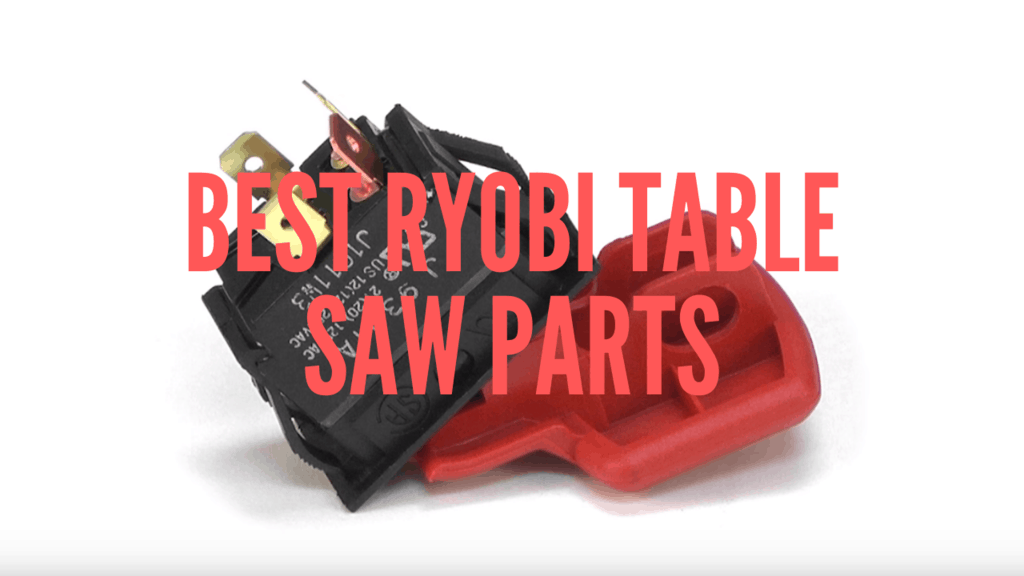 It's important to have the right tools on hand when completing a job. It can be frustrating when you need a replacement piece or are missing a part to finish it. So long as you have the right parts, you'll be golden. This article will go into detail on the best Ryobi table saw parts to have on hand or to order for the Ryobi table saw.
Are you looking for some general information on table saws or other tools? Check out our complete resource guides on Miter Saws, Table Saws, Chainsaws, Band Saws and Circular Saws. These guides have all the information you need. You will be able to find history, the different types of the tool, top brand sold, and more!
Best Spare Parts For The Ryobi Table Saw
Table Saw Switch for Ryobi 089110109712, Replacement Parts for Ryobi 10-inch Table Saw, Power Tool Switch 120V/250V. You can have a replacement switch on hand if your table saw won't start after pressing the current switch or it runs intermittently. This switch is also compatible with other table saws, not just the Ryobi table saw.
What's good about the table saw switch:
Compatible: You can use the switch for your Ryobi or other table saws.
Easy to replace: You can simply switch out the old part and put this on your saw with little difficulty
Some drawbacks of the table switch
The wrong switch shipped: Some reviewers complained about receiving a switch that didn't look like the one in the picture. Just be sure to send it back if this happens!
The switch didn't work: Some reviewers complained that the switch didn't work at all. Send it back or get a warranty on it to protect yourself!
---
Ryobi 089037011704 Rip Fence for RTS21. This replacement piece is great for aligning your materials to your table saw to get the perfect cut. The rip fence can wear over time, so having a spare is a great idea. You can pop this replacement on your table saw and keep at it!
What's good about the rip fence:
Good quality: Reviewers love the quality of this piece as a replacement to their old rip fence.
Perfect fit: The rip fence fits onto the table saw perfectly and allows for a quick replacement!
Some drawbacks of closing the rip fence:
Does not fit every Ryobi saw: One reviewer remarked that it didn't fit his bt3000 table saw. The rip fence was too short, so be sure to measure before ordering this item.
Lots of copies out there: There are multiple rip fences for sale online, so be sure you double and even triple-check that you have the right-sized rip fence in your cart.
---
POWERTEC 71009 Safety Push Block and Stick Set. This set is great to help handle various materials and projects, both for safety and convenience. It is a great set to have if you don't own one, or if you do and your set is wearing down with use and you need a replacement.
What's good about the safety push block set:
Safety: Multiple reviewers rave how much safer their saw use is with this set compared to when they didn't have it before.
Great price: This set is reasonably priced for what it will save you on hospital bills and project mishaps.
Drawbacks of the safety push block:
Poor grip: the foam on the pads doesn't grip wood very well, so be cautious when using it.
Missing pieces: Some reviewers complained about pieces missing when their set shipped. Be sure to check when you receive it and send it back if it's missing pieces.
---
Ryobi OEM 089040003705 miter saw gauge assembly RTS21G 10″ table saw. This miter gauge is great as a quick replacement part to have on hand. It fits into the RTS21/RTS21G models and does a good job.
What's good about the miter saw gauge:
Easy to replace: This gauge can be switched out quickly and easily. You won't need to worry about needing to alter your saw or the product to get it to work correctly.
Affordable: This is a great part to have if you are refurbishing an older Ryobi table saw that doesn't have a miter gauge or has one that doesn't work. This piece is cheap but works well!
Drawbacks of the miter saw gauge :
You get what you pay for: Some reviewers were not happy with the quality of the gauge. It worked fine but would need another replacement shortly after.
Looks cheap: Some reviewers weren't pleased with the aesthetic of the miter gauge on their saw since it looked cheap.
---
Things To Take Into Consideration
It doesn't hurt to have some extra small parts on hand. The Ryobi table saw bts10 has multiple washers, screws, and nuts that come with the original table saw. It doesn't hurt to have extras of these on hand if any of those pieces get damaged while assembling or from use. It's great to have if you want to refurbish more Ryobi saws down the road.
Get a table saw stand for your back. If you work with your table saw for long spans of time, or even for short spurts, be sure to take care of your back. This stand will help raise your table saw up a bit so you aren't hunched over while working which can injure your back. Your body and chiropractor will thank you later.
Check your brushes and springs before giving up on your table saw. A simple replacement part can fix your table saw that cuts off intermittently or doesn't work. Replacing the brushes and springs around the blade can fix the problem for a lot cheaper than if you have to go out and buy another one.
Make sure you check your saw model number and measurements. There are multiple Ryobi table saws out there on the market today. Both newer models and older models have various parts that will fit or work for both options. When ordering these parts, make sure you are ordering the right table saw. That will save you a lot of headaches and time.
Summary
We've discussed various Ryobi table saw parts and their benefits/drawbacks. Replacement parts can save you a lot of money compared to throwing out your table saw and getting a new one. Having them on hand will also save you time when you do need to replace an older part.
Are you looking for more guides on table saws? Check out some of our most popular guides, The Best Table Saw Stand in 2020, The Best Small Table Saw, DEWALT Table Saws – 10″ Saws, Parts and Accessories, and The Best Portable Table Saws.