A table saw is often the biggest and most powerful tool that a DIY builder will purchase. Table saws are great for cutting plywood sheets, making long rip cuts, or making repeated cuts that need to be the same length. Table saws come in a wide range of sizes and prices, from tiny hobby models to industrial behemoths that cost as much as a small car. How can you decide which best small table saw is right for you?
Are you looking for some general information on table saws or other tools? Check out our complete resource guides on Miter Saws, Table Saws, Chainsaws, Band Saws and Circular Saws. These guides have all the information you need. You will be able to find history, the differnt types of the tool, top brand sold, and more!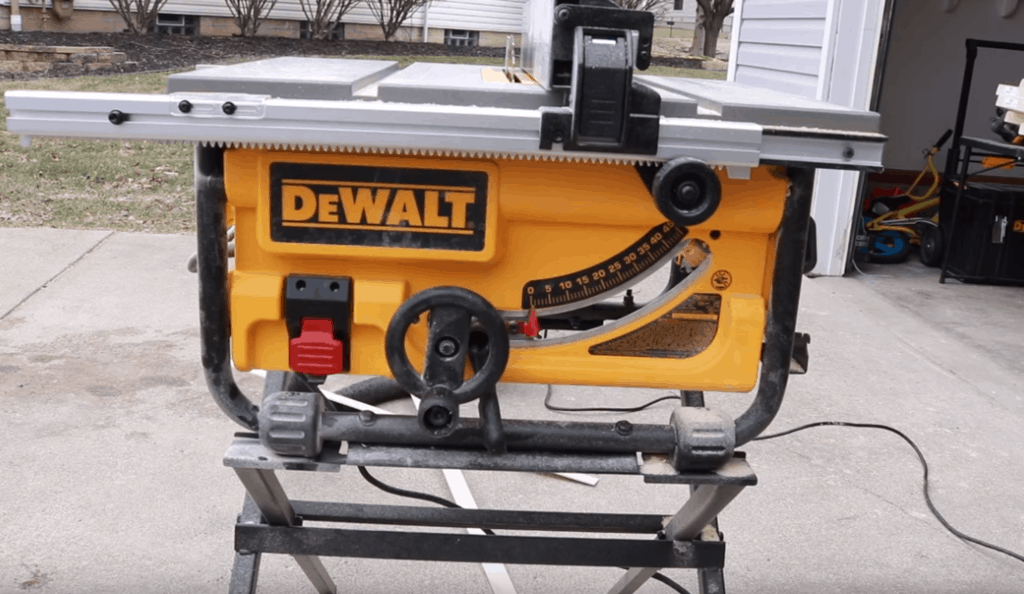 The best small table saw is the one that works for you, when and how you want to work. To choose a small table saw, consider these factors:
Where will you use the saw – your shop, or at jobsites?
What will you be cutting – plywood, dimensional lumber, or hardwoods?
How much will you use it – a few times each month, every weekend, or every day?
How to Choose a Small Table Saw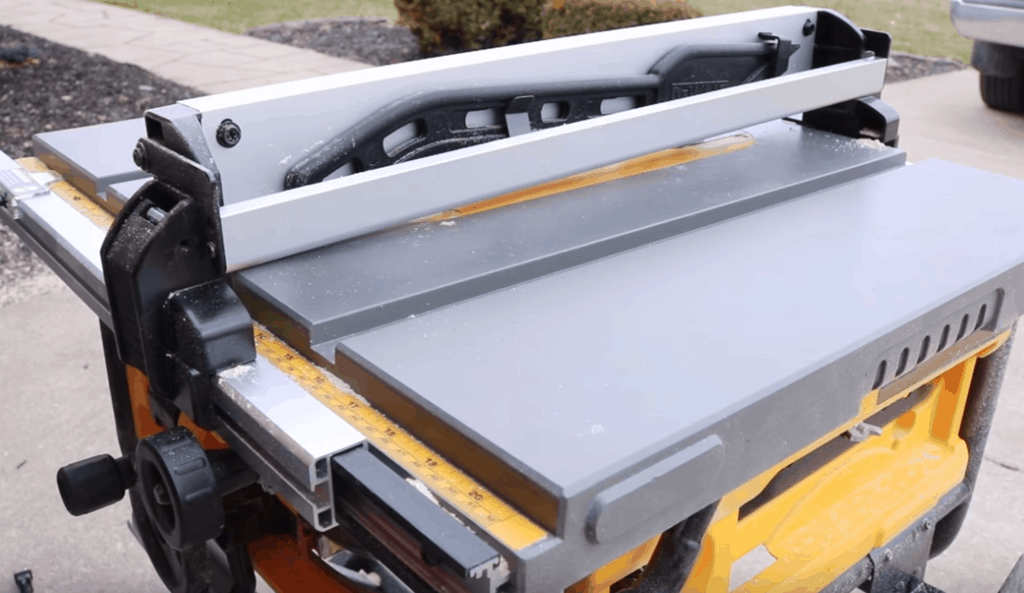 If you need to travel with your table saw, look at lightweight models and machines with easy setup features. Some portable saws come as a package deal with a portable cutting stand; others will require you to purchase the table.
Saws for cutting thin plywood don't need as much power as saws that will need to rip 2X dimensional lumber. Saws for cutting hardwoods like oak and maple need even more power to slice through the heavy stuff instead of pine.
Finally, saws that get used daily need to be much more durable than occasional-use machines. If you are sawing every day, you should either be ready to spend money on a long-lasting saw or plan on replacing the cheap saw every few months.
Small Table Saw Reviews
We checked out some of the best small table saws available. Here is what we found
True Power Mini Electric Table Saw
This is a tiny saw with a tiny price to match. With a listed weight of just 8.25 pounds, this machine is lighter than many hand-held circular saws. It uses a four-inch blade and has a table that is only seven inches square. There is no fence, adjustable or otherwise.
Things we liked:
This is a specialty saw for small hobby projects like remote controlled vehicles or doll houses.
Things we didn't like:
This is a specialty saw for small hobby projects like remote controlled vehicles or doll houses.
Best for:
This is a table saw for tiny hobby projects. If you are framing a three-foot tall Victorian mansion for dolls or building remote-controlled Mustang fighter, this is a great saw. Are you working with any lumber thicker than 3/8 of an inch or wider than about eight inches, avoid the mini table saw.
If you are looking to save money by purchasing a tiny table saw, save more by skipping this one. You'll be happier if you spend more on a saw that can handle lumber and not just doll beds.
---
WORX WX572L BladeRunner x2 Portable Tabletop Saw
For decades, table saws have used circular blades to make cuts. Not the BladeRunner from Worx. This clever little saw uses blades from jigsaws instead of circular saw blades. Using a vertical motion means the saw cabinet can be much smaller and lighter than traditional table saws.
Things we like:
At just fifteen pounds, much lighter than other small table saws
Inexpensive saw that can still handle 2X dimensional lumber
Easy to change blades to cut materials other than wood
Things we don't like:
Some users report the blade fence is hard to adjust and hard to keep straight
Small table may make it hard to cut sheet goods or long lumber accurately
Minimal fence depth
Best for:
This saw is great for hobby woodworkers who need to cut smaller pieces of lumber, or for contractors who need to be able to pack it up and haul it to job sites multiple times each day. It's not for cutting big sheets of plywood or ripping long pieces of lumber.
---
SKIL 10-Inch Table Saw with Folding Stand
The 10-inch Skil table saw is the first traditional cutter on our list. It can cut material up to four inches thick and has a self-aligning rip fence that can be set as far as twenty-four inches from the blade. It also comes with a folding stand.
Things we like:
Excellent price for a traditional table saw
Included stand means you are ready to set up and cut right out of the box
Full-sized table lets you rip sheets of plywood in half lengthwise
Things we don't like:
At 67 pounds, it would be nice if the stand came equipped with wheels for easier moving
Rip fence doesn't allow for the precise setup that more expensive saws offer
Some users report limited durability
Best for:
This is a good saw for homeowners who occasionally need a table saw. This saw will do 95% of what more expensive saws will for a fraction of the price. It won't stand up to cutting hardwood or ripping plywood for cabinets all day every day, but it will last for years of weekend projects.
---
DeWalt 10-Inch Table Saw
The yellow-and-black color scheme has come to mean "professional quality," and the 10-inch table saw from DeWalt is no exception. This saw features a twenty-inch rip width and a steel roll cage around the body to protect from drops. At just forty-eight pounds, it is light enough to be portable.
Things we like:
Light enough to be portable, but the fifteen-amp motor packs plenty of power
A roll cage is a nice touch for a portable tool
Rack-and-pinion fence system and fence locks both front and rear make accurate, repeatable cuts a breeze.
Things we don't like:
Twenty-inch rip depth isn't enough to split a sheet of plywood, and there is no way to extend the fence guide rails
No stand or cart included
Best for:
This is a contractor saw, through and through. This saw is built to move from jobsite to jobsite, survive being dropped and knocked over, and keep making straight cuts. Folks who frequently rip plywood might want to skip it, though – you can't split plywood in half with it.
---
Our Pick for Best Small Table Saw
If you are going to be using your small table saw on a jobsite, or if you are running one daily, take the DeWalt 10-inch model. It's got the power and the durability to keep working for years. If you are on a budget, check out the 10-inch Skil. With the included stand, that one will have you ready to work in a flash. The friendly price of the Skil will also leave you with some cash to pick up lumber and start a project.
Get to Work!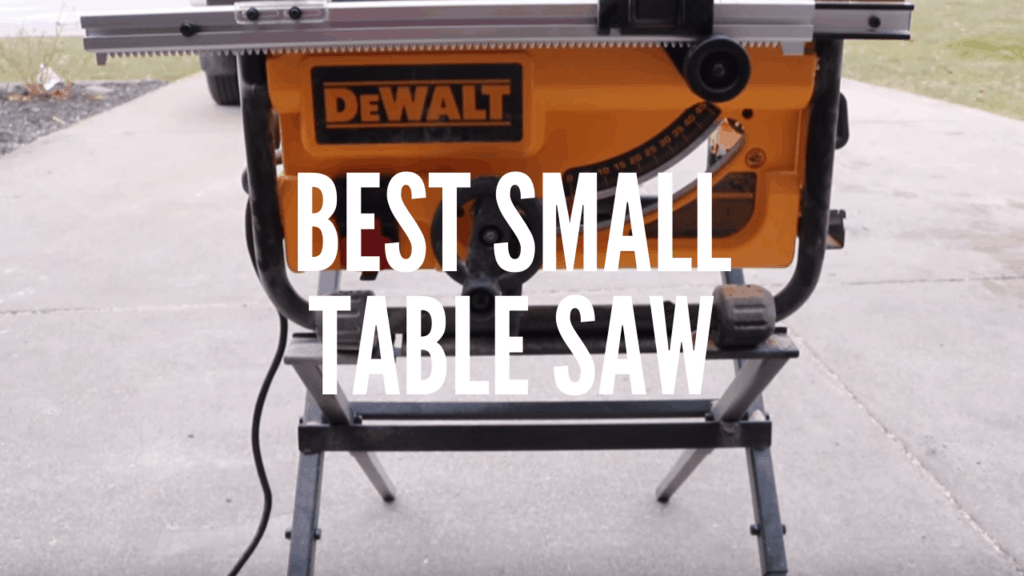 Most wood workers will pick up a table saw after they have used a circular saw for a few years. It can be hard to keep long rip cuts straight with a circular saw, and making repeated short cuts with accuracy can be a chore. If you are struggling to get good cuts with a circular saw, step up to a table saw and see what one of these bad boys can do for you.
Are you looking for more guides on table saws? Check out some of our most popular guides, Dewalt vs. Delta Table Saw Edition, Ryobi Table Saws – 10in Portable Saws and Parts, DEWALT Table Saws – 10″ Saws, Parts and Accessories, and The Best Portable Table Saws.