If you are into any type of woodworking, then a Miter Saw may have crossed your mind a time or two. Picking the saw that will make the correct cut can be a real challenge.
That's what we are here for. Below we will walk you over two Delta Miter Saws, and provide some helpful tips on how to operate a miter saw, what a miter saw is used for, and some safety guidelines to follow. Keep reading to find the best Delta miter saw in 2020.
Are you looking for some general information on miter saws or other tools? Check out our complete resource guides on Miter Saws, Table Saws, Chainsaws, Band Saws and Circular Saws. These guides have all the information you need. You will be able to find history, the different types of the tool, top brand sold, and more!
Delta Miter Saw 10 IN
The Delta Miter Saw 26-2250 comes in both the 10-inch and 12-inch versions. What I like about this saw is its unique joint arm system. This saw uses two 45 degree arms that are offset by 90 degrees to give you great accuracy. It is different from the traditional one-arm system that is usually in a miter saw, and this one takes up less room.
Things We Like
Because of its unique rail system, it is easier to store and takes up less space.
It has a right-angle cut of 60 degrees that you usually don't find in miter saws.
Even though the rail system has been replaced by the elbow system, the saw performs wonderfully and doesn't get stuck, or lag in any sliding motion whatsoever.
The plastic is surprisingly good quality and keeps the saw slightly lighter than some other ones.
Things We Didn't like
The saw bag is kind of awkward and doesn't hold a lot of sawdust.
The blade handle moves slightly too much from left to right when fully extended, it is okay, but It has a lot of wiggle room which makes it feel like it could break easily.
The blade that it comes with is kind of dull and needs to be replaced rather quickly. It would be nice to include a higher quality blade.
Best For
This Saw is Best for anyone that needs a miter saw and doesn't have a lot of room in their shop. The elbow arms save a lot of space, but this saw does have a lot of flexibility in the handle when fully entended. I wouldn't use this saw for heavy industrial use, or regularly on a construction site.
Delta Miter Saw S26-271L
The Delta Miter Saw S26-271L is perfect for the home. Its smaller design is more traditional for a miter saw, and uses the rail system that most people are used to. I used this saw in my home shop with no problems, but it is not as universal as some other miter saws. It is lightweight and easy to move around.
Things We Liked
The laser guide really helps the accuracy of your cuts. This feature should come standard on all miter saws.
Perfect for a home garage, or weekend woodworker. The low cost really makes this one worth it. You do get a semi-good quality saw for a lower price than other miter saws.
Things We Didn't Like
The 24 teeth saw blade is not a good quality blade. Delta could really step it up with the saw blades.
It was a little more challenging to set up than some other saws that we have used. And if it is not set up correctly, then it won't cut accurately.
Best For
This saw is perfect for the hobbiest wood worker. If you only need to cut a few pieces of wood for a small project or to make a minor home repair. This saw has a 12 inch blade and takes up a lot of space. You will need adequate room to store this miter saw.
What is a Miter saw?
A miter saw is a power saw that can make different cuts at different angles. It is handy for any woodworker and makes cutting trim and molding a breeze. The miter Saw can also be useful for making joint cuts and usually come in various sizes, from 8-12 inches.
One thing to consider with a Miter saw is it able to be stored away safely, and the general stability of the miter saw. Depending on what you want to accomplish, different miter saws will have different strong points and weak areas, so you want to compare models thoroughly to make sure you get one that suits all of your needs.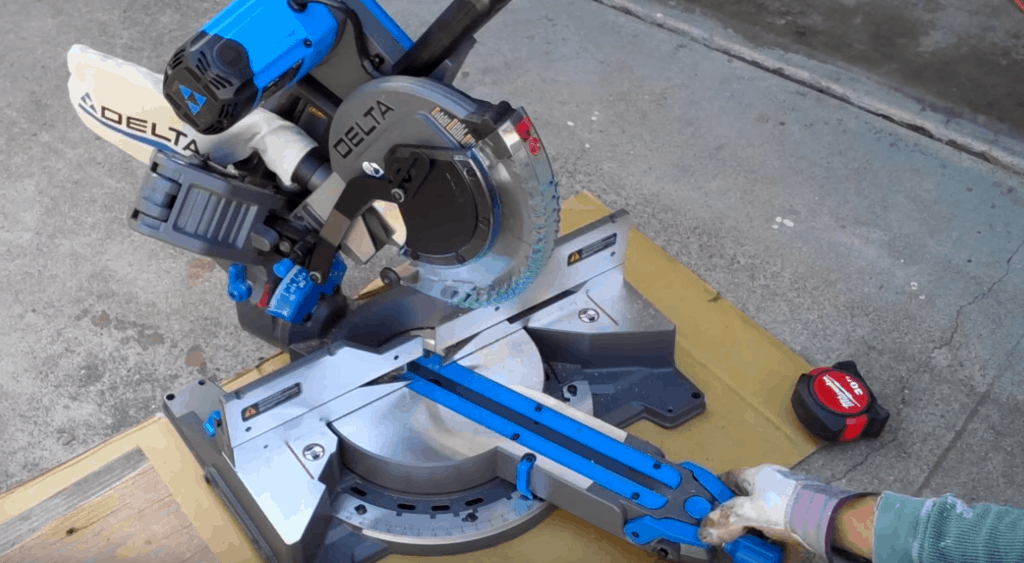 Safety First
I was taught to always unplug power tools when not using them. This can prevent accidents in small workspaces. The last thing you want to do is accidentally turn on the miter saw when reaching for a different tool.
Some other things to keep in mind is to wear your personal safety gear at all times when operating a miter saw. You also need to keep your fingers at least 7 inches away from the blade at all times and don't raise the blade until it comes to a complete stop.
Check Out This Quick Video
This quick video will teach you all about miter saws and how they are used. If you are thinking about purchasing a Miter saw, or are a beginner to woodworking, you should check out this video.
Delta Miter Saw Parts
Delta makes parts for their tools, but it is just a little difficult to order them if you are not a repair shop. However, Delta does have an excellent site to help locate a repair shop near you. The manual does have part numbers. However, when searching on the part finder website, the results were uneven.
Don't Forget the Delta Miter Saw Stand
Last update on 2022-01-03 / Affiliate links / Images from Amazon Product Advertising API
Having a Miter Saw Stand for your delta should be a requirement. This is the one accessory that makes it really easy to move the miter saw around the shop. It has locking wheels and a stable handle to do all of the heavy moving for you. The best part is that you don't have to take the saw off of the stand to use it, it stores away nice and is conveniently easy to pull out when I need it.
About Delta Machinery
Delta's brand tools are trusted by millions of professional woodworkers for accuracy, precision, and reliability. Delta designs mostly saws, but they do design some other high-quality woodworking tools as well. Delta has jointers, planers, lathes, and grinders available. With 100 years of expertise, Delta is very innovative and professional with their designs.
Delta even stands behind its refurbished products with a 180-day warranty. They do offer a 5-year warranty on all new machines and a two year on all accessories also. If you ever just want to speak with someone about the product, there are two lines to contact, technical support and customer service. Delta is not a large company, so you really get that family feeling from them. I have found that Delta really cares about those customer relationships and takes pride in helping people achieve their projects.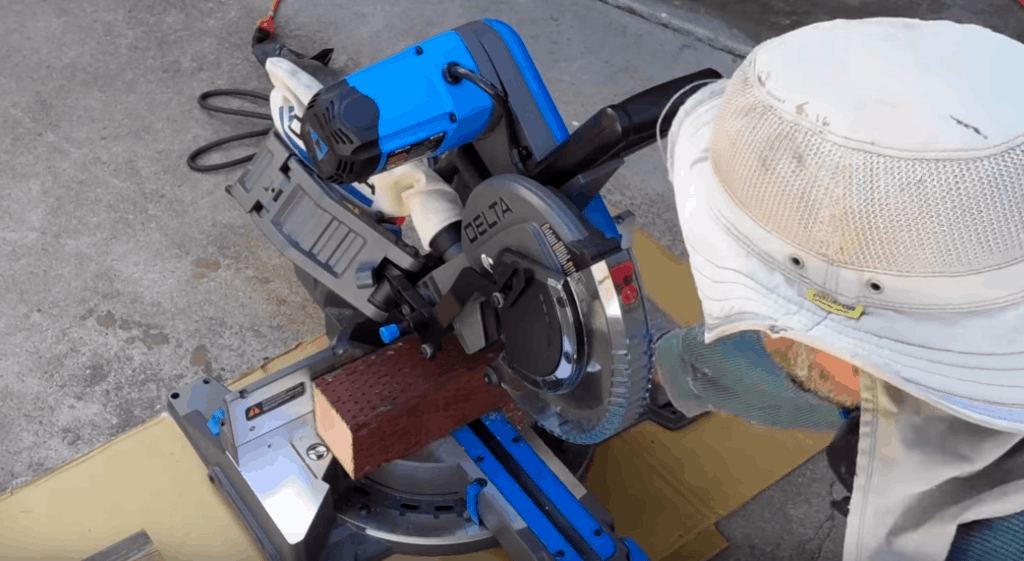 Our Take
Our pick is the Delta 26-2250 Miter Saw. For home use it is perfect. It fits nicely on the stand and is really easy to use. The new elbow arm feature is just amazing, and it even goes the additional 60 degrees on the right cut. The other Delta is helpful, too, but the 26-721L just doesn't fit easily into many spaces.
The 26-721L is excellent for a small shop that maybe uses it for hobby projects, or to fix a few things around the house, but if you are constantly using the miter saw, then the 26-2250 is the better option.
Are you looking for more guides on miter saws? Check out some of our most popular guides, Best Ryobi Miter Saw 2019: Which One Should You Buy?, Home Depot Miter Saws Buying Guide: Our Top Picks, Best Chicago Electric Miter Saw – Buyer's Guide, Best Bosch Miter Saw: See Our Top 3 Picks, and Miter Saw – Everything You Need To Know.