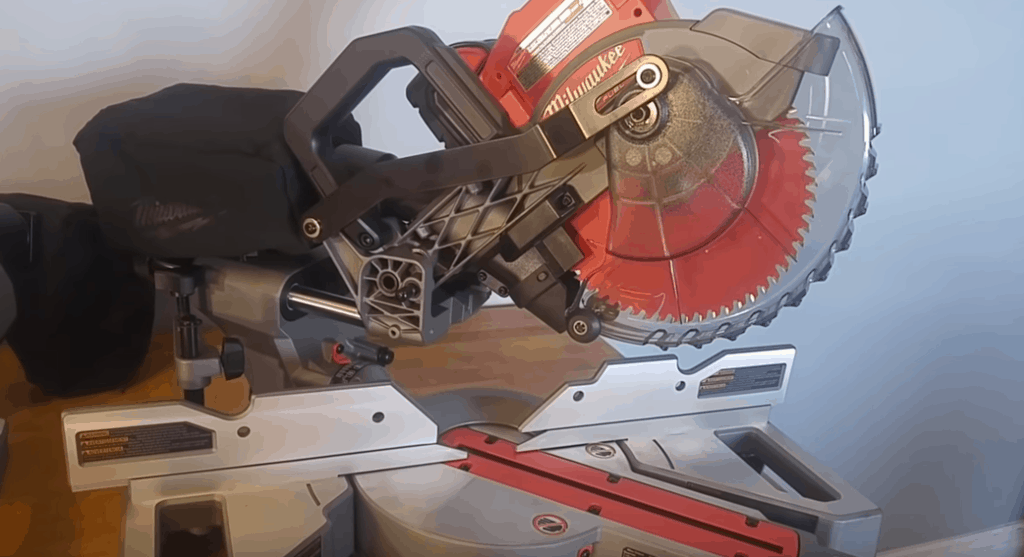 We can all agree that miter saws help make more accurate cuts for any woodworking project. If you are new to woodworking, or just trying to find a good cordless Miter Saw, you may have a few questions as to which saw is right for you.
We have reviewed two different sizes of Milwaukee brand cordless miter saws below. We also cover some popular safety features as well as the pros and cons of both machines. Keep reading to find the best Milwaukee miter saw in 2020.
Are you looking for some general information on miter saws or other tools? Check out our complete resource guides on Miter Saws, Table Saws, Chainsaws, Band Saws and Circular Saws. These guides have all the information you need. You will be able to find history, the different types of the tool, top brand sold, and more!
Milwaukee Miter Saw 10 In
The Milwaukee 2734-20 M18 "Fuel" 10-inch model has all of the top specs covered for being an on the job power tool. It is cordless and can cut accurately all day at the job site. This power saw only weighs about 45 pounds, so it is not very heavy and works great on a stand.
Things that We Liked
The Staging light is very convenient and shows you exactly where the cut is going to be. It is different from the laser, as this method uses a shadow to show you, but it is visible in Daylight as well.
The 9 amp M18 series battery lasts all day. It is rated for 400 cuts. The battery level is visible from the handle which is also super convenient.
The Glide rails go inside the body of the saw, making it really easy to transport. It locks in place. I don't have to worry about breaking or bending any glide arms.
Let's face it; it is battery powered, which is almost a necessity for a miter saw now.
Things That We Didn't Like
Making a 45-degree bevel cut is a pain; you have to completely remove the fence in order to use this feature. It adds to the work time and could have been entirely avoided in the design phase.
If you are cutting anything but light trim, it does not give you 400 cuts on a full battery. A mix of 2 x 4's and 2 x 6's yielded maybe 250 total cuts before having to switch out the battery. Still not bad, but you're going to want an extra battery on hand.
The bevel handle adjustment is on the back of the Saw, it is not that big of a reach, but you are really close to the blade when making an adjustment.
---
Milwaukee 7-1/4" M18 Fuel
The Milwaukee 2233-21 Miter Saw is the 7-1/4 inch model that does most jobs perfectly fine. This model is perfect for home use, or even just a quick baseboard job. It is capable of cutting a 2 x 4, But I wouldn't recommend using this saw specifically for that.
Things That We Liked
This saw only weighs 28 pounds, making it really easy to carry to the job site or even around my home.
We have to mention the L.E.D. light again, as it is a great feature, there is a switch, and it works from the trigger.
The Smaller blade gives really accurate cuts for most daily cuts. And you don't have to remove the fence to do a 45-degree cut!
Things That We Didn't Like
The Glide Rails cannot be stored away easily, meaning they are always exposed. The guide that holds them in place is pretty solid, but I think if Dust gets built up in there, it may need to be serviced some more.
The bevel adjustment is not as easy as bigger models, and there is no handle to adjust it.
The L.E.D. light flickers on and off sometimes. Sightline is good sight, and you can even see it in the daytime, but sometimes it doesn't turn on after a lot of cuts.
---

Miter Saw Safety
Check out this Quick Video on Miter Saw Safety. You always want to make sure that you are following all safety precautions when using any power tools.
Milwaukee Miter Saw Parts
Hopefully, you won't need to replace any parts on your Milwaukee tools, but if you do, you can easily download a parts price from their website. This gives you the part numbers, UPC codes, and prices for certain parts. On the same page, you can easily search for specific catalog information, wiring instructions, and MSDS sheets.
Their parts pricing seems pretty standard, in comparison to other manufacturers, and with Milwaukee's Lightning Fast Repair Guide, you can quickly see how much a repair will cost you before sending it in if the tool is not under warranty.
Milwaukee Miter Saw Stand
This accessory makes carrying the 7-1/4 "inch model super easy. It is also extremely light, and the opening below the saw makes it easy to pick up and move. With the 7-1/4 inch saw, the total weight is only about 60 pounds.
The mounting brackets are adjustable so you can use the stand with many different Milwaukee tools. If you are a huge Milwaukee tool fan, then this stand is nice, but they're certainly are better ones out there.

About Milwaukee
Milwaukee Tool Company was started in 1924 with the sole purpose of creating high-quality power tools.One of the unique features of the Milwaukee tool company is the E-repair service. You can ship it in from any Fed Ex center, whether it has a warranty on it or not. They will repair most tools in 7-10 days. It gets fixed by Milwaukee and sent back to via Fed Ex! You just mail it off, and it comes back fixed!
Milwaukee also has an e-bates program which gives you cool upgrades and free stuff if you purchased from a valid retailer. They continuously have different promotions going on in their e-bates program. For instance, if you get the M18 10 Inch Miter Saw, you can get a free battery from Milwaukee.
Our Take
We like both saws for different reasons. The 7-1/4 inch saw is handy for light jobs, like baseboards or trim. I like using this one around my house for quick fixes, but for anything more than a small trim, I need the 10" saw.
If we had to pick between the two, the Milwaukee 10-Inch would be our first choice–it does everything that the 7-1/4 inch does, and it is not too big or bulky. The 10-inch also comes with that free battery, which is a bonus.
Are you looking for more guides on miter saws? Check out some of our most popular guides, Best Ryobi Miter Saw 2019: Which One Should You Buy?, Home Depot Miter Saws Buying Guide: Our Top Picks, Best Chicago Electric Miter Saw – Buyer's Guide, Best Bosch Miter Saw: See Our Top 3 Picks, and Miter Saw – Everything You Need To Know.