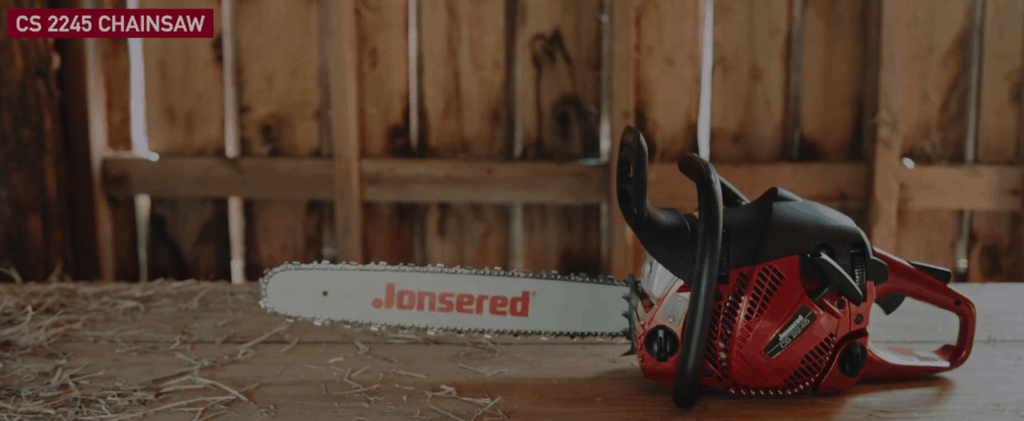 From the beginners approaching their first DIY-project to the professional contractors, you need to know the power and endurance of your Jonsered chainsaw to have clean-cut wood and to have an efficient day. Keep reading our Jonsered chainsaw: review and buying guide 2020 to help you select the right one. Knowing its components, other people's experiences and the best bang for your buck is all-important!
Are you trying to find some general information on different tools? Check out our complete resource guides on Miter Saws, Table Saws, Chainsaws, Band Saws and Circular Saws. These guides have all the information you need. You will be able to find history, the different types of the tool, top brand sold, and more!
Jonsered Chainsaw Reviews
To run through the history of the chainsaws from the early vertical cylinder to the rest of the current top selections from Jonsered, check out this review. There are various types of filters, ignitions, fans, and overall power to consider.
The following reviews are simply selected for various model sizes and ratings that are four stars and above. The weights can change depending on the bar size that you decide to select (if the option is available).
Jonsered Chainsaw CS2245
Jonsered Chainsaw CS2245 is compatible with the mid-length bars of 18 inches. It is lightweight; The overall chainsaw with the bar is at 13.25 pounds and 10.8 pounds without the cutting equipment.
What We Like:
Lightweight: What we like about this chainsaw is its smaller structure. It is good and portable for small projects, but despite its size, it is also powerful enough to work up some firewood.
What We Don't Like:
Separate chains: As with most of Jonsered chainsaws, the biggest downfall is having to buy the chains separately.
Reports of the long break-in period. Unfortunately, there have been numerous reviews that describe the unfortunate long breaking in period. It is advised that a few tanks of gas will be required.
---
Jonsered Chainsaw CS2238
Jonsered Chainsaw CS2238 is compatible with the smallest bar size at 14 inches. It is the smaller size of the CS2245 mentioned above. With the compatible bar, it is roughly 12.75 pounds, and without the cutting equipment, it is 10.14 pounds
Being a 14" chainsaw, it is going to be your ultimate lightweight and convenient chainsaw.
Which bring us to, What We Like:
"A homeowner's chainsaw" : It gets the job done for easy pruning around the yard, and smaller projects that can easily be reached with a lighter chain saw
What We Don't Like:
Not long-lasting: This chainsaw has had some mixed reviews. The power of the saw had been questionable and has been noted for not lasting very long on the job.
It is also recommended to expect at least six gallons to break into it.
---
Jonsered CS2255
Although not reviewed on Amazon, this chainsaw is one of Jonsered highly rated chainsaws. Its maximum bar compatibility is the 20-inch bar, and with it, its final weight comes to 12.5 pounds.
Despite its larger size, the CS2255 is the go-to chainsaw of many.
What We Like:
The chainsaw is high-powered at 3.5hp
Excellent for heavy-duty projects, professionals, and forest-owners.
Known for its low fuel consumption: High-efficiency work
What We Don't Like:
More power does still mean more fuel
No fuel detector unlike the other Jonsered models
Many have reported about the complaints on the electronic carbs and oil leaks between rounds.
---
Jonsered Chainsaw Optional Tips
There are a few things to consider when you pick your Jonsered chainsaw. Go through the following checklist to be prepared! Remember that additional parts are crucial to pick up with your chainsaw.
Check-list:
Vibration-protected: Both handles of the chainsaw are protected from vibration. Vibration will deteriorate your chainsaw more quickly!
Powerful chainsaws over the less powerful: Powerful chainsaws will take you much more for the buck. Even if it's a small project, make sure you don't buy an underpowered saw.
Air filter system: A sufficient air filter system and design mean less clogging and an overall efficient job. This will help to lessen the cleaning around the workstation and messing with the filters between jobs.
Outdoor vs. Indoor: Consider where you will be working. There are gas-fuel options for chainsaws, but now there are also good electric saws available for indoor work.
Sound: Lower the decibels, the happier your ears will be (even with protection).
Jonsered Chainsaw Parts
Jonsered Chainsaws come with a few accessories that will need to be ordered together with the chainsaw.
Accessories & Chains
There are numerous components of a Jonsered chainsaw; Which could come handy for its durability. Traditionally, they offer a variety of chains for replacements, 0.325"/0.050", 3/8"/0.050", H46X, and H80.
Bars
You can readily find spare chainsaw bars like this one when your Jonsered has been through a couple of rough projects.
Air Filters
If you are feeling handy, go ahead and buy some air filters for your Jonsered to extend the life of your Jonsered. Maintenance of any tools that go through sawdust and various environment goes a long way.
Oil
You will also want to pick up some Bar & Chain oil and some premixed fuel with your new Jonsered.
Safety Protective Gear
With heavy machinery like a chainsaw, you will want to ensure that you have the essential safety features up and going. You will need kickback protection, chain brake, protective hand guard, catcher stud, and of course, your personal gear. Make sure you have a pair of protective glasses to cover your eyes from the sawdust.
There are also carrying cases that not only protect your saw but also safely stores them away. They are big enough to hold your oils, plugs, and manuals. Great for on-the-go projects and keeping things together in the garage.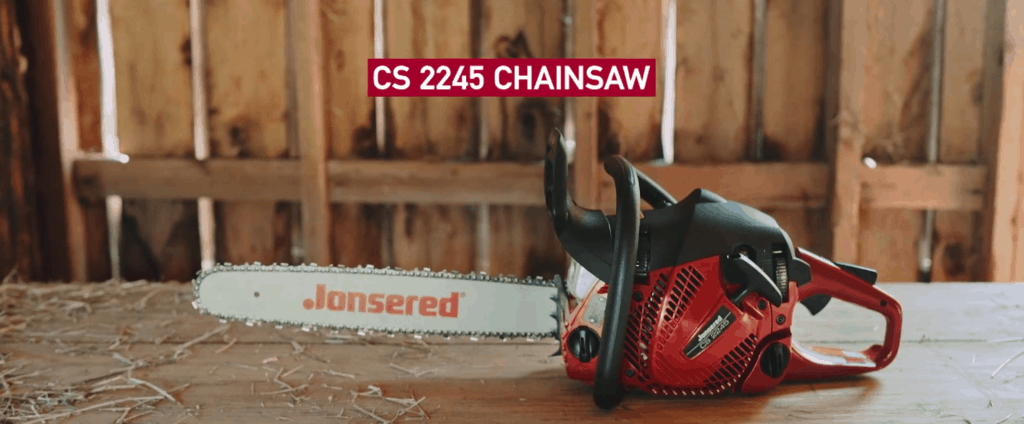 Jonsered Chainsaw Models
Now consider the following models from the Jonsered Chainsaw selections. Some are great for being lightweight and easy, while some are powerful and offer high durability.
FEATURES

CS2238

(14 – 16" recommended bar, 2hp, 3.7 m/s2, 118 dB(A))

CS2245

(13 – 18" rec. bar, 2.82 hp, 3.4 m/s2, 115 dB(A))

CS2250

(13 – 18" rec. bar, 3.22 hp, 3.2 m/s2, 115 dB(A))

CS2255

(13 – 20" rec. bar, 3.49 hp, 2.8 m/s2, 114 dB(A))

Clean Power Cuts Emission and Fuel Consumption

YES

YES

YES

YES

Turbo Intake Air Cleaning System

YES

YES

YES

YES

Vibration Damping

YES

YES

YES

YES

Easier Starting with Spin Start

YES

YES

YES

Snap-Locked Covers for Easy Engine Access

YES

YES

Side Mounted Chain Tensioner for Easy Chain Tensioning

YES

Tool-Less Chain Tensioning

YES

Fuel Level Indicator

YES

YES

Fuel Pump

YES

YES

YES

YES

Inertia Chain Break

YES

YES

YES

YES

Jonsered
Jonsered is a Swedish company that has supported outdoor tools for roughly 60 plus years. They have varieties of chainsaws, blowers, lawnmowers, and trimmers available. Just within their chainsaw product lines, they offer 6 different types.
As mentioned above, all their new chainsaws offer a new system, "Clean Power," which is to cut emission and fuel consumption. Jonsered has been a trusted company by many. Their models vary in performance, as expected, but are worth giving a try.
Keep note, the CS2240, which is no longer available, is still offered on some sites.
Are you looking for more guides on chainsaws? Check out some of our most popular guides, Best Chainsaw Chaps 2019 – Reviews and Buyer's Guide, Review: Black + Decker LCS1240 12" Lithium Ion Chainsaw, Lowes Chainsaws | Browse Gas, Cordless & Electric, and Stihl Chainsaw Prices: Tips and Reviews.