Sometimes a guy just has to make things.
Get his hands dirty, bust out those tools he's had in the basement for years and actually build something from scratch.
The trick is, for the casual DIY dude – you don't want something that is impossibly hard and is going to turn out looking ridiculous.
Ideally, you'll find a DIY project that has a certain amount of function to it and looks pretty cool when you're done.
Here's our list of cool DIY projects for men from around the web, including links to the full tutorial where possible.
Enjoy!
#1 Wooden Tool Carrier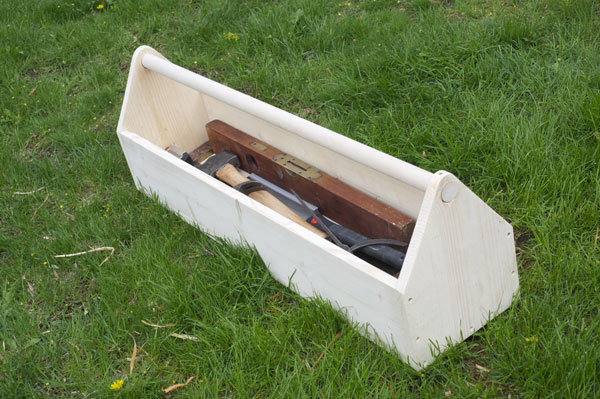 Simple, yet sturdy, is this open-style wooden toolbox. If you're visual and need to see what you have for your project, this is just the toolbox for you. This toolbox project is great for beginners but would also make a great gift for dad, especially as a father's day gift! You can locate the instructions on the Art of Manliness site here.
#2 "Hold Everything" Tool Rack
Ron, who used to tell people the only way to get their kids to practice the guitar at home was to put the guitar out where the kid can see it, decided to have a similar approach to the tools he owns. He puts everything out where he can see it. This would make a great birthday gift for anyone that needs more storage space for there tools.
Check out how Ron makes it by checking out instructions.
#3 Paracord Chair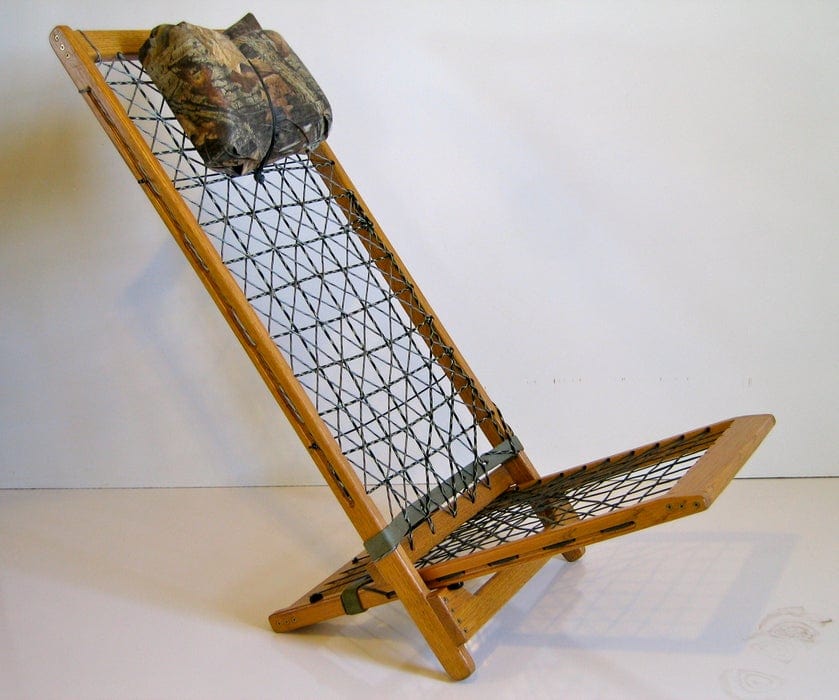 If you have basic woodworking skills, you can make what the person who posted on Instructables says is an easy, comfy, adjustable, and sturdy chair. See the instructions here.
#4 Baseball Lamp
Trisha saw this lamp idea and decided to make this for her nephew, who is a big baseball fan. This is a great project idea for father and son. This is a great project to spruce up your man cave or to give as a Christmas gift, check out how to make it here.
#5 Old Tire Rim Fire Pit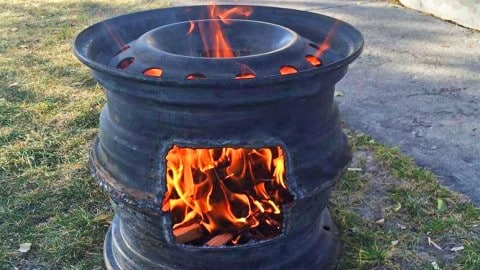 DIY Joy has this great idea for a fire pit– it uses up-cycled tire rims and this pit doesn't take up too much space, yet is plenty big enough to keep you warm. Check out the tutorial here.
#6 Reclaimed Wood Wall Bike Hanger
Man Made DIY has a great idea for your next weekend project. Get the bikes out of the way by hanging them up. It's also a great man cave idea! See how to do that here.
#7 Garage Mudroom
Cate and Tammy put their husbands to work on this awesome new mudroom for the garage. This is one of our favorite DIY projects for men! Check out how to build this.
#8 Lawn Tool Storage
Fabulously Frugal gives a great solution for the awkwardly shaped yard tools that you have. Why not try to make this for yourself? Check out the instructions here.
#9 Garage Garden Station
Mini Manor discusses how the garage is mainly her man Lee's domain, but she gets one corner for her gardening. Check out how to make this adorable, organized space in your own garage.
See the instructions here.​
#10 File Cabinet Turned Garage Storage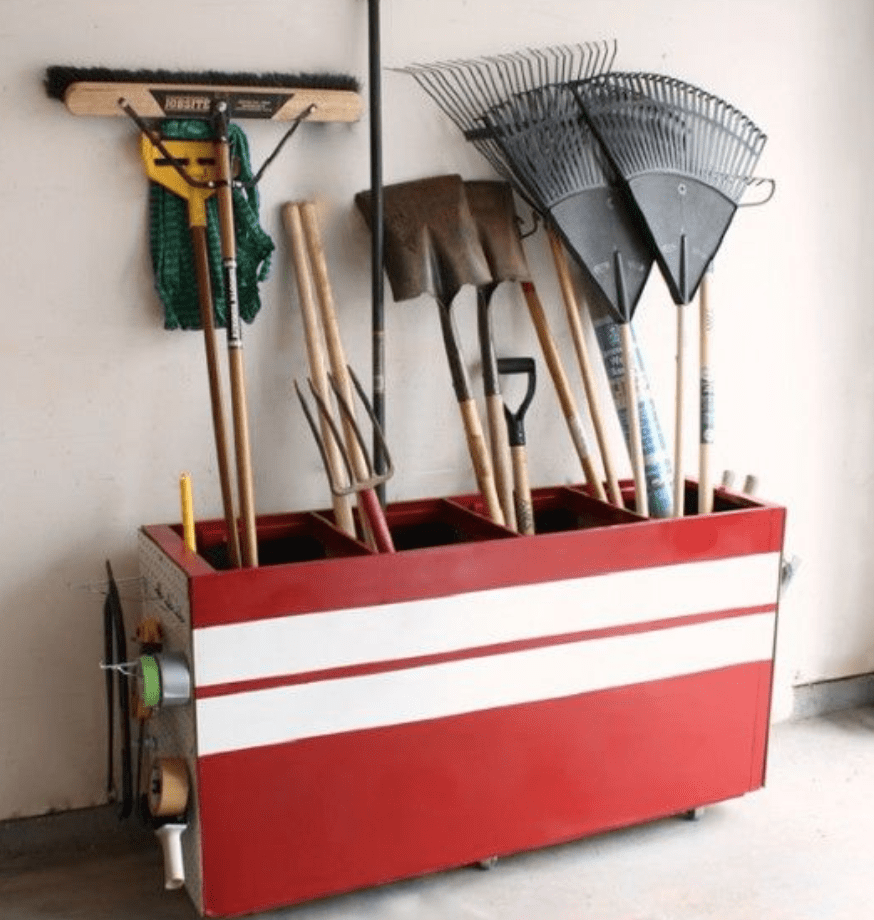 Haydee was asked to write about how she turned something ordinary into storage for her garage. She took this old filing cabinet, turned it on it's side, and made this amazing functional garage storage!
Check out how she did that here.​
#11 Garage Storage Cabinet
When the organization bug sets in, Mandy gets to work on these storage solutions for her garage. Check out the instructions for how to do this here.
#12 Garage Storage Tower
You'll find that these storage towers will be a winner in your garage. They're not too hard to make and it's the perfect gift! Katie gives you full instructions here.
#13 Cordless Drill Charging Station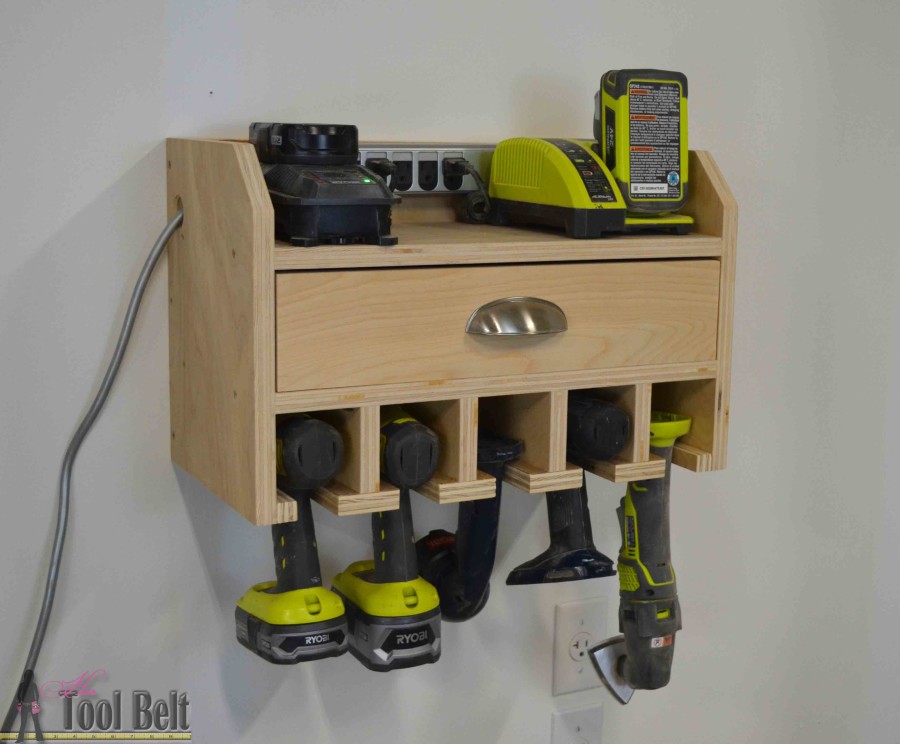 A cordless drill charging station kit is a good way for you to get your cordless drills charged and keep them organized and all in one place. Amy gives full instructions here.
#14 Portable Lumber Rack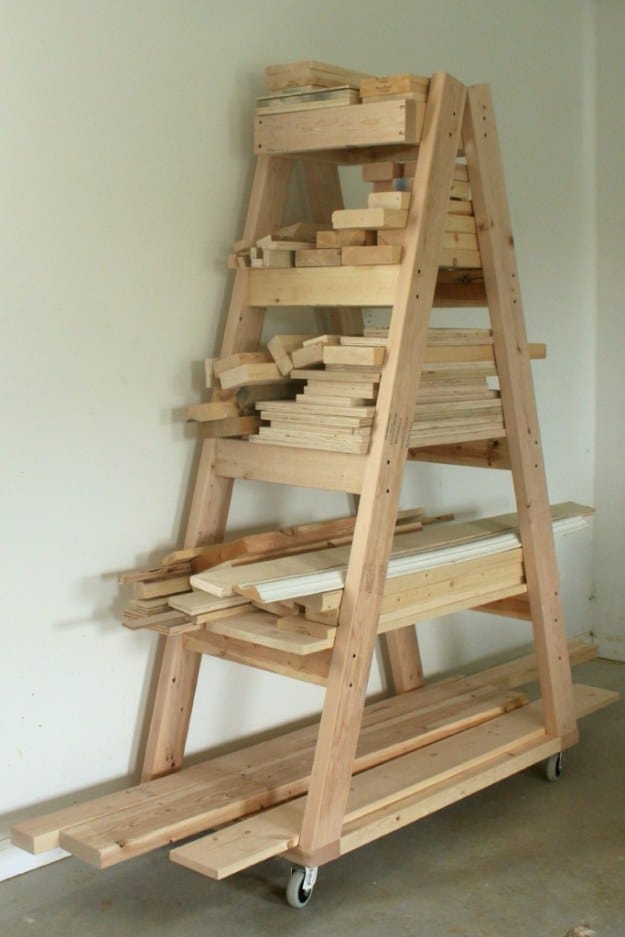 Jamison and his wife Jamie take easy DIY project to a whole new level. They created this cool scrap wood rack, but even better, it's portable. See how they did it by reading their instructions.
#15 DIY Folding Bench Work Table

According to Home-Dzine, you can turn an old door into your very own work table, and it's foldable. This is another one of our favorite DIY projects for men! Check out how to make this.
#16 Golf Locker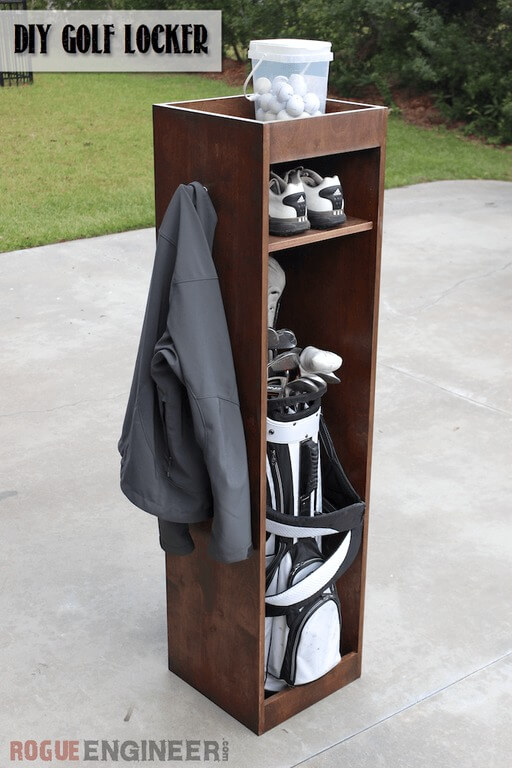 Jamison makes building this DIY idea look easy, but you probably want to have a little experience before trying to make this golf locker. I would like to mention that this is a great DIY gift idea! See his plans and instructions here.
#17 Jumbo Tape Dispenser
This guy from American Woodworker Editors has several types of tape in his garage and wanted a nice, organized way to dispense them. How cool! Check out the tutorial!
#18 Garage Makeover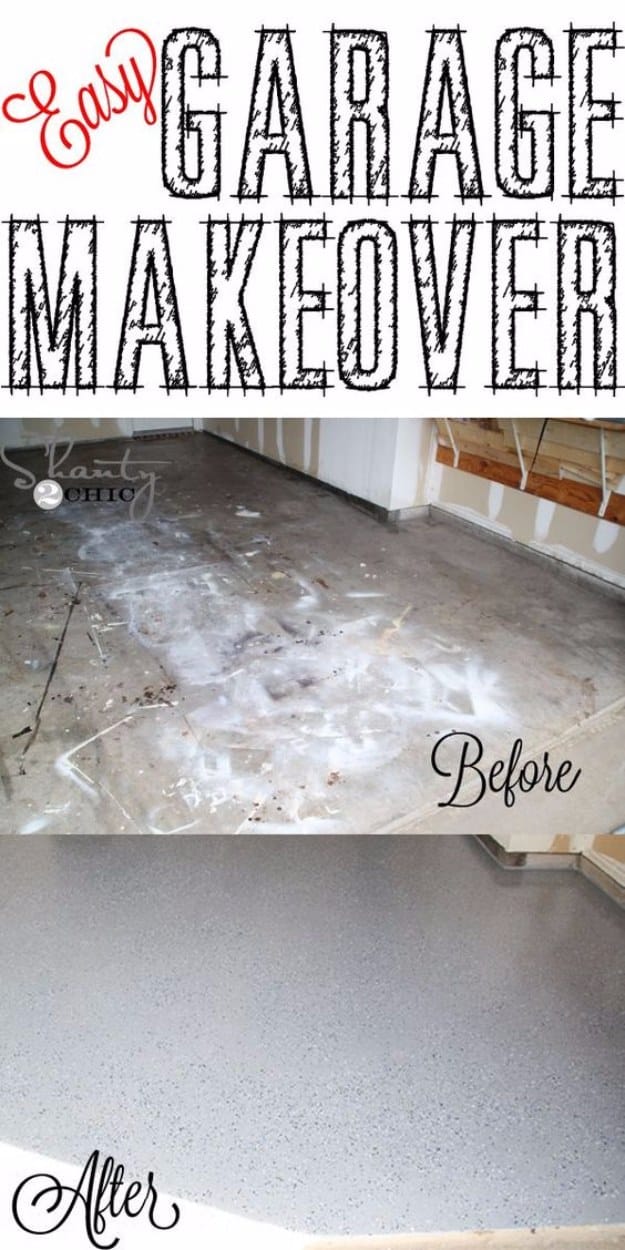 ​
Shanty2chic turned a nasty garage into a place where you would want to chill! Why not try this yourself on your own garage? Check out how to do it here.
#19 Tripod Camping Stool
Matt thinks that this stool looks way better than the old "grandpa-style" camping stools from way back in the day. This Tripod Camping Stool makes a great handmade gift. You could take this and make it quickly and easily if you follow his instructions.
#20 License Plate Key Hanger
Tiffany couldn't come up with a manly homemade gift idea for her friend, she finally came up with this cool manly key hanger. She shows you how to make it here.
#21 Cinderblock Bench
Bees and Roses put some old cinder blocks to use by making the coolest bench. Some suggest painting the concrete, but how awesome would this be for your weekend project, gentlemen? It would also be a cool gift! Check out how to make it.
#22 Bookshelf chair
The Whoot – Do you have someone in your family who is a bookworm? Why not build them a chair that meets every need? This is one of the more challenging craft ideas but it's so worth it! Check out to build this cool chair here.
There are 22 Doable DIY Projects for Men That Still Look Cool! We hope these DIY projects inspired you to start building. Do you have a favorite DIY project or idea from this list? Have you created any of these projects before? Please feel free to leave a comment, we would love to hear from you!
Are you looking for more cool DIY projects? Check out some other articles I have written: