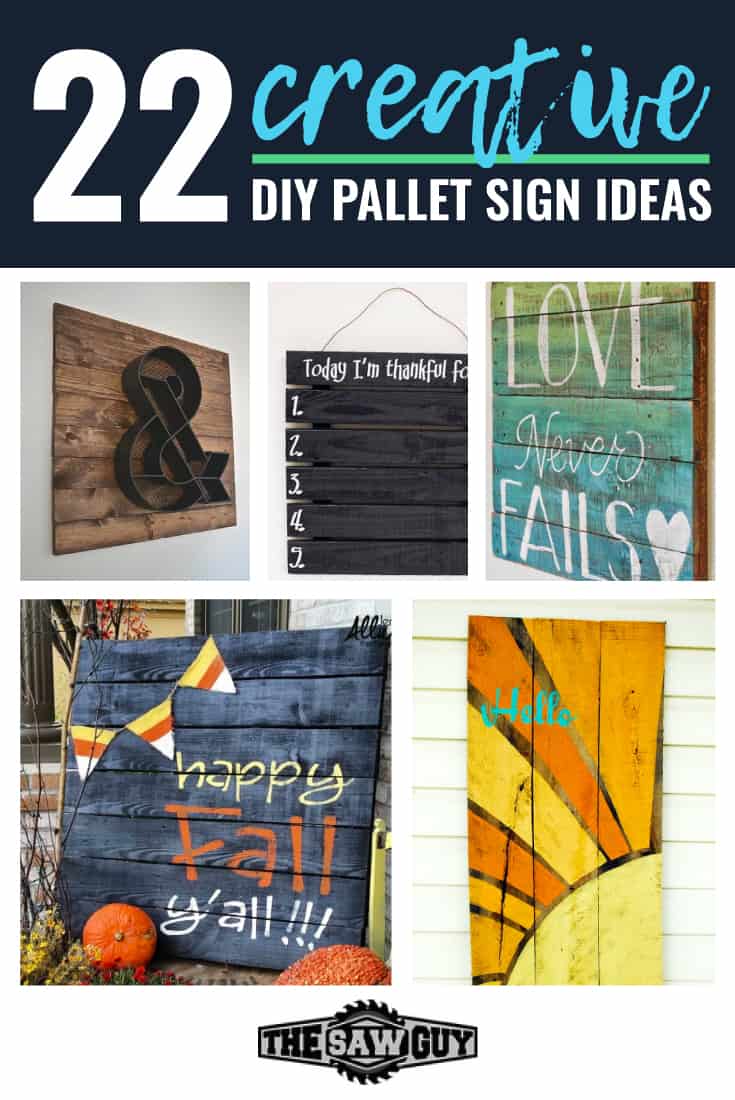 Pallet signs can be used as an eye-catching and affordable piece of rustic decor, and even something a little more functional (as you'll soon see).
Today we breakdown 22 of the best pallet sign ideas from some of our favorite DIY'ers around the web.
When possible, we've also linked to a tutorial on their site where you can learn how to make one yourself. ​
#1 DIY Bingo Board
Betsy, from My Salvaged Treasures, found some old pallet boards in her stash and created this one-of-a-kind Bingo board. She hangs them side-by-side as a great piece of decor in her home. See how she did this.
#2 DIY Laundry Room Sign
Denise has a love-hate relationship wit her laundry. Whoever has young kids can certainly identify with this. See the template here.
#3 DIY Sibling Sign
Jason and Melanie love making their own signs. I think I'll try this one for my two girls. They are great friends. Check out how to make it.
#4 DIY Family Sign
​S. S. Sanders walks us through how to make this gorgeous family sign. This is a great gift idea and a great house warming idea. Transform your porch or entry way with this sign.
See the tutorial.​
#5 DIY Welcome Sign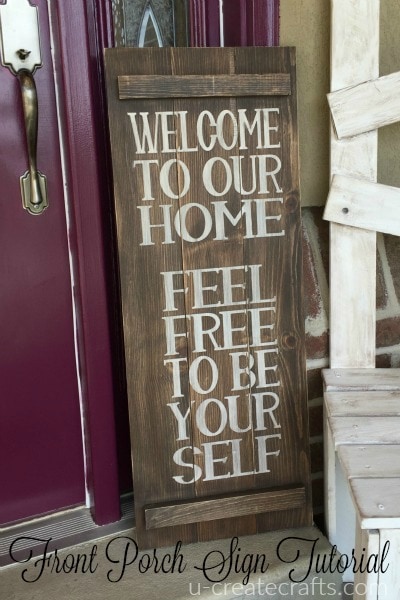 This welcome sign makes everyone feel like entering your home.It's rustic, natural look is warm and inviting to your guests. Kari shows us how to make it here.
#6 DIY Family Rules Sign
This is a great idea for a family sign. Hang this above a fire place or in the family room so that we're all reminded of the family rules. See this idea here.
#7 DIY Happy Fall Sign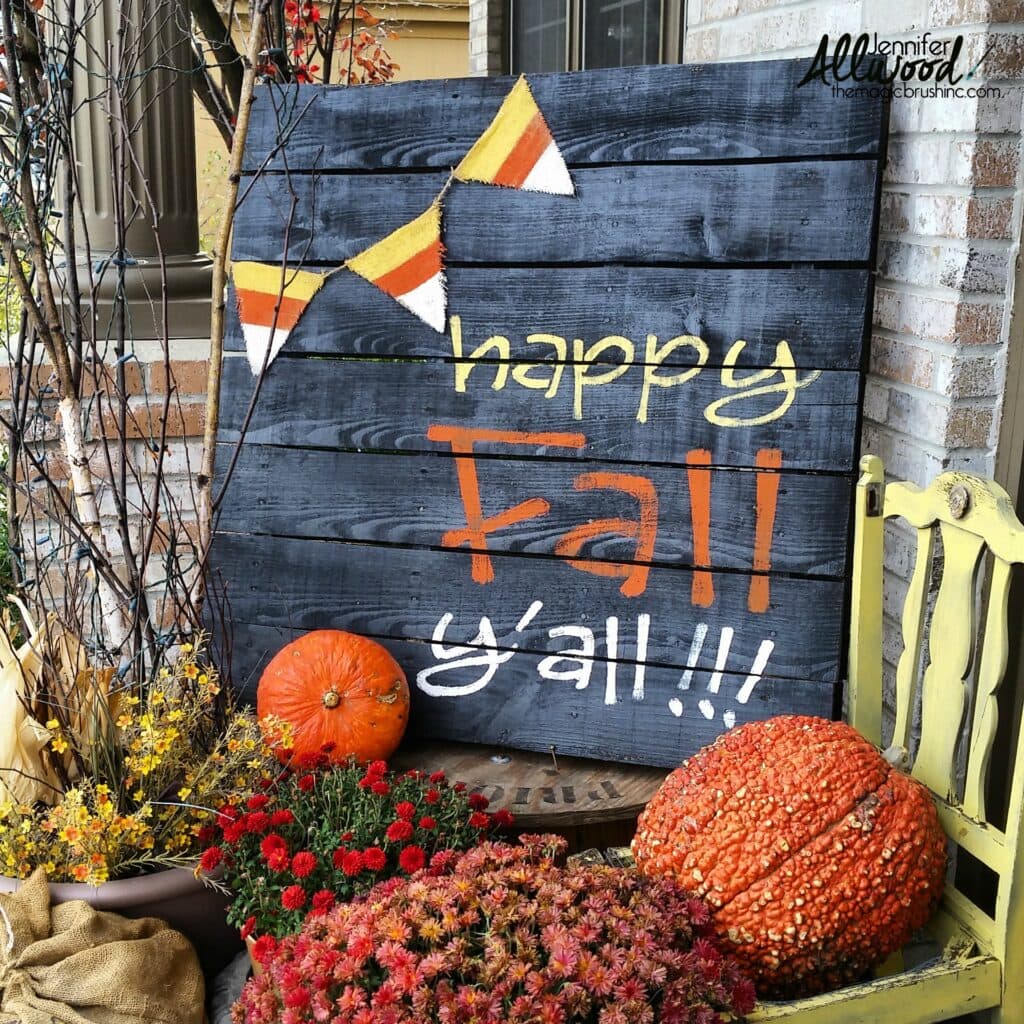 This idea is such a cute way to decorate for fall! Jennifer posted this idea here.
#8 DIY Hello Sunshine Sign
This gorgeous DIY sign will cheer anyone's soul. Holly is a major thrifter and shows us how to make this sign here.
#9 DIY Love at Home Sign
Sarah's DIY pallet signs have a classy, elegant look to them. This one, paired with other enhancements makes for a warm, cozy feel. See the tutorial here.
#10 Ampersand Sign
Liz Marie used a pallet and a little purchased ampersand to make this cool wall art sign. See how she did it here.
#11 DIY Love Never Fails Sign
This neat ombre technique can be located here. It takes a bit of skill, but look at the end result! Gorgeous!
#12 DIY Today I'm Thankful For Sign
This is a great idea if you have kids or if you're trying to focus on teaching gratitude. With a little pallet wood and some chalk paint, Franklin Crafts shows you how to make this simple sign. See tutorial.
#13 DIY Welcome Home Pineapple Sign
Rachel had this sign designed using Silhouette Studio. She makes it look extremely easy, so check out how to make it here.
#14 DIY Pallet Anchor Sign
Krista, with a little tracing a painting, created this awesome eye-candy of a sign. Check out the vibrant, nautical colors here.
#15 DIY Pallet Plaques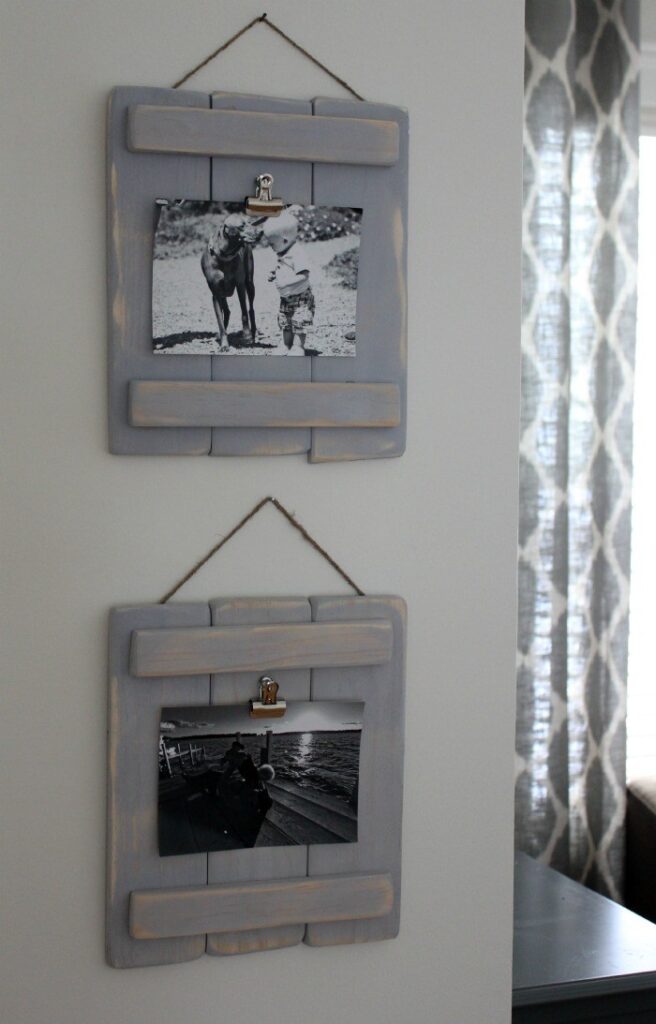 So, this "plaque" is really a glorified clipboard for pictures and other cool things you want to hang up. Katie shows you how to make it in easy-to-follow instructions.
#16 DIY Love Sign
Being in a last-minute panic, Donna dug up some twine and a piece of pallet wood to create this sign for Valentine's Day. It's so quick and easy. See the tutorial.
#17 DIY Where the Wild Things Are Sign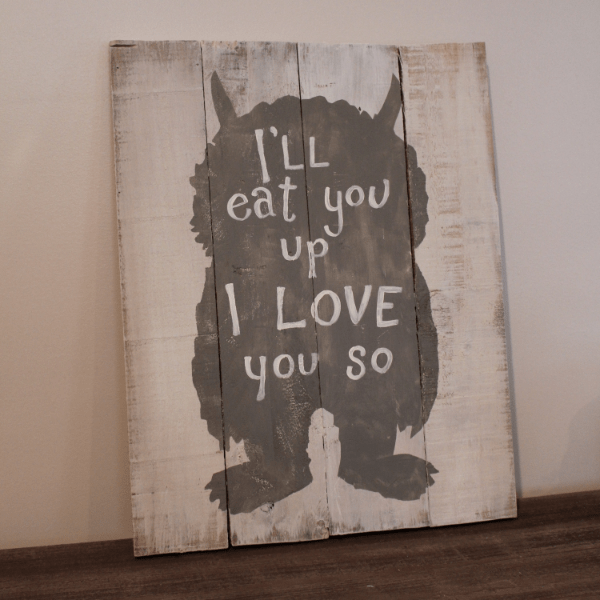 A friend of Michelle's is having triplets- instant family! She asked Michelle to help her make a pallet sign for her nursery. What a clever sign-named after a classic piece of children's literature. See the instructions here.
#18 DIY Heart Pallet Picture
According to Kristi, pallet art is a great, cheap idea. She found pallets in her neighborhood and created this heart piece for her master bedroom. Check out how she did it here.
#19 DIY Hello Sign
This took Ashlee a bit of work, but how cool to embroider a piece of pallet wood? This DIY Hello sign turned out to be cute! See how Ashlee did it here.
#20 DIY Pallet Art with a Frame
Lolly Jane's husband loves her so much that he made this great little sign with pallet wood and a bit of barn wood. It turned out to be one of her favorites. See how he did it here.
#21 DIY Vintage Telephone Sign
Out of respect for Throwback Thursday, Joan decided to show us her very first phone bill, which was just over $12. She decided in honor of that, she'd created this vintage sign for all to see. Gotta check out her instructions on how to make this.
#22 DIY Fab Five Sign
Ashley's motto is "love where you dwell", and she makes her home a place she loves by creating signs like this one. This "Fab 5" is one of her favorites. See how she made it here.