Outdoor kitchens are great for entertaining guests outdoors during the warm summer months. However, these types of kitchens are known to be quite expensive. These kitchens require weather-resistant materials, appliances, electrical installation, etc. Fortunately, there are easy and inexpensive ways to create an outdoor kitchen! We have compiled a list of 10 great DIY outdoor kitchen ideas that you can do yourself. These DIYs will save you money and will allow you to barbeque and entertain all summer long!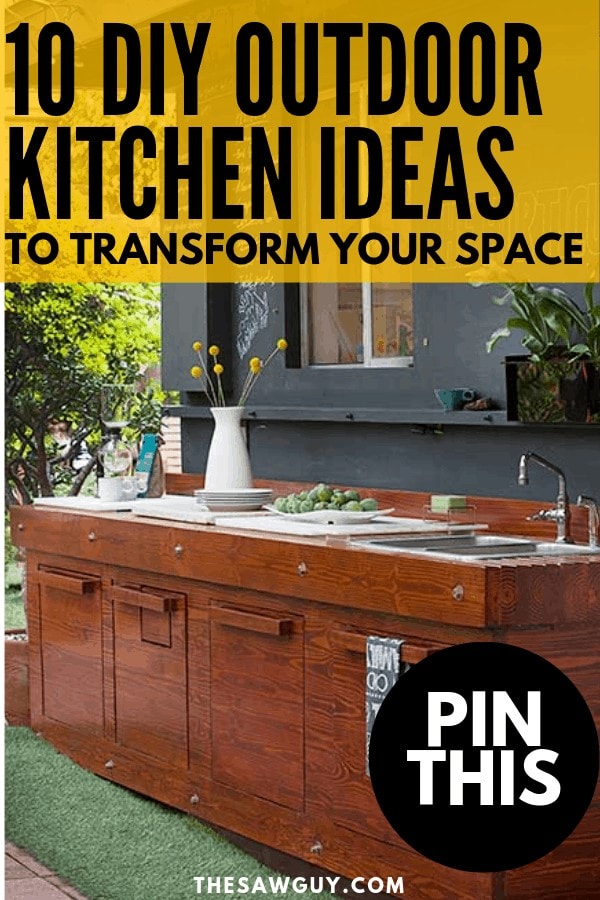 1. Outdoor Island with Grill
If you're not looking for a really fancy setup this outdoor grilling island is perfect for you! This island gives you enough space to prepare your food for grilling. It is just the right size for entertaining a small group of guests. It also has cabinets that will allow you to store the essentials for outdoor cooking.
2. Outdoor Countertops Made from Concrete
Are you looking for a simplistic project to create your outdoor kitchen? If so, these DIY outdoor countertops are perfect for you. This project has a duration of a couple of days, and all you need is a few bags of concrete! Concrete is a great choice because it is durable and weather resistant. You can add a sink, grill, and other appliances to the countertops to make the kind of outdoor kitchen that you want. Check out some more DIY concrete crafts here.
3. Outdoor Kitchen Made from Bricks and Upcycled Wood
Do you care about the environment and want to incorporate that into your outdoor kitchen? With this beautiful outdoor kitchen, you can do just that. You can create this kitchen with some upcycled wood and old bricks. This project gives off a rustic feel when completed. Are you looking for more rustic decor? Click here to check out 22 rustic DIY home decor ideas.
4. DIY Outdoor Kitchen for Your Deck
This outdoor kitchen project can be incorporated right into your deck. It has everything you need to entertain guests! If you don't have a deck you can create a patio area for this kitchen. You can see an example of that in the photo above.
5. Outdoor Kitchen with Countertops Made from Concrete
This outdoor kitchen has concrete countertops. Concrete countertops are great for the outdoors. This is because concrete is weather-resistant and durable. These countertops are pretty easy to build. You start with creating the framing which is made from steel studs. Once you are done with the framing the next step is to add substrate.
6. DIY Outdoor Kitchenette
Are you looking for a big area that will allow you to host neighborhood barbeques and big family events? If so, this DIY outdoor kitchenette is for you! This is a more lengthy project since it is on the bigger side. The great thing about this is it has a ton of storage space and room for food prep! There is even a section that has seating, this will allow you to enjoy the outdoors while you're eating. Do you want some barstools to go along with this kitchenette? Check out 25 Epic DIY barstool ideas to help you transform your space.
7. Outdoor Kitchen Made from Repurposed Cabinets
Are you looking for a cheap way to create an outdoor kitchen? If so, this might be the best option for you! This project is great for anyone with a budget. You can find old cabinets at places like garage sales. Once you are able to get the cabinets you need you can repurpose them to fit the style that you want for your outdoor kitchen. You can add accents with other materials like wood, brick, or stone to give your outdoor area a more modern feel.
8. Outdoor Pizza Oven
Do you love pizza? Let's be honest, everyone does. This project DIY is great because it allows you to make your perfect pizza while enjoying the outdoors. For the most part, this project is pretty simple and straightforward. You start off this project by making the base of the oven. When making the base of the oven you want to make sure that your location is prepped, ready, and level. The second step is to brick the fireplace.
9. Outdoor Kitchen Made with Tile
Just like concrete, tile is a great material to choose for your outdoor kitchen. Tile is adaptable and budget friendly. Tile is one of the materials that is more on the cheaper side, most likely you will be able to find it on sale or on clearance. Just like most of the other projects this DIY is pretty easy to do. All you need to do is frame your kitchen and add you tile. You can add whatever features and appliances you want to this.
10. An Easy to Make Moveable Outdoor Kitchen
Do you not have a lot of space but still want a functional outdoor kitchen? This moveable outdoor kitchen is just that! This kitchen is a great space saver. This is so easy to make that you will be able to make this within a day! Another great thing about it is it's portable so you can easily move it to wherever you please. To create this you first make a base and add the wheels. Then you create the area for where the sink is going to go. Once that is finished you can add the final accessories.
Are you ready to head over to your local home improvement supply store to pick up some supplies! It would be a great addition to my patio! What are some of your favorite DIY outdoor kitchen ideas? Do you want some more inspiration? Check out these 15 amazing DIY outdoor furniture ideas.