The chainsaw is not a tool that most people use on a daily basis, and it is also one of the most deadly power tools leading to more than 36,000 accidents annually.
If you have a tough project coming up, some tree trimming, concrete clearing, or log cutting, there are a few things you need to know about renting chainsaws. Below we cover the most popular chainsaw rentals and some safety information to help ease your mind about using the chainsaw.
Are you trying to find some general information on tools? Check out our complete resource guides on Miter Saws, Table Saws, Chainsaws, Band Saws and Circular Saws. These guides have all the information you need. You will be able to find history, the differnt types of the tool, top brand sold, and more!
Concrete Chain Saw Rental
The most common Concrete Chainsaw is the 14" diamond bladed chainsaw for cutting through heavy masonry and brick. The Water lubricating system helps cool off the blade and prevent it from overheating.
Things that We Liked
It is easy to determine what you need for a project with the concrete chain saw rental. The options are pretty limited, and you can get smaller sizes for smaller projects.
Larger heavier saws are available for bigger projects, but mostly the average weight is only about 30 pounds.
Things that We Didn't Like
What is it with renting and the gas always being empty? Am I the only one that fills it up before returning the tools? Make sure that your rental has fuel before you take it home.
It was too heavy to hold for extended periods of time.
Best For
The concrete chain saw is best used for clearing heavy concrete material from job sites. This saw is heavy, sharp and fast. There is no need to have this chainsaw for home use.
Pole Chainsaw Rental
The Makita 10 Inch Bar chain saw is commonly available for rental. It has a 10 " bar and makes tree trimming really easy. No need to mix gas and oil with this model because it uses a 4 stroke engine.
Things that We Liked
The pole is adjustable up to 6 feet. So you can cut anything up to 13 feet above your tallest safe reach.
This model is easy to use and pretty self-explanatory, which is always helpful when renting equipment we're not familiar with.
The adjustment was straightforward to make. Just make sure you have some gloves as the used tool can be greasy sometimes.
Things that We Didn't Like.
The chain can be dull sometimes—this is something else to check out when renting.
I know this only weighs 15 pounds, but after 2 hours of cutting trees, it takes a toll on your shoulders.
Best For
The pole saw is best for cutting and trimming trees and high bushes. This saw is for the person who has smaller trees or tall bushes that need trimming annually.
Large Chainsaw Rental
When we need a large Chainsaw for a job around the house, we really like the Makita 20" gas-powered rental. This chainsaw is great for forestry clearing and clearing trees around the property, The Makita is a great saw, and it is suprising to get this one for a large chainsaw rental.
Things We Liked
The vibration control system made this saw really smooth to use. It was not hard to handle at all.
The oil pump was automatic and easy to operate.
The Chain-Brake® is a lifesaver. It literally helps prevent kickbacks, which can be deadly.
The advanced electronic starter took all of the hassles of starting a chainsaw out of the project.
Things We Didn't Like
It only holds a tenth of a gallon of gas, I mean, really? That's a lot of refueling.
Maybe the one I got was defective a little, but the snapback Idle didn't work correctly, after turning it off, it always locked in place.
Best For
This chain saw is best for clearing brush and trees from an area. This type of Chainsaw is mostly used by U.S. forestry service and the fire department to clear out areas of trees. Lumber workers also use them to cut logs into smaller pieces to be sent to a lumberyard for further cutting.
What are chain Saws Used For
Chainsaws are useful for a variety of different things, from cutting trees down to clearing brush for fires. They are mostly used by forestry personnel and volunteers on rescue missions to clear debris and trees. Interestingly enough, the first chainsaw was actually designed to aid in childbirth.
Chain Saw Safety Video
Chain Saw Safety is essential. There are over 36 thousand injuries a year with chain saws. Check out this video on chainsaw safety by the U.S. Agriculture Safety and Health Centers.
Pro Tip: Consider How Long you Need the Tool For.
You may only need to use the tool for about 4 hours for the entire day. Either way, if you want to limit your expenses, pre-planning your Chainsaw cuts can save you some money on your project. Try to clear everything you can by hand first, and this way, you can just come in with the chainsaw and do your cuts quickly.
Tool Rental Companies
You can rent a number of tools at some local hardware stores or big chain stores. They do also offer extended protection plans, in case you accidentally damage the tool you are renting.
You can rent most heavy-duty tools from companies that specialize in those types of tool rentals. You can usually get the tool for anywhere from a day to a month. Most of these types of companies have a local office to visit, and some require a credit check beforehand. The price points are generally the same as most of these companies.
It does also depend on how long in advance that you reserve your tool, it can save you some money if you reserve the tool in a non-busy time for a future date. I like to try for about 12 weeks out, and I can usually get some reasonable rates.
Our Take on it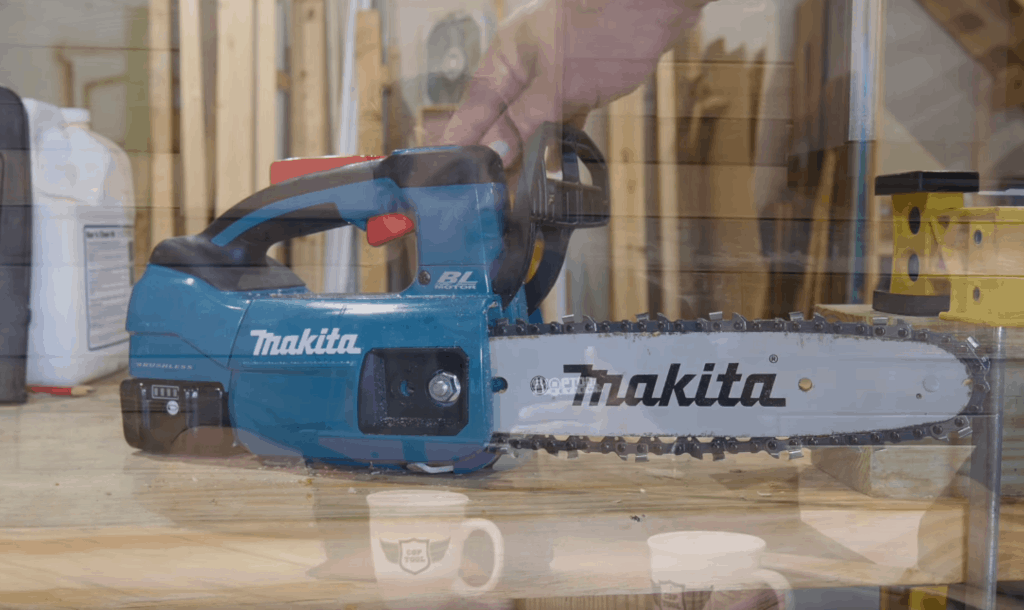 Renting a chainsaw to do a tough job in the backyard can be really helpful. You just want to make sure that you rent the correct one for the job. You will need to bring a Photo Id and put a deposit on almost all rentals.
The most common place to arrange a rental locally is going to be your local giant hardware store with a heavy machinery division. Although I did find it challenging to find a concrete chainsaw, mostly all other Chainsaws were widely available. You can check the latest prices for rentals here.
Are you looking for more guides on chainsaws? Check out some of our most popular guides, Best Chainsaw Chaps 2019 – Reviews and Buyer's Guide, Review: Black + Decker LCS1240 12" Lithium Ion Chainsaw, Lowes Chainsaws | Browse Gas, Cordless & Electric, and Stihl Chainsaw Prices: Tips and Reviews.