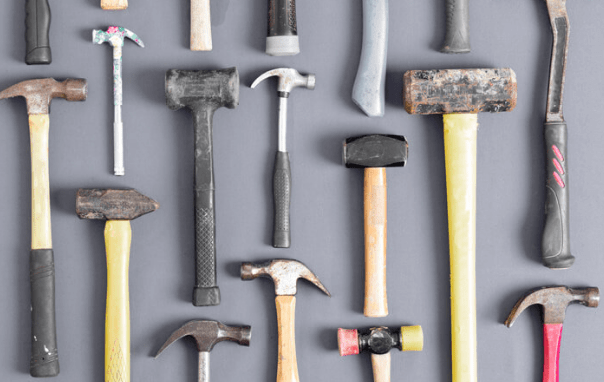 The hammer is one of the oldest tools in the world, it has evolved to fill a wide variety of roles beyond simple construction. There are many types of hammers out there varying in shape, size, and weight. The different styles reflect different uses. The average DIYer realistically needs only one or two types.
The parts of a hammer can be broken down into three main components, the head, the handle, and the back. The head is obviously the part you whack things with but it also includes the portion of the hammer that fits over the handle and serves as the fulcrum on a claw hammer when pulling nails. Next, is the handle, which can be held to provide more swing and precision. Finally, the back part may consist of a claw or hook.
We put together a list of different types of hammers and their uses that will help you get a better understanding of how to use them. Keep reading to find Different Types of Hammers and Their Uses!
Table of contents
Claw Hammer
The claw hammer is the most popular hammer. If you've ever done any type of handyman work, you've probably used it. Manufacturers most commonly make these hammers have a wooden, glass-fiber, and sometimes steel handle. It can come with or without the rubber grip, however, we highly recommend you buy a hammer with a rubber grip for more control and comfort. The claw on these hammers usually have a curved design and an added V-shape that is perfect for drawing nails out of timber.
Claw hammers are best for:
Prying
Woodworking
Finishing
Ball Peen Hammer
The ball peen hammer has a rounded design. Its primary goals are to help shape metals and close rivets. Because of these goals, a ball peen hammer performs well under professional applications, A great thing about this hammer is, its design allows it to have plenty of versatility. You can use it under different types of applications. In most cases the handle is wood. These hammers are available in different shapes and weights. It is a good tool to have when it comes to general use, both professionals and DIYers.
Ball peen hammers are best for:
Rounding edges
Metalworking
Punching and riveting
Club Hammer
A Club Hammer has a double-faced head, this feature gives this hammer enough versatility to perform a wide variety of different types of jobs successfully. For example, you could use it to drive steel chisels, masonry nails, etc. While this hammer is great for domestic work, it is also suitable for things like light demolition work. Don't underestimate this hammer, it can do some damage. It is capable of making debris fly all over the place, we highly recommended you use the proper equipment when using this hammer.
Club hammers are best for:
Demolition
Driving stakes
Chiseling
Dead Blow Hammer
A dead blow hammer can cause a lot of force, but it has a head that is specifically designed for soft blows and minimal recoil. This means they don't rebound after striking, which is important. These types of hammers usually have either a solid rubber head, plastic head, or a semi-hollow head filled with lead shot or sand. Dead blow hammers can be used for a lot of projects. They can be used in everything from woodworking all the way to automotive applications where they can aid in dislodging parts, knocking wood together, fixing small dents, etc.
Dead Blow hammers are best for:
Setting joints
Automotive
Dent removal
Framing Hammer
The framing hammer, also called a rip hammer, looks very similar to a claw hammer. It has a straight claw and a waffled head. The hammer is named after its primary function, which is assembling house frames. Its waffled head helps prevent slippage while driving nails, which is a great feature. However, I will add this hammer mars the surrounding wood, which if you're using it for framing isn't a big deal because it won;y be seen once a house is finished.
Framing hammers are best for:
Splitting
Framing
Small Demolition
Rubber Mallet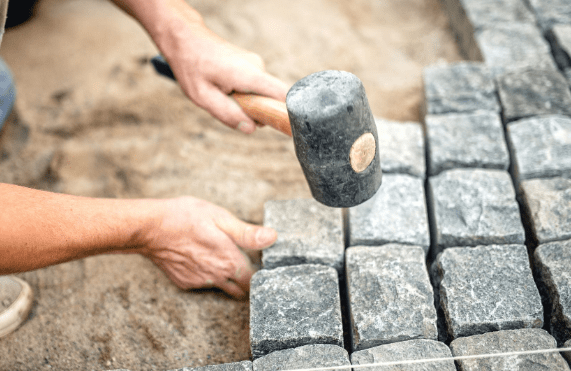 A rubber mallet is the most common type of mallet, it has a rubber head that allows for softer blows. It can be used in woodworking, sheet metal, and upholstery. It is also gentle enough to force plasterboard into place without damaging it!
Rubber Mallets are best for:
Fitting wooden parts
Shaping metal
Plasterboard
Sledgehammer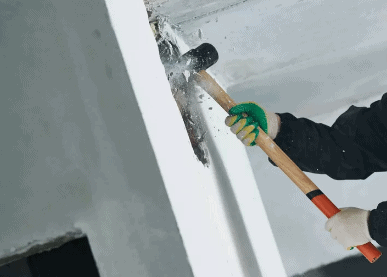 The sledgehammer is the ideal tool to use for jobs that require a lot of power and strength. They have long handles that need to be held with both hands and they can range anywhere from 3-16 lbs. It can easily break through concrete, stone, masonry, and you can use it to drive stakes. This makes it a popular demolition tool. However, that is not its only purpose. You can still use it for lighter work by just using the weight of the head.
Sledgehammers are best for:
Driving stakes

Breaking stone
Demolition
Tack Hammer
This hammer features two long, claw-like heads. Usually, one side has a magnet. Tack hammers are very small, lightweight hammers. People use tack hammers to drive small, delicate nails. You may also know these hammers as upholstery hammers. People use them to attach fabrics to furniture. As stated previously, it has one side that is magnetized which helps place small nails and tacks.
Tack hammers are best for:
Precision, lightweight hammering
Upholstery
Setting tacks
There are Different Types of Hammers and Their Uses! We hope this helped you get a better understanding of different types of hammers and their uses! Have you seen all of these hammer types before? Please feel free to leave a comment, we would love to hear from you!
Are you looking for more tool guides? If so check out some of our other articles Track Saw vs. Table Saw: Everything You Need to Know, What's Right for Your Project? Acrylic vs. Oil Paint, Liquid Wrench vs WD-40, On the Hunt for the Best Lawn Sweeper: Our Top Five, and Straight vs Curved Trimmer: Which Is Best for Your Yard?