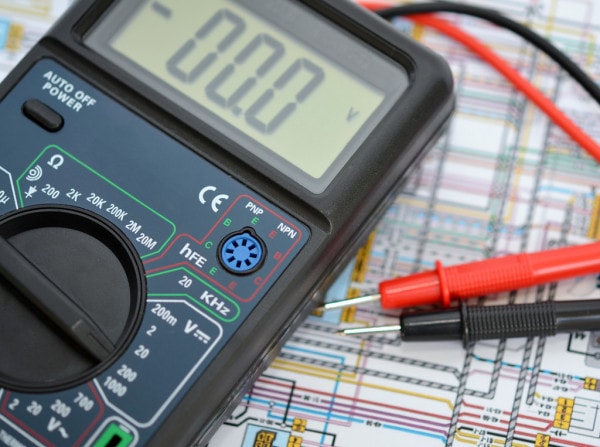 Whether you're a professional electrician or a DIY-pro, having the best multimeter on hand is vital. There are tons of multimeters out there, but we've narrowed the market down to our top five picks.
We'll run through them with you, then discuss features in our in-depth buyer's guide. By the time we're through, you'll know exactly what to look for when it comes to multimeters.
Our Top Five Picks
Like we mentioned, the multimeter market is vast. There are lots to choose from, and narrowing things down to the five best multimeters was a challenge. But we were up to the challenge.
1. Klein Tools MM400 
Topping our list is the Klein Tools MM400, which is perfect for DIYers and hobbyists. This multimeter is on the budget-friendly side of things, but that doesn't mean it's ineffective.
It features an easy-to-read digital display that's backlit, so you'll always be able to see it. Unlike many multimeters that only beep to indicate continuity, the MM400 also lights up, which is great if you're working in an environment that requires hearing protection. And, it has a tough rubber case, so you can drop it without damaging it.
For professionals, though, the Klein MM400 might not be enough. There are more accurate multimeters on the market, and it lacks an Auto-Hold function, which is ideal to have. Without it, the hold button simply freezes the display screen, which isn't all that helpful.
Pros
Budget-friendly
Backlit display and light notifications great for dark or loud work environments
Durable, rubber case protects from drops
Cons
Lacks in accuracy compared to other, higher-end models
No Auto-Hold Feature makes the Hold button less useful
User-interface isn't as smooth as other brands
2. Fluke 87v Digital Multimeter
For professionals or DIYers with a more serious lean, it's hard to beat Fluke multimeters. And the Fluke 87v is one of the best models, in our opinion.
Though they're definitely on the pricier end of the spectrum, you get what you pay for. The Fluke 87v features a smooth user interface, backlit screen, and an Auto-Hold function that's actually useful.
Unlike other brands that freeze on whatever the reading is when you press hold, Fluke's auto-hold freezes on the first stable reading, which makes the hold feature surprisingly useful compared to other brands.
The Fluke 87v also has a built-in thermometer and a lifetime warranty. That said, and especially given the price point, you'd think they'd send a manual to carry with your new multimeter—no such luck. As part of Fluke's green initiatives, you'll have to print the manual yourself.
Pros
Smooth user interface makes using this multimeter a breeze
Auto-Hold Function allows for quick and accurate readings
Built-in Thermometer so you don't need to carry a separate tool
Lifetime warranty, so you know it will last
Cons
On the more expensive side of things
Fluke no longer prints or ships manuals; you'll have to print user instructions yourself.
3. Fluke 101 
If you're sold on a Fluke multimeter but don't consider yourself to be a professional, the Fluke 101 might be a better way to go. This multimeter is more budget-friendly than the Fluke 87v listed above. But it's still a phenomenal product.
It's lightweight, small, and durable, which means it's easy to carry with you, regardless of the project. In fact, you could put it directly in your pocket, at half the size of the Fluke 87v above.
Unfortunately, this model doesn't feature the Auto-Hold function that Fluke is famous for. The leads it comes with are also lacking. They're replaceable, sure, but we wish they came with better quality leads to start.
That said, the Fluke 101 is very accurate and bears a CAT-III safety rating. That means you can use it on load-single phase or three-phase installations. In other words, you could use this on residential work or for midsize electronics. Most professionals, though, require a multimeter with a higher safety rating.
Pros
Smooth user interface that Fluke's known for
Durable and lightweight makes it easy to carry into any job or project
Budget-friendly
Cons
Poor quality leads included; you may need to replace them
No Auto-Hold Function, as seen on other Fluke models
4. Greenlee DMM
If you're an electronics hobbyist or working on computer repairs, the Greenlee Digital Multimeter is a great option.
Greenlee is a well-known and trusted brand. Their multimeter is straightforward and to the point. There aren't a lot of bells and whistles here.
It's small, affordable, lightweight, and has an easy to read display. That said, it doesn't have some of the nicer features like a backlit screen or the option to switch out leads. They're attached and permanent, which is only a problem if they break. Luckily, Greenlee provides a lifetime limited warranty.
Like the Klein MM40, Greenlee provides an audible continuity tone. That way, you don't have to see the screen when testing continuity, which is ideal. We do wish it started up faster; it takes about 7 seconds to turn on, which sounds short but feels like forever at times!
Plus, we like its auto-off feature but wish it gave you a little more idle time before it activated. As it stands, this multimeter turns itself off after 3 minutes of inactivity.
Pros
Small and lightweight design is easy to carry from project to project
Easy to use and read display makes using this multimeter straightforward
Affordable for DIYers and Electronic hobbyists
Comes with a lifetime warranty
Cons
Permanent leads can't be replaced if broken or damaged; you have to replace the entire multimeter
No backlighting on-screen display makes this one hard to use in dark spaces
Auto-Off feature is too short at only 3 minutes
5. Proster Autoranging Digital Multimeter
The Proster Autoranging digital multimeter is a top pick for both hobbyists and professionals. It packs in a lot of bells and whistles while staying affordable.
With it, you can measure all the standard things like current, resistance, and voltage. And on top of that, you can also measure temperature and duty cycle. For those who prefer it, the Proster Multimeter also shows an analog bar reading in addition to the digital display.
The probes it comes with are on the budget side of things, but most professionals carry their own probes anyway. And, for home use, the included ones should work fine.
Unfortunately, the overall quality of the Proster isn't ideal. Its stand is pretty much useless. It holds it almost horizontal to whatever ledge or table you've placed the multimeter on.
Another downside is that it's a little slow when taking readings. Waiting a second to test continuity doesn't seem like a lot, but it's an eternity compared to other models on this list.
Pros
Affordable but not lacking in features
Measures temperature and duty cycle on top of standard measurements
Includes an analog bar display for those who prefer to take readings that way
Cons
Poor construction and design makes built-in stand useless
You may need to replace or provide your own probes; the provided ones will not hold up to heavy use
Slow to take readings, which may be a dealbreaker for professionals
Multimeter Buyer's Guide
Also known as a volt-ohm-milliammeter, multimeters allow us to measure electrical units. Specifically, they're used to measure voltage, current, and resistance. They're vital for work on cars, home wiring, and electronic equipment.
If you're in the market for a multimeter, you probably already know all of that. But that doesn't make shopping for one easier. Multimeters come in various price points with varying capabilities, and it can be hard to identify what you need and what you don't.
Below, we've broken down the features you should be aware of. So when you go to buy a multimeter, you can be sure you're getting the right one for the job.
Things to Consider When Buying a Multimeter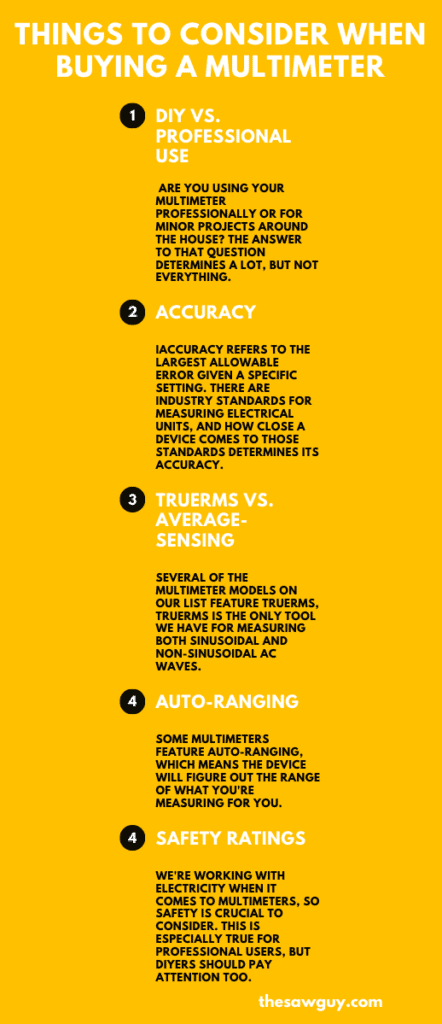 What you're using your multimeter for determines what features you'll need, in part. But there are other things to consider when buying this multi-use tool.
Paying attention to resolution, accuracy, and safety ratings are crucial. On top of that, you need to consider whether or not you'll require features like TrueRMS or auto-ranging capabilities. If all of that sounded like gibberish, don't worry. We'll break it down piece by piece.
DIY vs. Professional Use
First things first, are you using your multimeter professionally or for minor projects around the house? The answer to that question determines a lot, but not everything.
Whether you're a professional or a hobbyist, you'll want a multimeter that can test both alternating and direct currents (AC and DC). It also needs to measure voltage and resistance.
Voltage is the difference in current between any two points. And resistance is a measure of how much whatever's carrying the electric current (wires, for example) resists the electrical flow. Both measurements are standard protocol when it comes to multimeters.
If you're a professional, you probably want a multimeter that also can measure capacitance, temperature, and frequency. On top of that, professionals may have more need for features like backlit screens and durable casings. Features like those tend to make multimeters more expensive but also easier to use on job sites.
Accuracy
In the world of multimeters, accuracy refers to the largest allowable error given a specific setting. Essentially, there are industry standards for measuring electrical units, and how close a device comes to those standards determines its accuracy.
The higher the device's accuracy, the more expensive it tends to be. Professionals may need a highly accurate multimeter that gets within +/-.025%. But DIYers and hobbyists can get away with a less accurate device.
TrueRMS vs. Average-Sensing
Several of the multimeter models on our list feature TrueRMS, but that leaves a lot of us scratching our heads. What does TrueRMS even mean?
Without getting too far into the weeds, TrueRMS is the only tool we have for measuring both sinusoidal and non-sinusoidal AC waves.
Some multimeters have average-sensing capabilities, instead. These can only measure sinusoidal AC waves.
So, it comes down to whether or not you need to measure a non-sinusoidal wave. In practice, if you plan to work with computers, HVAC systems, or variable speed motor-drives, you'll probably want a multimeter that has TrueRMS and isn't merely average-sensing.
If you're a home hobbyist who just wants to see how much juice is left in a 9v battery, you don't need to spring for a multimeter with TrueRMS.
Auto-Ranging
Some multimeters feature auto-ranging, which means the device will figure out the range of what you're measuring for you.
On older or less expensive multimeters, you have to determine the measurement range yourself. The multimeter will then return a reading within the range you've specified, assuming you picked an appropriate range.
Auto-ranging is super handy, and it saves time, making it ideal for professionals or those who use a multimeter frequently. If you only use the device occasionally, though, it's a feature you can probably live without.
Safety Ratings
We're working with electricity when it comes to multimeters, so safety is crucial to consider. This is especially true for professional users, but DIYers should pay attention too.
Multimeters are given ratings based on where they're safe to use. We call these CAT (category) safety ratings.
CAT-I rated tools can be used with small electronic devices or larger, low-volt electronic devices.
CAT-II rated tools are safe with single-phase AC loads. These include portable power tools and household appliances.
CAT-III rated tools are safe for use on three-phase distribution systems. Farm equipment, industrial machinery, and lighting systems often require CAT-III ratings.
Finally, CAT-IV rated tools are for the big stuff like electrical meters or other high-energy connection points. Typically, only professionals require CAT-IV rated tools.
For a full review of CAT safety ratings and how they apply to multimeters, check out this Youtube video.
Top Multimeter Brands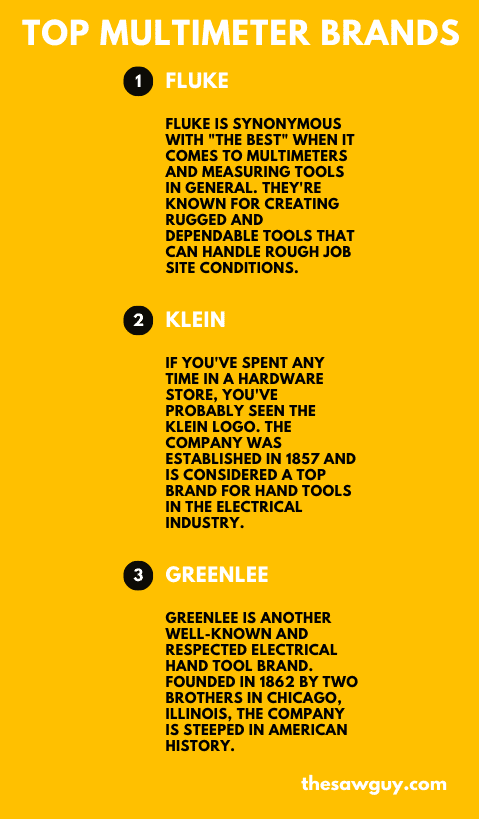 Now that you know what to look for when buying the best digital multimeter for your next project or job, let's zoom in on a few of the top multimeter brands. Each of these took at least one spot on the list of our top picks, and for good reasons!
Fluke
Fluke is synonymous with "the best" when it comes to multimeters and measuring tools in general. They're known for creating rugged and dependable tools that can handle rough job site conditions.
Fluke multimeters tend to cost a little more, but you get what you pay for. The company's been around since 1948 and consistently delivers measurement tools worthy of their lifetime warranties.
Klein
If you've spent any time in a hardware store, you've probably seen the Klein logo. The company was established in 1857 and is considered a top brand for hand tools in the electrical industry.
Professional lineman and other electrical industry workers tend to covet Klein tools. They're known for lasting a long time and getting the job done, and you can usually find them at a reasonable price point.
Greenlee
Greenlee is another well-known and respected electrical hand tool brand. Founded in 1862 by two brothers in Chicago, Illinois, the company is steeped in American history.
Their multimeters are reliable, just like their other tools. They give you all the measurements you need without the extra frills.
Frequently Asked Questions
We've talked about brands, what to look for in a multimeter, and we've given you our top five multimeter picks. But you may still have a few questions. Let's see if we can answer them.
What Is an Analog Multimeter Used for?
One thing we haven't discussed is the difference between digital and analog multimeters. That's because most multimeters on the market today are digital, since they are easier to read and use.
Still, you may come across an analog multimeter now and then. The only difference between them is the display. An analog multimeter won't give you a nice, clean read-out. Instead, it shows a bar and needle. You'll have to read what the needle points to get a measurement.
Are Multimeter Test Leads Interchangeable?
Most multimeters allow you to remove and change out test leads or probes. And, most leads are interchangeable, meaning you don't have to buy an exact replica of the leads your multimeter came with. You can switch leads out as needed.
That said, you'll need to check your specific multimeter's manual to be sure. You want to be positive that the leads you use have the appropriate CAT safety rating. And, some models don't allow you to switch leads out at all, like the Greenlee model featured on our list.
Can Multimeters Measure Inductance?
Multimeters measure many things, but inductance is not one of them. For that, you'll need to find an LCR meter.
Our Conclusions
Maybe you're the type who likes to take apart home electronics to see how they run, or maybe you're a DIYer who wants to take a home-wiring project on. Or, perhaps you're an electrical professional who needs durable but lightweight tools.
No matter the case, you're going to need a multimeter. The question is, which one?
If you're a DIYer or hobbyist, you might love the Klein MM400. It has all the features you could want at a reasonable price point, and Klein is a well-respected brand. Of course, if you're in love with Fluke products, the Fluke 101 is a great option for residential use as well.
For professionals, we're drooling over the Fluke 87v. It's pricey, but the smooth interface and extra features are worth the extra bucks, especially if you're a professional who hopes to use their multimeter regularly while on the job.
All the multimeters on this list provide reliable measurements. Deciding between them comes down to their special features. We know making a choice is hard, but we hope we've helped narrow things down. Now it's up to you to decide what you need so you can pick the best multimeter for the job at hand. You can start by checking out the Klein MM400!
Check out our other tool reviews for more reviews and buyers guides!