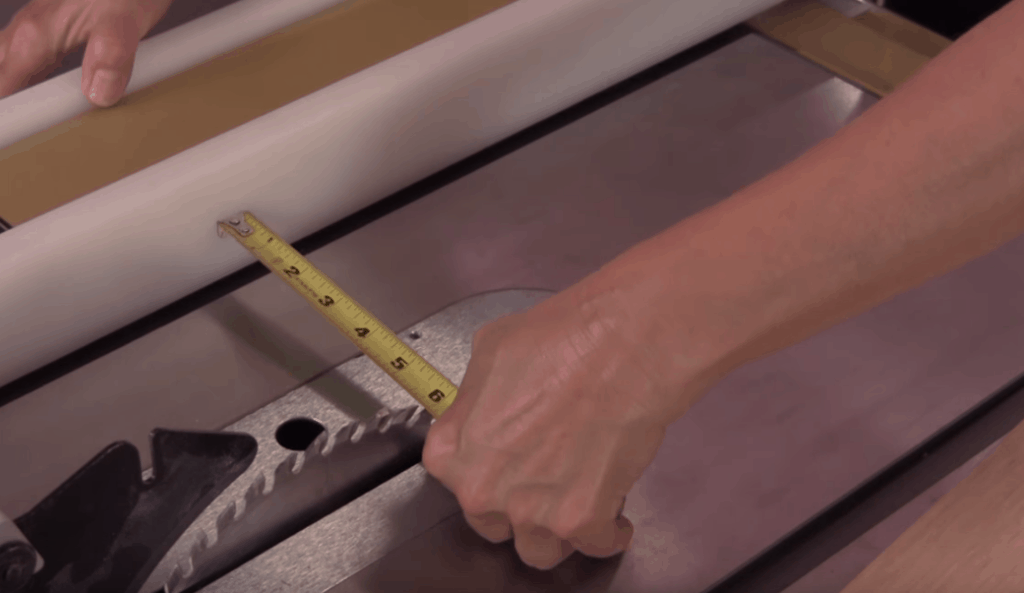 Since its invention in the early quarter of the twenty-first century, the table saw design has remained stable. It's had only small engineering improvements made here and there. On its own, a table saw assembly is a useful tool but is made more useful with the inclusion of table saw jigs. Read up on some of the best table saw jigs you can purchase and plan below.
Are you looking for some general information on table saws or other tools? Check out our complete resource guides on Miter Saws, Table Saws, Chainsaws, Band Saws and Circular Saws. These guides have all the information you need. You will be able to find history, the differnt types of the tool, top brand sold, and more!
Best Table Saw Jigs
Rockler Thin Rip Tablesaw Jig
Rockler is a well-known name in power tools and hand tools for the consumer. They showcase a large variety of table saw accessories for any fine woodworking project, including this thin rip table saw jig.
What We Like About It
Fits a wide variety of table saws: The versatility of this table saw jig means that it will work in the setups of many different people as a customization option.
Useful for small cuts: This is the perfect tool to pare out thin strips of wood for more intricate woodworking projects.
Improves safety of the table saw: Like a saw table fence or sled, a jig not only helps with precise cuts but also makes using the saw less dangerous.
What We Don't Like About It
No measurements: This jig only has lines to aid with measuring, rather than real measurements. This can be inconvenient when trying to measure out precise cuts in a fine woodworking project.
---
MicroJig Tapering Jig
Tapering jigs are a useful tool to have in the woodshop. A taper is important for carpentry projects such as table legs and other gradual precision pieces. This tapering jig allows you to make any number of tapering adjustments between zero and ten degrees. It also features a locking system for dependable repeat cuts.
What We Like About It:
MemoryLock System: This system remembers the settings for a cut so that the woodworker can make the exact same taper again and again for a more polished, professional result.
Easy setup: Instructions to install this jig are very clear, with good photo references for added clarity. This makes setting the jig up a breeze.
Very versatile: This jig was painstakingly designed. It shows in the variety of functions it's capable of and the number of different projects it can aid with.
What We Don't Like About It
Costly: This tapering jig is expensive (over a hundred dollars new). Many woodworkers, especially novices, will not be able to justify its cost as a result.
Feels incomplete without Grr Ripper blocks: Without the added expense of gripper blocks to complete the tapering setup, this jig just doesn't feel as effective or safe as it could be. Ideally, these accessories should come as a set.
Not suitable for long stock: Woodworkers will have difficulty with pieces over eight-foot in length. 
---
Powertec Double-Cut Profile Universal T-Track 
Powertec is a modern company that specializes in woodworking accessories. Its T-Track is indicative of its streamlined engineering practices. T-tracks have many different functions in the woodworking shop. They offer a place on the table saw fence to add feather boards or other accessories according to the project at hand.
What We Like:
Pre-drilled mounting holes: This setup comes with pre-drilled mounting holes, which makes installing it on your table saw assembly a snap in comparison to some jigs.
Good pricing: These T-tracks are priced out at significantly lower than some of their competitors, which makes them a good accessory investment even for novice woodworkers and carpenters.
Quality materials: The bright anodized metal on these double T-tracks is both aesthetically pleasing and durable, which means you're getting your money's worth on the jig's construction.
What We Don't Like
Doesn't come with T-bolts: The T-bolts needed for these can be a little hard to find, and they don't come included. The bolts that are included are a poor fit.
Finding miter bars to fit them can be hard: These are non-standard T-tracks, and as a result finding a miter bar that can fit them can be a bit of a challenge.
Not really universal: This T-track bills itself as a universal unit, but it doesn't work well with hex bolts, really needs T-bolts, which should be included–no woodworker should have to track down additional screws to install a product like this. Including a few different properly sized screw sets for the installer to use would have been useful.
---

DIY Table Saw Jigs
While there are many premade table saw jigs available for sale, carpenters are a resourceful bunch. They have managed to conjure up many different plans for homemade table saw jigs for a variety of different projects and jobs.
Some of these are freely available on the Internet, while others can be purchased for just a few dollars. Check out the plans below to find a table saw jig that would be useful for you.
| | |
| --- | --- |
| The Family Handyman | |
| Make: Community | |
| Fine Woodworking | |
| WOOD Magazine | |
| Popular Woodworking | |
Homemade Table Saw Jigs
Because many of these jigs are fairly simple to construct, they make a good beginner's woodworking project. Especially for those who are just getting into the hobby. They provide a concrete project to work on while also adding a useful accessory to the woodworker's arsenal of tools.
With just a few simple tools, you can choose any number of woodworking jigs to construct for your workshop. You also intrinsically learn more about the process of fine woodworking just by constructing them.

The Versatility of Table Saw Jigs
Whether you purchase table saw jig accessories that are pre-designed or decide to build them yourself, fashioning or collecting a wide variety of table saw jigs is one of the easiest ways you can increase the functionality of your workshop.
It can be helpful to collect table jigs based on the type of work you do, so you'll decide which ones you need naturally in the course of choosing woodworking projects. No matter what kind of woodworking you do, there's a jig out there for you!
Are you looking for more guides on table saws? Check out some of our most popular guides, Dewalt vs. Delta Table Saw Edition, Ryobi Table Saws – 10in Portable Saws and Parts, DEWALT Table Saws – 10″ Saws, Parts and Accessories, and The Best Portable Table Saws.