It's a good thing to first know exactly what you're looking at when you see a scroll saw, so let's go over what makes a scroll saw the best scroll saw is and all of its components.
Before we get there, you may be curious if you even need a scroll saw are you aren't quite certain what kinds of things you might use it for. For that, check out this great video showing some common uses for a scroll saw before we talk specifics: ​
Now, let's start with a couple of basic things you should be considering with your purchase. Then, we'll dig into some other buying tips before recommending some top models.
First, you need to know how the scroll saw turns on. Where is the on/off switch located? Preferably, you want the power switch to be on top and easily accessible in case a scroll saw blade was to break and cause harm to you or to whatever piece you're working on.​
Variable Speed control is next – Every person uses a scroll saw at a different speed. Some like to take their time, others put the scroll saw to max speed most of the time. It depends really on your personal preference. It also really depends on what kind of material you're cutting- metal (hard or soft), wood, etc…. You need to know where the variable speed control is, and it's a good idea to have it right next to your power switch if possible. However, you do want the power switch and the speed control to be separate switches rather than a combo that does both.
Quick Look: Our Top Scroll Saws
Last update on 2020-09-29 / Affiliate links / Images from Amazon Product Advertising API
What should you look for in a scroll saw?​
​THROAT SIZE: The first term you need to know is "throat size". You may look at the box and see: "16 inch scroll saw" or "30-inch scroll saw". This measurement or "throat size" measures the distance from the back of the blade to the very back "throat" of the saw. The reason you need to know this is because whatever throat size you have, you can cut a piece of wood double that length. A 30-inch scroll saw can cut a 60-inch piece of wood. A 16″ scroll saw is pretty basic and for beginners. If you're just starting out with woodworking, this size would suit you well in order to get your feet wet.​ If you're more experienced, you could go with a 20″ or 21″. If you purchase a 30″ scroll saw, you're just showing off. Those can be a bit overkill, but you do whatever you feel suits your needs.
SCROLL SAW BLADE TYPES: What type of blade does the scroll saw accept?

Pinned – these are much thicker blades used for much thicker cuts of wood, not allowing for cuts of fine details.
Unpinned (or pinless)- allows for much more options when it comes to cutting wood. There is a much bigger variety of pinless blades, which allow you to do tighter, more detailed cuts.

TOOLED OR TOOL-LESS BLADE CHANGES: When shopping for the best scroll saw, you need to look specifically at how the blade mounts.

If you're doing a piece that requires many, many cuts, if you have a tooled blade, you are going to have to change blades for every cut that you make. Some tooled blades require many tools in order to change the blade out. You need to know this up front because you may get extremely irritated or tired of having to use tools to swap out your blade every time you need to do a new cut.
Many experts prefer a tool-less blade, but do warn that the little mechanism used to change blades can strip out on you and have to be replaced. These pieces are not indestructible, so remember this when considering which is the best scroll saw for you to purchase.(see image below)

SCROLL SAW BLADE TENSIONING: Some scrolls saws have levers, some have a cam, some have knobs at the back, all of which tighten and loosen the blade of the scroll saw. It's important that the location of whatever is used for tensioning the blade is convenient for you. For example, many 16″ scroll saws have the tensioning lever or knob strictly at the back of the saw rather than at the head. This can be very difficult to get to when you're trying to do a cut. You'll be tensioning your blade often-pretty much for every cut you make. Think about it.

Things to consider:

Material (plastic or metal)
How easy it is to tighten the blade
What method is used – lever, cam, knob
Location of tensioning mechanism

​SCROLL SAW WORK TABLE:

Size- do you have enough room on the table to work on a piece comfortably? You need to be able to freely spin the piece and have it fully supported while you're cutting.
Material -you need to be sure that the material and texture of your table is extremely smooth so as not to create resistance when you're trying to work and move a piece.
Durability – the table needs to be strong enough to hold whatever you're cutting. Steer away from a wooden table- look for aluminum or cast iron if you can.

DUST COLLECTION: Honestly, there really isn't a scroll saw on the market that does an impeccable job at collecting dust. Some have blow tubes, some have compressors, but what you really need to be sure of is if the blow tube is flexible and can be moved so that it doesn't blow dust directly onto your lap while cutting. Other than that, you're going to see some dust. (blow tube image below)
THE HOLD DOWN FOOT: Is it sturdy and capable of holding down the piece that you're working on? It's good if the hold down foot is adjustable too. It's important that if you're a beginner, you will want to use this foot. As you become a pro, many experts feel you will no longer need to use the foot because it can actually break the more delicate, intricate pieces you are working on rather than help you. Just something to keep in mind.
SCROLL SAW BLADE ROCKER ARM TYPE: This is the thing that provides the strokes of the blade or gives it the up and down motion.

Some scroll saws have one, solid arm that goes from the front to the back and handles all the movement for the blade. That arm pivots (along with the lower arm). Some feel that this is a bit too turbulent of a motion when making delicate cuts. The scroll saws with a single arm can be quite a bit more budget friendly.
Other experts prefer smaller arms which work more like a cam and provide less vibration on the work table. It's really your personal preference. Excalibur and DeWalt, Delta

RAISING TOP ARM: You really need to consider what type of work you're planning to do so that you can purchase the best scroll saw for your needs. A top lifting arm will greatly benefit you if you are planning to do a lot of fret work (working from the top of the table down).
TABLE TILT (blade tilt): Scroll saws can have a right tilt, left tilt or right and left tilt. You need to know if it has a definite, accurate angle (see image below). The best way to know if the scroll saw you are looking to buy has accurate measurements on its table tilt, is for you to bring a construction square with you to the store and test it out. There's nothing wrong with that. It's your money that you're spending. You want to be sure you're getting what you paid for. You need to consider the ease of adjustment and how solid it is once adjusted. Some tables stay flat and the blade/arm does the tilting.
SCROLL SAW BLADE STORAGE: Chances are good, that as you get into using your scroll saw, you will have many different shapes and styles of blades. You need to consider where you're going to put those blades. Looking for a scroll saw that stores them may be an added bonus when shopping for the best scroll saw.
WORK LIGHTS: This is simply an added bonus- not a "must have", but something to consider when shopping for the best scroll saw. Good lighting is essential, but if you have a good work room where lighting is up, you should be ok even if your scroll saw doesn't come with this added bonus.
TOOL STAND: Many scroll saws come with their own stand. Commercially available stands typically have adjustable legs. You do want to be sure you're able to work at a height that is most comfortable for you, not too high or not too low. Some people prefer to use 2x4s and make their own stand.
LUBRICATION: This may or may not be an issue, but we definitely want you to be well-informed. Some scroll saws have greaseless bushings and bearings, others require lubrication or recommend it after so many hours of cutting.
Best Scroll Saw Overall
Last update on 2020-09-29 / Affiliate links / Images from Amazon Product Advertising API
"All and all it is a joy to work with and I can't imagine ever going back to the $99.00 saw I had been using. Well worth the price if you are going to use it regularly or if the price is of no concern and you can afford it for occasional use go for it." – Bill – Homedepot.com Review
Tool-less Blade Clamp – it's hard to imagine changing blades any quicker than this.
Double Parallel Arm – Much less vibration and noise compared to 'budget' scroll saws
First Rate Table – The table is oversized, cast iron, and can also bevel 45 degrees either way.
Buttery Smooth – One thing that you see being said from verified buyers everywhere you look is how smooth this thing cuts. Tight curves are no problem with this baby.
What About Serious Woodworkers?
If you're a pretty serious woodworker, you probably have a different standard for a scroll saw than someone who just uses it casually, without a ton of frequency.
So you're probably wanting to know if this thing really cuts it by those with a high standard.
I found it interesting to read the comments from one reviewer on HomeDepot.com who said "I had won a perfect score, two first places, and two second place ribbons in a local woodworking contest over the last 5 years, without my Dewalt scroll saw. Scrolling over 15 years and after 4 other scroll saws, I see now that I should have purchased this scroll saw 5 years ago. There is much less vibration and of course, it has a deeper throat. Maybe, I could have placed all perfect scores." ​
I think that pretty much sums it up. If you can afford it, it's THAT good.
Best Budget Scroll Saw
The WEN 3920 16-inch Variable Speed Scroll Saw With Flexible LED Light packs quite a punch for the price. Many claim it can tackle the most intricate cuts with the same amount of precision as saws several times more expensive.
It comes with an impressive feature set as well for a scroll saw that is so affordable, including a flex light, dust port, and an extra blade among a couple others.
Last update on 2020-09-29 / Affiliate links / Images from Amazon Product Advertising API
What We Like
Feature Rich – when compared to other scroll saws in its class, the light, blower, and included extra blades are pretty impressive
Quick Assembly – It's a fairly light saw and arrives almost ready to go, with just a few steps to set up
Speed Variation Range – From 400 to 1600 strokes per minute to fit your needs
Throat Depth – 16 inches of depth means you can still do some thicker pieces with this saw as well.
2 Year Warranty – That's a solid warranty on such an affordable tool, which should give you some confidence to try it out.
What We Don't
Blade Quality – The stock blades included aren't the best, so you'll probably want to buy better quality replacement blades
Who Is It For?
Look, kind of like in golf where the PGA guys use fine-tuned clubs and equipment because they are super skilled and they literally use them everyday, people who are pros or serious hobbyists should (and usually do) invest in the best quality tools with top of the line features.
The Wen 3920 Scroll Saw is not that.
To carry the golf analogy, the Wen is for the guy who plays a couple Saturday's per month and joins his buddies for the occasional scramble event.
It is best used for a hobbyist on a budget – not someone who makes their living as a woodworker.
If that describes you, this saw will do just about everything you need plus has a few extra features that you don't really expect in this price range, which is why we have it on our list. For some perspective, one verified buyer from HomeDepot.com shared some of the tasks he completed using the Wen Scroll Saw: "Saw came with very little assembly required and I was working on my first project in minutes. I've used this on several projects, already; from cutting letters for toy boxes to decorative molding for cabinet doors."
Another confidence booster is the fact that it has a 2 year warranty, so if things go horribly wrong for some reason – you're not up a creek without a paddle.
Click here to get it with free shipping or check out our full scroll saw comparison chart below:
A Word About Delta and Shop Fox Scroll Saws
Also in our scroll saw comparison chart is the Shop Fox​ W1713 and the Delta Power Tools 40-694 scroll saws.
Both are very capable and can get the job done.
When you purchase the Delta with the light and stand, you're going to pay in the same range as our top pick, the DeWalt which we think has a slight advantage.
For the Shop Fox, it's a little closer to the budget saw range and really is a capable saw – but for us it was a little in between. By that I mean, if you're a serious woodworker I'd suggest ponying up the extra money and buying the Dewalt. If you're very casual and on a budget, I think you'll be just fine with the Wen and still save some money.
Those are just our opinions, but particularly if you are budget-conscious then you might want to take a hard look at the Shop Fox when comparing to the Wen and see which would be better for you. ​
Wrap Up – How to Use a Scroll Saw
Hopefully you've found this guide helpful in researching your scroll saw purchase. For those of you who are buying for the first time and a little more inexperienced, here's a quick breakdown on what you can expect as far as operating your scroll saw once it arrives. Check out the video below and then the step by step summary we've added: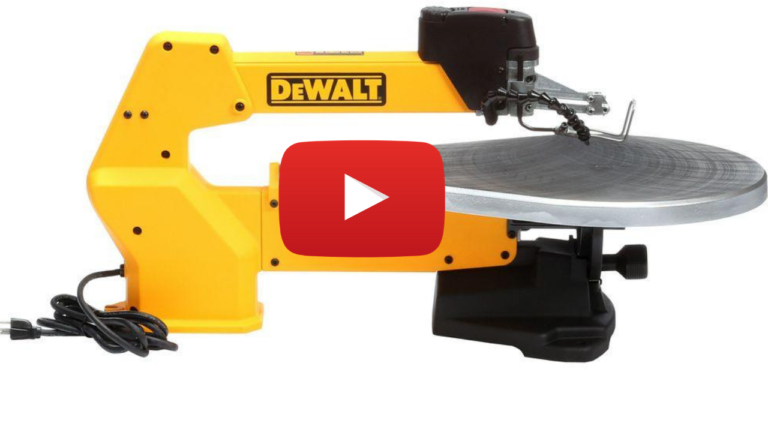 1. Turn on the saw, and cut roughly around the pattern you have created/drawn.
2. Adjust the speed according to what kind of wood you're cutting- hard wood cuts should use a slower speed.
Step 2
3. Aim the blade and use your hands to guide the wood into the blade accurately.
Step 3
4. Use both hands (one thumb and both forefingers) to move the wood through the blade. Be careful not to lift an entire hand, as the wood may jump and make your cut inaccurate.
Step 4
5. Make sure the feed rate feels right to you. Listen to the wood to determine if you need to slow down or speed up.
Step 5
6. Go back through the cut line and remove the wood after you have made the cut.
Step 6
7. Turn the wood so that the next line you are going to cut is in front of the blade.
8. Make the small, gradual cuts by moving the wood slowly.
Step 8
9. Cut all of the edges and work through the whole piece of wood until all of the outside cuts have been made.
Step 9
10. You can use a fine sandpaper to finish any edges that may still be rough after you have cut.
Step 10
Now You're Ready for the Best Scroll Saw
So now you're ready…
You know when you need a scroll saw, as well as how to use it – all that is left to buy one. Here's another quick look at our top picks for the best scroll saw:​
Last update on 2020-09-29 / Affiliate links / Images from Amazon Product Advertising API