There could be several reasons why you are reading about Ridgid band saws. You have an old model and are looking for Ridgid Band Saw parts. Or you have run across an old Ridgid Band Saw Model BS14002, or its earlier cousin the R474. Maybe someone told you that Home Depot used to sell Ridgid Band Saws and you want to know if they still do.
We did our research, and here's what we found.
Ridgid Band Saws at the Home Depot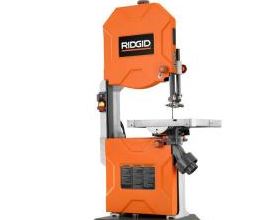 A visit to the Home Depot website shows 150+ Ridgid products. These include everything from DYI tools like drills, saws and nail guns to more exotic tools such as a micro-inspection camera and a spade handle mud mixer. If you want to see the range of their tools, you can check out the Rigid website here. Obviously, Ridgid still sells tools and equipment.
Many of their products have earned good reviews on the Home Depot site, especially their handheld tools, such as drills. At other sites, the reviews are not stellar, but even then they are rated above average.
What you won't find at the Hope Depot is a Ridgid Band Saw. We could not even find Ridgid band saw parts. A replacement belt search brought up a saw blade from Vermont American. A visit to Amazon gave us similar results—no new Ridgid Band Saws and no Ridgid replacement parts.
We did find their iconic red-handled pipe wrenches. More about that later.
Where Else to Find a Ridgid Band Saw
Two places that come to mind are Ebay and Craig's List. Consider word-of-mouth also. Perhaps a local woodworker knows of someone wanting to sell theirs. Better yet, maybe he or she has one sitting around gathering dust. Be prepared for frustration if you look around on Google. There are lots of sites that will list a Ridgid Band Saw but then lead you to similar band saws.
E-Replacement Parts sells Rigid Replacement parts for the model BS14002. It had a handy drawing that let you click on a part and would show you if it was available and how much it cost. If you're interested, you can see that information here.
If you found yourself the second-hand owner of a Ridgid Band Saw, you can find the Owner's Manual for the Ridgid BS1400 at Manuals Lib here.
What to Know Before You Buy a Ridgid Band Saw:
An owner of a Ridgid posted a review on YouTube for the Ridgid R474. This 8-minute video goes over some of the most important talking points.
What the Reviewer Liked
Standard blade size of 93.5-you won't have to hunt all over to find a replacement
It comes with a mobile base-typically band saws require you to buy an additional base if you want that mobility
Roller bearings on top are easy to adjust—no need to grab your Allen wrenches
What He Didn't Like
Reaching the bearings underneath the table is extremely difficult—you will have to take off the cast-iron table to reach the back bearing
It does not come with a light—so if you want a light, you will have to buy an aftermarket one
The lack of a rip fence—it's not often you will need one, but the one time you decide you do, you'll have to improvise
Bottom Line
To our eyes, the Rigid band saw did not look well-made. It rattled when he moved it and did not seem heavy enough to provide the stability needed for accurate work. The Ridgid band saw was considered an entry level model, and it looked that way to us.
Repairing a Ridgid Band Saw
When new Ridgids were available, many people made adjustments to them soon after buying them. They did this due to the many problems that had to be dealt with, including
Wobbly or defective tires
Drifting blades
Difficult adjustments
Excessive shaking
This video from 2014 has a clear explanation of what has to be done to get a Ridgid 14002 Band Saw to be workable. If nothing else, watch it here to see if it passes the Nickel Test. To perform the Nickle test, you stand a nickel on its edge while the saw is running and see if it stays standing.
What is Ridgid's Story?
Knowing the story behind Ridgid can help us understand why they stopped making their band saws.
Ridgid is short for the Ridge Tool Company, which started in Ohio in 1923 with a red pipe wrench they invented. It became an immediate success. Ridgid expanded its line of pipe tools during the 1930s. In 1946, to help with the rebuilding efforts in Europe, Ridgid began exporting their tools. In 1950, they began selling a machine that cut and threaded pipes. At the end of the decade came another pipe and threading bolt machine.
Up to this point, Ridgid's tools and machines were geared toward the plumbing and pipe-manufacturing industry. Then in 1966, they became part of the Emerson Electrical. Their website continues to highlight their innovations with the plumbing and pipe tools that were their core business.
If you go to their website here, you won't find any mention of the Ridgid Band Saw or most of the cordless tools you can buy at Home Depot.
That's because Ridgid is now owned by Techtronic Industries Company (TTI), one of the leaders of cordless power tools. In essence, there are two Ridgid product lines—the tools that made their name and a line of tools aimed for the homeowner and DYI market.
Final Thoughts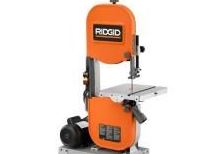 Nostalgia can be a powerful force. You might be aware of an object's shortcomings, but they don't matter. Some things take us back to an important time or place. Perhaps you are a champion of underdogs or stubborn enough to take on a machine that everyone says belongs on the junk heap of history. Who are we to stand in your way?
Consider yourself forewarned. Finding a Ridgid Band Saw won't be easy. Finding Ridgid replacement parts won't be easy either. Fixing or adjusting it will not be a piece of cake. However, if you are willing to take that risk, you will find a way to be successful. Are you questioning what kind of saw you need? Check out these great guides for more information! Scroll Saw vs Band Saw – The Showdown and Band Saw vs. Table Saw – Which One Do Woodworkers Need First?