In the market for a Makita Circular Saw? We don't blame you. We love Makita tools because of their performance. The Makita circular saw model 5007f has been one of their best sellers, but lately, they have hyped the Makita 5007mg circular saw. We decided to see if it lived up to the hype.
But what about cordless? We investigated the Makita XSH06Z Cordless Circular Saw to see how it compared.
Makita has a reputation for accessories, and we wanted to see what kind of Makita circular saw parts were available.
Here's what we learned.
---
Makita Circular Saw 5007F 
No one will ever accuse a Makita of being pretty. Makita's are about performance, not appearance. So how does this Makita perform? It has all the features that a high-quality, professional-grade circular saw should have: 15-amp motor with 5,800 rpm is plenty of power.
The large cutting capacity—2 3/8 on a 90 and 1 ¾ at 45 degrees—means you can cut even true 2 by 4's. The wrap around base made from heavy-duty aluminum provides extra durability and straighter cuts. Our list of what we like is so long that we can only take the top 3 or 4.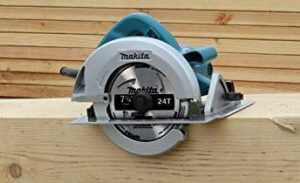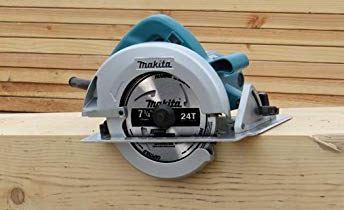 What We Like
LED lights to help you see the cut line
A blower at the front that sends dust out of the way. No more blowing the dust out of the way
The flat motor housing. No need trying to balance the saw while changing the blade
Large, easy-to-read markings
What We Don't Like
The weight. 11.1 pounds might not sound like much until you've spent an hour cutting lumber
The guard design. You'll wish you had three hands if you need to pull it out of the way to start a cut
And that's about it. This is a great saw for professionals or a great professional-level tool for the do-it-yourselfer. Of course, Makita circular saws are more expensive. We could list it under what we don't like but expecting a top-of-the-line to have a rock-bottom price is unrealistic.
---
Makita Circular Saw 5007MG Magnesium 7-1/4-Inch 
The weight of the Makita 5007F has been a common complaint. So Makita came out with a saw that had magnesium components to make it lighter. That sounds good. So how much does a Makita saw with magnesium components weigh? 10.6 pounds. That's only half a pound less. The DeWalt DWE 575 weighs 8.8 pounds, almost 2 pounds less. If that was the only improvement, the Makita 5007MG would not be worth the extra money.
It does have two extra features that might be worth the extra expense. One is that the cutting capacity is 2 ½ at 90, which is 1/8 inch more. But we did feel then increased bevel capacity (0°-56°) might be useful. But positive stops at 22.5 and 45 degrees—that's something to get excited about!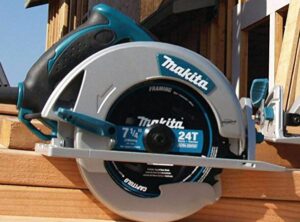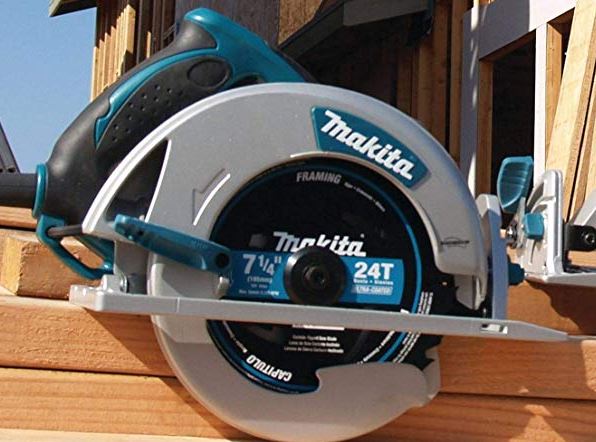 What We Like
The improvements with the bevel provide for greater accuracy
Everything that we liked about the 5007F is still there
What We Didn't Like
The hype. A circular saw that is half a pound lighter is still a heavy saw
Bragging about having an increase cutting capacity of 1/8 inch
Magnesium Components sounds impressive—it must be better, right? We think the saw doesn't live up to the hype—the improvements aren't worth the extra price. Why hype a product that doesn't need it?
---
Makita Leads the Way With Cordless Innovation
As we discuss in the guide on Makita miter saws, in 1978 Makita sold the first cordless drill. However, that was 40+ years ago. Has Makita continued to innovate, or have other manufacturers caught up with them? We did some investigating.
In 2005 Makita introduced the first 18V Lithium batteries which have several advantages over other rechargeable batteries. They have a higher energy density—more energy into a smaller space—and a lower rate of discharge. Makita now has the large 18-volt line-up of tools.
Makita's innovation has not stopped. They're latest can be seen on their latest cordless saw.
---
Makita Circular Saw XSH06Z 18V X2 LXT Lithium-Ion (36V) Brushless Cordless 7-1/4″
The latest innovation is a circular saw with not one, but two batteries. This means more power for a longer time. RPM on this machine is 6,000. One way they accomplished this is by redesigning the orientation of the motor. Cut capacity is up to 610 crosscuts on a 2 by 4. Similar cutting depth and bevel design as the 5007MG.
This model is the second generation 36 Volt circular saw. If you would like to see a more detailed explanation of the improvements between this Gen 2 and the Gen 1, go here. It will show you the improvements that you can't see on the outside.
What We Like
The weight—10.5 with batteries is still heavy, but we expected it to be even higher
The tether notch for increased safety so that if it falls it won't hit the ground
The easily accessible safety switch which makes turning it on and off seem natural
The battery gauge lets you see exactly how much juice you have
The dust collection feature so that you can attach a vacuum to it—great for keeping dust down indoors
What We Don't Like
The guard design hasn't improved
The saw has a tether notch, but the tether is sold separately. That seems cheap
Our list of what we don't like about this saw is small. Even that is a quibble. This is a solid, professional-grade saw worth the professional-grade price, if that's what you want to spend.
Currently, all electric models are pricier than their corded counterparts. Many people justify the extra price because the batteries can be used with other tools by the same manufacturer. If you have already joined the cordless revolution, then you might not be willing to switch brands.
---
Makita Circular Saw Accessories
We went to the Makita website and looked up accessories. It pulled up 7 pages of accessories for all cordless products. Limiting the search to only 18-volt accessories limited our search to 2 pages. Most of the accessories were additional batteries or battery chargers. Several accessories caught our eye
The 8V LXT® Sync Lock® Battery Terminal, which controls when the batteries can and cannot be charged. If you didn't know you needed such a thing, you wouldn't be interested.
18V LXT® / 12V max CXT® Lithium‑Ion Rapid Optimum Charger. This seems more practical—a charger with a built-in fan that allows for faster charging time by keeping the battery cool.
If you wan to learn the basics of how to use a circular saw, check out How to Use a Circular Saw.
For the best circular saw rail guide system, check out this guide.
Final Thoughts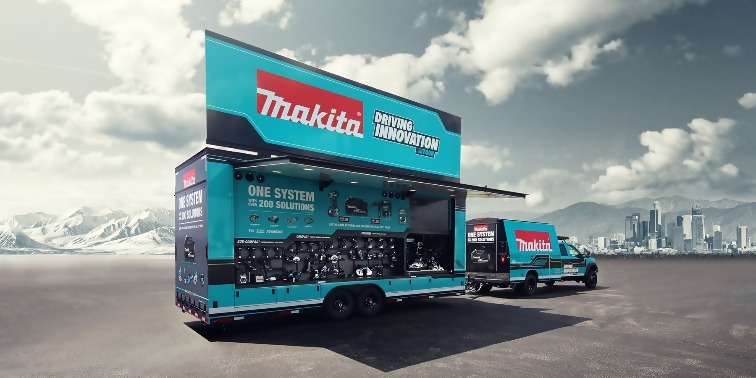 Makita continues to impress and innovate. There's a driving tour to show off their innovations—a truck that houses the tools, batteries, and accessories. If you want to see when it will be in your area, click on the interactive map here. If so, check out Best Compact Circular Saw 2019.
Figure courtesy of Makita