This Kobalt table saw is an outstanding saw. This is due to its features and price. This saw is perfect for hobbyists and DIYers because it really suits their needs. Most people use table saws for woodworking, if that's what you're looking for you want to make sure the table saw you're interested in does just that. If you need more woodworking information check out Woodworking Tools 101: The Beginner's Guide. This saw can rip plywood sheets with its blades. The other reason this Kobalt table saw is so great is it is budget-friendly! Let's dive into this Kobalt table saw review so you can determine is this table saw is right for you.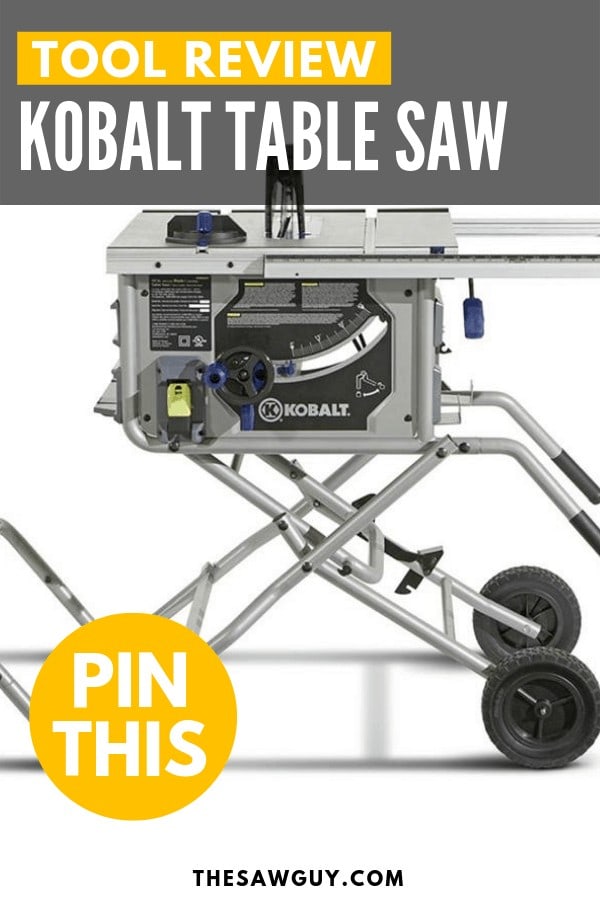 Lowes Kobalt Table Saw
This Kobalt table saw can be found at Lowes. Most people tend to gravitate towards this saw over others for a few reasons. Those reasons are this saw has a maximum cutting depth at 90 degrees, it allows up to 3.5 inches of height on the blade, it has the ability to cut a variety of different sized materials, and it helps that it is portable. All of these things are important because it increases the performance of the saw. The 3.5-inch height on the blade allows you to 2 x 4s and 4 x 4s with ease. The portability of the saw allows you to move it with ease and take it with you if need be. Transporting regular table saws can be a bit of a hassle. If you need more information on how to transport a table saw, check out this article What You Need to Know: How to Transport a Table Saw.
Things we like:
Price
Compact
Portable
Maximum cutting depth
Easy to use
Things we don't like:
Features and Benefits
This Kobalt table saw comes with an easy fold rolling stand and a durable 10-in carbide-tipped blade. You can also complete jobs quickly and easily with the 15-amp motor. It has a locking miter gauge which allows you to cut in a wide variety. The easy fold stand with wheels provides portability and convenient storage. There's storage for the rip fence, miter gauge, blade guard assembly, push stick, power cord and extra blades to keep items secure when not in use. There is also a dust collection port to help make cleanup a breeze, and lastly, when you buy the lowes Kobalt table saw it comes with a 3-year limited warranty to give you peace of mind.
Let's Compare the Lowes Kobalt Table Saw to the Dewalt DW745S
This Dewalt table saw is another table saw that people tend to gravitate towards due to its features just like the lowes Kobalt table saw. It is suitable for both professionals and hobbyists because of its ability to perform well on both heavy-duty and lightweight jobs. It also has a rip fence that beats most others.  
Things we like:
Smooth operation
Portable
High quality
Accurate
Things we don't like:
Short rip capacity
Low-quality miter gauge
Features and Benefits
This Dewalt portable table saw has a 15 amp motor that is powerful enough to cut through most materials, making it easy for you to complete your projects. It comes with a dust port so you can attach your vacuum for easy cleanup. It also has a power switch that is easily accessible in the case of an emergency.
Which One Is Better?
While these table saws are both very similar, the Kobalt does win due to a few features. Those reasons are this saw has a maximum cutting depth at 90 degrees. This beats the Dewalt by 45 degrees! The Kobalt table saw also has a higher RPM by 1150. Both of these things are important when it comes to saw performance, and even better the Kobalt is fifty dollars cheaper!
Table Saws – What You Need To Know
Table saws allow you to make quick work of large pieces of wood. They're also great for when you're working on a large project.
Kobalt Table Saw Features That are Important
Dust Collection – Sawdust can be a hazardous result when using a table saw. You want to make sure your table saw has dust collection so your workspace stays clean and functional.
Accessory Storage – Accessory storage may not seem important but it can be extremely helpful. With storage you will be able to store tools and accessories you will need when operating a table saw.
Table Extensions – Table extensions are important because they're extremely helpful when you're cutting larger materials.
On / Off Switch – On / Off switches are important because they turn off the saw. You don't want to have to rely on unplugging the table saw to turn it off because if there is an emergency you may not be able to get to it, more important features.
Table Saw Safety Tips
Do NOT start the saw when there is something touching the blade.
Turn off and unplug the table when you're not using it.
Make sure you're always using the rip fence when rip cutting, do NOT freehand.
Keep materials completely flat when cutting, more safety tips.
Who is Kobalt?
Kobalt is a company owned by the American home improvement chain Lowe's. They create a line of hand tools, mechanics' tools, power tools, and tool storage products.
Kobalt Table Saw Review – Conclusion
While any of these table saws we've covered above would make a great addition to your shop, we believe one table saw outshines the others. Our favorite saw is Lowes Kobalt Table Saw. It offers the best features overall for the price. For more information check out our list of table saws.