Band saws are a flexible and powerful tool that can accomplish many woodworking tasks. A wide range of band saws are available to fit any budget and purpose. For years, Craftsman tools have been well-known for quality and durability. Sadly, Craftsman does not currently make band saws. Other brands are available to do the same job as Craftsman band saw blades.
---
Craftsman Band Saw Alternative: Skil 2.5 Amp 9-Inch Band Saw
The 9-inch, 2.5 amp band saw from Skil is an entry-level band saw. It is best for woodworkers on a budget, or hobbyists who work on small projects. It can cut wood as thick as 3 1/8 inch, and has a 9 inch throat. The Skil 9-inch band saw uses standard 59 ½ inch blades. The blade moves at 2,800 SFPM (surface feet per minute). The saw requires a table or stand to use.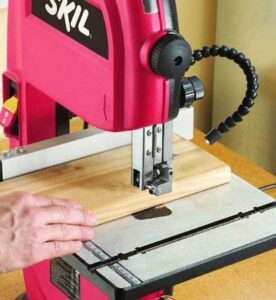 Things we like:
It is an entry level tool that is fine for weekend projects, but it won't hold up to heavy use.
It is best for jobs like cutting pen blanks or rough cutting small carving projects.
The Skil 9-inch band saw is light and compact, which makes it good for small shops. It is easy to move, or even to put up on a workbench then take down when it's not needed.
Things we don't like:
This is a light duty band saw that is good for occasional use. It won't handle heavy duty cutting jobs, but it is a good starter tool for the hobbyist.
Some users report durability issues with the Skil band saw.
---
Craftsman Band Saw Alternative: Rikon 10-Inch Band Saw
Rikon's 10-inch band saw is a big step up in power. It has a 10 inch throat. It will cut wood as thick as 4 5/8 inches. It uses 70 inch blades. It has a 3.5 amp motor and the blade runs at 2,780 SFPM.
Things we like:
With a metal case and heavy internal parts, the Rikon 10-inch band saw is much more solidly built than lower-priced saws.
This is a good saw for folks who saw every day. It is powerful enough to cut thicker material, hardwood, or metal.
This saw is an excellent choice for the serious woodworkers and even pros who don't need a heavy-duty band saw every day.
Things we don't like:
Some users report that the saw requires extra care to set up.
This saw is best for a shop with room for a dedicated band saw station.
Some users report difficulty setting up the saw, but most are happy with the precision and durability of the saw.
---
Craftsman Band Saw Alternative: Jet 14-Inch 1 Horsepower Band Saw
The 14-inch, one horsepower band saw from Jet is a professional quality tool. With a 5 amp motor and a 93 ½ inch blade, this is a heavy-duty saw. The blade runs at 3,000 feet per minute. This saw also includes an enclosed stand built into the saw. It has a 13 ½ inch throat and maximum cutting thickness of 6 inches.
Things we like:
It is best for woodworkers who use the saw every day, or for those who regularly cut large pieces of hardwood.
It is a big step up in power from the other saws reviewed here.
This saw can handle extreme cutting situations.
Things we didn't like
It is an expensive saw, but one that can handle the biggest projects.
The Jet 14 inch band saw is not an entry level tool.
It is best for woodworkers who need a band saw with more power than the smaller models, or people who use the band saw many times each day.
---
Band Saw Basics
Band saws got their name because the blade is a band. It is a single loop of steel with teeth along one edge. The band saw has a pair of wheels that stretch the blade tight and turn to make the blade move. Because the blade is always going in one direction, the blade is always cutting wood.
Resawing with Band Saws
Band saws are useful for cutting thick pieces of wood. Circular saw blades can cut no deeper than half of the blade width. Band saws can cut thicker lumber; the limit is the height of the upper saw guide. Some projects require lumber to be split lengthwise. This is called "resawing". Bandsaws excel at resawing.
Once the board has been split lengthwise, the two pieces can be book matched. The two pieces are opened away from each other like opening the covers of a book. Book matched pieces have a symmetrical grain pattern that can be very pleasing to the eye.
Cutting Curves with a Band Saw
Bandsaws can also cut curves. Because the blade is so much narrower than a circular saw blade, it can be turned in the cut. The ability to cut curves is limited. If you need to cut really tight curves or make a fancy project, a scroll saw is a better tool.
Cutting curves takes some practice. It is best to use some scrap wood to practice a few curves before taking on a project that requires lots of curve cutting.
Portable Band Saws
When shopping for band saws, you will come across portable band saws. These are saws designed to be held in you hands while you cut a piece that is secured to a table or sawhorse. Even though the basic principle is the same, portable band saws are a very different tool. These little saws are used to cut large pieces of pipe and rebar on construction job sites instead of using a reciprocating saw. Don't buy one to add to your woodworking shop! For more information check out, Portable Band Saw.
Which Band Saw Is Right for Me?
Band saws come in a wide array of sizes and features. Our pick for a beginning woodworker is the Rikon 10-inch band saw. It is more expensive than the 9-inch, 2.5 amp band saw from Skil. However, the Rikon is much sturdier and should last a home woodworker a very long time.
If money is no object, or you will be using the saw every day, the Jet 14-inch band saw is a great choice. Jet makes band saws for professional woodworkers and even industrial settings. The Jet band saw is a workhorse that can handle whatever you throw at it. For the best band saw overall check out, The Best Band Saw – Complete Buyers Guide & Reviews.