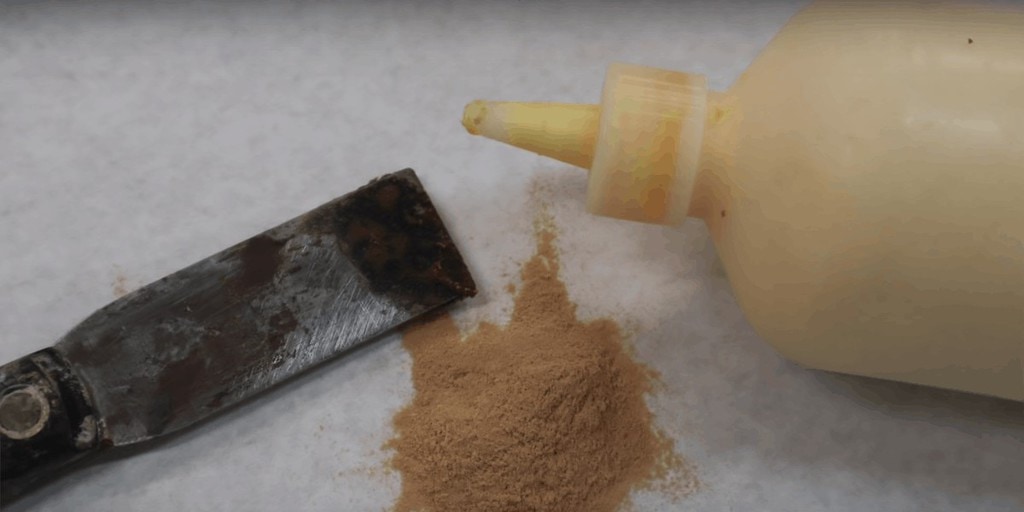 Woodworkers are all over the map when it comes to what is the best stainable wood filler out there.
From popular brand names of actual "stainable wood filler" to much more primitive methods for getting the exact stain color to match your DIY project, there are several different opinions on the matter.
What to Consider When Buying a Stainable Wood Filler
Before choosing a stainable wood filler to renew the look of old furniture or to fix a wood floor, consider important factors like drying time, project, and the amount of filler needed. Once you have a better idea of your requirements, you'll be able to find the best stainable wood filler for your project.
Project
The type of project you're working on will determine which stainable wood filler is best for you. Things like prep time, amount of filler needed, and any time restraints for drying should all go into the product you choose.
Versatility
Most stainable wood fillers are sold in small quantities. If you're renovating need a lot of stainable wood filler it's best to purchase wood filler in bulk. Before purchasing a large amount of stainable wood filler be sure to confirm that it's suitable for you. For example, be sure to check how malleable the filler is before it dries, the consistency of the filler when fully dry, and the manufacturer's recommended uses.
Quantity
The quantity of wood filler needed will depend on the project. The good news is that wood-filler manufacturers sell their products in a variety of quantities, from small containers to bulk amounts, so you'll be able to get your hands on the amount you need.
Drying Time
Be sure to note the drying time of the product, its drying time determines how long you have to complete a repair and smooth out the area before the filler hardens. Some products dry very quickly, which is great for outdoor projects since it's important for filler to dry before any rain or snow appears.
Top Brand Name Stainable Wood Fillers
Famowood​ Wood Filler
This stainable wood filler claims to spread smoothly into cracks and will repair both major and minor defects and problems in the wood you're working with.
In addition, it is not quick to crack and is easy to spread into the cracks and holes. The stain spreads evenly.
What We Like:
Dries very quickly
Can be used indoor or outdoor
Won't shrink or crack
Can be sanded, planed, drilled into
3M Bondo Wood Filler
Bondo is actually already colored in a medium brown color. However, it's still paintable and stainable.
In addition, it's quick to dry, making it possible for you to sand and paint within just a few minutes (15-25 to be exact). This means you can have your entire project complete in one day.
Bondo is used to repair small damage, but because it's a 2-step wood filler, you can also rebuild rotted wood or rebuild missing pieces of wood.
The repairs will last without cracking or shrinking.
What We Like:
Dries relatively quickly
Can help repair or cover up damaged wood surface
Won't shrink or crack
Elmer's Wood Filler
This Elmer's wood filler is to be used indoor for any issues, defects and nail holes in wood surface. Like those Elmer's glue sticks your kids use on crafts, it starts out purple, but dries white so that you know it's ready to stain, sand or paint.
It doesn't shrink or crack either, which is a must-have in stainable wood filler.
Some woodworkers say that the color is slightly off when staining, but it works pretty decently with lighter stains.
What We Like:
Goes on purple for great visibility
Stays true to size, no shrinking
Mohawk Wood Filler Kit
This kit is crazy! This would be something you'd use only if you're downright serious about woodworking, as it's pricey.
However, it includes EVERYTHING you'll ever need to repair and fill the wood defects or mistakes.
Many say that this is the only way to go to get an accurate color when staining wood with wood filler. With all of the different colors, brushes, adhesives, etc. in the kit, you're sure to figure out the solution with this kit.
It also includes a dvd tutorial on how to properly stain and fill the wood you're working with. ​
» COMPARE: Best Deck Paint
DIY Ideas For Stainable Wood Filler
Many woodworkers say that you really cannot locate stainable wood filler that will actually be a perfect match for filling in nail holes or defects in the wood you're working with.​
In those cases, you might want to look to a DIY solution like this:​
​Mixing Fine Sawdust with Epoxy
Take the wood you're working with, and put it on a big piece of cardboard so that you can easily scrape up and collect the fine saw dust that accumulates from working with the wood. Then, pour the accumulated saw dust into a water bottle or some other type of container.​
Be sure to add enough saw dust to make the mixture extremely thick. Fill in the hole that you need to, and even if you're using 5-minute epoxy, let it cure for 20-25 minutes so that when you sand it down, it will work well.
In addition, be sure that you fill it more than full so that sanding is possible. This works beautifully!
Check out the step by step instructions in this video.
Other woodworkers, instead of using epoxy mixed with sawdust, use regular wood glue and mix that with fine saw dust from the wood they're working with.
In addition to these ideas, you may want to look into staining and tinting the filler rather than staining a patch you used to fill. It's much more accurate in matching to stain the filler ahead of time rather than trying to stain a patch you have already made.
Make sure that you look at each type of filler, and depending on what kind of job you're doing and how much the filler-match matters, you can now make a very informed decision on what stainable wood filler is the best for you.