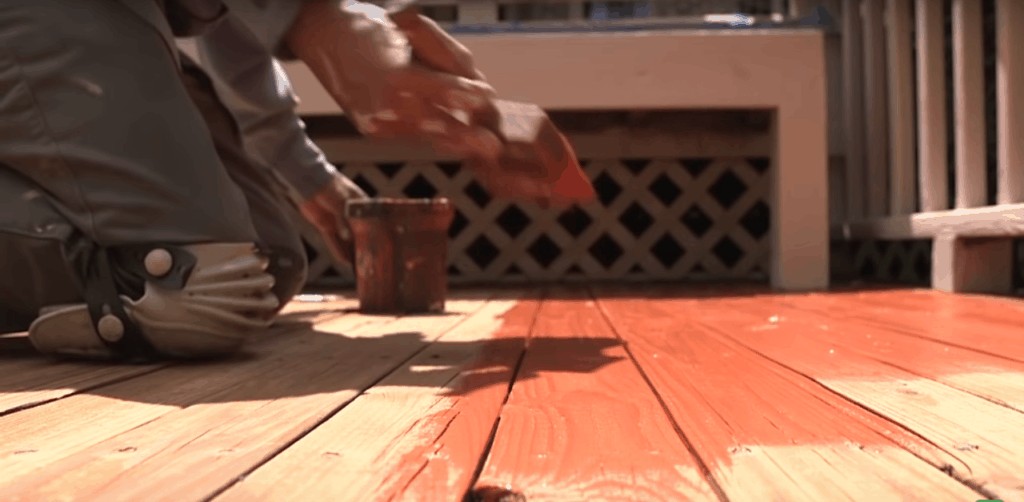 Buying Deck Paint
The key to finding the
best deck paint
is in looking at several different features. We'll look at things like longevity and quality in a minute, as well as different types of paint or paint versus
stain
. That way you can make the decision about what you really want for your deck. Of course, we'll also take a look at what we think are some of the best options, which will provide a great canvas for your next get-together. After all, that's the whole point of having a deck, right? Looking for more on restoring? Here is our
ultimate guide for deck resurfacing
.
Behr Premium Wood Finish
The Behr Premium Wood Finish is a deck paint that is ideal for decks, fences, and siding. This premium deck wood finish has a redwood tone that gives you just the right mix of red and brown for any of your outdoor wood surfaces. The 1-gallon canister also provides waterproofing protection and all-weather protection against rain, sun, snow, and ice. It's even guaranteed for 4 years when used as a deck paint and 6 years when used on fences and siding. All you have to do is paint it on and let it sit for 4 hours. After that, the rain won't bother it and your painted deck will look great.
Buy An Acrylic Based Deck Paint?
This acrylic based formula is simple to clean but also gets you the quality and longevity that you get with oil-based products. It paints on easily and can be removed just as easily as well, needing only water to get it off. You'll also be able to paint the same color and tone over all of your wood products around the house, making sure you get a great match and an ideal look. With this
acrylic based deck paint
can you can rest assured you have quality and style.
Facts and Features of Behr Premium Wood Finish
1 gallon can
Guaranteed 4 years on decks
Guaranteed 6 years on fences and siding
Acrylic based formula
Easy to clean
Works on most wood surfaces
KILZ Over Armor Coating
This 1 gallon can of texture deck paint is great for both wood and concrete. It's available in three different colors, gray, brown and red and because of the texture, it's highly durable. The 100% acrylic resin formula is an advanced solution that provides you with a great surface to hide all of the imperfections and cover cracks. It's one of the best deck paint options for ran down as well as cracked wood in either a horizontal or vertical fashion and even work on composite surfaces.
A Paint Designed to Fill Cracks
Designed for cracks up to ¼" in size, it also creates a textured finish that is slip resistant and therefore safer for you and your family. With just one can you'll get up to 75 square feet of coverage though you'll want two coats to get full coverage. Super easy to apply, it cures completely in 72 hours and will then be able to revive and protect your deck. KILZ Over Armor Coating paint is resistant to cracking and peeling. This paint is also mildew resistant once it's completely cured. This paint is waterproof, so you don't have to worry about the rain, the snow or anything else. KILZ Over Armor Coating even comes with a limited warranty that says you don't need to worry about your painted deck.
Facts and Features of KILZ Over Armor Coating
1 gallon can
75 square foot coverage
Covers cracks up to ¼"
Textured for a non-slip finish
Mildew resistant, waterproof and resistant to cracks and peeling
Limited warranty
KILZ Interior/Exterior Porch & Patio Paint
If you are in the market to buy interior or to buy exterior porch paint, this one gallon can of deck paint comes in two different shades of gray to give you a great look for any deck. It's made with acrylic and provides a low-luster enamel surface as well. It's designed to last on your deck, a porch, siding or even floors as well as being great for different weather conditions. Even if you have previously primed surfaces or even painted surfaces this paint works smoothly and provides you with an even finish that dries in a single hour.
An Easy to Apply Deck Paint
All you need to apply the paint is a roller or brush or even an airless sprayer. Even better, with just 1 can of the paint, you can cover up to 400 square feet of surface area on smooth surfaces. There's a limited warranty included with the paint as well so you know that it's going to last for an extended period of time. Mildew resistant and resistant to scuffing, fading, cracking and peeling it's a great way to get longevity out of the surface.
Facts and Features of KILZ Interior/Exterior Porch & Patio Paint
1 gallon can
Up to 400 square feet of coverage
Two colors of gray available
Mildew and scuff resistant
Limited warranty
Dries in one hour
Ready Seal 120 Wood Stain
We love this choice as one our best deck paints to buy for the money for a number of reasons. The Ready Seal 120 Wood Stain is a deck paint that is available in several different colors. This 1-gallon stain is great for anything that you want. The Ready Seal Wood Stain doesn't require any type of primer. The fact that primer paint isn't needed when you buy deck paint like this, makes it even easier to apply. You can even use a sprayer, roller or brush and there's no reason for back brushing or even wet-line application. Even better, it can be applied in just about any temperature, so you don't have to worry about the weather when you want to get things done.
A Deck Stain that is a Sealant at the Same Time
This deck stain is actually a sealant and a stain at the same time which is completely oil-based and semi-transparent. Not only that but it can minimize the amount of maintenance that you need including UV blocking, waterproofing, and mildew resistance. This deck stain is great for just about any surface. This deck stain permeates into the deck more completely to get a long-lasting look. Because it's designed to work directly into the texture and grain of the wood it can create a unique style and cover a large section of space all at once.
Facts and Features of Ready Seal 120 Wood Stain
1 gallon can
No primer required
Works with any type of brush or application
Includes sealant
UV blocking, waterproofing, and mildew resistant
Works on most surfaces
KILZ Exterior Waterproofing Wood Stain
This waterproofing wood stain is great for any type of wood and comes in three different colors so you can use it as a deck stain, stain for fences or stain for siding. It's 100% acrylic and cleans easily with water so you don't have to worry about mistakes. This is a deck stain that is designed to work on weathered or unsealed wood surfaces it's a semi-transparent stain that works great even in terrible conditions. It's great for rain, mildew, sun, and snow, so you don't need to worry about conditions outside.
Buy An Easy to Apply Wood Deck Stain
You'll get a full coat for up to 250 square feet and you don't need to worry about loose fibers in the old wood. All you need to do paint it on and give it 24 hours to dry before applying the second coat or sanding lightly to remove fibers. Use any type of applicator to apply it and trust you're getting high quality from the Paint Brand of the Year from 2015. You'll have a beautiful finish that lasts against UV damage and even comes with a guarantee for 3 years on decks and 5 years on fences and siding. That means you don't need to worry about longevity or even about maintenance for at least 3 years. Your deck will continue to look great.
Facts and Features of Ready Seal 120 Wood Stain
1 gallon can
100% acrylic
UV and mildew resistant
Covers up to 250 square feet for the first coat
Covers up to 500 square feet for the second coat
Guaranteed up to 3 years on decks
Guaranteed up to 5 years for fences and siding
Features that Matter
Deck Paint vs. Deck Stain
When determining whether to use a deck stain or a deck paint you first thing to figure out is what you're actually planning to do. Many people refer to 'painting' their deck but actually mean that they want to stain it instead. If you're looking to get rid of the old wood look entirely then a paint is the better way to go. If you want your deck surface to still look like wood then a stain is the better way to go. Of course, there are other reasons to consider one over the other as well, but this is the basic first step.
We Recommend that You Buy a Deck Stain
In general, we recommend that you use a deck stain rather than a deck paint because of the way that the two different applications work on the wood surface. A deck stain actually soaks into the wood and, once sealed, can keep out moisture and expand or contract with the old deck boards. On the other hand, a deck paint sits on top of the surface and never really soaks into the wood. As a result, deck paint actually chips and flakes very easily. This chipping and flaking happens because of moisture and because of the normal expanding and contracting of the deck boards throughout the year. Your paint ends up looking quite worse for wear in the end.
Oil Paints vs. Acrylic Paints and Stains
Once you've made a decision about painting or staining your deck you need to know what type you should you buy to stain an old deck. With so many options out there it can be difficult to figure out which way to go. If you're looking at longevity and the overall quality that you're going to get oils can be a better option. With acrylic, as it starts to get old and to wear it will chip because the stain or paint doesn't soak in quite the same way. With oil based versions the oil sinks into the wood and soaks into all of the fibers. As it starts to get old it will actually fade rather than chipping. While that still doesn't look great, you do at least get an even look. If you have ever needed to buy deck paint or deck stain before, then you should stick to the type of deck paint or deck stain that you've used. If you started with an acrylic based coating then stick with acrylic. If you started with an oil based coating then continue to buy oil-based deck coat . Since one (acrylic) is water based and the other (oil) is clearly oil based the two don't like to coexist if you try to coat one with the other. That means you'd have a mess or you'd have to spend the time to fully remove the old coating to put down a new one.
Things You Should Consider When Shopping for Deck Paint
When you shop for wood deck paint, you'll want to consider things like what kind of weather your deck will experience, how your deck will be used, and what kind of damage, if any, does your deck have. Your answers to those questions will affect what kind of deck paint or deck stain you should look for.
What kind of weather will your deck experience? If you live somewhere with weather extremes, whether it be rain, sun, wind, etc it's important for you to find a stain or paint that is very durable. For example, if you live somewhere with a lot of sun, you will want to find a stain or paint that is UV-resistant because this feature will prevent deck color fading.
How do you use your deck? If you live somewhere where you experience a lot of snow or rain and the deck gets a lot of foot traffic, you'll want to find a stain or paint that is slip-resistant. Another thing to consider is if you have kids who like to run around barefoot, you'll want to find a paint or stain that is smooth and prevent splinters.
Does your deck have any damage currently? If your old deck is very weathered you will want to get a strong stain or paint that can fill holes and cracks. If your deck was recently stained or painted then you may want to find a stain or paint that doesn't require you to sand before use.
Frequently Asked Questions
Do I need to seal my deck after I use deck paint or deck stain?
Absolutely. Sealing your deck makes sure that you have the best deck paint or deck stain that has a bit more of a water-repellent coating and helps to better adhere the deck stain to the old wood. With either option (deck paint or deck stain) you're going to get more longevity out of a sealed deck than an unsealed one.
How often will I have to refinish my deck?
In general, you'll need to refinish the deck every 2 to 4 years if you stain it and may need to renew every 1 to 2 years if you opt for painting. Of course, you can let it go a little longer if you like because all that's going to happen is your paint is going to start peeling or your stain is going to start fading and you may have a bit of water getting through as your sealant wears out as well. The longer you go the more work it's going to be for you to get it back in shape.
Using One of the Best Deck Paints or Deck Stains is Your Decision
If you're thinking about finishing your deck then the first thing to do is consider using deck paints versus deck stains. Once you decide if you are going to use a deck or a stain, you'll be able to weigh out the pros and cons for yourself and decide if a deck paint or a deck stain is best for you. With a deck paint or deck stain, you'll have a great look but you will have more options on colors if you want to go with a paint. Only you can decide which way works best for your outdoor space.

​If you have a wooden deck on your house then one of the best things about it is being able to go out there to sit and relax or to have a BBQ with your friends and family. But if your wooden deck doesn't look its best you may not be so sure about inviting everyone over, right? The best deck paint is going to fix that problem for you by making sure your wooden deck looks just the way you want it to, whether that's a nice stain, a bright, fun color or anything else you might want.