Angle grinders are by far among the most flexible tools out there for everything from heavy-duty contractor jobs to weekend projects. The best angle grinders have a wide range of uses, from polishing to grinding to cutting and beyond.
For our detailed review of the top 5 best angle grinders on the market currently, buying guide, and more, keep on scrolling.
The Top 5 Best Angle Grinders Reviewed
Last update on 2020-05-27 / Affiliate links / Images from Amazon Product Advertising API
Finding the best angle grinder that lives up to the name on the packaging can be a challenge. To save you time and worry, we did the research and waded through the data, narrowing the information down to the top 5 best angle grinders.
Check out our review of the top best angle grinders for seasoned pros and novices alike.
DEWALT DWE4120 4-1/2-Inch Angle Grinder
Last update on 2020-05-26 / Affiliate links / Images from Amazon Product Advertising API
Our first choice of the best angle grinders is easily one of the most popular options on the market today. The tool is very compact but offers plenty of flexible usage options so you can wield it for everything from light tasks to more intensity ones like slicing tile or sharpening up a set of blades.
Not only does this best angle grinder pack a powerful punch in terms of strength, but it also comes with a handy gear case so you can store it or transport it from one location to the next with total ease. The case leaves sufficient room that you can throw wheels or other accessories in there in case you need them while on the job.
We like the fact that this product is so versatile while weighing just 5 pounds. It sports a dust ejection system to help extend the product's performance and lifespan, with a brush mechanism that keeps dirt and grime far away.
The Dewalt DWE4210 features 1.50 horsepower and a 9 amp AC/DC motor with 12,000 rpm output, along with a switch lock that protects you from starting the tool by mistake.
Pros
1.5 horsepower and 9 amp motor for impressive performance
Switch lock to keep the tool from turning on by accident
Works for both light and high-intensity tasks
Cons
Noisier grinder than some
Could be difficult for beginners to learn at first
---
DEWALT DWE402K 4-1/2″ 11 amp Angle Grinder Paddle Kit
Last update on 2020-05-26 / Affiliate links / Images from Amazon Product Advertising API
Another fantastic product by Dewalt, the DWE402K model features an impressive 11,000 RPM motor with 11-amp specifications, so you can cut and remove just about any material you please with this beauty. It features a single touch guard to protect the user and for fast, efficient operation.
You can rotate the guard a full 360 degrees as needed by adjusting it against your welding table, so it calibrates to your preferred position. You'll have no trouble switching the wheel in and out as you need to—you don't even have to use a wrench. The unit truly stands the test of time, partially due to its premium dust repellent system.
The device comes with a 6-foot power cord to give you plenty of wiggle room. The best angle grinder also features overheating protection components, so you don't need to worry about hazards when running it for long periods.
With a wrench, kit box, and grinder included, the Dewalt DWE402k offers plenty of value for your investment.
Pros
Handy safety guard that you can adjust without any outside tools
Locks in the "on" setting so you have less hand and wrist strain
Quieter than some other products on the market
Overheating protection
Cons
No discs come with grinder
On the pricier side
---
Makita 9557PBX1 4-1/2-Inch Angle Grinder
Last update on 2020-05-27 / Affiliate links / Images from Amazon Product Advertising API
One of the most efficient angle grinders on the market currently, the Makita 9557PBX1 is a virtual powerhouse with a small but mighty mechanism that really gets the job done. The best angle grinder is pretty compact, with a 7.5 amp motor that releases extensive output considering the size of the product.
The grinder weighs just 4.5 pounds so that you can use it for longer periods without issue. The design seals the angle grinder from dirt and dust that could impede the motor, plus the huge paddle switch makes the grinder much easier to operate. The barrel grip is 2 ½ inches, while the grinder features coil wires that retain energy and heat.
With speeds up to 11,000 rpms, the dual DC/AC switch is just the icing on the cake. The angle grinder also comes with a lock nut wrench, lock nut, flange, side handle, wheel guard, and grinding wheel.
Pros
Very light and easy to transport
11,000 rpm speeds with a high power output
Switch lock mechanism for user protection
Includes coil wires to enhance heat and energy retention
Cons
The aluminum case it comes in isn't very durable
Not ideal for very high-intensity jobs
---
Hitachi G12VE 4-1/2-Inch 12-Amp AC Brushless Variable Speed Angle Grinder
Last update on 2020-05-26 / Affiliate links / Images from Amazon Product Advertising API
Our next choice from the best angle grinders is this solid tool by Hitachi, featuring a comfortable grip for ease of use and an adjustable handle that you can calibrate either right or left based on the item you need to cut. The angle grinder comes with a sturdy carrying case to store or take the unit on the go with you as you require.
The motor sports a massive 12 amps with 1,300-watt output power. The mechanism automatic kickback shutoff to preserve the gears and motors. The trigger lock means you can use the angle grinder for extended periods without holding the switch in place.
The Hitachi G12VE also comes with a depressed center wheel, spanner wrench, wheel guard, slide handle, and hex bar that you can switch in and out of the unit as you need to. You can use this best angle grinder pick for everything from polishing stone to finishing concrete.
Pros
A very lightweight unit that weighs a mere 4.2 pounds total
It is compact so you can operate it with ease in much tighter areas
Versatile to use on a variety of material types and for different purposes
Cons
The product vibrates a lot when you operate it
The handle is pretty small
---
DEWALT D28115 Heavy-Duty 4-1/2-Inch/5-Inch Grinder with Trigger Grip
Last update on 2020-05-26 / Affiliate links / Images from Amazon Product Advertising API
Our final choice from the best angle grinders is this last pick by Dewalt, their D28115 Heavy-Duty model. With a 13-amp output and 2.3 horsepower, don't let the small frame of this best angle grinder lead you astray.
The compact angle grinder is small but might, with a similar power output you would see in a 9-inch angle grinder.
The product is also an exceptional choice if you are new to using this type of tool because you don't have to release the safety—just activate the trigger and you're good to go. The grinder does its job efficiently, so you won't have to worry about your hand or wrist starting to throb.
The Dewalt D28115 sports maximum speeds of 9,000 RPM with a brush mechanism inside that stops dust and dirt build-up. The motor also sports abrasion protection for enhanced durability, while the tool itself weighs just 4.75 pounds total.
Pros
The ergonomic trigger that alleviates hand and wrist fatigue
Low-vibration device
Weighs only 4.75 pounds
Good for beginners
Speeds up to 9,000 RPM for increased efficiency
Cons
You might have a tough time finding a case to accommodate both the angler and the discs
Some users may prefer a larger device that's easier to hold onto
---
Angle Grinders Buying Guide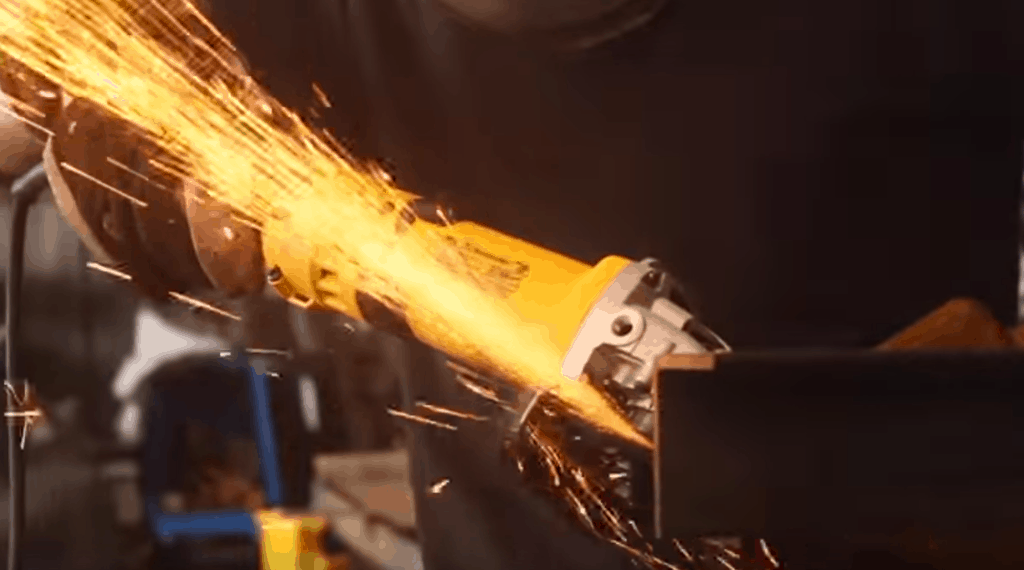 Don't purchase your angle grinder before you check out our detailed buying guide below.
What Do You Use an Angle Grinder For?
There are many reasons why one of the best angle grinders could be your new favorite tool, but let's take a quick look at some of the frequent uses for these units. First, angle grinders do an excellent job of sharpening dull blades.
Angle grinders are perfect to sharpen everything from shears to axes to mower blades. They also do a good job of scraping surfaces, like mortar. While you could use a mortar and chisel for that type of task, the best angle grinder will get the job done better and far faster.
Are you tired of your garden tools gathering dirt and grime, with no apparent way for you to get the debris off? With a trusty angle grinder and the wire wheel component, you can scrape off elements like chipped paint and rust with total ease to make your tools like new again.
You can even use an angle grinder for a task like retiling your floor.
Different Types of Angle Grinders
Not all angle grinders are ideal for mass use, and some of the products and the market are strictly best for the professionals.
There are three primary types of angle grinders—gas, electric, and compressed. Gas-powered grinders are ideal for professionals in the construction industry who knows how to use them and the types of materials they work with. These gas-powered angle grinders are immense tools that are strong enough to slice through blocks, bricks, steel, and other very thick materials.
Electric angle grinders are the common choice for many because all you need is a battery, wall outlet, or transformer to charge it up. Both pros and homeowners alike use electric angle grinders, because they are efficient for light to moderate-intensity projects.
If you are brand new to angle grinders and aren't sure which choice is right for you, the best angle grinders with electric power will be your best and safest bet.
Finally, compressed angle grinders are air-powered, and are the type you will frequently see in an auto shop. Compressed grinders leverage air that powers up the tool. However, air-powered angle grinders are typically the most expensive option on the market and only professionals usually use them.
If you are an angle grinder novice and still learning the ins and outs of how these units work, an air-powered grinder probably won't be the ideal choice for you at this point.
Features to Look For
These are the key features you'll want to pay attention to when choosing from the best angle grinders.
The Angle Grinder Disc Size
One key component to keep in mind when looking at various angle grinders is the disc size it features. In most cases, the larger a disc is, the more powerful the device motor will be. Discs come in a wide range of designs and sizes, but the most common variety is the 115 mm and 230mm varieties.
If you prefer to select an angle grinder with a more compact disc, you may have to find a pneumatic device instead.
Consider the Unit's Motor Power
Different angle grinder products feature varying degrees of motor power, including voltage, amp ratings, and wattage amounts. The best angle grinders typically sport wattage in the 500 to 2500 range, with a 4 to 15 amp capacity.
If you only intend to use your angle grinder for simple household projects, you probably won't have to worry so much about finding a product with a high-speed motor and extensive output.
Dust Retention
The best angle grinder product should include a component that wards off dust and debris, both to enhance its overall performance and to keep the motor functioning properly. The best angle grinders on the market should include dust management systems, such as a diamond blade.
Even if you have to pay a bit more for a dust management component, you will save yourself the considerable time and expense you might encounter otherwise if your motor clogs with debris a few months down the line.
Is It Comfortable to Use?
Your comfort level is another aspect to take into account when shopping for the best angle grinders. If the unit isn't comfortable for you to use, chances are you'll try to avoid using it, which renders your purchase essentially a waste.
There are a few different features that affect comfort when it comes to the best angle grinders. For one, smaller units are much simpler to use, particularly if you plan to use your angle grinder for a prolonged period. Second, units featuring anti-vibration blades are an added bonus, because all that vibration can wear your hands and wrists out pretty quickly.
If you really need a massive angle grinder for commercial jobs though, just keep an eye out for comfortable grip components that help reduce hand and wrist fatigue.
Safety Components
The best angle grinders always feature safety components to protect the operator. For example, the unit might include a wheel guard that you can adjust as needed, or a slip clutch so you don't have to worry about accidentally turning the device on.
Speed
Finally, look out for the best angle grinders' speed rating when determining which choice is the best one for you. The best angle grinder products usually feature speed ratings ranging from 5,000 to 10,00 rpms.
Products with speed ratings on the higher end of the spectrum are best for professional use, as they increase injury risk if you don't wield them properly.
FAQ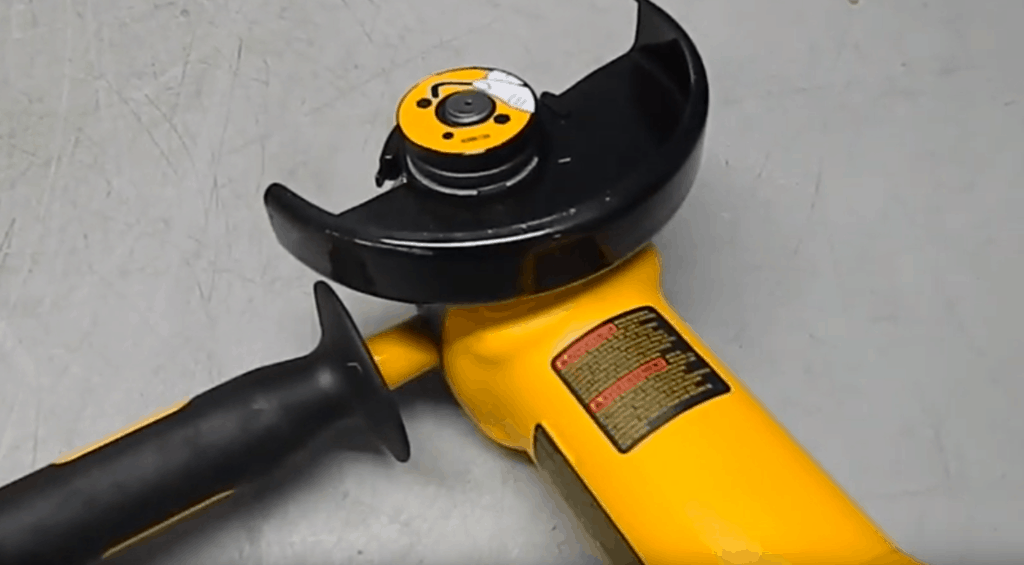 What is an angle grinder?
Some people call an angle grinder a disc or side grinder because this handheld tool uses small discs to cut and polish abrasive surfaces. The angle grinder's power source could be electricity, compressed air, or engine power.
What materials can an angle grinder cut or scrape?
You can use an angle grinder to cut or scrape almost any type of excess matter from a material or surface. Different angle grinder discs have different purposes, such as grinding stones, wire brush wheels, sanding discs, polishing pads, and diamond blade or cut-off discs.
How do angle grinder discs work?
Angle grinders feature a small wheel or discs that rotate at speeds ranging from 8,000 up to 11,000 RPM to scrape, polish, grind, or cut the target material or surface area.
Wrapping it Up
We were duly impressed by each of the top 5 best angle grinders, but the one that stood out to us above the rest was the Dewalt D28115 Heavy-Duty Model. Featuring 13-amps of output and 2.3 horsepower, the compact frame is easy to handle but powerful enough to accomplish both basic and high-intensity tasks.
We like how user-friendly this product is for people who are brand new to angle grinders because you don't have to activate the safety or do anything much beyond switching on the trigger. The grinder features ergonomic components that will keep the unit doing all the work and ensure your hand and wrist stay comfortable.
With speeds up to 9,000 RPMs and an integrated brush mechanism to impede dust and dirt, it's hard to beat the Dewalt D28115 Heavy-Duty Model. The motor resists abrasion like a dream, and the 4.75-pound weight means you can easily transport this best angle grinder from your home out into the field.
What more could you ask for in the best angle grinder? Click here to learn about the Dewalt D28115 for yourself!
Check out our other angle grinder guide here!