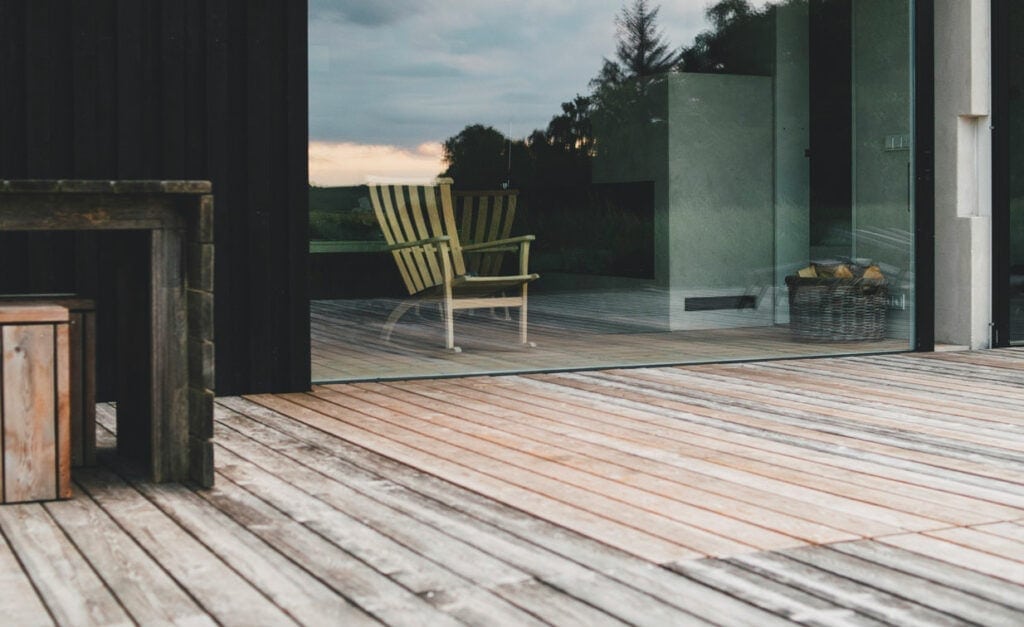 A beautiful deck is a great way to beautify your backyard while providing a space for you to enjoy the summer with family and friends. But, fast forward a decade or so, and you'll see that father time and mother nature are taking a toll on your once beautiful outdoor enclave.
Thankfully, deck resurfacers allow you to recapture the beauty and function of your deck quickly and easily. But, with so many options on the market, how can you be sure you're selecting the best deck resurfacer?
Today, we'll take a closer look at some of the best options on the market, and provide you with all the tips and info you need to select the perfect resurfacer for your deck. If your looking to paint here is our review on the best deck paint to revive your deck.
Top Five Deck Resurfacers
Let's jump right into it, shall we? Here's our short list of the five best deck resurfacer options that are currently available to you. Depending on your needs and the condition of your deck, you'll find that one of these resurfacers is the perfect choice for your home.
KILZ Over Armor Deck Resurfacer
This acrylic finish from KILZ provides a durable, slip-resistant finish to wood, concrete, or composite materials, and it's one of the most well-regarded deck resurfacers on the market.
Over Armor is ideal for decks, boat docks, and porches, as well as cracked concrete surfaces like sidewalks or patios. It can also be used on vertical surfaces like railings and fence posts.
This finish is available in a few different popular wood shades, as well as a few neutral grey shades for concrete repair.
Over Armor is engineered to be resistant to mildew, mold, and algae, as well as cracking and peeling. This finish is available in both smooth and textured varieties, so you'll be able to choose the finish type that's best for your needs.
While this isn't the thickest option on the market, it provides impressive coverage and completely masks cracks, splinters, and burrs that are ¼" in size or smaller. You'll be able to get 75 square feet of coverage out of each gallon.
KILZ recommends applying two coats for complete coverage, and the surface can be recoated in six hours. After 72 hours, your beautiful new deck is fully cured and ready to enjoy. For more ideas and inspiration check out our creative deck designs.
What We Like
Impressive coverage
Available in smooth or textured finishes
Affordable
What Could Be Better
Only available in a few colors
Not ideal for severely weathered surfaces
Rust-Oleum Deck Restore
One of the most popular and affordable options on the market, Rust-Oleum Deck+Concrete Restore 10X is a smart choice for moderately weathered decks.
This finish is ten times thicker than standard paint, which allows it to easily mask most small and mid-sized imperfections up to ¼" in size, which is similar to what you can expect from the KILZ finish above.
Unfortunately, this finish doesn't provide nearly the same coverage, so you can expect to spend a bit more money on this finish than you would with some other option. Rust-Oleum recommends two coats to complete a job, and each gallon completes approximately 25-40 square feet.
One benefit of this finish is it cures quickly. The finish is ready for foot traffic 24 hours after the second coat has been laid down, and you can add any furniture and decor within 48 hours.
This finish is also weatherproof and resistant to mildew, mold, and algae, so you can feel confident knowing that your new finish is built to stand the test of time and will require little in the way of cleaning or maintenance.
Available in an impressive array of 60 different colors, you'll easily be able to find a shade that perfectly suits the look of your deck and home.
What We Like
Available in a wide array of colors
Impressive weather and stain resistance
What Could Be Better
Poor coverage
Not ideal for severely weathered surfaces
KILZ Interior/Exterior Enamel Porch & Patio Latex Floor Paint, Low-Lustre, Slate Gray, 1 gallon
Anvil Deck-A-New provides impressive coverage and is a solid choice to completely revitalize your deck.
Deck-A-New is similar to the other models we've covered thus far in the sense that it can completely cover cracks, splinters, and imperfections in your deck up to ¼" in size. However, it provides very impressive coverage compared to many of the competitors.
One gallon of Deck-A-New covers 60-80 square feet, which is considerably more than you'll get from a gallon of Rust-Oleum Deck+Concrete Restore.
While this option is available in a few popular colors, it doesn't offer nearly as many colors as some products, such as the Rust-Oleum refinisher above.
Deck-A-New is extremely weather resistant and can stand up to most anything mother nature can throw at it. But, it doesn't provide the same level of mold, mildew, and algae resistance that some other brands do, which may be a major concern if you live in a particularly humid and damp environment.
However, Anvil does make a sealant product designed for use with Deck-A-New that provides increased weather resistance as well as resistance to mold, mildew, and algae. This sealant product is particularly useful for severely weathered decks that appear to be on their last legs.
What We Like
Impressive coverage
Affordable
What Could Be Better
Available in limited colors
Rust-Oleum ROCKSOLID Deck Restorer 20X
If you're dealing with a severely weathered deck that's in desperate need of restoration, Rust-Oleum ROCKSOLID may be the ideal product for you.
This product is similar to RustOleum's Deck+Concrete Restorer, and it's available in the same impressive range of colors. It's also one of the fastest solutions available. It's dry to the touch within 4-6 hours, and it's ready for use within 24. But, compared to the Rust-Oleum finish above, it's twice as thick, which means it's 20 times thicker than standard paint.
This extra thickness provides impressive coverage for severely damaged and weathered decks, and it provides arguably the most weatherproof and longest lasting finish for your deck.
ROCKSOLID also provides impressive mold, mildew, and algae resistance, making it ideal for use in wet and humid climates.
This product does require you to use Rustoleum's special applicator roller, but one single roller is all you'll need for up to eight gallons of resurfacer.
What We Like
Ideal for severely weathered surfaces
Available in a wide array of available colors
Impressive weather and stain resistance
What Could Be Better
Mediocre coverage
Expensive
Flood/PPG Pro Series Deck Resurfacer
Flood has been in business since 1841, and they're one of the preeminent wood finish specialists in the world. They partnered with PPG for their Pro Series deck resurfacer, and it's one of the most compelling options on the market.
This finish can be tinted to an incredible 120 different finish colors, which is double the amount of finish options available from Rust-Oleum, and ten times the amount of many other competitors. If you're especially picky about the finish, you'll want to take a close look at this resurfacer.
It also provides impressive coverage, at about 75 square feet per gallon, which makes it one of the more economical options on the market.
This finish is textured and non-slip, and it offers incredibly easy cleanup with just soap in water, or better yet, a power washer. It's also mildew, mold, and algae resistant and weather resistant, so it stands up to the test of time about as well as any other product on the market.
It dries about as quickly as the competitors, but it does take a bit longer to cure, so it may be best to stay off it for 48-72 hours before you begin walking on the deck or adding your furniture.
What We Like
Available in an incredible array of colors
Impressive coverage
Affordable
Mold, mildew, and algae resistant
What Could Be Better
Takes a long time to cure
Deck Resurfacer Buying Guide
Whether you choose one of the options from our list above or decide to strike out on your own in search of the perfect option, there are some things you'll need to consider before deciding on the best deck resurfacer for you.
What is a Deck Resurfacer?
Deck resurfacers are a finish designed to prolong the useful life of a deck. They're similar to deck paint and stain in the sense that you apply them with a paintbrush or roller, but the similarities end there.
Deck resurfacers are extremely thick, industrial coatings. They are typically 5-10 times thicker than paint, and even many times thicker than that compared to a stain.
Whereas paint and stain can be used to accentuate the natural beauty of the wood, deck resurfacers are ideal when the natural beauty has long been weathered away, and you need a finish that will prolong the life of your deck.
The thickness of a deck resurfacer allows it to easily fill any cracks, burrs, and nail holes in the wood, providing a clean looking uniform finish which can significantly extend the life of your old deck.
Pros of Deck Resurfacers
There's one major benefit to using a deck resurfacer. A deck resurfacer can extend the life of your deck for many years, so you can continue to enjoy a beautiful and functional outdoor space.
As decks get older, nature takes its toll. Wood cracks, chips, and warps, nails become exposed, and before you know it, your beautiful deck has become an eyesore, and a potential hazard, as well.
That's where a deck resurfacer comes in. Deck resurfacers are many times thicker than paints or stains, and they can completely cover and protect any of the imperfections that your deck has developed over time.
They're also quick and easy to apply, and the entire project should take you a day or less. Meanwhile, standing and re-staining or painting a deck is a much more involved process, and stain or paint won't be able to address any of the underlying issues with your deck beside the finish.
Deck resurfacers are also almost entirely maintenance free, available in a myriad of different colors made to suit your style, and they're extremely resistant to fading from the sun. Plus, many resurfacers can pull double duty, and work on wood as well as concrete and other substrates.
Cons of Deck Resurfacers
To the contrary, there are also a few things cons associated with deck resurfacers.
For one, deck resurfacers are usually looked at as the "last straw" of deck maintenance. Once you've applied a deck resurfacer, removing it and refinishing the deck again will be virtually impossible.
Deck resurfacers also do a great job of holding in heat from the sun, which may make it uncomfortable to walk on the deck with bare feet, and it may make the deck a bit hotter in general than it was before you applied the resurfacer.
Another downside of deck resurfacers is that they're several times more expensive than paint or stain is on a per foot basis. That said, the cost of resurfacing your deck is many times less expensive than replacing the deck entirely.
Finally, proper preparation is extremely important when applying a deck resurfacer. Otherwise, you'll be dealing with peeling, which can greatly affect the integrity and overall look of your deck.
What to Look for When Selecting a Deck Resurfacer
If a deck resurfacer is sounding like a good idea to you so far, read on as we cover some of the features and characteristics you'll want to look for to ensure you make the best choice for your deck.
Thickness
A major consideration will be the thickness of the resurfacer. The condition of your deck will dictate how thick you need the finish to be. For severely worn and weathered decks that are rife with large cracks and imperfections, an extremely thick coating will work best.
Meanwhile, if your deck is less worn and features smaller cracks and imperfections, a thinner finish will be best for your needs.
Coverage
Another thing to consider is the amount of coverage you get out of each can of resurfacer. Thinner finishes will provide additional coverage compared to a thicker finish. Knowing how much each can will cover will help you accurately estimate the cost of the job.
Finish
You'll find textured as well as smooth deck resurfacers. A textured finish is usually preferred for severely worn decks, as the texture helps to further mask the worn wood underneath. A textured finish is also slip-resistant, so it may be a good choice if you have small children who will be using the deck.
Weather and Stain Resistance
While virtually all deck resurfacers provide superior weather resistance, the nature of these extremely thick finishes makes them vulnerable to mold, mildew, and algae.
Thankfully, some brands have engineered finishes that are resistant to these kinds of issues, and they can greatly reduce the amount of cleaning and maintenance that the finish requires.
Required Extras
When it comes to deck resurfacers, the process isn't as simple as just dumping on the finish. Most deck resurfacers require you to first prep the deck with special cleaners and primers before applying the finish. Some brands even require you use a special roller or brush to apply the finish.
Keep in mind that prep work is the key to a beautifully refinished deck that will stand the test of time, so don't underestimate the importance of this step. At the same time, if you're looking to make this an economic project, you may want to avoid any brand that requires you to purchase several other expensive products to prep your deck with before refinishing it.
Color
One major plus of deck resurfacers is that they're available in plenty of different colors, so you can select a shade that works beautifully with the exterior of your home. Meanwhile, some manufacturers only make a handful of different colors, which greatly limits your selection.
If the color of the finish is important to you, be sure to select a brand that offers plenty of different options so you can easily match your refinished deck to your home's exterior.
Final Verdict
When it comes to deck resurfacers, they're a great way for you to prolong the lifetime and beauty of your deck, without breaking the bank. These finishes allow you to quickly and easily restore a beautiful finish to your deck for considerably less than you'd spend replacing it.
We covered five of the best choices available above, and while each resurfacer provides a long-lasting and high-quality finish, there can only be one winner.
Our choice for the best deck resurfacer is Flood/PPG's Pro Series Resurfacer. This finish is available in a myriad of colors, it's weather resistant, resists mold, mildew, and algae, and it's easy to clean, as well. It also provides impressive coverage, which helps make it one of the most affordable choices, as well.
Overall, Flood/PPG provides the most impressive features at an affordable price point, so it's an easy pick as our top choice.
If you're dealing with a severely weathered deck that more viscous resurfacers like Flood/PPG are no match for, we'd recommend giving RustOleum's ROCKSOLID 20X a try instead.