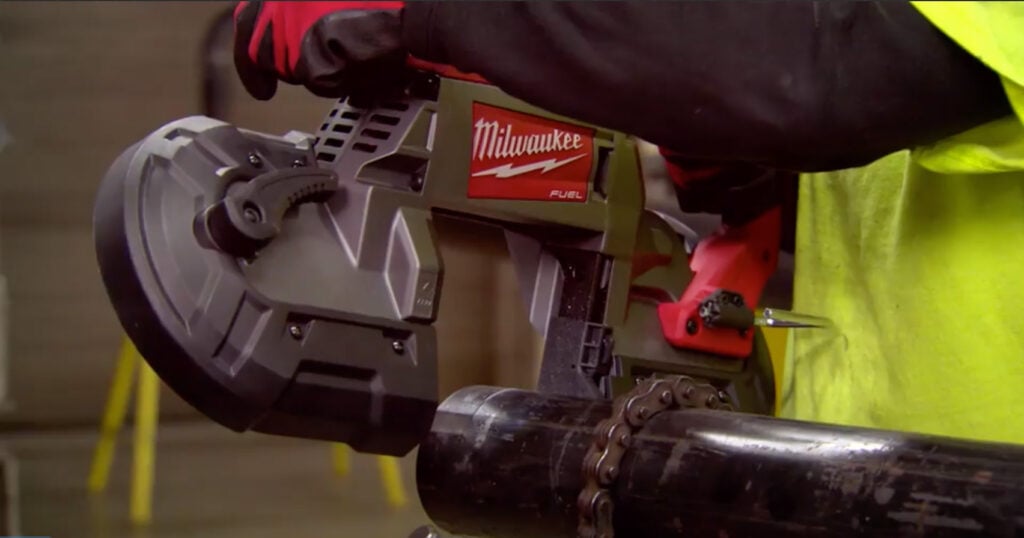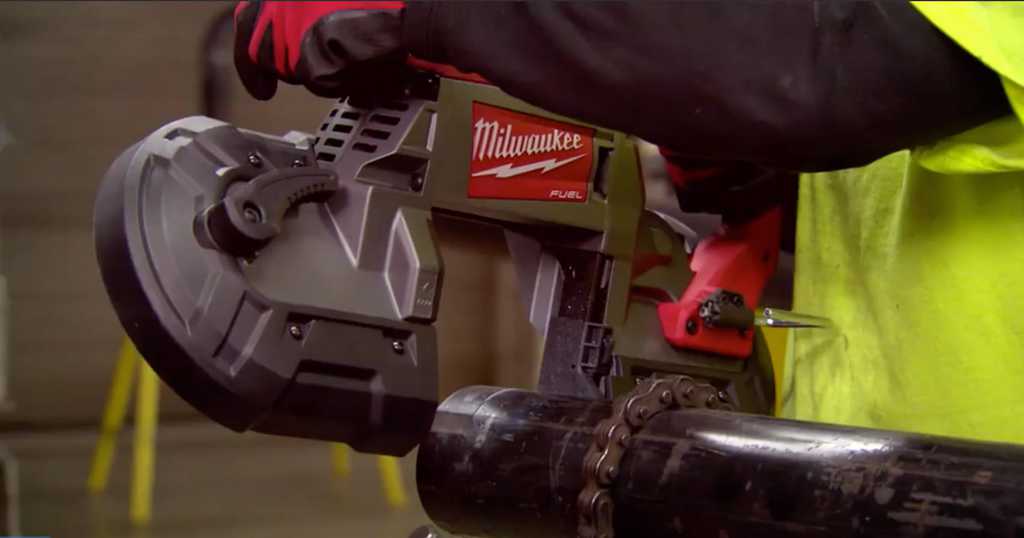 If you work in a metal fabrication shop or workaround metal that occasionally needs to be cut, then there's a good chance that you're going to need a portable band saw. The band saw is great to use because cutting metal is different than cutting wood or other materials as a result of the heat that the cutting process produces.
The portable band saw is not as manageable as the circular saw however where it makes up for in agility you're able to change directions carefully and as often as you wish. Imagine having something like a powered hacksaw in your hands. In the metalworking industry, they use them quite a bit for repairs for items too big to fit into a regular band saw.
A portable band saw is a good tool for cutting long heavy metal, and leaves a nicer edge to weld to than a cutting torch does. A portable band saw is also good for pipes. Etc. A good portable band saw puts consistent lateral pressure against the pipe when cutting, so you don't get the vibration that a reciprocating saw gives, and a bandsaw produces a cleaner edge. Our guide on the top horizontal band saw really shows you what an industrial saw can do.
Milwaukee 2729-20 M18 Fuel Deep Cut Portable Band Saw
The Milwaukee 2729-20 is a hands-down must-have tool. This is a great value saw, easy to use, that's powerful with a battery that lasts a looooong time. This saw is designed to cut all day long. Only take it on projects that you absolutely need to get done, and get done on time. Seriously though, the Milwaukee 2729-20 is a deep cut portable band saw that you can feel comfortable carrying on a small to medium to large to a gigantic job. The Milwaukee saw gets the job done.
How to Use the Milwaukee Portable Band Saw
Use both of the handles while you are operating the tool
Read the operator's manual and become familiar with the unique characteristics of your choice of saws
Squeeze the trigger which will allow the saw to cut its way through the metal you are cutting
Watch the saw blade to make sure it is aligned with your cut mark
Slow the cut when you are nearly through the stock so you can anticipate the blade binding if the material flexes or bends suddenly
Release the trigger and allow the blade to quit moving
Feel great because you've just killed the job
DEWALT DCS374B 20V Max Deep Cut Portable Band Saw
This portable band saw has an LED Work Light with a 20-second delay that illuminates dark work surfaces for accurate cutting, and offers variable speed trigger and dial allow for versatility and control. The DEWALT Deep Cut Band Saw is capable of up to 149 cuts of 1-5/8″ Strut with 14 TPI blade. There is an integrated hang hook that allows the user to hang the saw without damaging the front handle or base, and the tool-less blade changing lever loosens blade tension for easy blade changes. We have spent 1000's of hours reviewing, testing and using saws – Check out our ultimate band saw guide.
DeWalt makes great tools. And what's important is that is a great saw! The saw is to use and cuts with ease. The DeWalt DCS is a good maintenance saw. It is a bit heavier than a corded saw. The saw also has a dial to adjust cut speed, and the trigger controls the speed as well. I have an acquaintance that uses his DeWalt for cutting up his scrap copper pipe as well as for cutting his steel pipe. He swears that it is irreplaceable as an efficient cutting tool.
Out of the Two Portable Band Saw Choices
Whoa. Now, this is a tough call to make. You have two quality power tools made by two powerhouse companies that get the job done every time. Close call or not, this time we're going to have to pick the Milwaukee 2729-20 Deep Cut Band Saw. Let's keep it honest and say, that this tool is an absolute must in any contractor's toolbox. Period.