It is always disappointing when you want to replace a tool you love and learn that it is no longer made. That is the case with the Delta Band Saw 28-150. This 9-inch tabletop saw can be bought used on Ebay or through Craig's List.
If you need a Band Saw that works, you have three choices—take a chance and buy a used one, find replacement parts for your Delta 28-150, or purchase a new 9-inch Band Saw. Hopefully, our research will help you make a choice.
By the way, if you find a saw called the Rockwell Delta Band Saw, is it the same saw? We have the answer to that also.
Are Delta Band Saw Parts Available?
The first place we tried was Delta itself. After typing in the part number for the 28-150, we discovered a schematic that showed the various parts. We found 30 of the 189 parts were still available. That was not reassuring. Still, the schematic would still be helpful in identifying the parts needed. If you want to bypass the rest of the Delta site, go here.
Delta products are sold at both Home Depot and Lowes. Neither site listed parts for the Delta 28-150. We didn't have any better luck at Amazon. To find replacement parts your best bet is aftermarket sellers such as Ereplacement which you can find here.
Can I Buy Delta Band Saw Tires and Blade?
You have several options for replacement tires
Polybelt sells one that has two things we like—it fits only the Delta 150 and it has the most positive reviews. Check it out here
Another belt can be viewed here. The manufacturer is not listed, nor are there any reviews.
Blue Maxband sells a set of tires that fit on the Delta 150 also. They are the most expensive of the three, but they claim their unique Urethane finish allows for more precise blade tracking. You can check them out here.
Although any saw blade for 59.5 inch machines will work as a replacement, the Powertec is specifically designed for the Delta 150. We like that it specifically mentions the Delta, unlike other blades, such as those by Vermont American. If interested in looking at it, you will find it here.
If you have decided to purchase a replacement table-top Band Saw, we have several recommendations.
---
Delta Band Saw: Skil 3386-01 2.5-Amp 9-Inch Band Saw
When we first saw the picture of this saw, we thought it looked like a kid's toy. At 32 inches tall, this table-top Band Saw is clearly not a kid's toy. The front side is red while the back is black. Not sure why that is, except that most Skil products have that distinctive red. This saw has all the standard features of a 9-inch saw—2.5 amp motor, 11 by 16 table top, and cutting depth of 3 1/8 inches.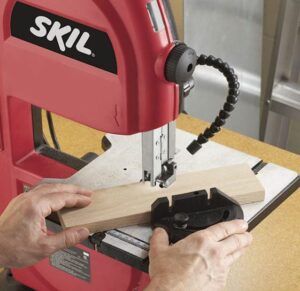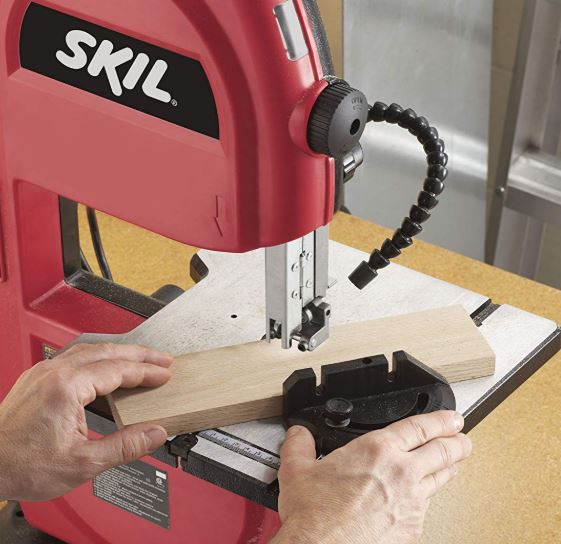 What We Liked
The articulating work light which provides good visibility
The rack and pinion adjustments that were simple to operate
Having a miter gauge and rip fence come with the machine, instead of having to buy them separately
What We Didn't Like
The motor—it lacks power and gets hot quickly
Adjusting blade guides is difficult because of the flimsy upper guide
The table is not flat, causing wood to get caught on it
Bottom Line
If you're doing the kind of wood projects that require thinner wood, this machine will do a good job. We recommend that you figure out a way to attach it to whatever you sit it on so it will operate more smoothly. But all in all, a good investment, especially for the price. Go here if you want to know more.
---
Delta Band Saw: WEN 3960 2.8-Amp 9-Inch Benchtop Band Saw
Unlike the Skil Band Saw, we knew right away that this was a tool. But looks matter less than performance.
Compared to the Skil this saw had several advantages, a few disadvantages, and some features that came out even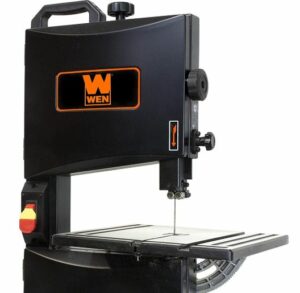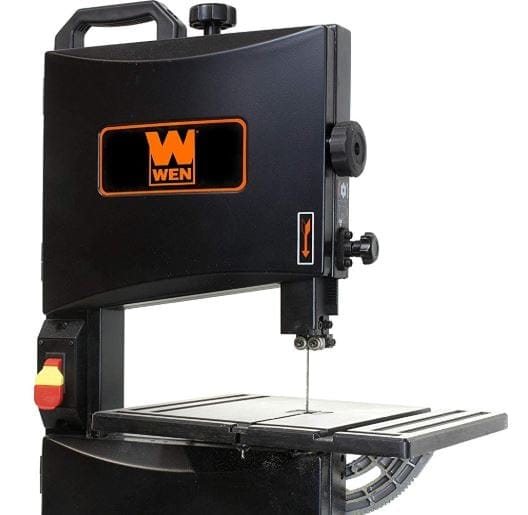 Advantages
The Wen motor is a little stronger with 2.8 Amps compared to 2.5
Its cutting depth is 3 5/8, which is ½ inch more than the Skil
It warranties its product for two years instead of just one
The Wen is much heavier (39 pounds versus 16.5), making it a sturdier machine.
Disadvantages
The table is smaller—only 12 by 12
Similarities
Both machines come with a dust port, miter gauge, and rip fence
Reviews for both machines are similar
Prices for both machines are similar—with a Wen usually a few dollars more
Bottom Line
In a side-by-side comparison the Wen machine comes out slightly ahead. You can see price and more information about the Wen here.
---
What Happened to Delta Tools?
Trying to figure out who makes what tools is difficult. For example, Delta Tools is part of the Apex Tool group, which includes some lesser-known brands such as Dotco, Weller, and Lufkin. Rockwell is part of Positec, which also owns Worx. So, was Rockwell Delta ever one company?
Yes. In 1919 Herbert Tautz started the Delta Specialty Company, focusing on smaller tools for the home market.
In 1945, Delta was acquired by Rockwell Manufacturing Company. Rockwell kept the name Delta, calling it the Delta Power Tool Division of Rockwell.
That is why the older Delta Band Saw models are often called Rockwell Delta Band Saws.
In 1981, Pentair bought Rockwell. Pentair dropped the Rockwell name and called the new company Delta Machinery.
In 2005, Pentair sold Delta Machinery to Black and Decker
In 2011, Black and Decker sold Delta machinery again, this time to a Taiwanese company
Although Delta tools are manufactured overseas, the company continues to do some production work in the United States, with a plant based in South Carolina. That's a long way from Wisconsin, where Herbert Tautz started Delta.
Therefore, a Rockwell Delta Band Saw and a Delta Band Saw were made by the same company but at different times. If you see a Rockwell, it was built before 1961. If it still works, the owner probably won't part with it.
About the newer 9-inch saws we recommended–the Chervon group owns Skil as well as Skilsaw (the company that built the first portable circular saw). And Wen seems to be owned by Wen, which is why you have heard of them. If you are curious about who owns who, there's a nifty diagram on Popular Mechanics here. Are you looking for the best band saw? Check out The Best Band Saw – Complete Buyers Guide & Reviews.