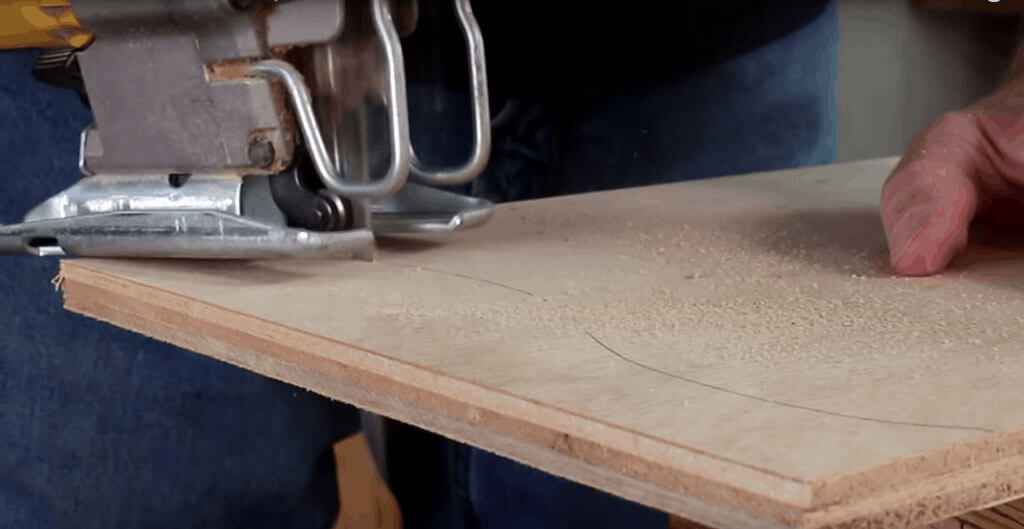 Out of all the specialty saws available, one flirts with the definition of both "specialty" and "everyday" saw…the jigsaw. The jigsaw, or sabre saw for those who prefer it, is a versatile tool that fulfills the contoured needs of the do-it-yourselfer when straight lines are not on the menu.
If you've ever tried to navigate curves, circles, or inside openings with a circular saw (the essential power saw everyone should own) you've probably quickly realized why it isn't intended for anything other than straight cuts.
Related: Full comparison of why you'd use a jigsaw vs. circular saw
Quick Overview: Our Top Jigsaws
The circular saw will bind and splinter the wood, creating more mess, hassle, and potential risk than it's worth. If you have a project that calls for curves, circles, inside openings, or a long list of other unique cuts, the jigsaw is the preferred tool. Which jigsaw is the best jigsaw for you? Let The Saw Guy help you discover just that.
With the blade being only ¼-inch to ½-inch wide and very thin, a jigsaw blade is small and flexible enough to make it ideal for cutting curves. A jigsaw works by a reciprocating up and down movement, usually cutting on the upstroke.
Typically, a jigsaw is used for cutting wood or similar strength materials but with the right blade, jigsaws can also be used to cut metal sheeting and straps or even stone. While they are not the most efficient way to cut through metal, they manage to fill the role when they are occasionally called upon.
There are two basic styles of jigsaws; barrel and D-handle or top-handle. Most manufacturers have both styles in each model. This provides the user with their choice. While the top-handle is the more traditional style, users of barrel style jigsaws rave that they are easier to control.
Since maintaining control over the blade and the cut is a major factor when using a jigsaw, these models are worth your consideration.
If it is within your tool budget, the better quality jigsaws are worth buying.
The amount of adjustment the saw offers for blade speed, stroke length, and oscillation style, more than makes up for the cost of the saw. The payback will come in increased efficiency, both in faster cuts and in less damage caused by the saw.
Some of these units come with LED work lights or laser guides. These are great options to have, making it easier to cut straight and follow the line you've laid out.
While I am strongly in favor of these features, I wouldn't make them the top priority when choosing a jigsaw. Even the best jigsaws on the market will have their flaws. However, when cost isn't a factor, if it comes down to a saw with all the features and one without, the features are certainly justifiable.
The best jigsaw for each individual depends on a number of factors. But before you jump into buying a jigsaw here are just a few questions you can ask yourself to assess your needs:
What kind of projects are you anticipating?
How often will you use the jigsaw?
What is your budget?
What is your work environment?
What is your skill level?
It is important to answer these questions before making a decision on a saw. Entering the world of "jigsawing" without doing a bit of research can leave you paying too much by purchasing a jigsaw with features you will never need.
Why should You educate yourself about features? It would be like buying a truck and paying for a 4×4 model, when chances are, you will never use it. It just doesn't make sense.
The Best Corded Jigsaws
Best Jigsaw – Overall
Bosch JS470E 120-Volt 7.0-amp Top-handle Jigsaw
We have to give the best jigsaw overall to the Bosch JS470E 7.0 Amp Top-Handle Jigsaw. This jigsaw stands out among the rest for its rugged durability (the footplate arm will withstand up to 546 lbs of load) and raw power to tackle most any job you can throw at it with a top SPM of 3,100. It will also bevel up to 45° and can cut through soft wood up to 5 7/8 inches thick.
In addition to its great performance the JS470E has some nice features such as a dust blower, variable speed, tool-less blade changes, and an orbital-action with 4 settings to adjust your cut from a slower but better finished cut to faster but rougher cut. The JS470E is also designed not to transfer a lot of vibration to you hands and includes an ambidextrous trigger lock. So, it's comfortable to use for longer periods.
There were some negative reviews that complained the blower was underpowered and didn't move much dust and some had problems with the quality right out of the box. That's forgivable and can be expected from any manufacturer in a small number of units sold. Overall, people have been very pleased with the Bosch JS470E jigsaw.
Facts and Features
Powerful 7.0-amp motor
Variable speed with SPM range 500 to 3,100 SPM
Cutting capacity of up to 5 7/8 inches in soft woods
Bevels up to 45°
Tool-less blade changes with blade ejection to prevent handling hot blades
Orbital-action with four settings
Ambidextrous trigger lock
Low vibration with smooth performance
Adjustable dust blower
T-Shank blades only
1-year warranty
PORTER-CABLE PCE345 6.0-amp Top-handle Jigsaw
The PCE345 jigsaw from PORTER-CABLE is a stout and affordable piece of machinery. It's no frills and focuses on competing with performance rather than a load of features. It packs a 6.0-amp motor capable of reaching up to 3,200 SPM. That's some pretty serious cutting speed and you'll be hard pressed to find a high-end jigsaw that matches it.
To get even more mileage out of that 3,200 SPM, the PCE345 also includes orbital action with four different settings. While it is technically variable speed in that you can adjust the speed, this is done with a dial on the bottom side of the trigger rather than by trigger pressure alone.
One great feature is that it will accept both T-Shank blades as well as U-Shank blades and is equipped for tool-less blade changes. I could not find any official information on the beveling capabilities of this jigsaw but many reviewers said it will bevel up to 45° and in looking at the shoe this does appear to be the case. I'm not sure why PORTER-CABLE isn't advertising that particular capability.
Owners of the PCE345 were overall very satisfied with what they saw as a powerful saw for your typical homeowner. Some had issues with the saw cutting square and with not holding the blades firmly but those were few and PORTER-CABLE is backing this saw with a 3-year warranty.
Facts and Features
Powerful 6.0-amp motor
Will bevel cut
7-position adjustable speed dial up to 3,200 SPM
Tool-less blade changes
Orbital-action with four settings
Trigger lock
Rubberized overmolding to reduce vibration
T-Shank and U-Shank compatible
3-year warranty
Black+Decker BDEJS600C 5.0-amp Top-handle Jigsaw
Talk about a jigsaw on a budget… With the Black & Decker BDE JS600C you are getting a whole lot of tool for the little it costs. But you get to do it without sacrificing too many features or quality. You could almost by two of these for the price of the PORTER-CABLE or five of them for the Bosch.
Having said that, it's true you won't be getting the same quality as those other two tools. Some users had the parts of the tool falling off shortly after purchase and really had a problem with the blades staying inserted. But Black+Decker does give this tool a 2-year warranty. The 5.0-amp motor is solid and will handle almost any job the typical homeowner could toss at it but it may struggle getting through harder woods or metal.
The upside is this thing is loaded with features for it's price. It'll bevel 45° both ways, is a true variable speed, has orbital action, tool-less blade changes, and a blower. On top of all that, it's compatible with both T-Shank and U-Shank blades. If your looking for a great tool that won't end up with you sleeping on the couch, the BDEJS600C is a great choice.
Facts and Features
Solid 5.0-amp motor
Bevels up to 45° both ways
Variable speed up to 3,000 SPM
Orbital-action with four settings
Dust blower
Tool-less blade changes
Trigger lock
T-Shank and U-Shank compatible
Rubberized overmolding for comfort
2-year warranty
The Best Cordless Jigsaws
DeWALT DCS331M1 20V Max Lithium-ion Top-handle Jigsaw
DeWALT makes some fine tools and the DCS331M1 jigsaw is definitely one of them. This battery-operated jigsaw runs on the 20V Max Lithium-ion platform which gives it plenty of stout power for most professional use. So, the average homeowner will likely find very little they can't accomplish with this saw.
This jigsaw includes variable speed that will reach up to 3,000 SPM and has four orbital-action settings. It also allows for tool-less blade changes and has a dust blower you can adjust to limit how much air is forced out.
As it is cordless, you won't have to fuss with pulling around an extension cord while you're working with it but you are also limited to the charge a battery can hold. This does make the saw heavier as it includes the weight of the battery as well but the DCS331M1 is still very comfortable to use and is well balanced.
The quality and battery convenience are reflected in the price though as the bare tool alone will cost as much as the Bosch without batteries. If you have to purchase the batteries and charger too you can plan to double the cost. However, if you are already a member of the DeWALT 20V Max Lithium-ion club, this is much less of an issue.
Overall, there weren't that many complaints about this saw other than occasionally a thinner blade might get pulled out in a particularly tight turn and that the saw struggled with cutting through thicker metals. Struggling with really hard materials is kind of to be expected with a cordless saw though as they just don't have the power of the corded ones.
Facts and Features
Stout 20V Max Lithium-ion power
Excellent run time
Variable speed up to 3,000 SPM
Orbital-action with four settings
Adjustable dust blower
Tool-less blade changes
Trigger lock
T-Shank only
Rubberized overmolding for comfort
3-year warranty
Makita XVJ02Z 18V LXT Brushless Top-handle Jigsaw
The Makita XVJ02Z is easily the most expensive jigsaw on our list but it's a solid pick for anyone looking for a feature rich, battery-operated jigsaw. It has a powerful 18V LXT motor that will ramp this puppy up to a whopping 3,500 SPM. Luckily, that speed is adjustable.
Like the PORTER-CABLE this saw will make bevel cuts but it's not advertised exactly what it's capabilities are. The XVJ02Z also includes the dynamic duo of having both a dust blower and dual LED work lights. You shouldn't have any issues spotting your cut line with this saw.
This jigsaw has three different settings on the orbital action which is slightly less than the usual four and is really very light at just 5.8 lbs with the battery. That means it will be easy to maneuver and comfortable to use.
The biggest complaint I have found about this particular jigsaw is with the No-load speed reduction. Basically, what this feature does is provides the speed and power as it is needed to save on battery life. The problem users had with this is when cutting thinner material the blade just wouldn't get up to the speed they needed to make a nice clean cut and often just bounced around shaking the devil out of their project. Besides this, most owners were very happy with the saw.
Facts and Features
Powerful 18V LXT motor
Adjustable speed from 800-3,500 SPM
Will bevel cut
Orbital-action with three settings
Brushless motor optimizes run time
Tool-less blade changes
Soft-start
No-load speed reduction
Only weights 5.8 lbs with battery
Dual LED work lights
Trigger lock
Dust blower
Rubberized overmolding for comfort
3-year warranty
Hitachi CJ18DGLP4 18V Lithium-ion Top-handle Jigsaw
I like options, so if you were hoping to find a cordless jigsaw that didn't mutilate your pocket book I included the Hitachi CJ18DGLP4 and it's a solid choice by any metric. The 18V motor is easily powerful enough for what most homeowners could ask of it and will still reach up to 2,400 SPM.
It will make bevel cuts of up to 45° both ways and has a three-setting orbital-action for cuts that need more gusto. It is very light weighing just 4.0 lbs without the battery. On top of all that it will accept both T-Shank and U-Shank blades. So, more options there, as well.
For its price it has some nice quality of life features such as on-tool blade storage and an LED work light. This is all backed by Hitachi's Lifetime Lithium-ion tool warranty.
While the majority of owners were very pleased with this jigsaw, some felt that the saw lacked in power as they struggled to make some cuts. This could be attributed to using 1.5-amp versus the 3-amp batteries. Some users also were unhappy with the run time they got out of a single charge.
Facts and Features
Powerful 18V motor
Variable speed up to 2,400 SPM
Bevels up to 45° both ways
Orbital-action with three settings
Tool-less blade changes
Only weights 4.0 lbs without battery
LED work light
Trigger lock
On-tool blade storage
T-Shank and U-Shank compatible
Rubberized overmolding for comfort
Lifetime warranty
Choose The Right Type Of Jigsaw
Is it Time to Cut the Cord?
Battery-operated tools are rapidly gaining in popularity and capability. While there used to be just a handful of tools (namely cordless drills) that ran on batteries, nowadays you can find most any tool with a battery-operated version. Battery-operated jigsaws have struggled to become as widely used as other cordless power tools. It makes sense when you think about it.
Jigsaws aren't typically used like most power tools, where you cut your piece of wood or drill a hole and you're done. Often times, the application of the jigsaw is for cut's that will take time and expend more energy, thus decreasing the battery life much quicker.
However, with the recent surge of Lithium-ion (Li-ion) batteries, the cordless option is much more viable than ever before. Li-ion batteries have a much longer battery life and recharge very quickly, allowing the jigsaw to be used for longer periods with less downtime.
Battery operated may be the wave of the future as batteries become more reliable and more powerful but for now there are still enough drawbacks to using a battery-operated tool versus a traditional corded tool to warrant a discussion.
A corded jigsaw will generally cost less than a similar grade battery-operated one and it will be more powerful. A corded jigsaw is also lighter and will give you unlimited cutting time as there are no batteries to run out on you.
On the other hand, a battery-operated jigsaw has the advantage of being very portable and if you will be cutting a long ways away from a power source…Well, battery power is way better than no power at all.
Battery-operated also means you won't be fussing with a cord when making complex cuts which makes the jigsaw more maneuverable. And while they are generally more expensive, if you have already bought into a brand platform you can buy the tool only and use your other batteries in the jigsaw which might make it actually cheaper than a corded version.
Whether you decide to go with a battery-operated or corded jigsaw also depends heavily on your habits and how you intend to use the jigsaw. Is there a reason you couldn't make the cut within reach of an outlet that makes battery operated a requirement? For some tools, like a cordless drill, I can't imagine being tethered to a cord and for others it's not a problem for me.
Barrel Grip vs D-Handle or Top-Handle
While our list consists entirely of top-handle jigsaws, I'd like you to be aware of the barrel grip and what it means. Many of the models listed will also come in a barrel grip if that's your fancy. As far as features go, a barrel grip and top-handle should have identical features for a model. Only the way you hold the jigsaw changes.
The barrel grip is a matter of preference. Many users who prefer the barrel grip prefer them because they feel it gives them more control over the blade as their hand is lower and closer to the blade. Those who don't like them say that the larger grip wears out their hands quickly.
The majority of jigsaws out there are of the top-handle variety, so take that for what it's worth.
Features that Matter
Orbital Action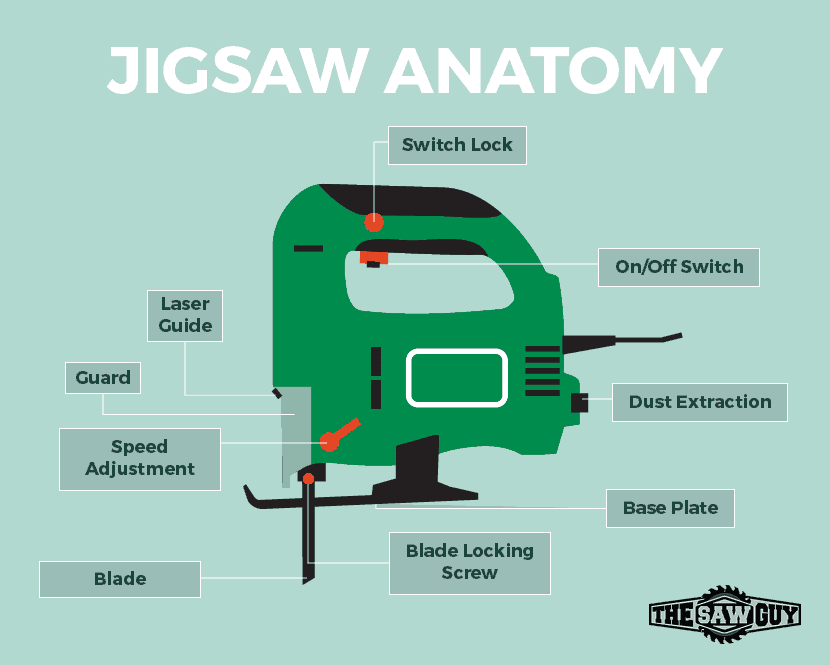 Orbital action, also sometimes called oscillating action, refers to how the blade of the jigsaw moves when cutting. This is specifically referring to along the cutting face of the blade, no funky side to side action is happening.
The orbital action changes the path of the blade when cutting. The blade can move straight up and down, which would be no orbital action, or at higher orbital settings will move in a sort of lazy loop driving itself forward into the material with each stroke.
There are advantages to both settings. Having no orbital action will produce a cleaner more precise cut but is slower. With the orbital action set, the jigsaw will cut more quickly but leaves behind more tear-out.
Bevel Capacity and Bevel Adjustment
A bevel cut is any cut where the blade is not perpendicular to the material. The ability to tilt the saw housing (or shoe depending on how you see it) is certainly a handy feature when you need it.
Some jigsaws do the job better than others. For instance, some include preset stops at common angle intervals and include a lever for quick adjustments. Also, easy to read scales help ensure you've got the saw in the right place and those stops will help take nearly all the fuss and worry out of some of your cuts.
Variable Speed
This is such a small thing but can make a huge difference depending on your comfort and skill level. Variable speed is really simple in that it allows you to fine tune the speed of the blade based on how much you squeeze the trigger of the saw.
You may be the kind of person who just likes to go full bore all the time but I personally like to be able to slow down and control the speed of the blade when I am coming to either a corner or a tricky curve. This particular feature is very dependent on the individual user.
Laser Guide
While they sound cool and are fun to brag about, I haven't personally found them more than slightly useful for setting up a cut initially. On curved cuts, the laser guide is even less useful. Not only are they just nominally accurate, but once I've begun cutting, I'm too focused on paying attention to the guide on the shoe or my cut-line to really be able to use the laser. Combine that with accuracy problems on the lasers and I personally don't get a lot of mileage out of them.
LED Light
As opposed to lasers, this is a feature I can really get behind. An LED work light is a small flashlight on the saw that turns on when the trigger is engaged even a little and shines the light right where it's needed. This makes seeing your cut-line significantly easier if you're in any place other than outside on a sunny day.
My shop is in my basement, so standing in the wrong place can throw a shadow on the work piece and make the line almost impossible to see but sometimes, that's right where I need to be. Couple the LED work light with a dust blower and you've got a really handy combination.
Dust Blower
Using any saw will create dust and that dust will be thrown all over the place with careless abandon. Sometimes that means even your cut-line will get covered in sawdust making it difficult or impossible to see even with a laser or LED work light. Obviously, this can negatively affect the quality of your cuts.
This is less of an issue on short cuts (trimming a 2×4 for instance) as the cut is finished before a lot of dust has time to settle. But on longer cuts, this can be a big problem. Enter the dust blower.
The dust blower is exactly what its name says it is, it blows the dust away that collects ahead of the saw when you're cutting. It really is a handy feature and pairs well with an LED work light or a laser. The downside is that the strength of the blower is usually tied to the speed of the motor. So, if you're not running at full throttle the blower may not move much.
Vibration Reduction
Most power-tools are going to create vibration of some sort. Some create significantly more than other do though and jigsaws create a ton. It's sort of like trying to hang onto an angry Jack-Jack. It seems like a minor thing but too much vibration can lead to hand-arm vibration syndrome.
That's why a tool that does it's best to reduce the amount of vibration that reaches your hands will be more comfortable to use and can reap benefits for you in the long run. Some tools will reduce vibration strictly through the types of material used on the grips.
Not only will vibration reduction save your hands but it will help you cut cleaner by allowing you to follow your cut-line more accurately and the saw won't be slamming up and down into the material.
Trigger lock
A trigger lock is another feature to save your hands, in this case, your grip. If you have any prolonged cutting to do you'll quickly come to appreciate this feature as your hands and forearms can quickly tire and cramp from trying to hold down the trigger while maneuvering the blade.
The trigger lock locks the trigger into the on position so you no longer need to hold it down manually. This allows you to adjust the way you hold the saw as you are cutting.
Tool-less Blade Changes
The saw blade is your main contact with your material and the quality of the blade can have a significant impact on the quality of your finished product. Jigsaw blades are thin and can bend and break. They are also relatively inexpensive compared to the material you're using and the time spent.
So, if you think the blade your using is not cutting it, either it's dull or bent or just the wrong tooth count, it's a good idea to change it out for a better one.
With tool-less blade change, or quick change, this is very easy and can be done in seconds. Without tool-less blade change you'll need to have an Allen wrench handy to loosen the set screw holding the blade in. While this is not difficult by any means, it can take a little time and the faster you can make the change, the more likely you are to do it and ensure the best cut quality.
All About the Blades
Jigsaws have greatly evolved away from the primitive and inaccurate tool of their origin. Where they were originally used exclusively for rough-cutting curves, jigsaws are now used in many intricate applications requiring accuracy and splinter-free finishes.
This difference comes from a combination of small steps made to improve both the saws and the blades used in them. The cutting blade has always been a weak point for jigsaws.
A typical jigsaw blade is about ¼-inch wide and 1/32-inch thick. They really aren't a sturdy piece of steel and will warp as you are pushing sideways when trying to cut out a curve. That flexibility is a double-edged sword in that it allows the jigsaw to make a curved cut without breaking the blade, but keeping the edge square takes a bit of skill and experience.
Adding to this inherent weakness is the fact jigsaws only secure the blade on one end with the other being free-floating.
Modern blades come in a variety of sizes and shapes and are designed to reduce friction. Also, you'll want to be aware of standard and reverse-tooth blades. A standard blade is designed with the teeth facing in such a way that the blade cuts on the upstroke. This means any tear-out will occur on the top of your material. A reverse-tooth blade instead has the teeth facing the opposite direction and cuts on the downstroke. So, tear-out will be on the bottom with a reverse-tooth blade.
It is essential for you to know which type of "shank" your jigsaw requires. Although, some jig saws are compatible with more than one shank some may only be compatible with either T-shank or U-shank blades. The shank type denotes how the blade will be fastened to the jigsaw.
T-shanks and U-shanks are the most common; however, some brands may only use shanks specific to their jig saw models. That's something to be aware of whenever you're making a purchase.
T-Shank Blades
T-shanks are generally the most common in modern jigsaws and have a cone shaped end with two flanges. These are more widely used because they do not require external tools to change the blade and can be "quick changed." T-shank blades will also generally work in U-shank jigsaws.
U-Shank Blades
U-shank blades have a convex end that looks a bit like, well, a "U" and are fastened to the jigsaw with a set screw that usually requires an Allen wrench to change the blades.
Safety Considerations
Compared to circular saws, table saws, and chainsaws, jigsaws are relatively safe mainly due to a lack of kickback. That isn't to say that kickback can't happen, it can. But jigsaws don't use the rotational force other saws do and they are not as powerful. There are still ways to ensure you don't hurt yourself when using a jigsaw though.
For one, make sure you are familiar with your tool and all it's parts and use the proper kind and a sharp blade for the cut you are making. If you have to change a blade mid-cut because you feel like you are forcing the saw forward, watch out because that blade will be hot. And make sure you unplug the saw first. It's only six or eight feet away.
Whenever possible try to clamp your material down. This will allow you to keep both hands on the saw and prevent the material from moving on you when cutting. It's a bad situation when your material gets pushed around as your cutting or if it gets pushed of the saw horses with the trigger locked on full bore.
Also, be aware of where the cord is when you are cutting. With jigsaws you can make cuts that turn right back around on themselves so know where the cord is. And lastly, be sure to wear the proper eye and ear protection.
Best Jigsaw Brands
DeWALT
DeWALT was founded in 1924 with the creation of a universal woodworking machine. Since then, DeWALT has become a household name known for professional grade and durable products. And their product line is vast, ranging from radios and work lights to axes and nail sets.
Makita
Makita got its start more than 100 years ago in 1915 as an electric motor sales and repair business. In that time, Makita has grown into a well-known global giant in power tools. Whether it runs on gas, electricity, or battery, there isn't much Makita doesn't make of professional quality.
Bosch
Bosch was founded in 1886 by Robert Bosch who is known for having said he'd "rather lose money than trust." Since then Bosch has cultivated a reputation for quality and innovation across a broad spectrum of equipment and services beyond just power tools. They create auto parts and accessories, have automotive service centers, garden tools, appliances, and more
Black & Decker
Black & Decker has a unique history in that it's start in 1910 had nothing to do with tools but with machines that made milk bottle caps. But in 1916 they changed the tool world when they patented the first electric drill with a pistol-grip and trigger-switch. Now, they make consumer grade everything under the sun. Power tools, lawn and garden equipment, appliances, and even home cleaning products.
PORTER-CABLE
In 1906, R.E. Porter, G.G. Porter, and F.E. Cable started a jobbing machine and tool shop out of their garage in Syracuse, New York. By 1914 the business had begun to focus primarily on power tools and eventually would design several portable tools such as a belt sander and band saw. Their design of the helical gear driven circular saw, better known as the sidewinder, is still the most popular design of modern circular saws. After more than 100 years, PORTER-CABLE has built a solid reputation for their quality and reliability.
Hitachi
Hitachi is one of those brands you didn't realize was into making power tools and then you realize that not only do they make them, but they make some great tools. Hitachi was originally founded in 1948 manufacturing coal mining machinery and electric power tools. Since then, they've grown their tool lineup to include pneumatics, metalworking, woodworking, drills, saws, and much more.
Frequently Asked Questions
Q: Can I use my jigsaw to cut metal, stone, or laminate?
A: That depends on the saw and the blade. For cutting laminate you would simply need a laminate blade. When cutting metal or stone you not only need the proper blade but a saw with enough grunt to handle cutting through those harder materials.
Q: Will I need a specific saw blade for certain cuts?
A: Yes. When cutting different kinds of materials, you'll want to be sure to use the proper blade for that material. If you are cutting thick material, you'll need a blade that extends roughly 1-inch or so through the material. When cutting curves, you'll want to use the most flexible blade you have.
Q: Can I sharpen my jigsaw blade?
A: I'll go ahead and put this in the realm of possibly but it's more effort than it's worth. Jigsaw blades are already small and inexpensive making sharpening them pointless (pun intended). If you really were set on it, I'd imagine you could though.
Q: What size extension cord should I use?
A: Not all extension cords are equal, they vary significantly on the amperage they are rated for. So, you'll need to ensure you also have an extension cord that can meet the power needs of your saw.
Failing to get enough power to the saw not only prevents the saw from performing at its maximum, but will also shorten the life of your saw. However, jigsaws are not incredibly power-hungry tools so as long as you've got a quality extension cord, you should be fine.
Final Thoughts
Be sure to determine if a jigsaw is the tool you need for the job. Don't get me wrong, a jigsaw is a fantastic tool and it's versatile. But if all you're doing is lopping off 2x4s or ripping down plywood, there are other tools that will do this better and you'd working harder than you have to.
If a jigsaw is what you need, then you need to spend some time considering how you will use the tool and how often you will use it. For me, and LED light is a great addition because most of my work is done in low light conditions but for you it could just be a gimmick.
Be honest with yourself about your budget and what you want. You may want the best jigsaw there is but if you only bring it out once every two years that may not be a practical use of your tool budget.